JL Crafted Turns Shredded Skateboards into Custom Coffee Components
With more than 20 years in the coffee industry, Long Beach, California-based artist and woodworker Justin LaRose has made a name for himself with colorful products made from recycled skateboard decks, combining his passions for coffee, woodworking, and skateboarding for one-of-a-kind creations.
Doing business as JL Crafted, LaRose specializes in items such as coffee tampers and portafilter handles, as well as other items such as knife handles, cutting boards, and beer tap handles. This month, Chemex announced a collaboration with LaRose for their wood collars.
LaRose worked as barista for more 15 years prior to becoming a roasting assistant for five more. It was during his time at the roasting company, which leased coffee equipment and espresso machines to its customers, that he was struck with the inspiration to craft wood portafilter handles out of recycled boards.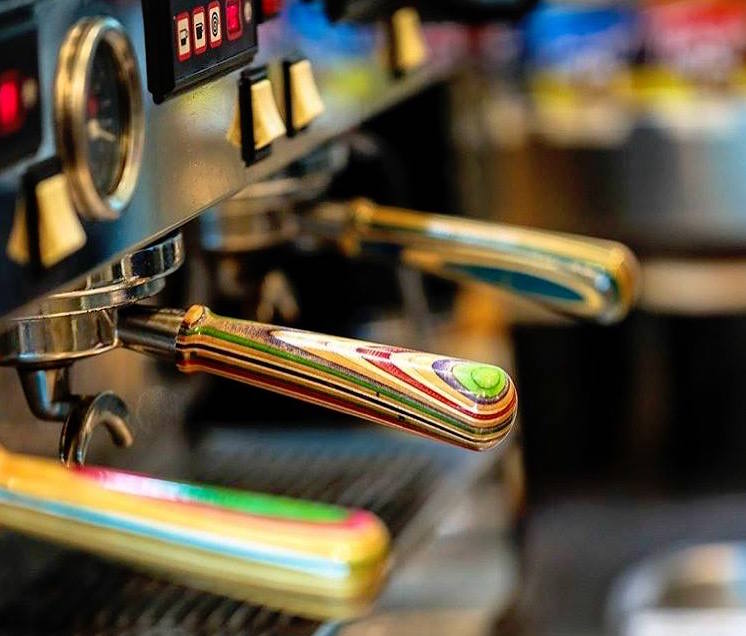 "So I set off to do it the best I could, with just a drill press and a table saw, but I totally made a portafilter handle," LaRose told Daily Coffee News. "I was so stoked to make something that tied me and my random loves for skateboarding, coffee, and woodworking together — first time in my life where I didn't feel so random because it all added up to that portafilter handle."
Shortly after, LaRose left the roasting job to focus on his woodworking. Since 2015, he has created hundreds of hand-crafted wood products made from skateboard decks for customers coming directly to his website or reaching out to him for commissioned projects.
We caught up with LaRose to learn more about how he found his calling working with previously skated decks, how he sources his raw material, and some of his most challenging projects.
Have you always been interested in woodworking? How did you begin creating objects out of skateboard decks?
I've been interested in woodworking for a while, and every time I got a job where I could learn a little, I made sure to absorb it like a sponge. I started with learning how to apply finish back when I lived in Boston restoring antique furniture. I later had a job building trade show booths from blueprints and from a pile of plywood here in Long Beach.
I first tried using recycled skateboards as material so I could make a pendant for my wife [Kristin LaRose, who is an artist in her own right]. I cut up the black and red board I had and made it into a little vertical laminated block with the colorful layers being most prevalent. I remember carrying the block around for at least two weeks before I made anything out of it. I thought it was awesome even in that state — so much potential. It really blew my mind that it was from previously skated boards. Then I shaped up that pendant. That's what really convinced me that anything could be made from skateboards.
How do skateboarding, wood working, and coffee relate in your mind, if at all?
I think they're all related because they're all crafts that yield a product [that is] the sum of the quality put into them. Whether it's the practice of pourovers, kickflips, or woodturning techniques, they can all be enriched by developing ideas and practices. They all take careful thought and precise execution and I find the deeper that rabbit hole goes with someone, the better the craftsman.
What were some of the most complex or intricate projects you have worked on?
Easily the most complex project I've worked on so far is this beast of a conference table — or, grand dining table — I made. It's 10.5 feet long, 42 inches wide, 3 inches thick, and is made from mostly recycled skateboards and shaped like a longboard surfboard. It took almost 500 decks to complete, and just the top weighed over 500 pounds.
I also recently completed a set of custom L-shaped benches with planter boxes that incorporated recycled skateboard highlights for the front of an awesome juice shop in Long Beach.
What has been your most rewarding or satisfying collaboration?
I feel like my most rewarding collaboration, which has invigorated me to step up my game, is the one with Pesado espresso hardware out of Melbourne, Australia. Working with them, and the quality details behind their tools, has positively influenced me and the details behind all the products I make. Just associating with them makes me always think about my process and what I can do to further streamline or improve.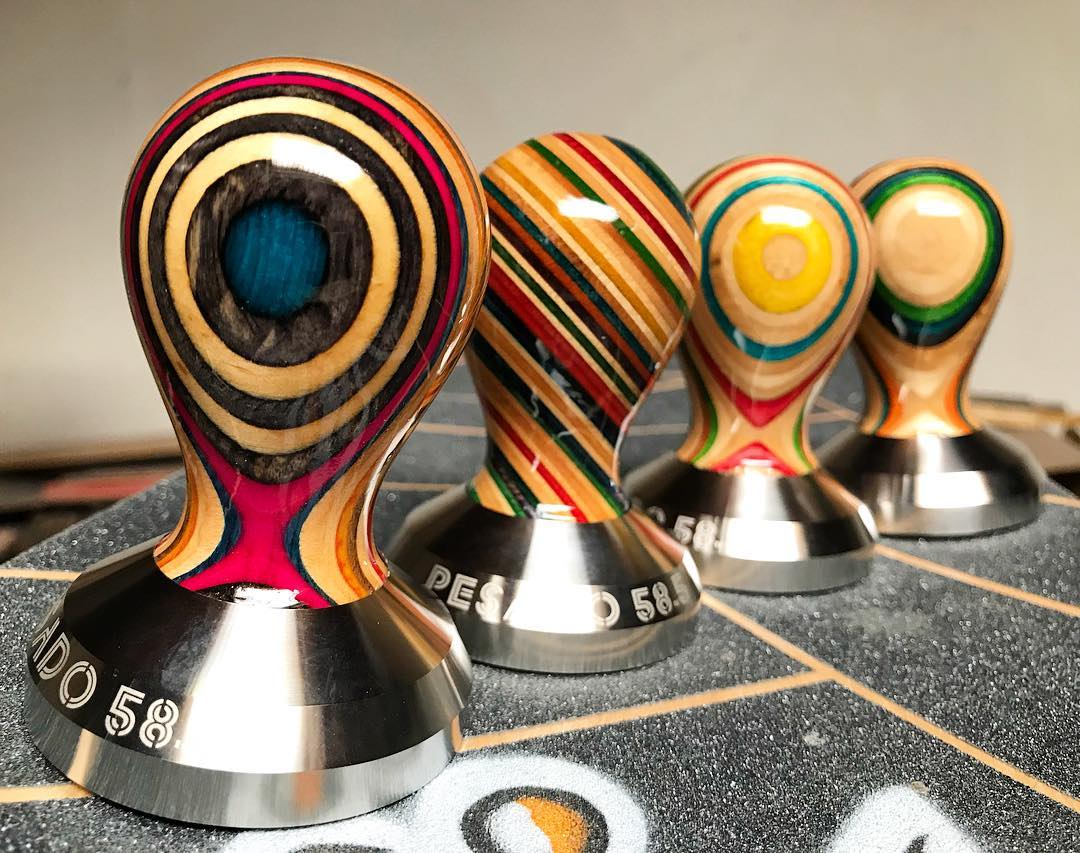 Where do you find the skateboard decks?
I drive around to the local skate shops in and around Long Beach and collect donations of broken boards left behind by people getting new ones. I also receive donations from fellow skaters from all around who've been hoarding their broken board stacks. I seriously get hyped on using completely thrashed skateboard decks. There's so much soul and effort in these boards from the skaters who rode them. If I get some that are still usable, I bring them with me when I go skate and trade them out to kids who have worse boards.
What's your favorite way to brew coffee? Any favorite origins?
I love all different forms of extraction but my number one method these days is pourover using a Chemex at home and at the shop, but I'm always down for espresso shots from local coffee shops if I'm out and about. I'm a huge fan of most Central and South American origins, and I love Guatemalan beans in particular.
What kind of coffee does your shop cat Grizzly prefer?
Lil' Griz loves the hell out of anything Cat & Cloud roasts.
Lily Kubota
Lily Kubota is the digital content manager of Daily Coffee News by Roast Magazine. She is based in Southern California.