Kōkako Organic Coffee Releases Model Sustainability Report
Following the opening of its new roastery and headquarters earlier this year, New Zealand roasting company Kōkako Organic Coffee has released a remarkably detailed sustainability report, building on the objectives set out in the company's first report two years ago.
The new report proves to be a model in corporate sustainability reporting, providing a comprehensive view of the company's supply chain, and of its existing successes and aspirations on the sustainability front. At 56 pages and with 39 chapters or subheadings, the report represents a substantial undertaking beyond the core business of running a coffee roasting and retail operation.
Kōkako engaged Nick Morrison of Go Well Consulting to help provide more structure to the company's reporting utilizing the Global Reporting Initiative (GRI). To support this effort, Kōkako reviewed the United Nations Sustainable Development Goals and chose eight goals with which to align its reporting and future actions.
"This forced us to follow a proven international framework for sustainability reporting and provided much needed structure," Kōkako Managing Director Mike Murphy told Daily Coffee News. "Although it made the process of writing the report longer, it allows the reader to compare us with other companies that are using the same reporting framework."
Murphy noted that the company's objective with the undertaking was to reiterate to Kōkako's existing wholesale customers and stakeholders how seriously it takes sustainable business, and while securing new business as a result of this report would be a bonus, it is not the primary goal of the report.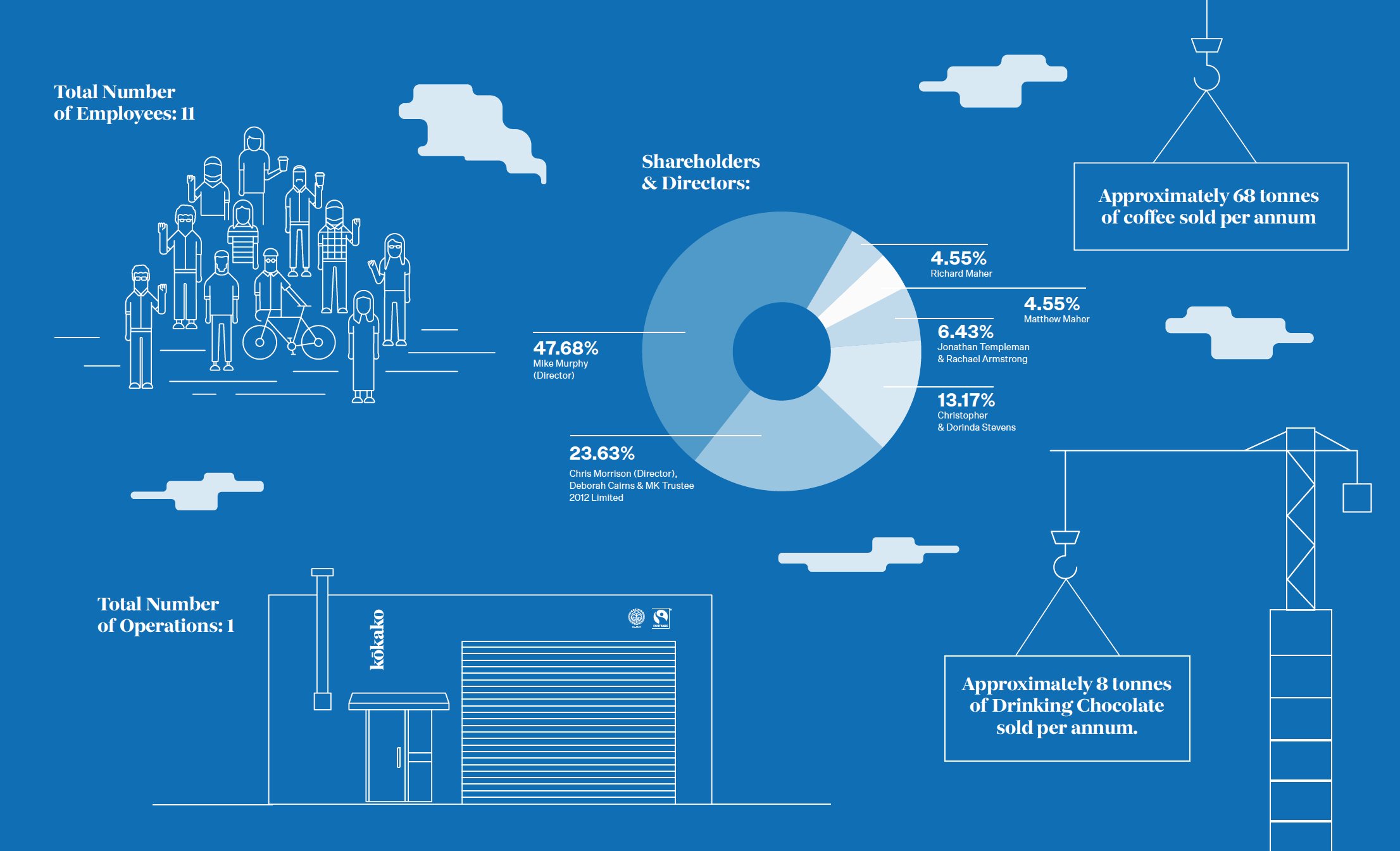 "We have already invested considerably in sustainable business initiatives over consecutive years and like to take a 'first to market' approach, as we see sustainability and innovation as the same thing," Murphy said. "We prepared our inaugural sustainability report in 2016 because we felt we needed to communicate to our stakeholders what we were doing. This 2018 report needed to be a step up from the previous report in terms of structure and content, and we feel we have achieved this."
In recent years, it has become clear that consumers and businesses are expecting more from their brands and suppliers, and Kōkako recognizes that interest in sustainability initiatives and expectations around this type of reporting will continue to intensify.
"By providing a report of this nature, we are delivering something that we believe in the future will be a non-negotiable for any business supplying goods and services," Murphy said.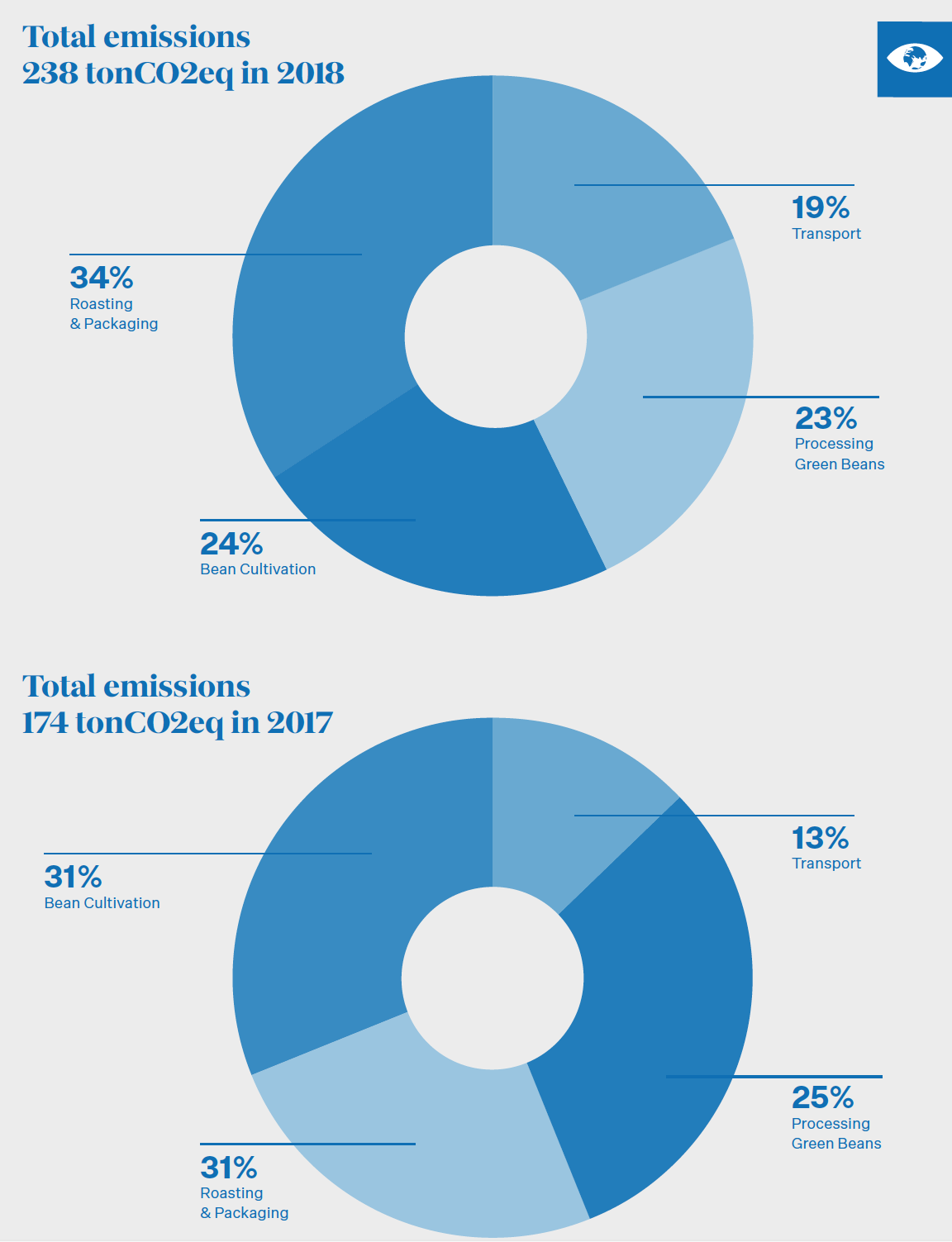 While the 2018 report pored over sustainability efforts against benchmarks from the previous report, the company's goals for the next reporting cycle include off-setting all carbon emissions related to organizational activities and products to complement the company's existing Fair Climate Fund accreditation.
The company also plans to increase professional development opportunities for its staff, formalizing procurement methodology to further enhance understanding of all goods and services supplied to the business, while investigating ways of roasting coffee in more carbon-efficient ways. Kōkako also hopes to find an alternative to the current soft plastic valve on its compostable coffee bags.
When it comes to Kōkako's sourcing practices, the company said it plans to work alongside Fairtrade and its supply chain to determine if it would be possible to increase price premiums paid to coffee farmers above the current Fairtrade and Organic Premiums.
"As we work with brokers and don't source direct, this requires significant industry analysis across the supply chain and we plan to start with one of the existing cooperative that we already work with," said Murphy.
Kōkako has also been inspired by Melbourne, Australia roasters Rumble Coffee's Coffee Price Transparency Project, which has followed a similar methodology to Kickapoo Coffee or Olympia Coffee Roasters by setting a minimum FOB price floor to pay to producers.
"We felt by providing our annual roasting volumes [in the report], Fairtrade and Organic premiums paid, and Fairtrade fees paid in the reporting period, that this would communicate key information to our stakeholders that went beyond the reporting framework of the GRI reporting model," said Murphy. "Furthermore, we have been quite outspoken on our position that we see producer empowerment and training as key factors in growing the economic wellbeing of coffee farmers we source from."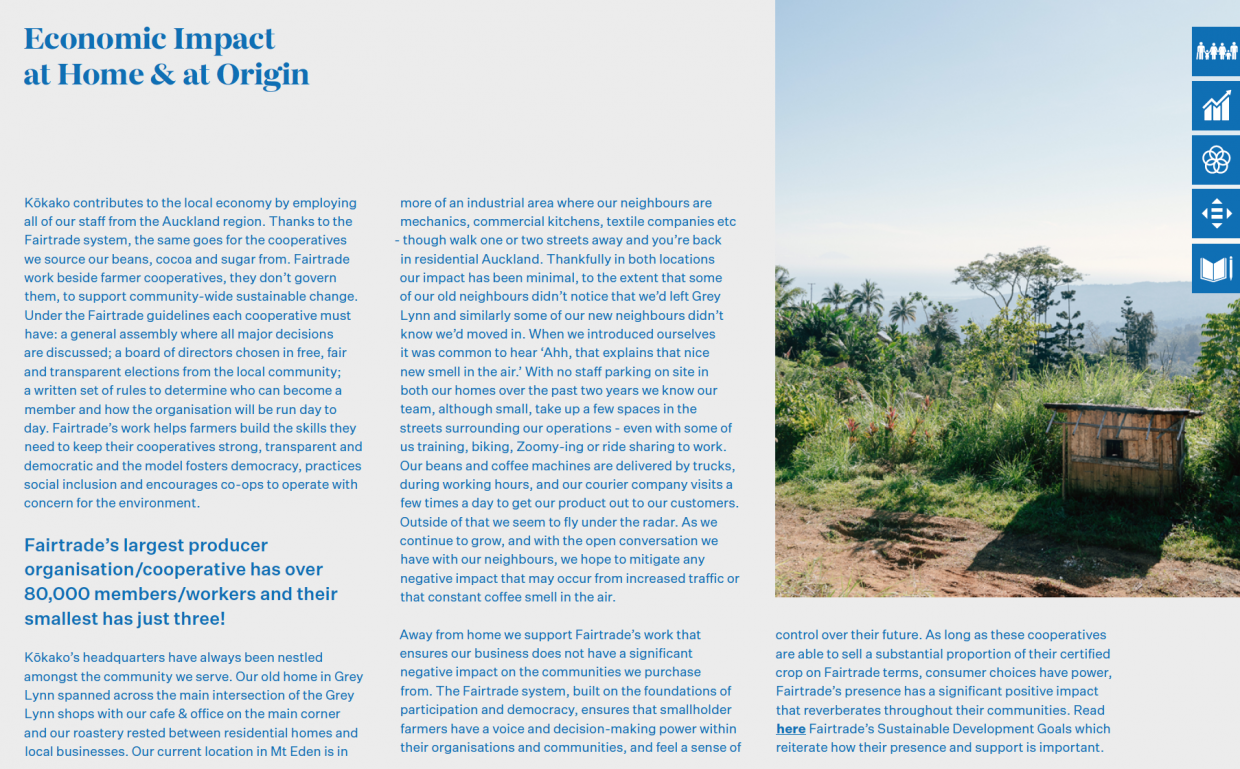 While Murphy says that the benefits of producing this report have been positive for the company, he also noted that providing reporting of this nature does open up the business to critiques from competitors. Yet positive feedback is more prevalent. After publishing the 2016 sustainability report, Kōkako received significant interest from consumers and other businesses interested in sustainability initiatives. As a result, Kōkako has hosted three direct competitors this year to discuss sustainability in the coffee sector and is discussing its sustainability efforts with other members of the New Zealand Specialty Coffee Association (NZSCA).
"If anything, we'd prefer our competitors read the report as we think collaboration in sustainability is the key to addressing some of the issues our sector is facing," said Murphy. "We are strong advocates for a sector-wide approach to sustainability, and in a small country like New Zealand we feel it is possible to get engagement from competitors, suppliers, industry bodies, and government to drive meaningful change."