The Extraction May Come with a Cancer Warning in California
Fans of the 90s-era TV sitcom "Friends" got a jolt of excitement this week that could only have been outdone by Matt LeBlanc himself having summoned them with Joey Tribbiani's oafish come-hither catchphrase, "How you doin'?"
The reason was the revelation delivered by The Blast that Warner Bros. has filed trademark paperwork for use of the name and logo of Central Perk — the fictitious coffeehouse in which the beloved gang of six often pulled up an overstuffed couch to sip oversize beverages from mismatched ceramics — for the purposes of "coffee shop and cafe services."
For folks expecting to walk into a real-life Central Perk tomorrow, however, it may not yet be your day, week, month, or even your year, as Warner Bros. also has reportedly filed for the logo's use on such non-coffee-related pursuits as toys, board games and slot machines, therefore it seems far from guaranteed that an actual coffeehouse will ever necessarily be "there for you." Then again, the idea may not be stuck in second gear for long, for as People.com pointed out, it wouldn't be the first time the make-believe shop came to life:
To coincide with the show's 20th anniversary, Warner Bros. Television Group, Warner Bros. Consumer Products, and Eight O'Clock Coffee partnered together to re-create the popular TV show's Central Perk coffeehouse at a pop-up location in downtown Manhattan.
In other TV-related coffee news, the K-cup eponymously branded by a well-known former host of competitive NBC reality show The Apprentice has been discontinued.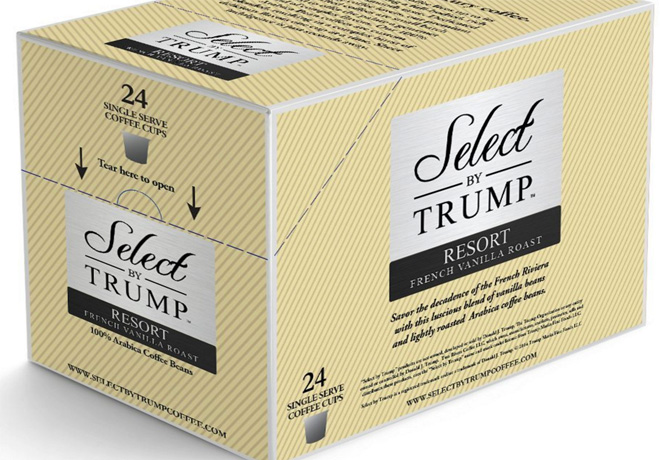 Having first caught wind of the coffee cancellation through a tweet by The Washington Post's Pulitzer Prize-winning Trump-beat reporter David Farenthold, Extra Crispy followed up with the makers of the Select By Trump K-cup and confirmed that it had indeed been discontinued, but strictly due to "poor sales" — not for any political misgivings. At least not on the part of its manufacturers, anyway:
Unfortunately, pressed for further comment, the representative said he preferred not to elaborate on just how poor sales were or even when the product was officially discontinued. But the good news is that if you're looking to score this piece of Trump failure history, some of the pods still appear to be available on Amazon — likely sitting in a warehouse thanks to those previously mentioned poor sales.
Too much TV will rot your brain, though, and so we turn to much more serious happenings around Hollywood and beyond in California, where since 1985 Proposition 65 has stipulated the use of warning labels on any product sold in the state that is known to contain chemicals that may cause cancer, birth defects, or reproductive harm.
Long Beach, California-based nonprofit The Council for Education and Research on Toxics, which in 2002 filed suit to require fast food giants like McDonald's and Burger King to warn consumers of the acrylamide present in french fries, filed another lawsuit in 2012 against Starbucks, Gloria Jeans, 7-Eleven, BP and others, aiming to force them to warn consumers about the acrylamide found in coffee and baked goods.
Lawyers involved in the case told CNN this week that private mediation with the retailers that have not yet settled in the case is set for February 8. If an agreement isn't reached, CNN reports that a judge would likely reach a decision later this year. CNN also gathered a statement from the head of the National Coffee Association:
Bill Murray, the association's president and CEO, said in a statement, "Coffee has been shown, over and over again, to be a healthy beverage. The US Government's own Dietary Guidelines state that coffee can be part of a healthy lifestyle. This lawsuit simply confuses consumers, and has the potential to make a mockery of Prop 65 cancer warning at a time when the public needs clear and accurate information about health."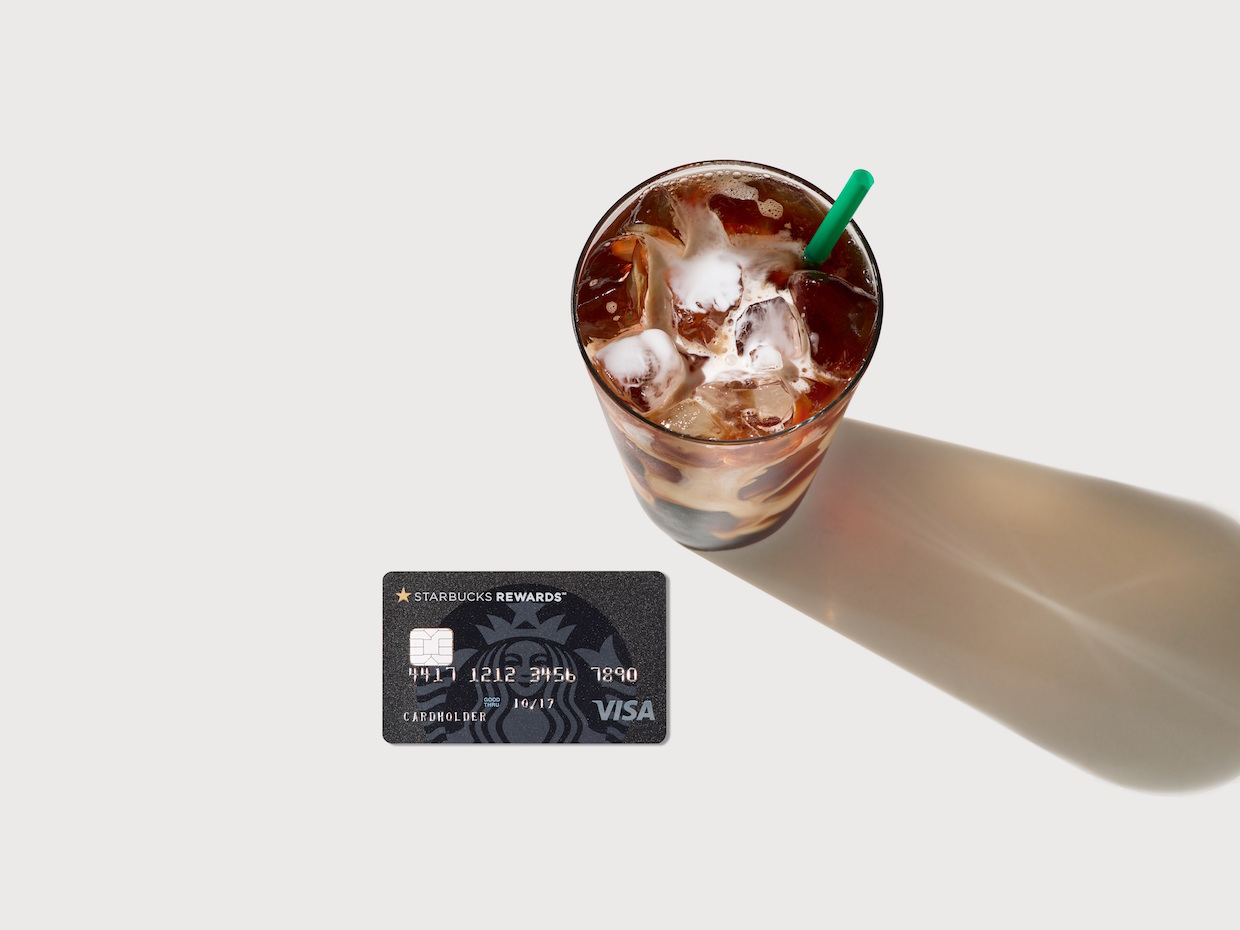 Meanwhile, ever the busiest of sirens whilst fending off the nanny state barbarians at her gates, Starbucks also waged another war this week — on cash. Green though she may be, the company not only announced a Starbucks Rewards Visa credit card backed by JP Morgan Chase, but also opened an experimental cashless store in Seattle, "just to see" how it goes when patrons can only buy coffee entirely through their phones. Starbucks CEO Kevin Johnson talked to CNBC about the latter:
"Thirty percent of our payments in the United States [are] done with a mobile phone," CEO Kevin Johnson said on CNBC's 'Squawk on the Street' Friday. "Over 40 percent is done with phones and Star Value cards with rewards. In China, over 60 percent of our tenders come from mobile payments."
And in more California news, fallout from the Four Barrel sexual harassment scandal continues to its swift toll. Seven workers have been laid off so far, the San Francisco Chronicle reports:
The layoffs, all within the company's wholesale department, also coincide with Four Barrel's recent decision to move its roastery from Oakland to San Francisco.

In an email, Mor said the layoffs were "one of many" challenging moments over the last few weeks for Four Barrel. He said the company has lost 50 percent of its wholesale business since its founder Jeremy Tooker was accused of sexual harassment and assault by former employees last month.
For a more uplifting tale made available this week, Dave Eggers' Monk of Mokha has officially been released and made it way around the review circuit. In the popular author's accessible, cinematic style, the book recounts the harrowing true experience of San Francisco-based Yemeni coffee importer, Port of Mokha founder Mokhtar Alkhanshali. The Chicago Tribune had this to say:
In choosing Alkhanshali as his subject, Eggers has hit on a surefire crowd-pleaser, embodying as he does the great assimilationist virtues of hard work and entrepreneurial savvy. Only a hardened cynic, a truly crabbed and ungenerous spirit, would be able to resist this tale.
As for roastery workers' ability to resist what might be the effects of exposure to potentially harmful levels of the chemical diacetyl, Portland, Oregon ABC-affiliate KATU News provided some continuing coverage in the midst of ongoing CDC investigations. They checked in this week for perspective from Nossa Familia Coffee roastery manager William Schaefer, and former Roasters Guild chair Chris Wade who roasts all coffee for McMenamins:
Wade says he has always been concerned with dust and particulates in the air, but he is not particularly worried about Diacetyl affecting roasters.

"I really think it's very low risk for us in the roasting industry," Wade said.

He went on to say, "When you look at coffee roasting, it's something a lot of people do around the world. It's been around for a number of years. The processes and airflows have gotten better over the years, so the roasters are a lot cleaner. There is a lot of new technology coming out that makes them better for the people working with them."
If the thought of toxic gas exposure here at the end of week has you anxious to clock out and hit the bar, the interwebs also provided a fun fact for you on Tuesday. Did you know that in Nordic countries, if you order simply "a coffee with," it's understood that what you want is coffee with cognac?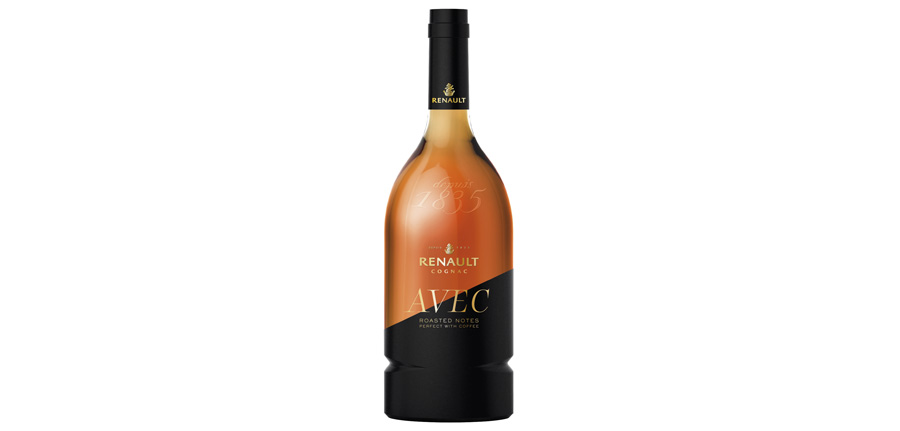 Inspired by this phenomenon for its latest bottling, cognac-maker Cognac Renault treated barrels to three rounds of being dunked in hot water and then "brasero toasted" prior to aging cognac inside them, in order to impart "'notes of torrefaction' — that is, mild decomposition as a result of heating wood." The Spirits Business has more from an interview with Renault Cellar Master David Croizet:
He added, "We were not looking for a big, powerful Cognac but one that complements good coffee."

Renault Avec targets a "new generation" of coffee houses that have alcohol licenses and attract younger legal drinking age consumers.
Although if the hard stuff isn't as attractive to you as a good-old, frothy American pint, Food & Wine Magazine provided a handy roundup of coffee beers, including stout, porter, IPA, and brown ale, plus a little peek into the process. Alphabet City Beer Co. Owner Zachary Mack gave F&W some insight into common production practices:
And yes, these beers really do contain coffee — though the process of getting coffee into the beer varies from brewer to brewer. While some add dry coffee grounds during the fermenting process, others take a finished beer and a lesser quantity of cold-brew coffee and mix the two together, Mack explains.
Howard Bryman
Howard Bryman is the associate editor of Daily Coffee News by Roast Magazine. He is based in Portland, Oregon.