The Extraction Bounces Between Crossovers and Pourovers
FFOL Editor 1
One of the world's most acclaimed restaurants, New York City's Eleven Madison Park, has shed some light on its table-side coffee service. As with anything at the highly awarded restaurant led by chef Daniel Humm, the coffee is not cheap. Time recently interviewed the restaurant's coffee director, Maya Albert, who discussed the restaurant's coffee program, which is in part designed to diners a touch of pizzazz along with coffees from the Brooklyn-based roastery, Devoción:
That tasting menu costs $295, which does cover a cup of coffee (even espresso!), but if you want Albert's special tableside coffee service and the delivery of that incomparable cup of Wush Wush — well, that will cost an additional $34. Along with the rare bean, you're also paying for that service, the experience, the setting, the entire happy shebang.
Of course, you don't have to go to New York to find fancy coffee experiences — take Ireland, for example. The Irish Times recently gathered some data on the past, present and future of Ireland's specialty coffee market. Yet even more interesting, the paper shared an anecdote from a Green Coffee Association meeting in 1981, where New York advertising executive Kenneth Roman may have helped change coffee's course forever:
Roman, one of the original Mad Men, was the president of the advertising firm Ogilvy & Mather. In 1981, he was invited to speak at a gathering of the Green Coffee Association of New York, on the subject of what to do about the struggling coffee industry. A record frost had hit Brazil in July 1975, pushing coffee prices to levels that consumers simply were no longer willing to pay, and the industry was floundering.

At the convention, Roman made a surprising suggestion. Coffee companies had to stop trying to compete on price, and start selling coffee on the basis of value, image, quality — along with something much more ephemeral.

"We are entering the 'me' generation," he predicted, an era in which consumers would ask crucial questions such as: "What's in it for me? Is the product 'me'? Is it consistent with my lifestyle? Does it fill a need?"
If you're looking to fill that me-obsessed specialty coffee need in Lithuania's capital, Vilnius, a coffee-loving writer and designer by the name of Lukas Bytautas has you covered with the launch of a new Vilnius coffee guide, supported by the tourism agency Go Vilnius. Here's more from the Lithuania Tribune on the Vilnius Good Coffee Map:
"This map was born out of a love for coffee and traveling. Every time I go to a new city I look for places brewing exceptional coffee. Frequently, I have to cover great distances on foot just to reach them, and these walks have become a great way to discover the cities I visit. As such, this publication will also help visitors to Vilnius embark on a journey through the city inspired by their love of coffee," Lukas explained.
Closer to home, near the Roast magazine global headquarters, the Portland Trail Blazers have made an astounding run this season, in part because of the production of guard Shabazz Napier. This Saturday, March 31, Napier will be switching from killer crossovers to pourovers, joining the team at Stumptown Coffee's recently revitalized downtown location for a little meet-and-greet following the release of this oddly captivating Stumptown commercial. From Stumptown:
We are stoked to announce that Shabazz Napier will be making an appearance at our newly reimagined downtown cafe this Saturday, March 31 from 2pm to 3pm. He'll be signing bags of Blazers Blend and serving free drip coffee to all who enter!
Of course, in order for all this coffee to be enjoyed, it must first be grown — a fact that tends to be taken for granted in coffee-loving cities like Dublin, Vilnius or Portland. In an ongoing video series from PBS Newshour focusing on El Salvador, host Fred de Sam Lazaro recently explored what many farmers have described as dire growing conditions since the leaf rust epidemic that swept through about six years ago. While some farmers have deserted coffee in favor of other crops, others, others like Carlos Borgonovo stuck with coffee, furiously replanting and improving practices on the farm. Borgnovo told de Sam Lazaro:
So, one of the major challenges we have is to make a coordinated effort as a country — all stakeholders are in this — and push a renovation project with these new varieties and agricultural practices that will allow us to produce more coffee and be sustainable over time.
Elsewhere to drum up support for coffee in Central America, the government-supported economic development agency Visit Honduras has included coffee tourism as a major component of a new campaign designed to bring foreign leisure dollars into the economy:
The Touristic Coffee Route, which allows visitors to visit coffee farms and have a complete tour of the process from seed to cup, is another experience being further developed. For years, Honduras has been acclaimed for its coffee and last year, the coffee beans grown by Honduras' José Abelardo Díaz Enamorado were designated as the "Best of the Best" in the 2017 Ernesto Illy International Coffee Awards. There are six areas to experience the Coffee Route in Honduras: Copan, Opalaca, Montecillos, Comayagua, El Paraíso and Agalta.
Though the coffee industry this week suffered a major blow at the hands of a California judge who ruled that coffee retailers must show patrons cancer warnings, there was also some good news to report. A new study from Brazil provides further evidence that coffee is actually good for longevity, noting a possible correlation between increased coffee consumption and reductions in the clogging of arteries:
Based on our results and prior studies, consumption of coffee could exert a potential beneficial effect against coronary calcification and cardiovascular disease risk, particularly in nonsmokers.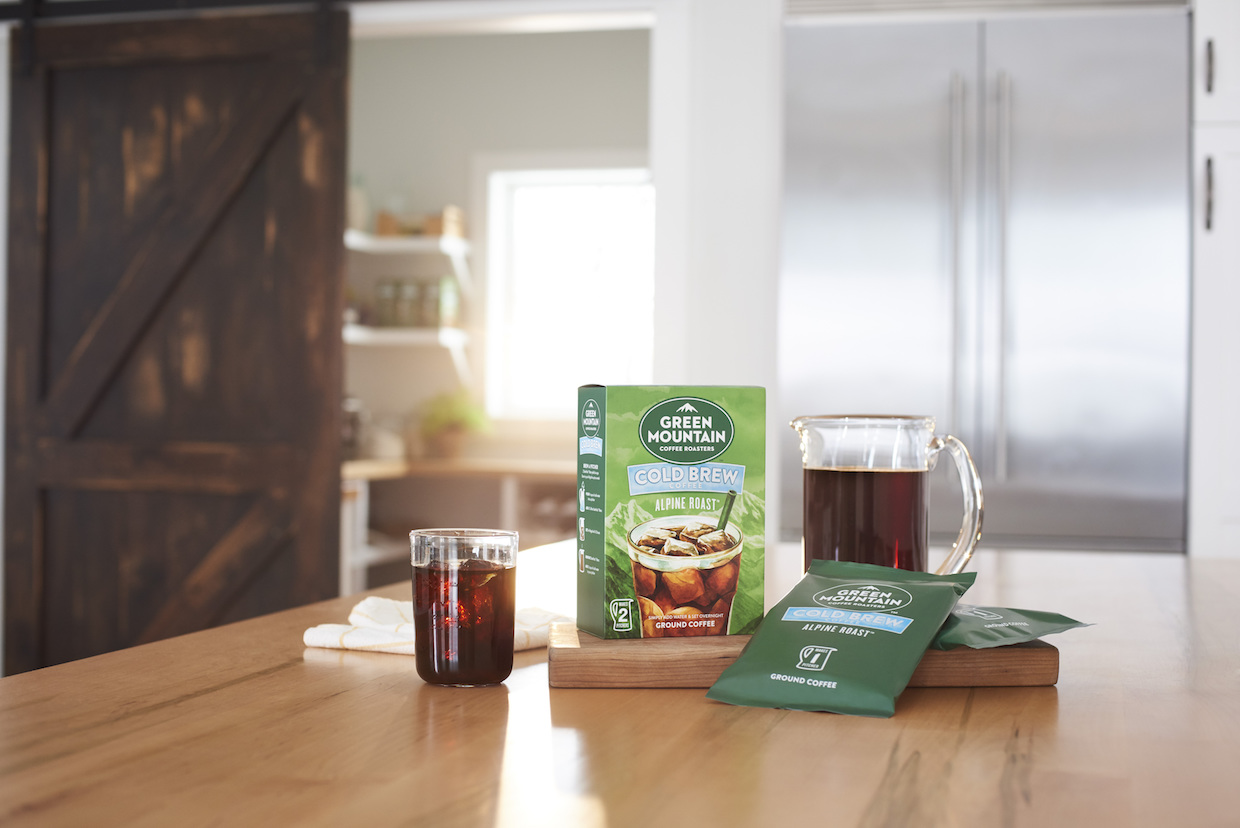 Finally, Green Mountain Coffee Roasters — the former standalone brand that merged with Keurig and is now part of the JAB Holding Company-owned Keurig Dr Pepper group — has made its first major play in cold brew coffee, releasing large tea-like bags for home steeping:
The new Green Mountain Coffee Roasters® Cold Brew coffee is coarsely ground to ensure maximum extraction while steeping and is packaged in a SteePack™ filter – a satchel that resembles a large tea bag and is designed specifically for the cold brew method.