Happy Monday Coffee Roasters Goes to Work in the Windy City
Happy Monday Coffee Roasters is now up and running all week, every week with its new roastery in the North Side Chicago Edgewater neighborhood.
The move from Happy Monday's original home in suburban Kankakee, Illinois, was designed to bring the roasting company closer to a larger well of potential customers. It also follows the expiration of a non-compete agreement between Happy Monday Co-Owner Craig Alexander and Chicago's Hero Coffee Bar, which he co-founded then sold in 2018.
The new 1,400-square-foot roastery is home to Happy Monday's two-machine production line, including a US Roaster Corp 12-kilo roaster and a Mill City Roasters 10-kilo machine. The space is split down the middle between the roasting operation and a new Happy Monday retail coffee house, featuring a coffee bar poised to open in November that Alexander told Daily Coffee News is designed with pandemic-era considerations in mind.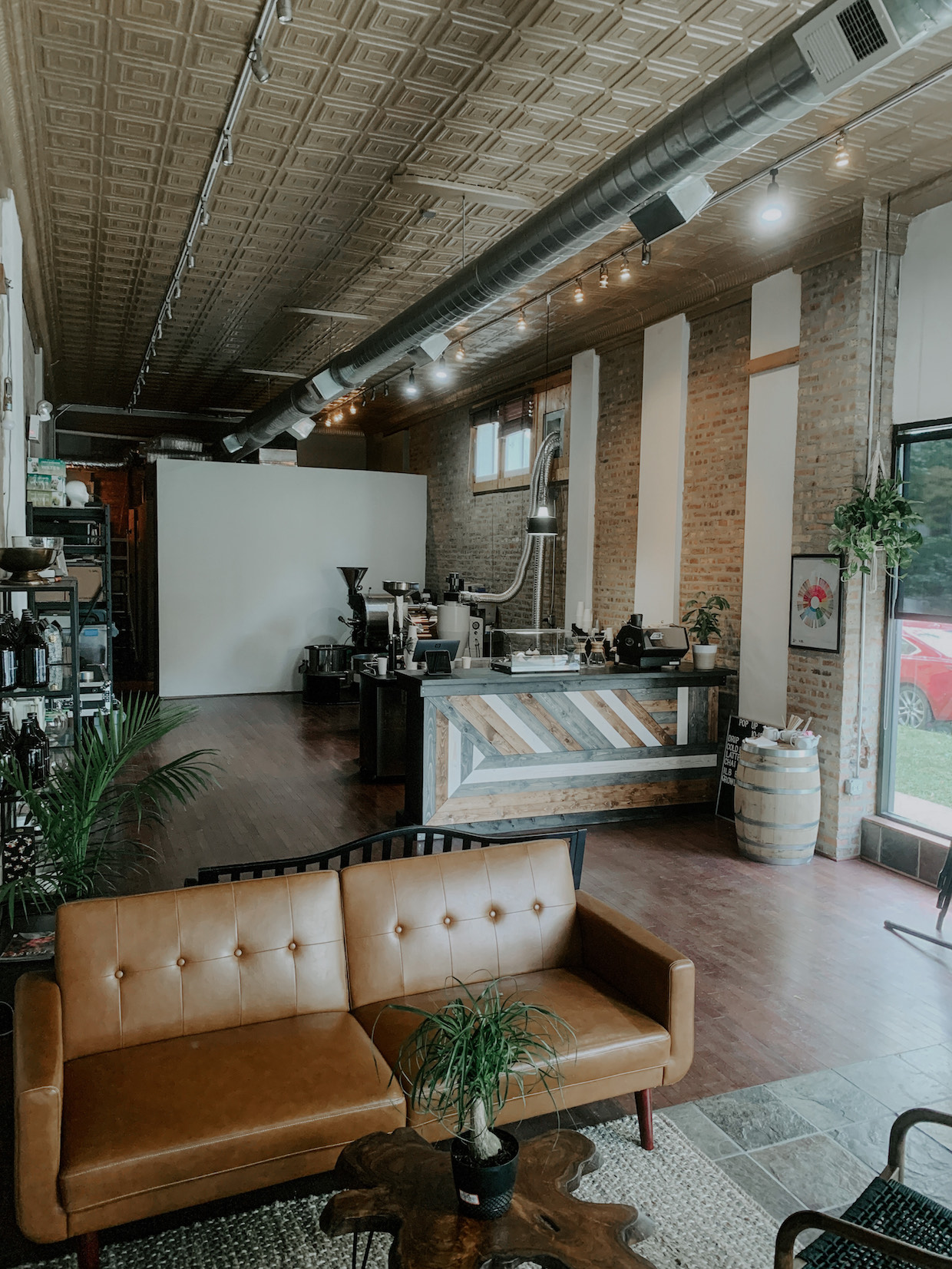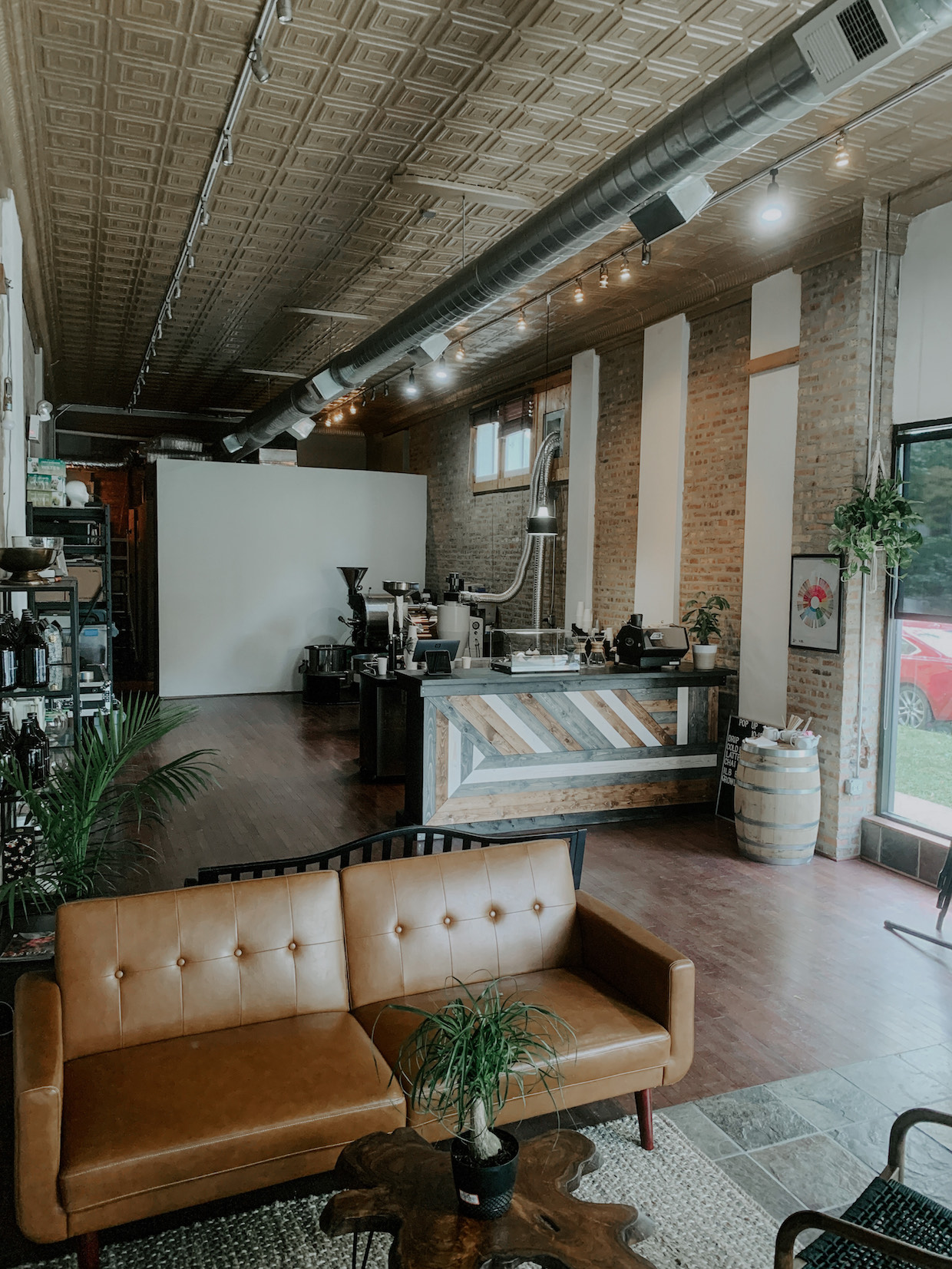 "We are building it out to be mobile and removable, for a few reasons," Alexander told DCN. "We will be able to convert our door to a service window in the event of new restaurant restrictions. This will also allow us to both make space for events inside our cafe, and take our equipment on the road for outdoor events."
Customers passing through the new shop will be treated to what Alexander characterizes as a "modern boho" vibe, with no traditional tables or chairs. The only seating available takes the form of big, comfy couches and lounge seats.
Said Alexander, "We even have a rope swing chair, for fun."
The Happy Monday bar will be the second shop opened by the company this year. Yamel Salazar, who co-owns Happy Monday along with Craig Alexander, opened the coffeehouse Drink Happy Thoughts in the Uptown neighborhood in April.
"We had signed the lease a week or two before any of the news hit about restaurant restrictions, so we definitely had a choice to make whether to push forward or try to wiggle our way out of the lease," Craig Alexander told DCN. "We're very happy we decided to push forward, because our neighborhood has been very supportive and also appreciative of our efforts over here in Uptown."
Alexander attributes Happy Monday's positive outlook and perseverance in opening two new locations in the thick of COVID-19 to his personal philosophy that cafes and roasting companies are best served by remaining owner-operated.
"We have a small team to help out at each location but I think success during COVID-19 means that your owners are putting in some serious hours behind the bar and roaster," said Alexander. "My wife runs our cafe business while I run our roasting business and we have been able to be successful launching two locations during the pandemic using this formula."
Green coffees sourced through importers Genuine Origin, Walker Coffee Trading and Royal Coffee as well as through a direct trade partner in Colombia are now roasted for the company's own bars, direct-to-consumer sales and wholesale relationships, including supply for Hero.
"We want to grow by helping our wholesale customers build strong, transparent, and profitable coffee programs for themselves," said Alexander. "We are looking forward to creating more direct trade relationships in the future. That is really where we find the most enjoyment."
Drink Happy Thoughts is open now at 942 W Montrose Ave in Chicago. Happy Monday Coffee Roasters is located at 1307 W Hollywood Ave, in Chicago.
Related Reading
Howard Bryman
Howard Bryman is the associate editor of Daily Coffee News by Roast Magazine. He is based in Portland, Oregon.