[unable to retrieve full-text content]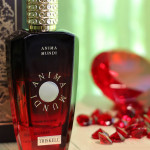 The new arrival from Anima Mundi, the sixth fragrance in the series devoted to ancient civilizations, Triskell, is a perfumery embodiment of the world of ancient Celts. According to Emilia Armida Chinigò's idea, which was carried out by perfumers Christian Calabrio and Andrea Casotti, Triskell is supposed to smell like the ancient forests where the Druids practiced their magic. Emilia wante…
Read full article: ESXENCE 2019: Triskell Anima Mundi – A Walk Through a Celtic Forest from Fragrantica Perfumes and Colognes Magazine.