[unable to retrieve full-text content]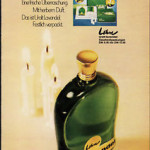 Few things are quite as mystifying as locally sourced, scented products which people outside of the country of origin cannot test. A wonderful combatant-in-scent generously supplied me recently with a couple of those. One of them sparked an old memory of research I was doing a couple of years ago on perfume company names, rather than a memory of a scented escapade full of the nostalgic regalia of…
Read full article: German Memorabilia: The Odd Story of Lohse Uralt Lavendel from Fragrantica Perfumes and Colognes Magazine.