Dreams Come True as Reverie Coffee Roasters Expands in Wichita, Kansas
Five-year-old Wichita, Kansas, roasting and retail coffee company Reverie Coffee Roasters didn't originally plan for rapid, major expansion or involvement with fresh food, but demand from the community has proven too powerful to resist.
The company's original 3,100-square-foot shop has relocated into a side-by-side bakery and roastery with a total footprint of almost 10,000 square feet. A second location has also just opened on the lower level of a business and residential complex downtown, and a third is slated for opening in the Spring as part of the city's new public library project.
Reverie owner Andrew Gough told Daily Coffee News that the flagship relocation and expansion plan started over two years ago. Yet as that plan was developing through fundraising, a reincorporation of the company and ultimately the planning and buildout, the second Reverie shop went from handshake to fruition in a matter of months.
The second shop, called Reverie Roasters Cafe at the Kiva, is located in the underground common area between a business and a residential building portion, all of which is called the Garvey Center at 250 W Douglas Ave. in Wichita. The roughly 1,100-square-foot cafe there opened to the public last month, a 3-group La Marzocco Linea PB on the bar and a colorful vintage peacock sign on the wall, setting the lively decorative theme for the space with a touch of Gough family history.
The story behind the eye-catching piece is that a family by the surname Peacock purchased it from the jewelry store, then used it to adorn their own wholesale iris business Peacock Iris Gardens, which was subsequently destroyed by a tornado. Gough's wife's grandparents later purchased the property from the Peacocks and put the sign in storage. "This was way, way, way back," said Gough, who is happy to have the peacock living again as the aesthetic anchor of the new Reverie.
The penny farthing bicycle from Reverie's original location, which also features in the company's logo and the packaging for its Boneshaker Espresso blend, will be the tone-setter for the upcoming expanded flagship, fleshed out by additional work from the artist that painted the Kiva shop.
Said Gough, "One of things we've decided we want to do is have a featured item inside of each location that's not necessarily at all relevant to coffee — just something that's almost like an art piece that sets the tone for the whole place."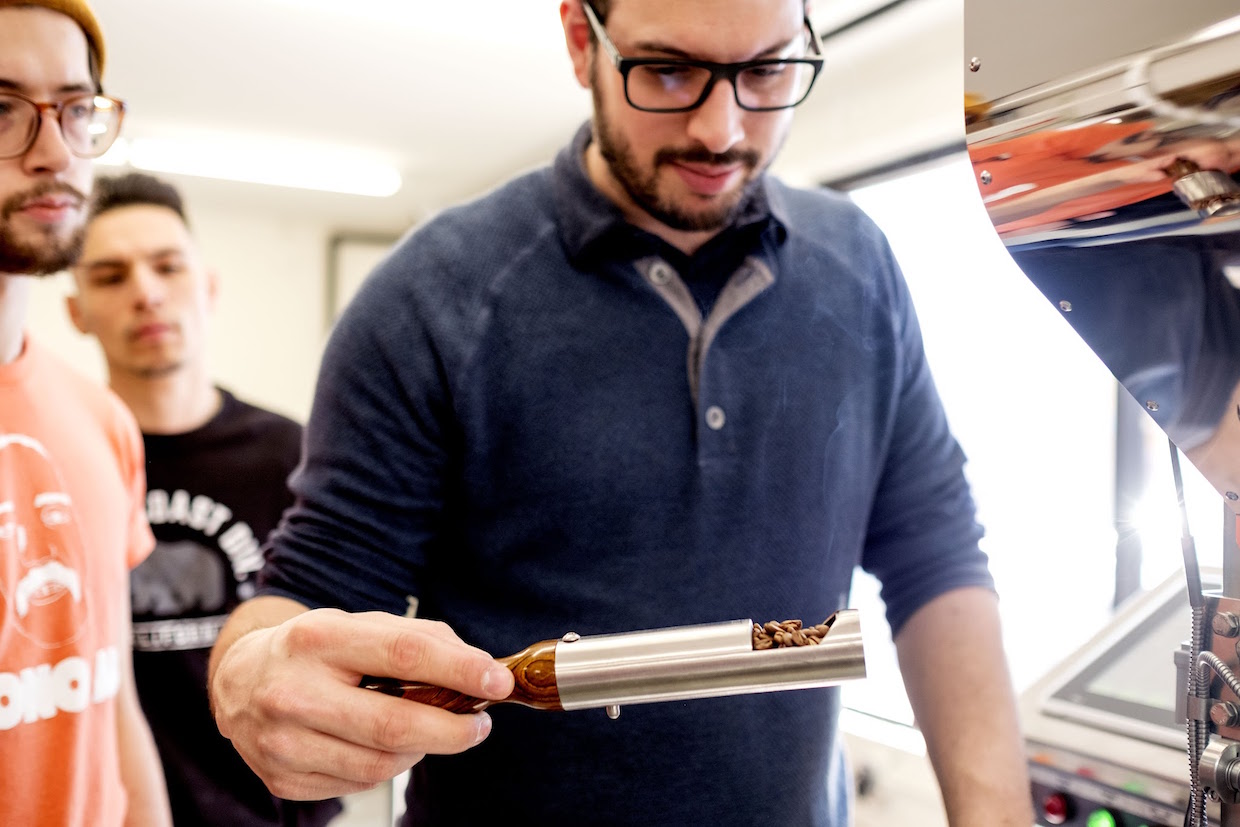 The Primo PRI-135 roaster that originally stood inside the company's first cafe is giving way to a Loring S15 Falcon in the new location. Also at the new location, Founders Bakery, now its own "cousin company" to Reverie, will come into its own, turning out fresh baked goods for purchase at its own point of sale on the opposite side of the space adjoining the Reverie cafe.
A long bar will connect the two entities, with the bakery counter offering to-go coffee drinks made on the Kiva location's 3-group Linea PB on one side (at which time Kiva bar will shift onto a 2-group Linea PB with ABR), a cocktail, beer and wine bar with seating in the center, and the Reverie bar featuring a 3-group Kees Van Der Weston Mirage machine on the other side. Said Gough, "We decided we wanted something pretty, so we're going with a pretty machine."
Patrons seeking a sit-down meal with excellent coffee or other drinks will be accommodated there, while workflow is tuned separately for the Founders baked goods and grab-and-go crowd in its own area. Across a breezeway from the bakery cafe, a three-person roasting team lead by head roaster Beau Harris will turn out coffees sourced through Cafe Imports, Olam Specialty Coffee, and smaller, more intimately connected importers such as Guatemalan coffee specialists Kapeh Utz and Yepocapa Coffee.
Gough said working with the smaller, community-focused importers has provided some additional social benefits, such as helping to facilitate new school supplies and other investments in coffee-farming communities.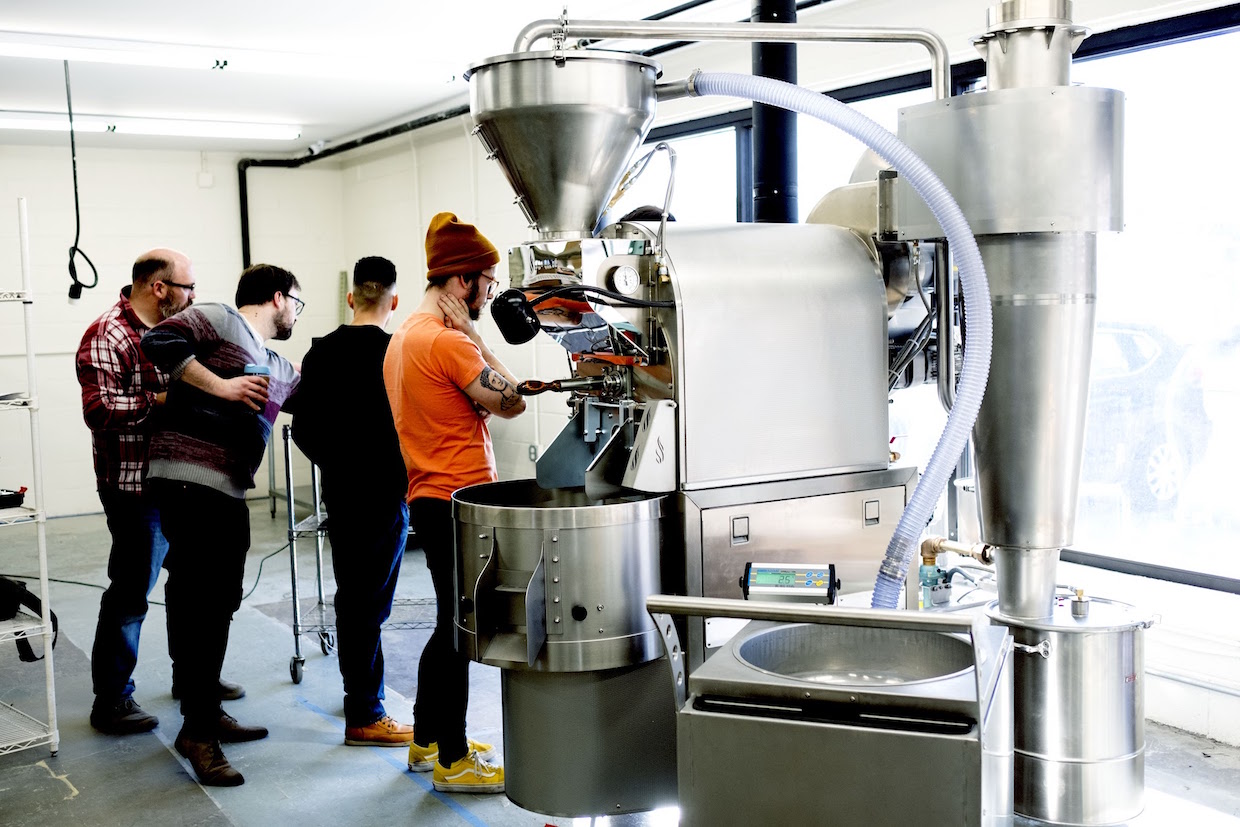 "It's an awesome opportunity for us to get really close and see the results of the work that they've done." he said. "The money that we purchased coffee with, in the transparency they've had as far as his contribution back to farmers, has paid for very tangible things that we can see."
The company's staff has swollen from 21 employees as of two months ago to a total of 49 today, including 20 baristas, not yet including any of the hiring yet to be done done for the third Reverie retail coffee location.
"We never intended to be a full-blown cafe-type experience; it was really always about using that space as a wholesale roasting facility," said Gough. "The time was right for our community to really embrace better quality coffee. We've seen a lot of growth with us and also a lot of the other companies have grown too, so that just kind of took over. We simply respond to the customers' demand."
Gough said that while he tries to not cast his vision for the company too far into the future, a full-scale restaurant could the project to come next — more of a food-centered place with great coffee as opposed to a coffeehouse that also serves great food.
"We've got big goals and aspirations, not necessarily in growing, just in the kind of company we want to be… The projects come out of consideration for what the community needs," Gough said. "That's really been my philosophy all along. Even if I didn't notice it at first, it was what motivated me a lot."
Reverie Coffee Roasters and Founders Bakery is now open at 2202 E. Douglas Ave. in Wichita, Kansas.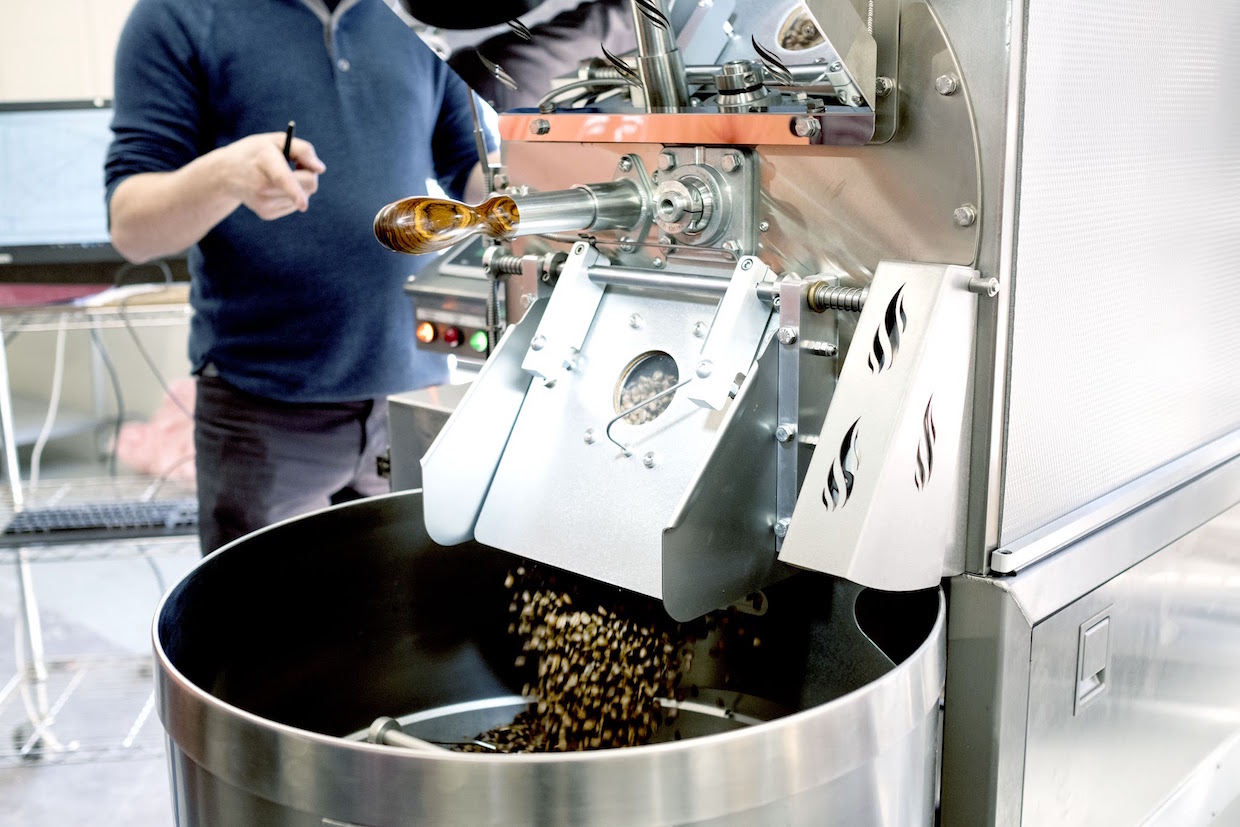 Howard Bryman
Howard Bryman is the associate editor of Daily Coffee News by Roast Magazine. He is based in Portland, Oregon.