Best of Budget Bytes 2018
Whoa. Did you just see that?? That bright flash was 2018, gone just as quickly as it came. 2018 was kind of a wild ride, but it left me with a lot to be grateful for, including some really killer recipes. 🙂 Each year I like to go back through the archives and compile my favorite recipes from the previous year as a way to say, "Hey, if you haven't tried these yet, YOU'RE MISSING OUT." So, are you ready for some recipe FOMO? Then scroll down for the Best of Budget Bytes 2018, 25 of the most amazing recipes of the year! …if I do say so myself. 😅
P.S. I had a couple more recipes scheduled for this last week of the year, but my computer finally died completely yesterday, so I'll be without photo editing capabilities until I can get it fixed. I hope this tides you over until then!
Best of Budget Bytes 2018
According to me, In chronological order.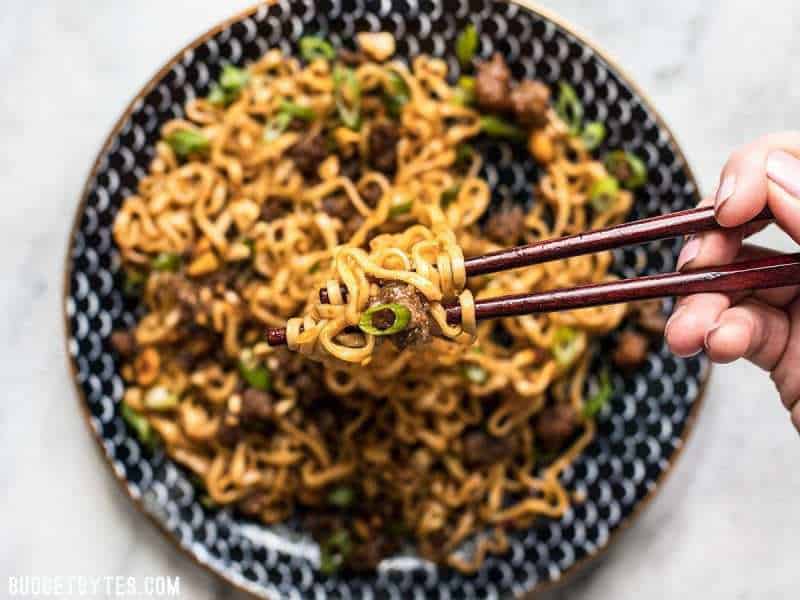 Pork and Peanut Dragon Noodles – I can't believe this recipe has only been in my life for one year. I honestly don't remember life before it. Yes, it is that epic. Try it and try it NOW. (If you're a vegetarian and still haven't tried the original Dragon Noodles recipe, try it and try it NOW.)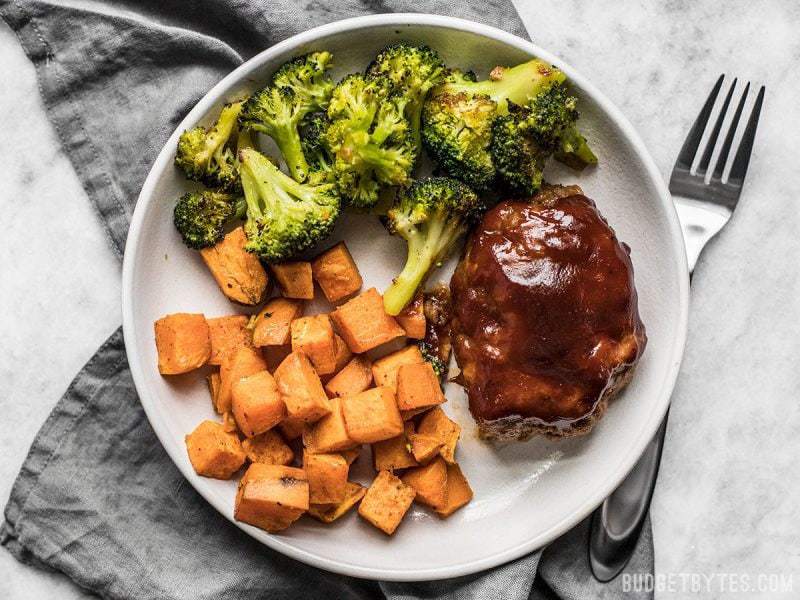 Sheet Pan BBQ Meatloaf Dinner – The easiest, tastiest dinner EVER. Everything you see on that plate cooks on one sheet pan, making it super low effort, and with barely anything to clean up. Don't believe me? Click over to the blog post to see the video of how it's done.
"All You Can Eat" Cabbage Soup – Eat as much as you want of this soup and it will barely make a dent in your budget, or your diet. It's full of nothing but the good stuff (vegetables) which also happen to be super inexpensive. Win-win.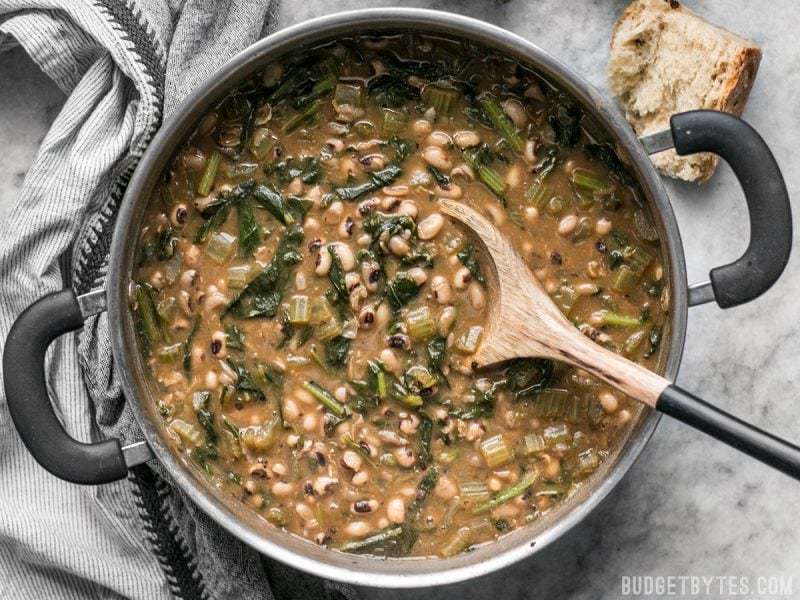 Slow Simmered Black Eyed Peas and Greens – I love a good pot of beans. They're tasty, filling, good for you, and super inexpensive. But this pot right here, might be one of my all-time favorites yet. Not only are the black eyed peas tasty on their own, but I went one step further and added some hearty greens to make this a super well-rounded bowl of goodness. Plus they freeze great, so you just can't lose here.
Herb Butter Chicken Thighs – If there's one skill you need to know for tasty weeknight dinners, it's how to make a quick pan sauce. This recipe for Herb Butter Chicken Thighs uses the quick pan sauce method to turn boring thighs into something truly mouth-watering. And once you know how to make a pan sauce, you can make a different flavor every time!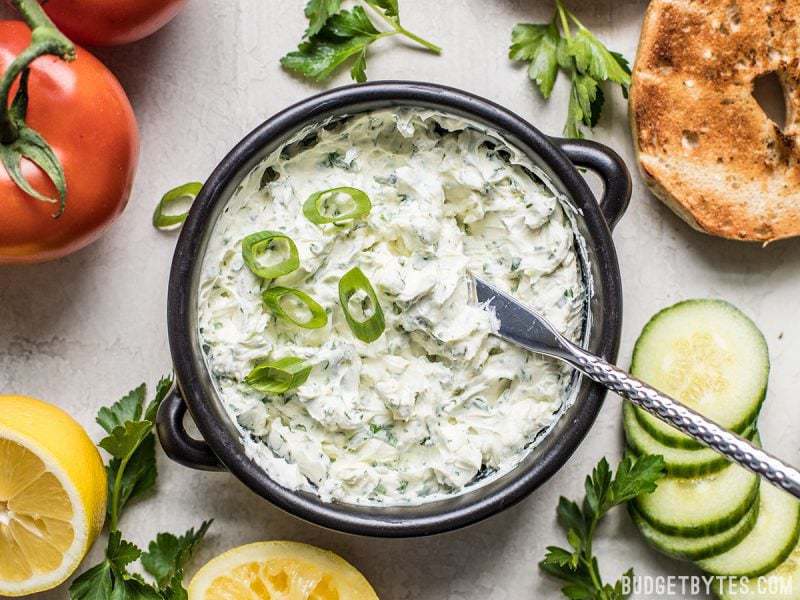 Scallion Herb Cream Cheese Spread – This one hasn't gotten a lot of attention or traffic, but it is definitely one of my favorites. If you like cream cheese, this is like taking your cream cheese up ten levels. Plus I like that it gives me a way to use up the extra parsley and cilantro that I seem to have in my refrigerator at all times. Oh, and if you don't already have lemons on hand in your freezer for making recipes like this, you should definitely be freezing your whole lemons.
Slow Cooker Chicken Tortilla Soup – This is a great year-round soup because it's filling and flavorful, yet still light and fresh. Bookmark this recipe so that when it's 90 degrees out in the middle of the summer you can pull out your slow cooker and make this awesome meal without heating up the kitchen.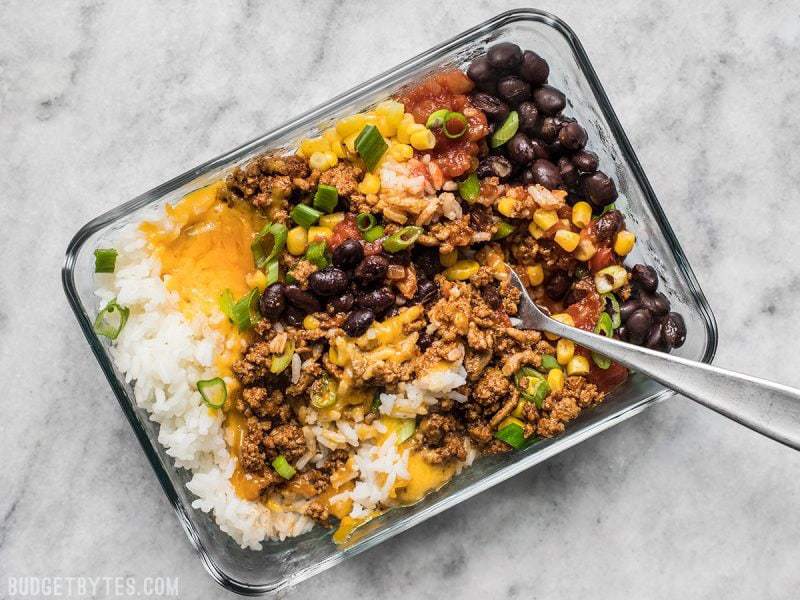 Easiest Burrito Bowl Meal Prep – Burrito bowls are the king of meal prep. They're so easy and full of so many flavors. And I don't know about you, but somehow I never get tired of variations on the beans and rice theme, so I can eat this every day for a week and love it no less. 😛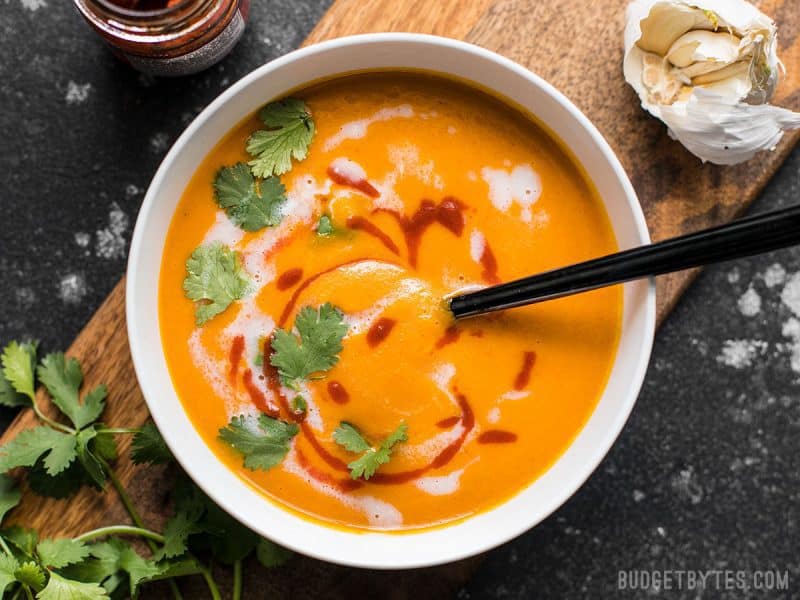 Thai Coconut Curry Carrot Soup – Look at that gorgeousness. 😍 And I promise the flavors are just as vibrant and amazing as the photo. A little bit of spicy Thai curry, creamy coconut to cool you down, and the subtle sweetness of carrot and sweet potato. It's a silky smooth bowl of heaven.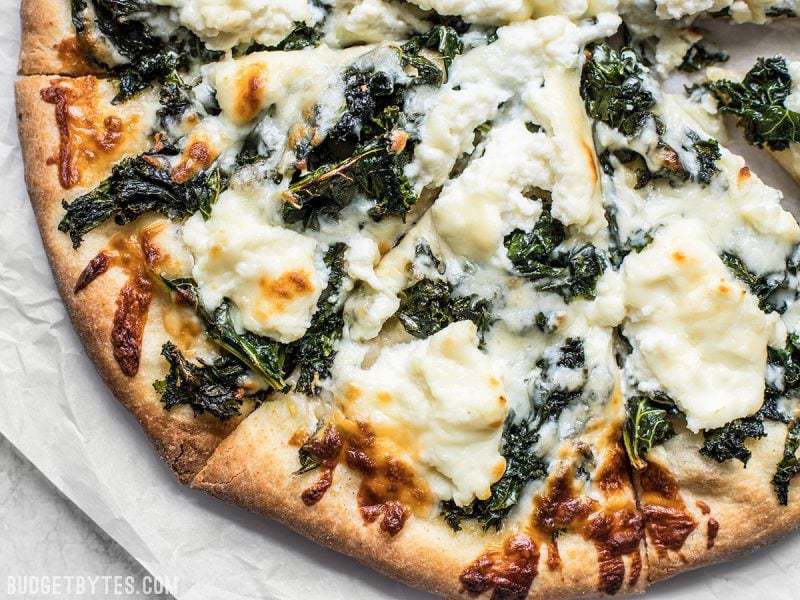 Garlicky Kale and Ricotta Pizza – Don't hate, kale on pizza is GOOD. Especially when paired with that creamy ricotta. I dare you to try it.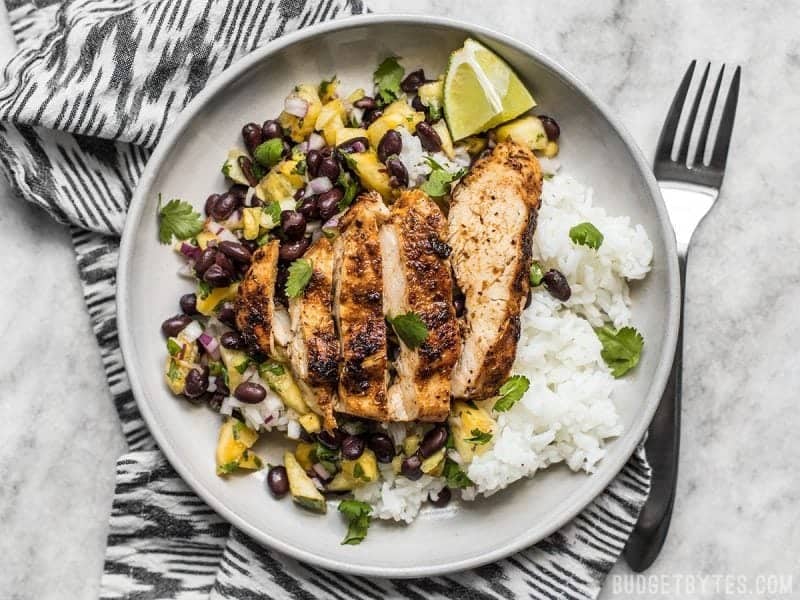 Jerk Chicken with Pineapple Black Bean Salsa – Oh man! Just looking at this photo is making me long for summer! This recipe is so fresh and vibrant, and packs up for a really nice meal prep if needed. Cook the chicken in a skillet, or outside on your grill if the weather permits! (Summer, I'm coming for you!!)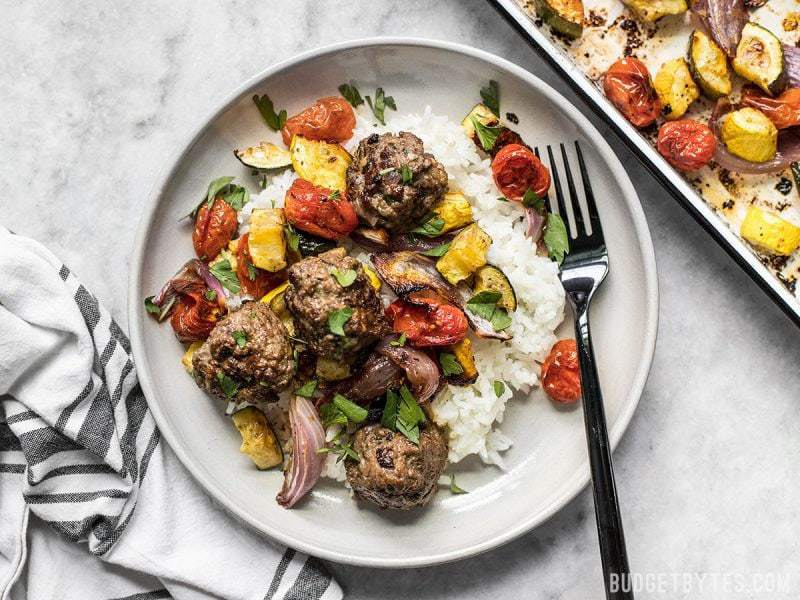 Beef Kofta Meatballs with Roasted Vegetables – The spice mix in these meatballs is just 👌Definitely a change of pace from your usual Italian style meatball, and they pair so nicely with the charred edges of the roasted vegetables. This is a picture of what I might consider a perfect meal.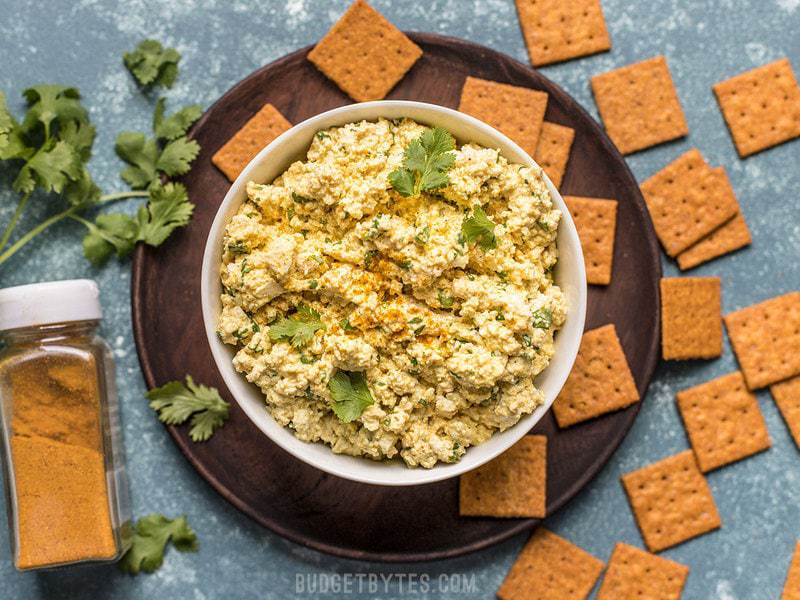 Curried Tofu Salad – If there was a yearly award for "most surprisingly delicious" this one would definitely win. I wanted to experiment with an egg-like tofu salad, but I never expected to fall this much in love with it. It's just so surprisingly light and refreshing, while also being quite filling, making it perfect as a snack or lunch main. I'd eat that whole bowl if left alone with it unsupervised.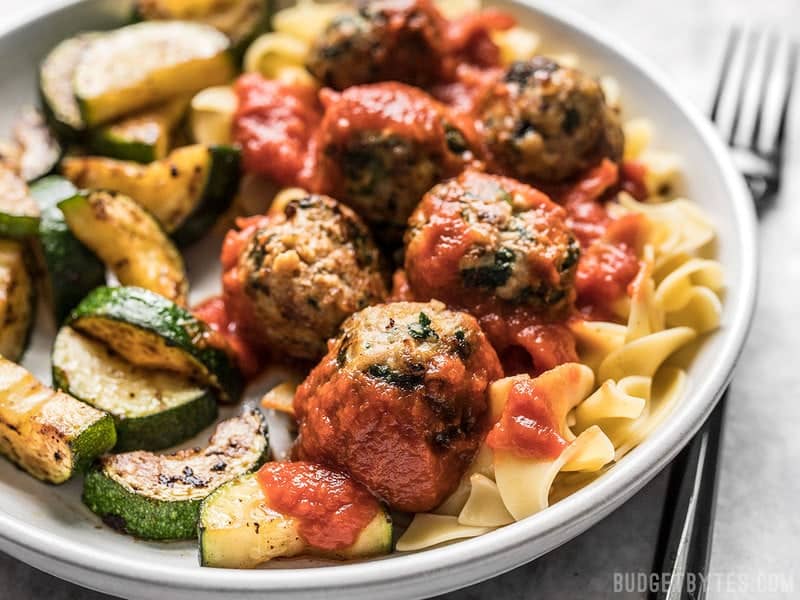 Spinach Feta and Turkey Meatballs – Not going to lie, 2018 was the year of the meatball in this house. I just became obsessed with them for some reason, but I'm not sorry about it. These Spinach Feta and Turkey Meatballs are, without a doubt, one of my favorite meatballs. Plus they just make for such an easy weeknight dinner!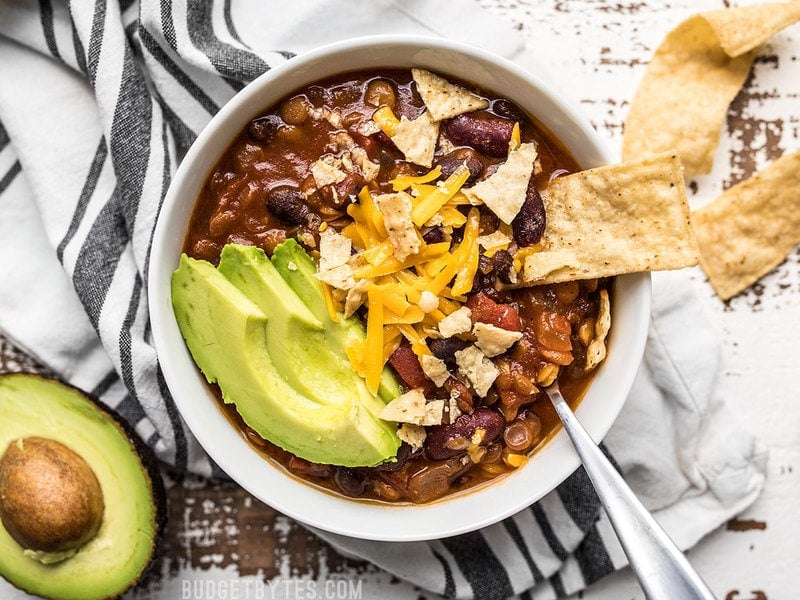 Slow Cooker Vegetarian Lentil Chili – Who doesn't love a good slow cooker recipe? And who doesn't love chili?? Bring 'em both together and you've got a winner. This vegetarian chili is a nutrition powerhouse AND extremely inexpensive, which gives you a little wiggle room to go a little nuts with the toppings. 😉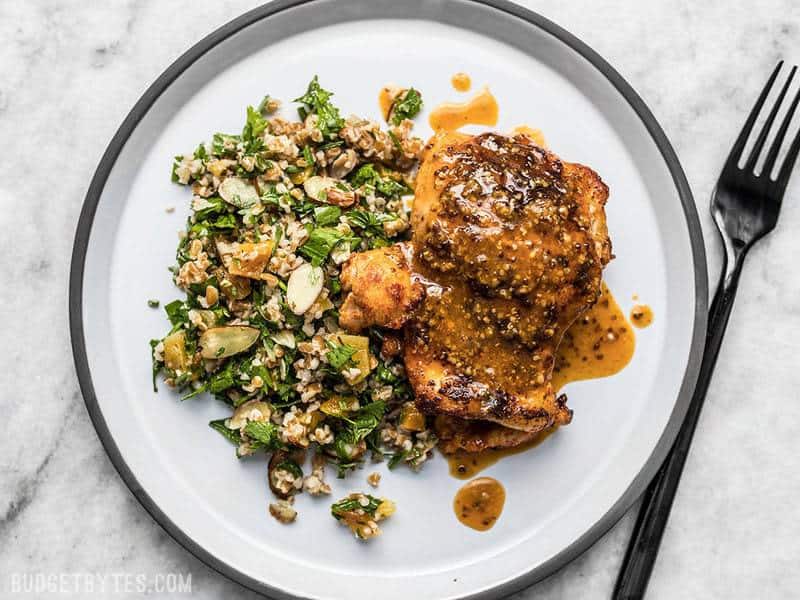 20-Minute Honey Mustard Chicken – More pan sauces to the rescue! Dinner is so fast and easy when you make a simple pan sauce. This one is both savory and sweet, with a little bit of tang from the mustard. SO GOOD. Pair it with a salad and a dinner roll, and you're DONE.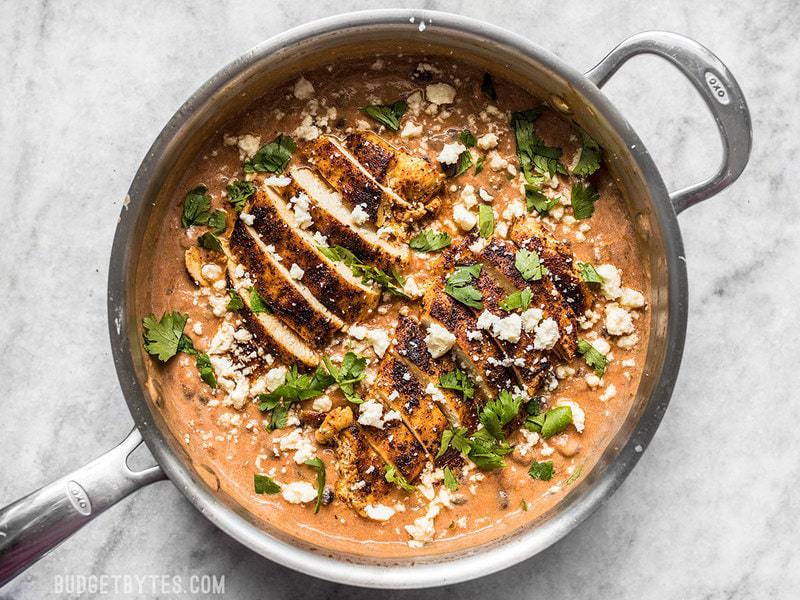 Creamy Salsa Chicken Skillet – A jar of salsa is a highly underrated and versatile ingredient, and it tastes good on pretty much everything. The salsa in this recipe becomes a quick and easy creamy sauce for pan seared chicken, which you can then just eat as is or spoon over a bed of hot rice (I vote for rice!).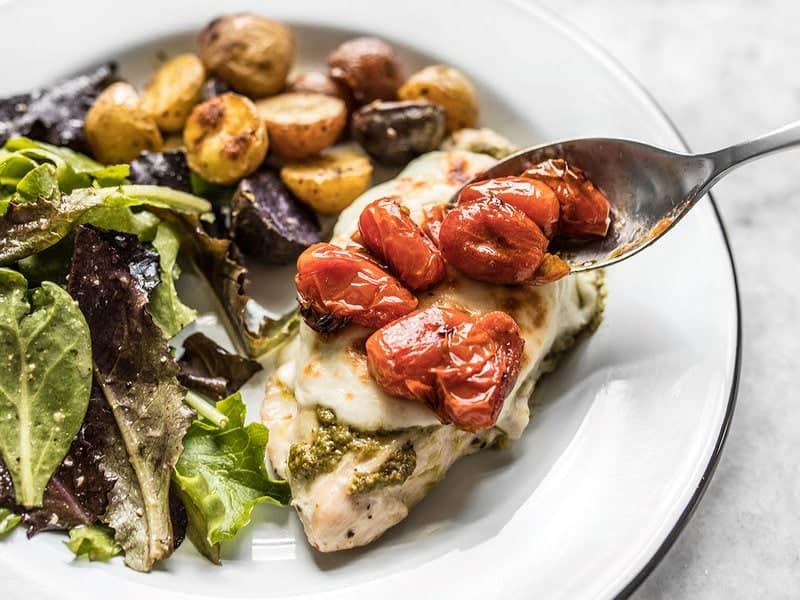 Sheet Pan Pesto Chicken Dinner – Would you believe that this one cooks on just one sheet pan as well?? Aside from the salad, of course. Such an elegant dinner, worthy of any date night, and so easy to prepare. Keep this one bookmarked for Valentine's Day!!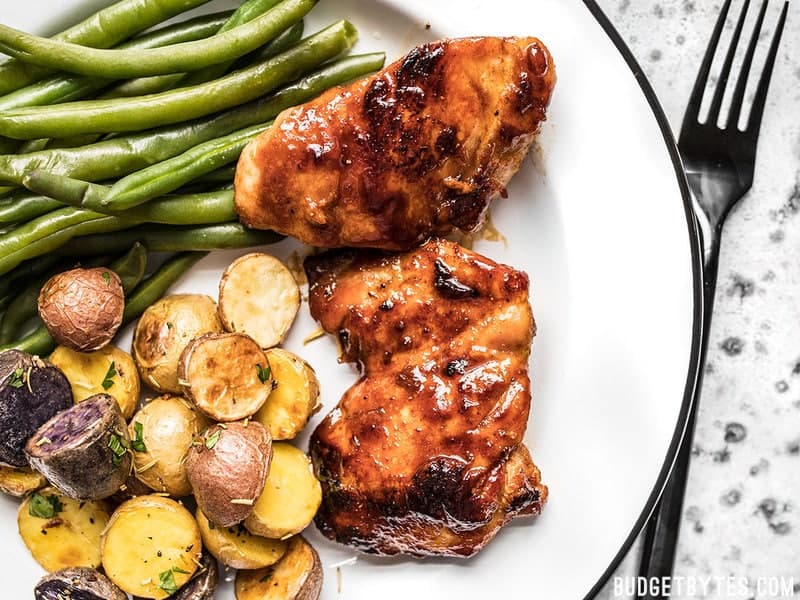 Sweet and Spicy Glazed Chicken Thighs – For years people have been asking me if they could use the spice rub from my Glazed Pork Chops on chicken and I finally decided to show you instead of just tell you "yes." I think I might even like the chicken better than the pork chops!!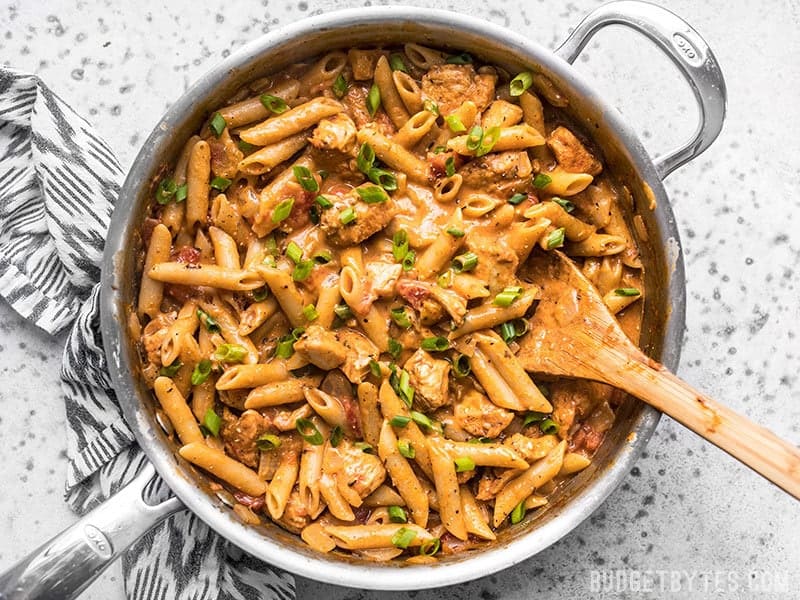 One Pot Creamy Cajun Chicken Pasta – My favorite "one pot" pasta yet? Those are strong words, but I stand behind them. A homemade Cajun seasoning blend makes this pasta fiery delicious, while the creaminess of cream cheese keeps everything cool. This is one is definitely worthy of your weekly rotation.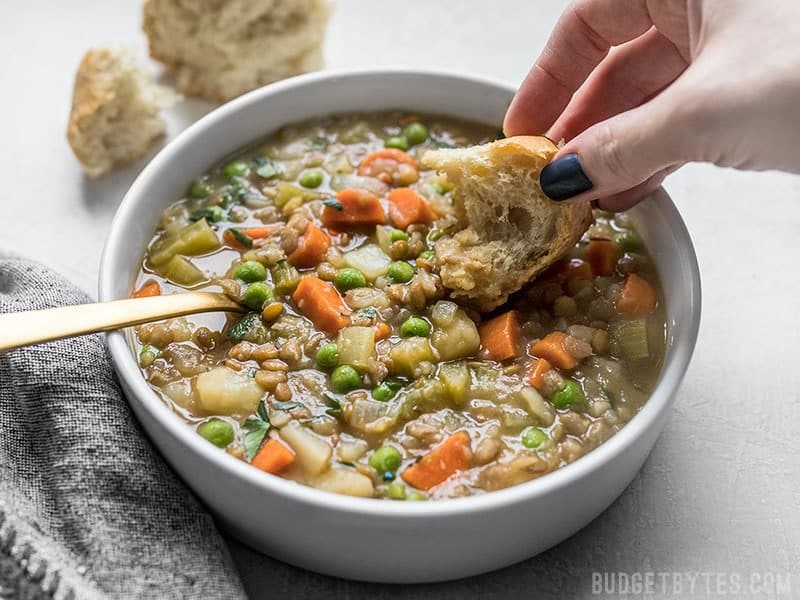 Vegan Winter Lentil Vegetable Stew – I declared this my favorite soup/stew of the year as soon as I made it, and I haven't changed my mind about that. There is so much flavor and texture going on here that you won't even notice there is no meat. Every time I make this I want to eat bowl after bowl after bowl!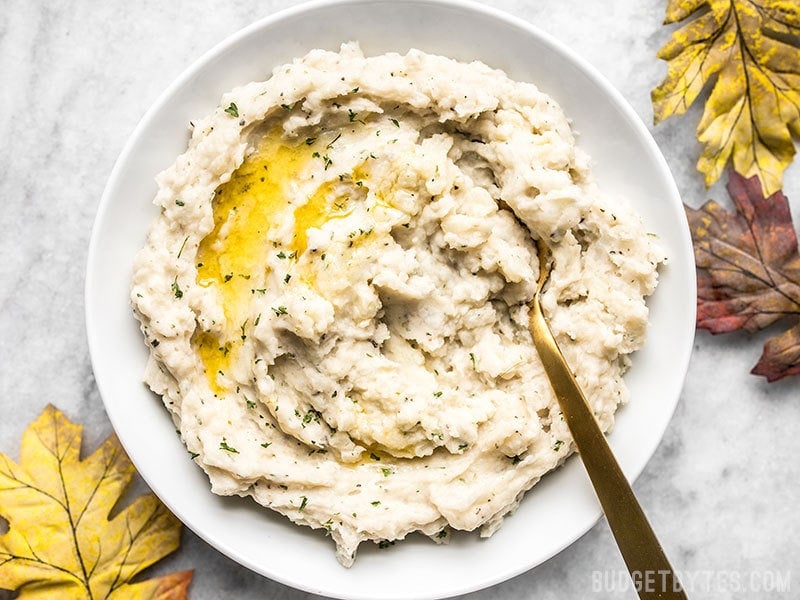 Fluffy Garlic Herb Mashed Potatoes – I finally unlocked the secret to super light and fluffy mashed potatoes. It's all about rinsing, not once, but TWICE during the process. I won't even tell you how many times I made these mashed potatoes this winter, but you might need two hands to count the number. Once I got a taste I just couldn't get enough.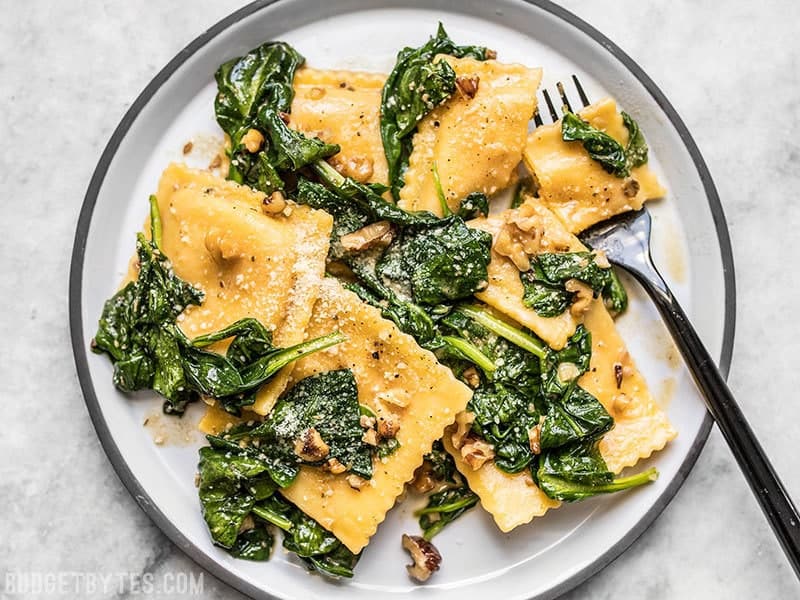 Ravioli with Sage Brown Butter Sauce, Spinach, and Walnuts – I know I've said it before, but brown butter is MAGIC. In this recipe it creates a light, nutty sauce that drenches ravioli and spinach, for a super simple and elegant meal. I hope Aldi carries their butternut squash ravioli all year because I want to put this one on repeat!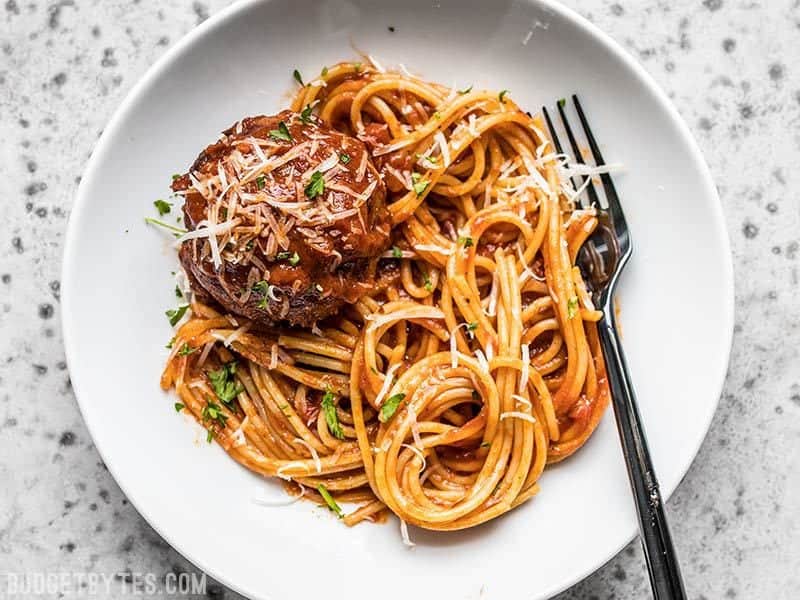 Giant Slow Cooker Meatballs – I told you that 2018 was the year of the meatball. These giant slow cooker meatballs are not only fun, but they cook in the slow cooker, making them ridiculously simple. This is what easy dinners are all about.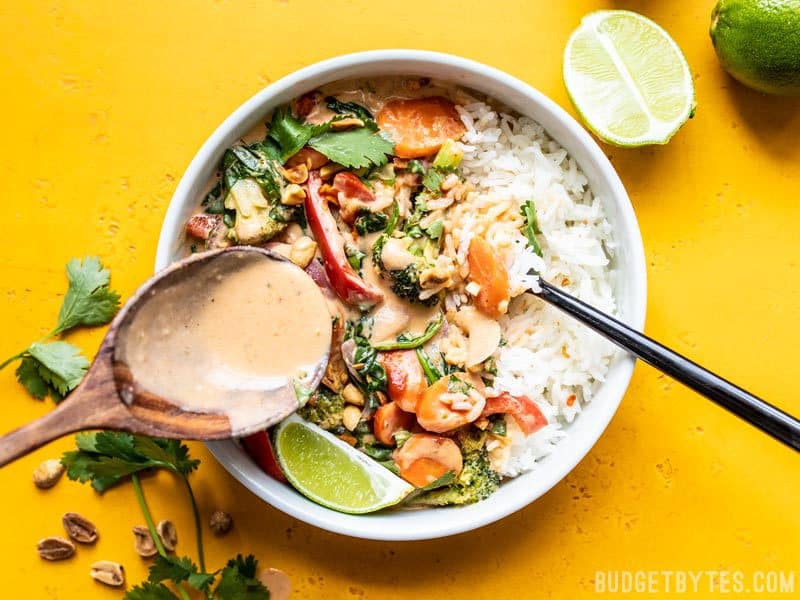 Spicy Coconut Vegetable Stir Fry – Because I can never have too many recipes that use up whatever vegetables I have on hand. And this sauce, OH THIS SAUCE. Pure spicy coconut heaven. You'll be slurping it up before it even gets to your bowl.
What was your favorite thin you cooked (from any recipe website) in 2018? Drop the link in the comments below! I love to see what you've been cooking! 🙂