Zoologist Presenting Chameleon in Spring 2019
Niche Perfumery


In 2018. Viktor Wong presented three fragrances for his own niche line Zoologist: Hyrax, composed by Sven Pritzkoleit; Moth, by Tomoo Inaba; and Tyrannosaurus Rex, by Antonio Gardoni. With Hyrax, Wong celebrated a bold, animalic combo. Moth brought an intense, oriental honeyed oud–sweet, sticky, and smoky and touched by a delicate mimosa blossom, while the dangerous Tyrannosaurus Rex reflected the predator character; the fragrance is bold, leathery, smoky, and dense with resins and a champaca-ylang nectar.
Over the next year we can expect more creations. First among them has been announced to launch at the beginning of Spring 2019, and it is inspired by the chameleon. ZOOLOGIST CHAMELEON is composed by the perfumer DANIEL PESCIO.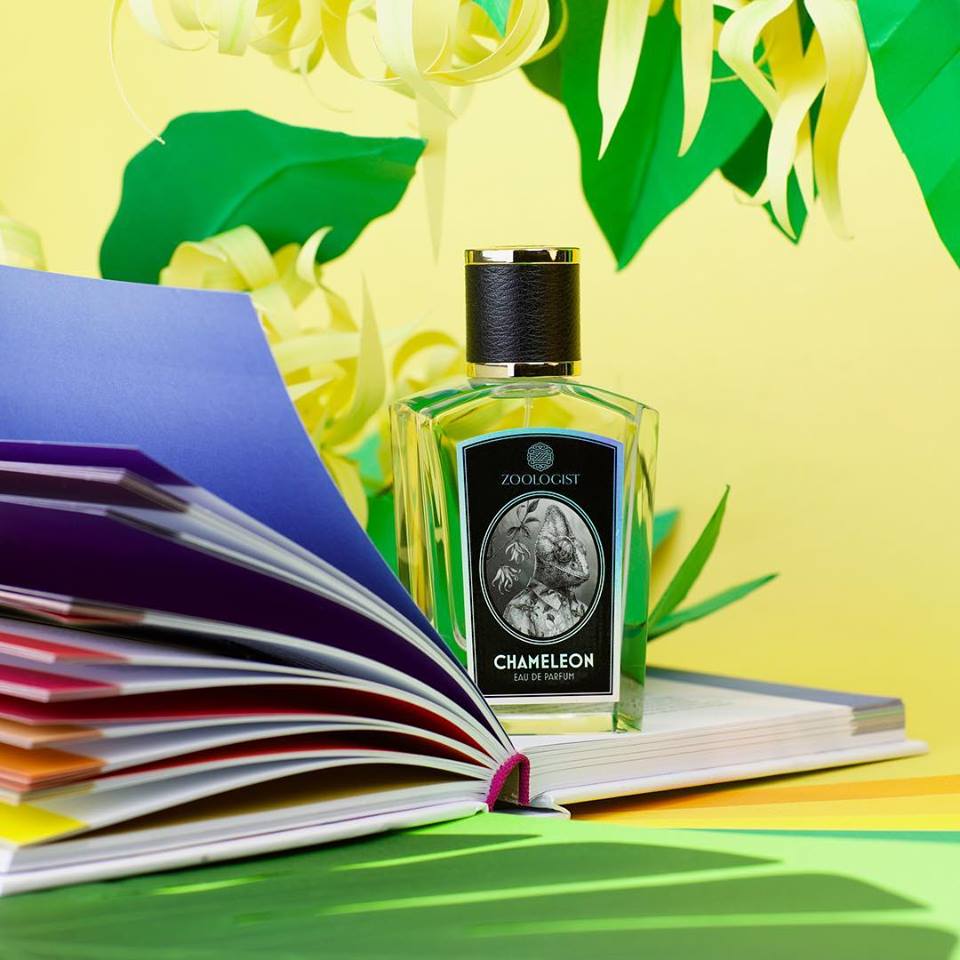 "Like the luminescent skin of a reptile, fiery scales of sunlight ripple across the surface of the Indian Ocean, fading slowly to gold and finally sapphire as the sun sinks and disappears. The sea exhales, its gentle tide caressing the beach of an island paradise. The salty breath combines with the narcotic aromas of the ylang and frangipani trees in an intimate kiss, sending shivers through the branches. Something stirs – an eye pivots, a tail grips a slender bough. Will the creature vanish among the leaves, or flirt with a daring display of colour? No one knows. The secrets that lie beneath the skin of the chameleon keep Madagascar guessing.
Madagascar, home to half of the world's species of chameleons, holds the key to Zoologist Chameleon. Like the kaleidoscope of hues that swirl within the flesh of these exotic creatures, ylang dances with delicate frangipani upon your skin in a melody of creamy florals, while aphrodisiac vanilla blends with salty, silky musks to envelop you in the fruity, exotic atmosphere of the island. Whether you desire to shroud yourself in an air of mystery, or blatantly flaunt your true colours, Chameleon becomes you." – A note from the Zoologist brand.
Top notes: Bergamot, Lemon, Madagascar Ylang-Ylang, Mango,
Pink Pepper, Star Fruit, Violet Leaves

Heart notes: Cashmeran, Clove, Coconut, Frangipani, Jasmine,
Saffron, Salty Skin Accord, Sea Breeze
Base notes: Amber, Woods, Musks, Opoponax, Patchouli,
Sandalwood, Vanilla, Vetiver
The fragrance Chameleon will be available in a 60 ml size at the official website Zoologistperfumes.com.
The source: Zoologist Perfumes
Author:
Sandra Raičević Petrović

Fragrantica Executive Editor, Writer and Designer
Spirit Rose
I was hoping there'd be more green tropical leaves in this one, but this sounds wonderful as what it is. I'll be trying to get a sample when it's released.
Dec
28
2018
cmarie

This looks awesome! It sounds very tropical. I love Zoologist and I can't wait to try it :).
Dec
28
2018
Alihannah1111

This delights me! I am looking forward to trying this. I love the idea of star fruit and mango in a fragrance!
Dec
28
2018
SailorV

This sounds good, like it will be one of the more wearable Zoologists. Looking forward to this.
Dec
28
2018
JustinSlayer

Huge Zoologist fan here too!
I can't wait to one day have the entire line up…
Sadly, some are already being "updated" e.g. Beaver & Panda
Dec
28
2018
Filomena1941

Well, Viktor Wong and Antonio Gardoni produced T- Rex which was beyond awesome so I cannot imagine imagine what Chameleon will be like, but then again, I presume that is the point. I am still wearing T-Rex after a week's worth of wearing. and I 'm sure that Chameleon will be another worth-while fragrance with W & G behind it.
Dec
27
2018
Nenalata

laura710

Oh god. The description and the notes sound so amazing, that I now feel the urge to try this! God, this must be beautiful.
Dec
27
2018
Adelaide Rocks

Oh dear. Salty skin, cashmeran, sea breeze? This looks like something that will be horrible on me. But I will hope for the best, because if anyone can make these notes work for me, it would be Zoologist.
Dec
27
2018
Tiwalii
I'm a huge Zoologist fan, and I can't wait to try this! It looks absolutely stunning! 🙂
Dec
27
2018
Add Your Review
Become a member of this online perfume community and you will be able to add your own reviews.