Two Shiseido Unsung Treasures: Inoui and Koto
There are some civilizations which seemingly have reached the apex of their arc. The Japanese have always impressed me as one of those, with their mysterious ways that are so highly contrasted with the West, combing through zen gardens and tiny trees that are shorter than a cat while taking eons to brew a cup of green tea, yet at the same time so sublimating the western ideal of technological excellence, capitalism, and specification to the nth degree.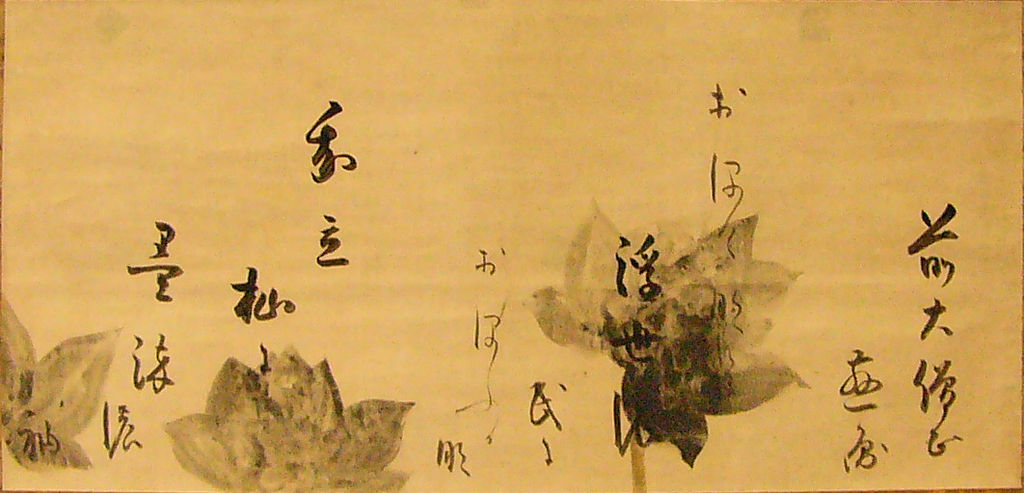 Honami Koetsu, The 100 Poets calligraphy, via wikimedia commons
It is perhaps shodō, also called shūji, or Japanese calligraphy, which is the most enigmatic of those artful differences. In a world that revolves around such fast-paced notions as social media, the art of Japanese calligraphy looks like the perfect way to anchor time. In Einstein's theory, after all, time is but man's invention, right?
The company of Shiseido comes from long ago, even if we do not consider time of essence, no pun intended, and their first perfume launched in 1917. Despite launching a pleiad of them into the fragrant galaxy, a few have remained unsung. I have taken it to heart to rectify this omission.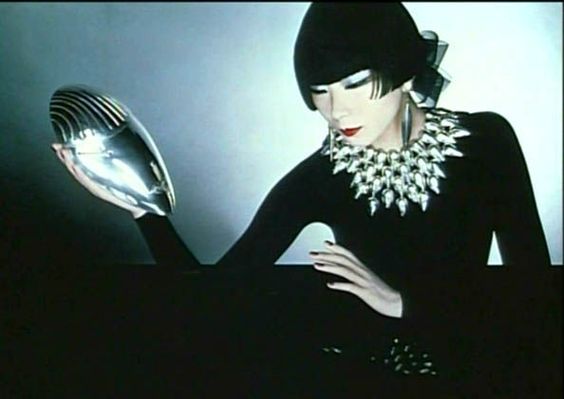 Therefore I present to you today two of their stellar products, one still in circulation as far as I know, the other long out of production and hunted down in auctions and collectors' exhibits.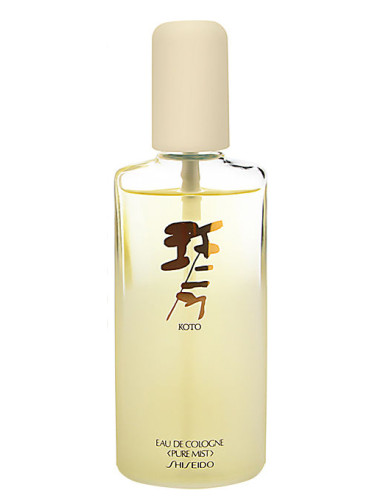 Shiseido Koto was launched in 1967 for the Japanese market. It belongs to the chypre floral green group, opening with aldehydes, citruses, herbs, and spices. The heart consists of narcissus, gardenia, orris root, jasmine, lily-of-the-valley, jonquil, and rose. The base features moss, patchouli, leather, amber, vetiver, and castoreum.
Despite being conceived for a market which we generally associate with immaterial, ethereal scents, Koto is quite substantial in what makes up the formula: such stalwarts as leather notes, oak moss, and castoreum make up the predominant features of a chypre fragrance that glides off the floral green side onto the more oily green and rough one. The defining characteristic is that it's all done in an angelically light sostenuto. It's no coincidence that its name derives from a similarly named musical instrument meant for angels, rather than humans.
Shiseido Koto, the scent, is refined, crystalline, with a purity that almost defies logic; as much feminine as it is masculine, as much a summer refreshment as it is a wintry wind chime in the frost. It shines with that particular Japanese sensibility that talks of a concept brought to its natural apotheosis. It reaches perfection.
I have been known to favor Shiseido Koto in warmer weather, in which it feels like a godsend, but it shines equally well in the season of cold; in fact, it's a welcome respite after spicy concoctions that dribble of honey and vanilla pudding alongside a good dosage of pipe tobacco. It feels like a window cracked open into the air of a piney forest, such a welcome break.
For an Eau de Cologne (Pure Mist) edition, I personally consider Koto to be decently lasting. It might have seemed light and fleeting back in 1967, but it's certainly on par now, considering that eaux de toilette, and even eaux de parfum, vanish off the skin in a matter of a couple of hours, petering out after huffing their sparkly top notes.
The idea of a Japanese chypre further materialized 9 years later, in the enigmatic and beautifully orchestrated Inoui.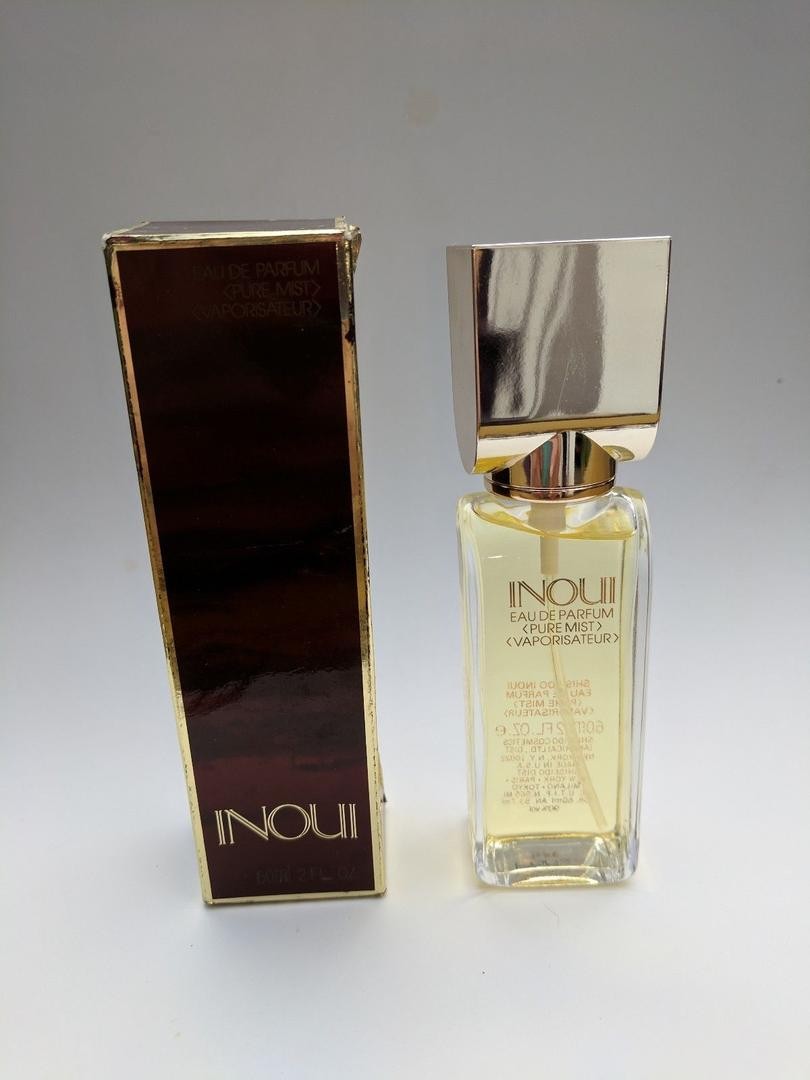 Shiseido Inoui was launched in 1976.
Top notes: Galbanum, Green Notes, Cypress Fruits, Lemon, Peach, Juniper
Heart notes: Jasmine, Freesia, Thyme, Pine Needles
Base notes: Cedarwood, Myrrh, Civet, Oakmoss.
I first became interested in Inoui during the 1990s, while reading an interview of Greek singer Anna Vissi, who had claimed that her favorite perfume had been Inoui by the Japanese brand Shiseido (which I knew from Feminite du Bois). She lamented its discontinuation and added that she'd jump through hoops to find a few spare bottles. Those were not the times of the internet and of eBay auctions, you see, but the seed was planted in me, and I hunted it down when opportunity arose.
With Inoui, Shiseido reached an octave that only Diorella had explored sufficiently before. This Mona Lisa of a scent remains apocryphal and not sufficiently worshipped, the way other vintage fragrances have been idolized, whether they come from Shiseido or not.
The alliance of juniper, with its gin-like background, with galbanum and pine gives the initial jolt of seemingly frozen nostrils, icicles growing up your brain, which becomes the prelude for the harmony of peachy florals in the heart with a classic chypre base. The latter leans into an animalic quality characteristic of decades past when people didn't consider bodily sterilization the way to venture into their daily lives. It's easy to lose track that we're talking about Japanese perfume; this was clearly intended for western customers or for the Japanese who were adventurous out of the mold and wanting to emulate a Frenchified sensibility. The Eau de Parfum concentration of Inoui was further testament to this aim.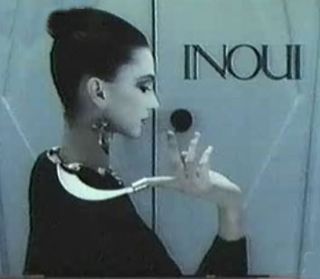 The commercial for Inoui makeup colors, fronted by Lutens's favorite model, the Greek supermodel, Elena Kountoura
I'm not making this claim lightly. A few years later the amenable Serge Lutens, as French as they come, took over the creative director's helm, photographing the ad campaigns. Lutens came equipped with a highly sophisticated personal sensibility, which was so architecturally refined that it expressed its own brand of expressionism in his makeup ads for the Japanese company, as well as for Christian Dior, where he also tenured as a valuable creative force with memorable visual results.
In the following commercial we can see his obsession with both Metropolis, the Fritz Lang film, as well as the shape of African masks, their perfect oval a reference to fauve's exploration with primitive motifs.
The Shiseido launch of Inoui the perfume is matched with a makeup line of the same name, launched in 1977 and retaining the name for several seasonal collections after that. They are fronted by mysterious figures in black and white, lithe and steely, sweeping through enigmatic doors to another dimension.
Needless to say, Inoui is a stunning fragrance.
It looks like Shiseido hides many hidden gems, more of which we will explore together in a subsequent article, here on Fragrantica. Till then, I suggest getting a book of calligraphy and enjoying the silence while leafing through its evocative pages.
Elena Vosnaki

Elena Vosnaki is a historian & perfume writer from Greece and a Writer for Fragrantica. She is the founder & editor of Perfume Shrine, one of the most respected independent online publications on perfume. Her writing was recognized at the Fifi Awards for Editorial Excellence in 2009 and in 2011. She is consulted as a fragrance historian & expert, and has been curating fragrance installations at museum exhibits at the Milan Expo 2015 and elsewhere. She also contributes to publications around the world.
Read her articles on Fragrantica Follow her on Twitter