Vivien Leigh and Her Perfumes
FFOL Editor 1
"Only England could have produced her. She was the perfect English rose. When the door opened and she was there, she was so terribly good-looking. She had such an exquisite unreality about her," as Diana Vreeland wrote when she was a columnist of Harper's Bazaar.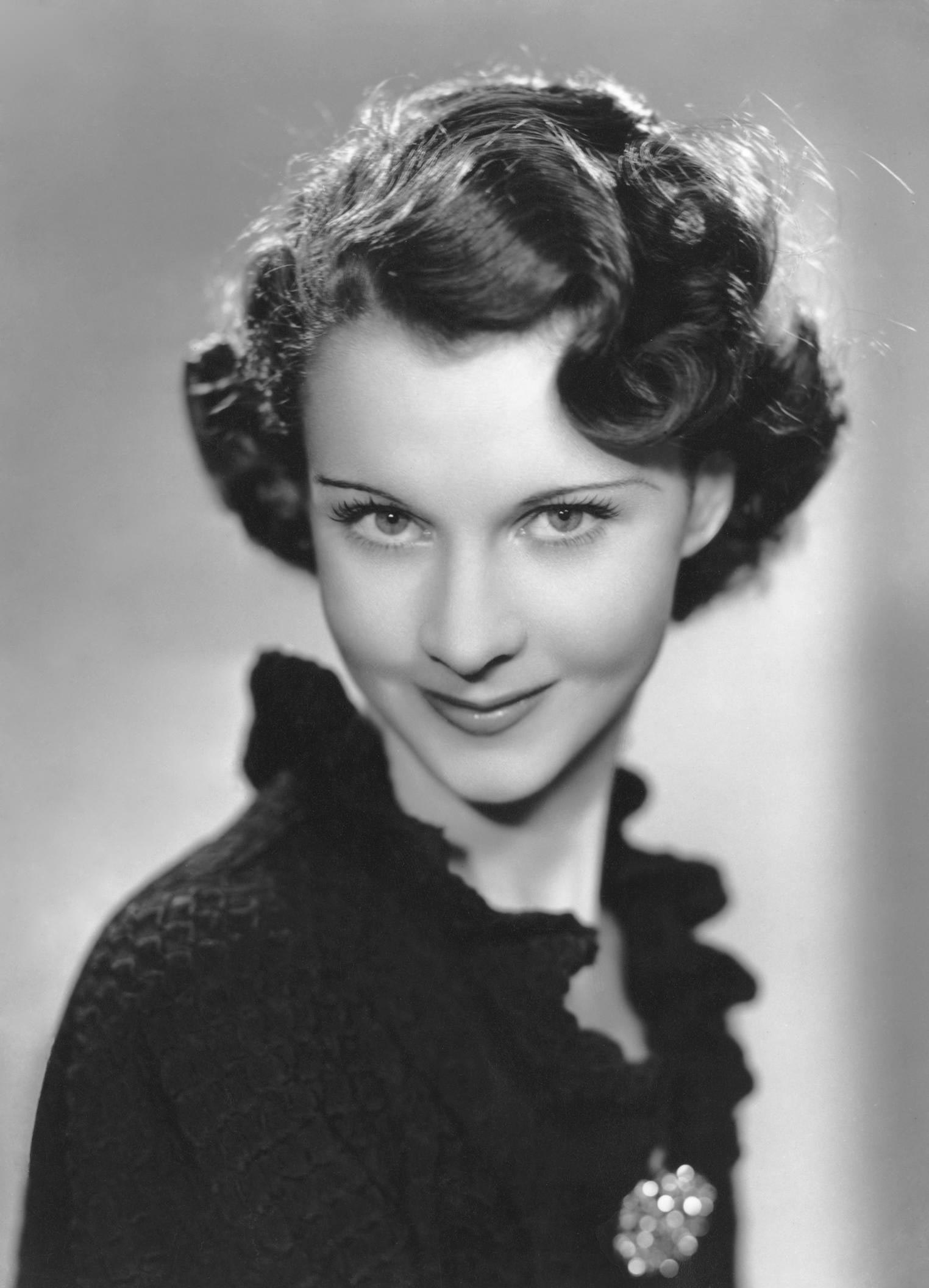 These words are dedicated to Vivien Leigh, her object of adoration.
Rose was the first thing you'd think of when you met Vivien, because she smelled of roses. She loved roses passionately: she had a rose garden as soon as she had her own house, and was wearing rose perfumes throughout her life. She changed her perfume three times, and all three had a pulsating rose heart.
At the beginning of the 20th century, either rose, or verbena, or violet were commonly regarded as a suitable perfume for a real lady. Unarguably, Vivien Leigh was a real lady: by birth and due to her education, but also because of her behavior and style. She was a great actress, and at the same time she was a lady in everything – even in the perfumes she wore.
The most well known roles of Vivien Leigh were Scarlett O'Hara from Gone With The Wind, who survived because of being everything but a lady, and Blanche Dubois from A Streetcar Named Desire, who sheltered herself in acting like a lady, even though she would be dragged through the mud and walloped with the heavy fist of Stanley Kowalsky – so badly that she could not get up anymore.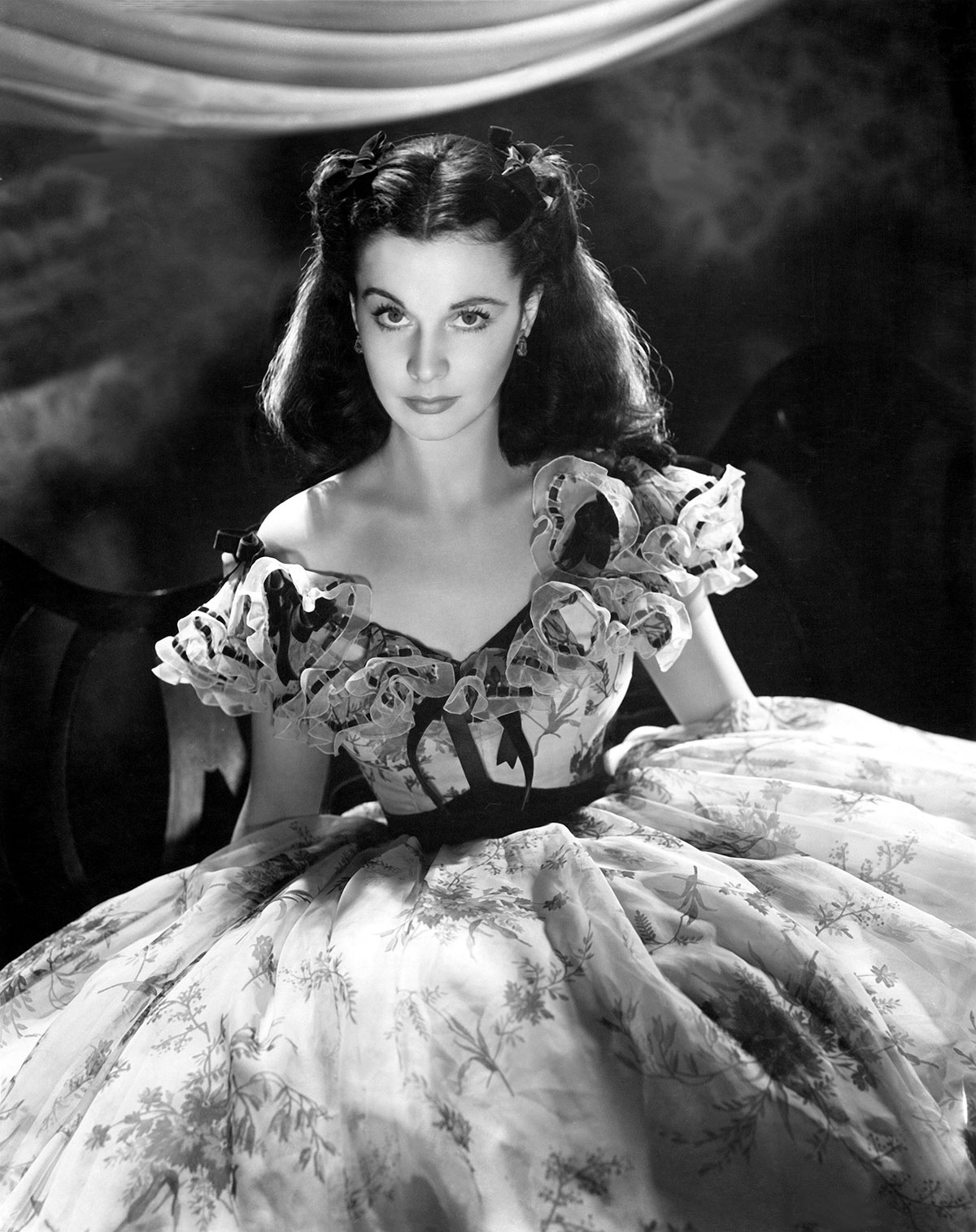 The USSR knew Vivien Leigh mostly as "Lady Hamilton", who was not a real lady, either: she was a courtesan married to a lord, and then the beloved darling of admiral Nelson.
Vivien Leigh always played roles of women who tried to behave like ladies (but they all have something that is hindering them from being one – be it the descent or the circumstances), or of those ladies by birth corrupted by that big unworthy feeling, which happened to Myra Lester from the Waterloo Bridge, to Anna Karenina for the eponymous novel by Leo Tolstoy, and to Caren Stone from The Roman Spring of Mrs. Stone.
Notwithstanding all of that, the actress could not hide her natural grace completely. That is why her Scarlett was much more charming and vulnerable than the persona from the novel of Margaret Mitchell, and that is why her Blanche Dubois was so fragile and insecure and could not be an object of anything except compassion, even though her portrait in the Tennessee Williams' play is quite ambiguous and has been interpreted differently.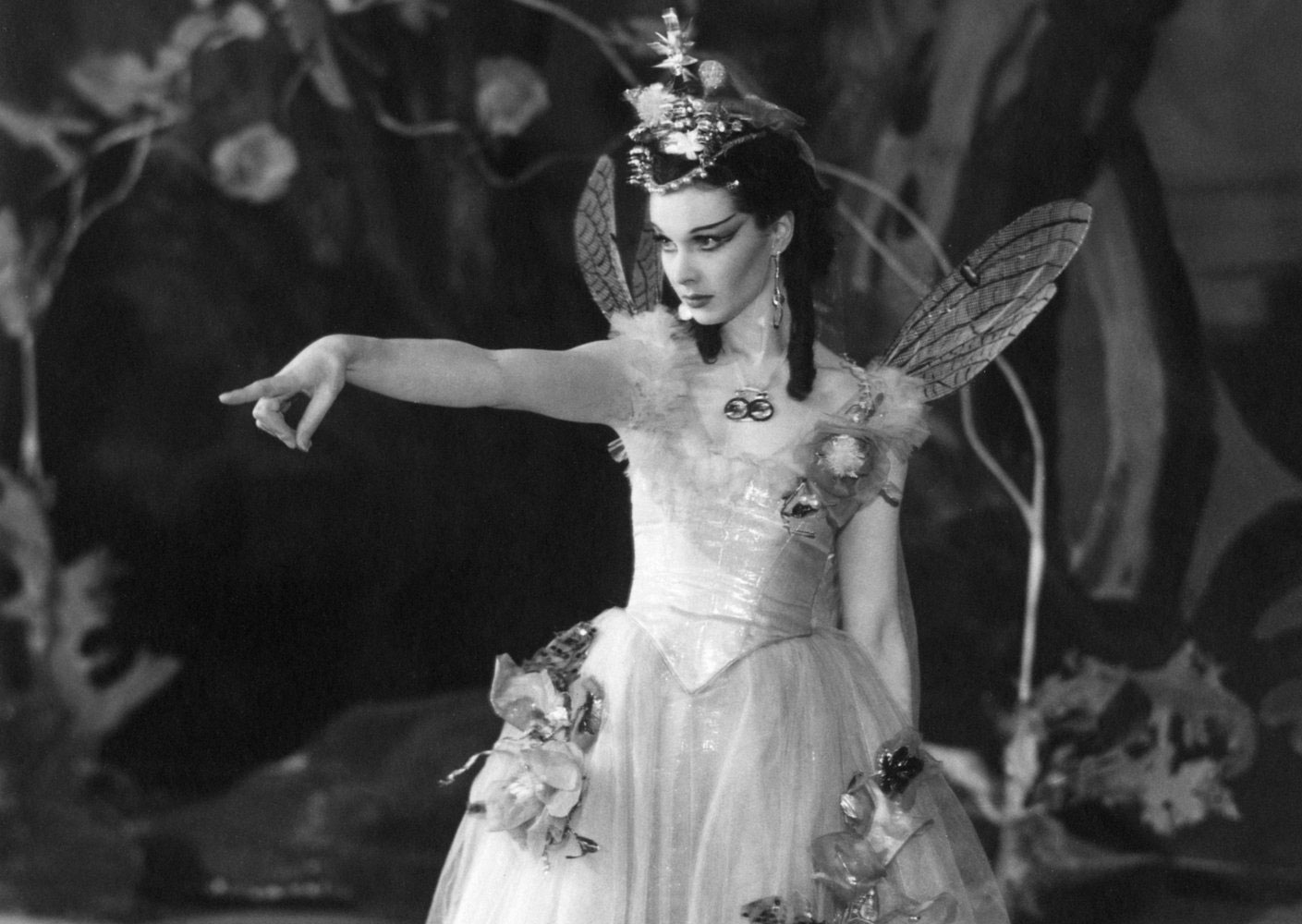 …How perplexed am I not to be able to see a recording of A Midsummer Night's Dream from the year 1937, where 24-year-old Vivien played Titania, the queen of fairies. The only thing we have is a bunch of photos, and looking at them I realize that no other actress could have been more shining and have looked like a real fairy, like a non-human being.
"Her beauty was flawless, poised, and aristocratic; her swanlike neck, her translucent skin, and the delicate perfection of her features gave her an ethereal quality which seemed to deny the existence of earth and blood and fire. Yet her compound of these was erotic," said David Niven about her.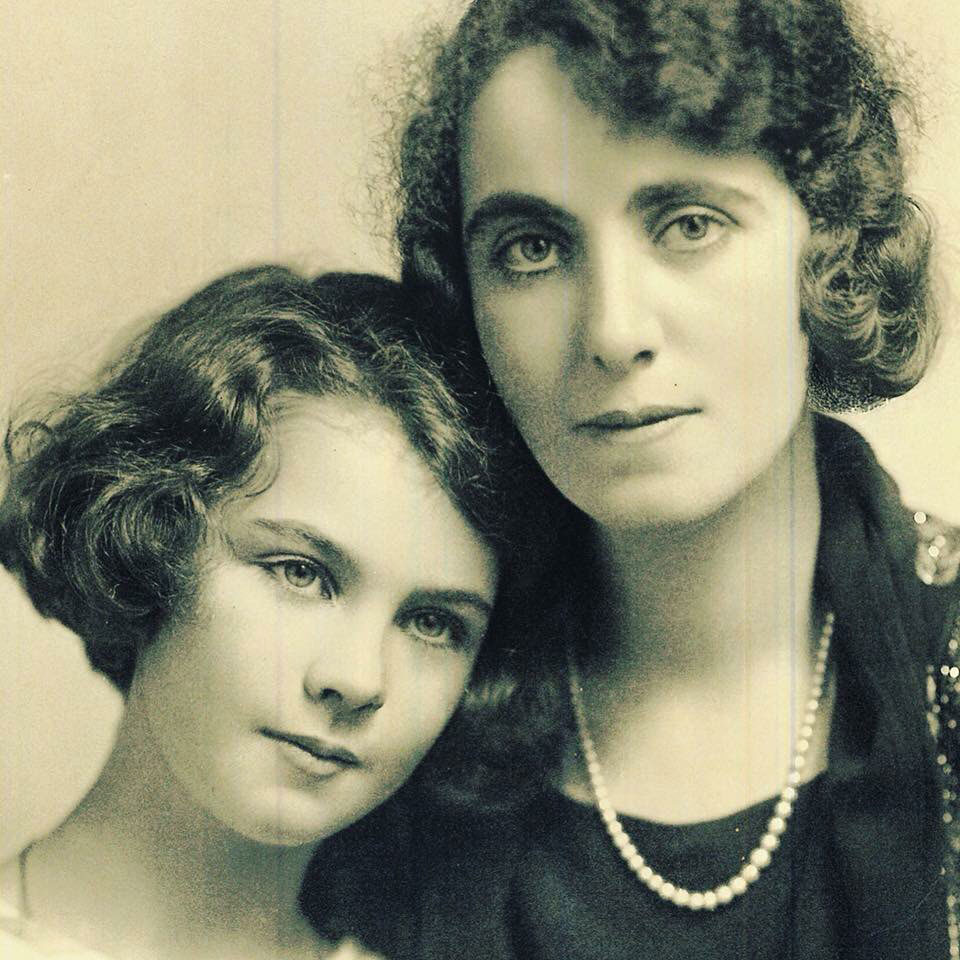 Vivian Mary Hartley – that was the name of the girl, who was born on the 5th of November, 1913, in Calcutta. Her mother, Gertrude Yackje, was half Irish, half French, with a drop of Spanish and Armenian blood. Gertrude was considered a beauty, but the appearance of her daughter, who was one year of age at that time, was almost angelic.
"English men are afraid of attractive women and don't trust them. Foreigners are allowed to be beautiful, while the English women are not. In Britain, an attractive woman is somehow suspect. If there is talent as well, it is overshadowed," has Vivien repeated half ironically, half seriously.
Her mother was a strict parent, mostly because the girl attracted a lot of unwanted attention everywhere she appeared; many years later Vivien recalled her lectures:
"Behave like a man of the house would like you to behave – only then would he invite you again." When we had guests my mother told me: "Do what your guests expect you to do; only then would you be a good wife." I asked her, "when am I allowed to behave like I want to behave?" I don't remember her answer, but I remembered that good manners mean you are never allowed to do what you want to do."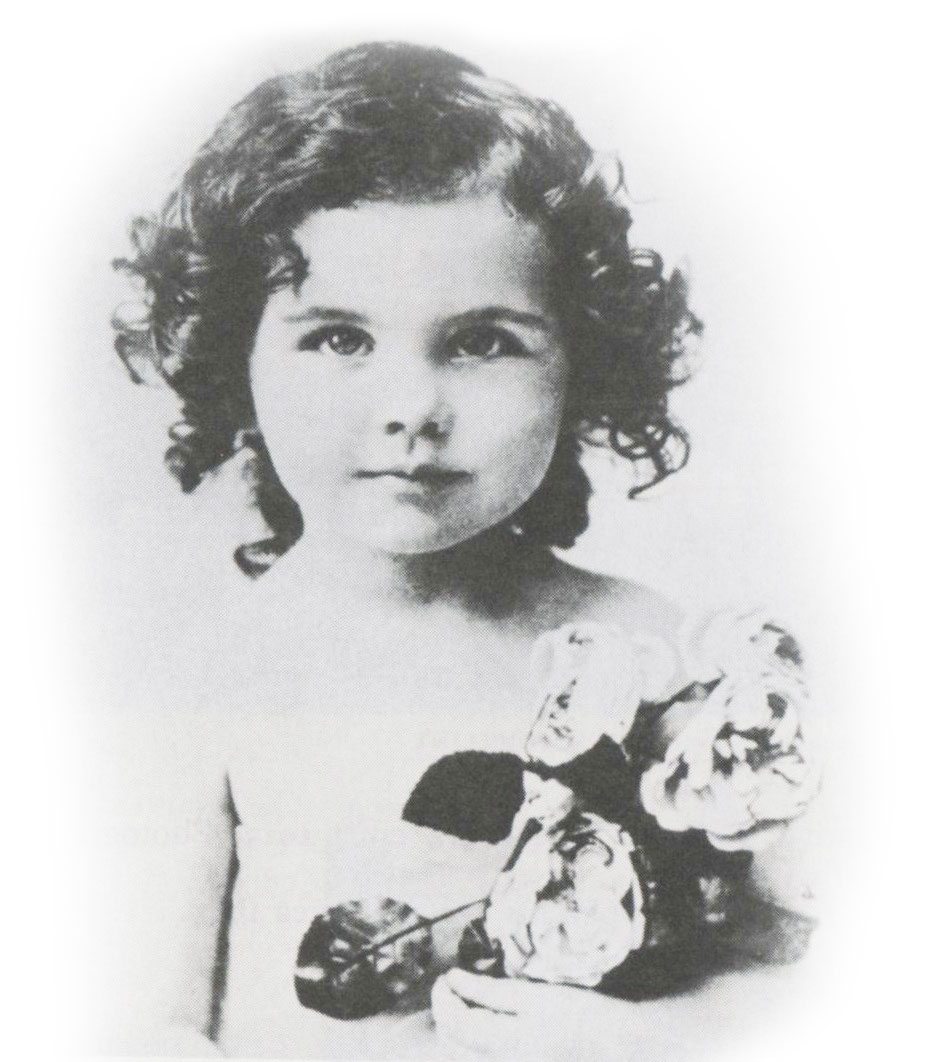 The Hartleys returned to England and sent 6-year old Vivien to Catholic boarding school at the Convent of the Sacred Heart in the Swiss Alps, so that the young lady could study foreign languages. The sisters "polished" her manners, while nature finished its work on the stunning beauty of young Vivien. In 1935, Vivien was first taken out into the world as a debutante.
I believe it was then when she had her first perfume – not earlier, because it would have been seen as inappropriate.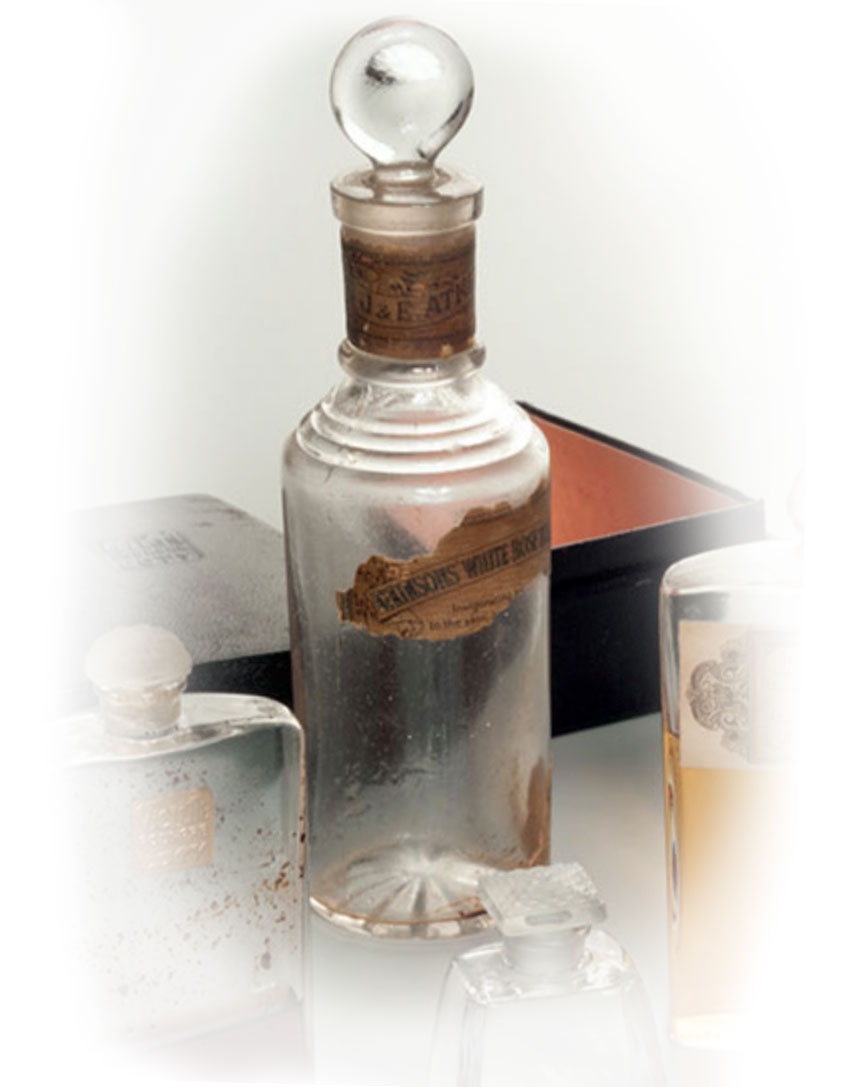 Picture of White Rose (taken in Museum of Tsarskoye Selo)
Gertrude Hartley had been wearing White Rose, the most popular perfume of Atkinsons. It was popular across the world; the last Russian empress, Alexandra Feodorovna Romanova, mentioned White Rose, saying it was "transparent, absolutely clean, and endlessly fragrant."
White Rose was an aristocratic fragrance, and Atkinsons made use of its success issuing the same composition in other formats, including eau de cologne, bath salt, soap, and powder.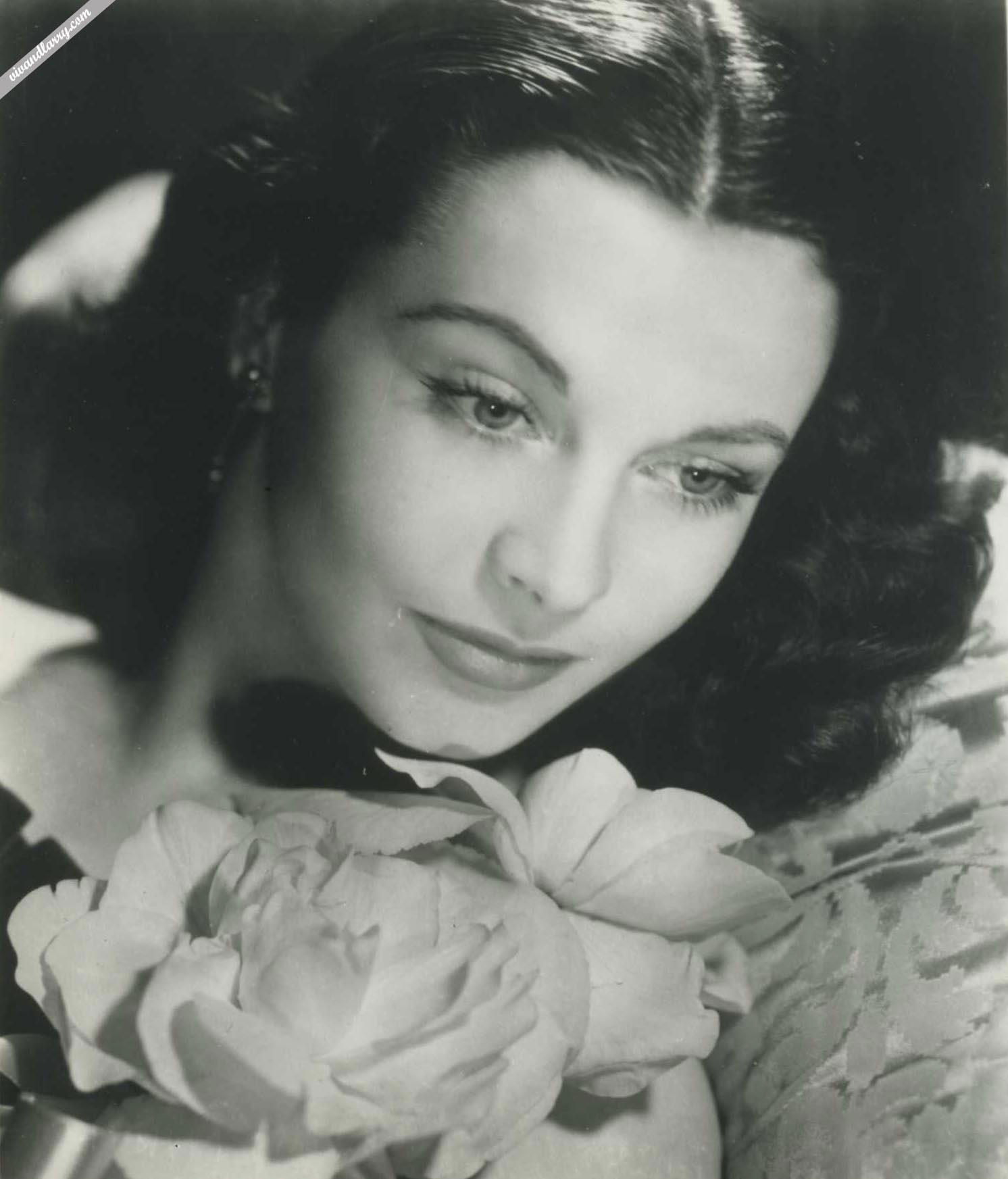 Vivien loved the perfume her mother wore – that is why she chose White Rose for herself, too.
I encountered White Rose some time ago, but that attempt was unsuccessful: the vintage bottle did not stand the test of time, and I was not able to feel the transparency and the aforementioned heavenly "odor" people claimed it had a century ago, to the extend that an empress praised its beauty… Just like Vivien Mary Hartley, the youthful queen of fairies.
Many, many years later in one of her interviews, when she was a very famous movie actress, she would say: "If I could have my time over again, I could have been sure of two things. Firstly, I would have become an actress much earlier. Secondly, right after that I would have married Laurence Olivier: I would have asked his hand myself." Hazed with her usual irony, a truth gleamed through; she became an actress fast enough still.
In 1931 Vivien entered the Royal Academy of Dramatic Art. Her family didn't mind, private theatricals were a popular high society avocation… A year later Vivien married a lawyer, Herbert Leigh Holman. He was 30 years her senior, and made a perfect match for her. Nothing could prevent Vivien to answer the call of her vocation, her true destiny: neither her marriage, nor the birth of her daughter Suzanne could interfere with her plans.
***
In 1934, Vivien had a small part in a movie and fell in love with an actor, Laurence Olivier. She told her friend: "That is the man who I am going to marry someday." Both Vivien and Laurence were married at that time, but she seemed to know what the future would hold…
Vivien was a true lady – just like her mother had wanted and in the way she was brought up – but she decided to behave in the way she wanted instead of behaving like good manners required. Truth be told, she was still wearing the aristocratic White Rose. She perceived it like her own scent and was not going to barter her White Rose for anything else.
In 1935, Vivian made her debut as an actor in the stage play Mask Of Virtue and got her pseudonym: the key operator made a typo, which is why her name looked like Vivien. She liked it; later she left her husband and daughter while putting her hands on a part of his surname, and off she went, going deep in the realms of stage art.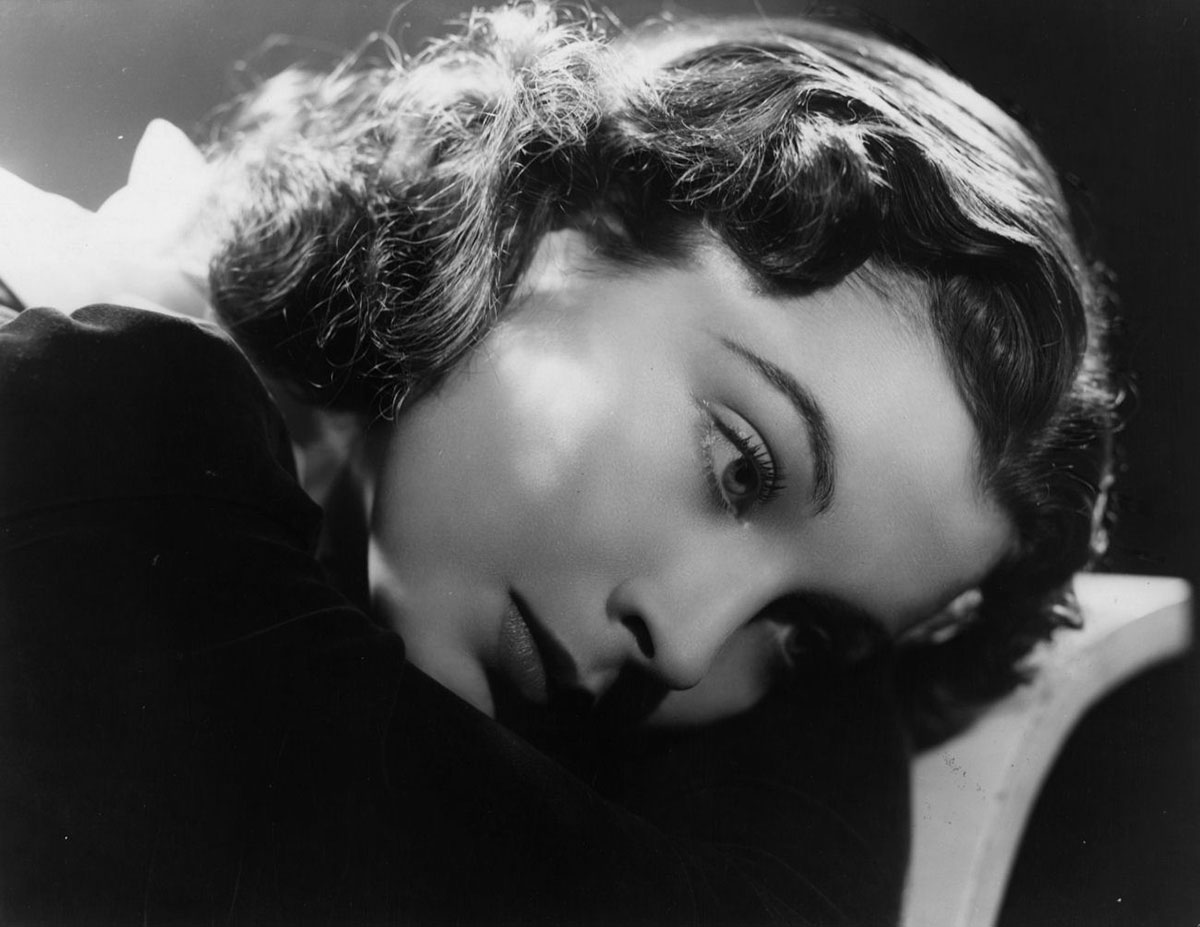 It might seem that Vivien Leigh lead a cushy kind of life without any mishap. Well, of course some of her roles were publicly criticized, but her beauty always bailed her out, to the point that she hated the very words for it – "attractive", "pretty". She wanted to be loved because of her talent and not because of her looks, but she couldn't defy the enchantment that she aroused in everyone who saw her.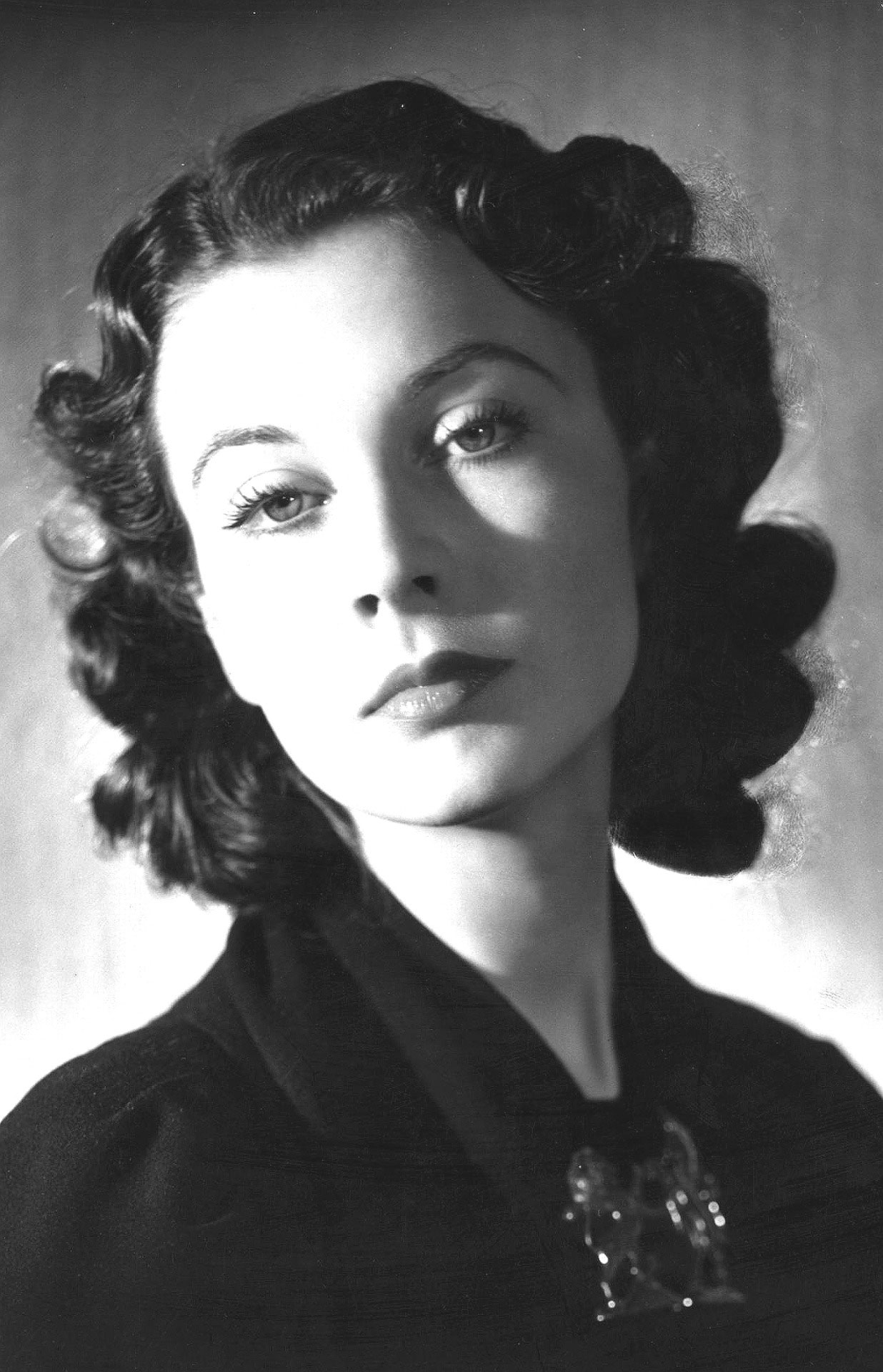 "She is dainty as a flower, as slight as a willow, as exotic as a tiger lily. Her chin is aggressive but pointed, making her small vivid face heart-shaped and deeply appealing. She has green eyes set in with a smutty finger, for her lashes are thick, black and softly curling. Her brows are black and slant up obliquely at the outer ends. There is something defiant, reckless and unafraid in her face; something untamed and wild in her spirit." David Levin's words
In the very same year when she acquired her stage name, Vivien met "her" filmmaker, namely Sir Alexander Korda, and was introduced to the man of her dreams, Laurence Olivier.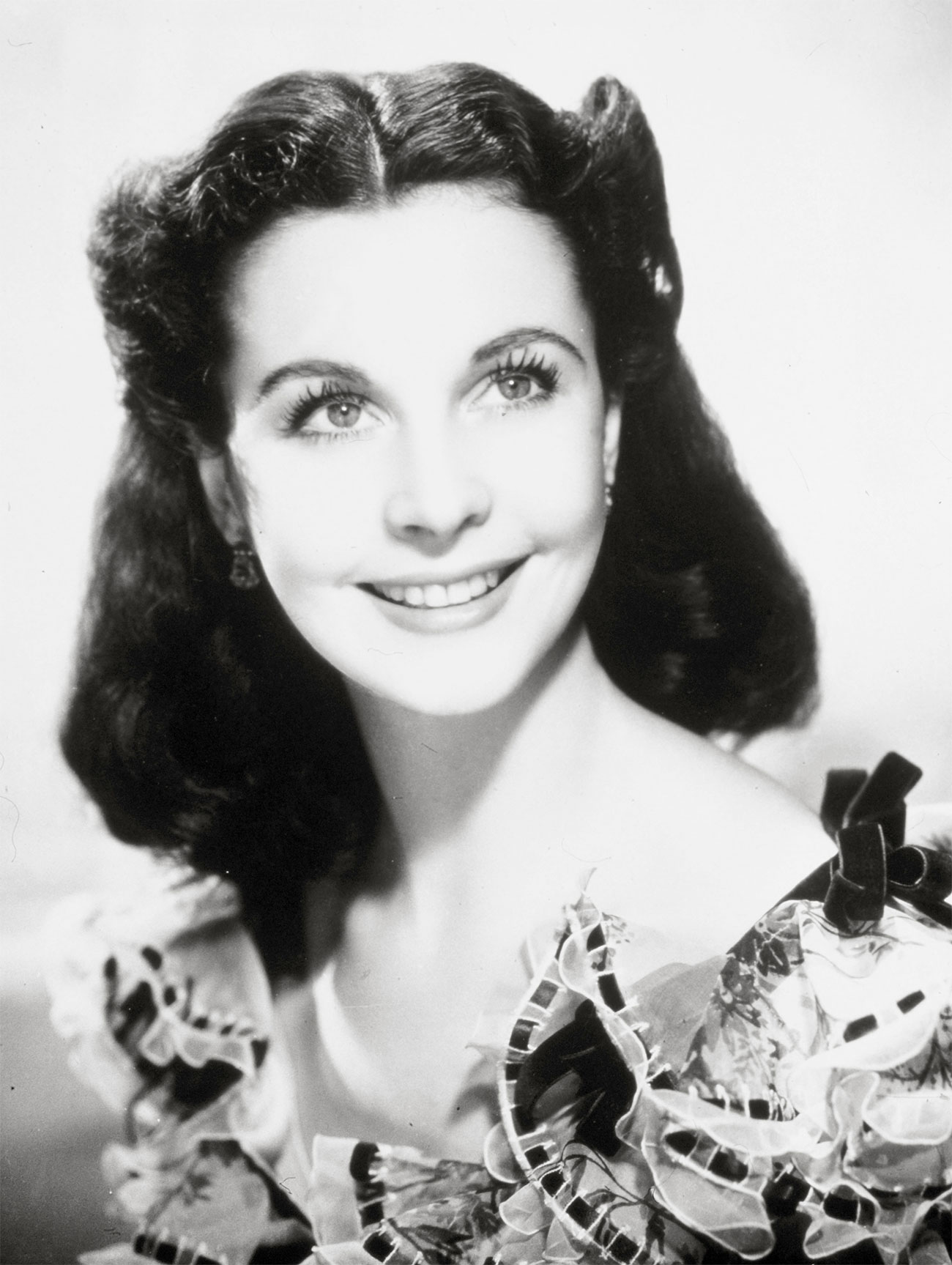 "Like a moth to the flame, the exquisite pained beauty of Vivien Leigh passed before us and burnt up in a fiery denouement. Doomed and delicate, haunted and frail, she lived her magnificent life in a veiled sadness, her sublime beauty – the rose and petal lips, the cat green eyes, the incredible, exquisite face, its own perfection," said Laurence Olivier later.
The recollections of different people remain at odds with one another. Some people say that a bottle of Bellodgia Caron was brought to Vivien Leigh from Paris by Alexander Korda – she accepted not only gifts, but also monetary assistance from him in the days of war, which helped her to leave England and head to peaceful America, together with her mother and daughter. At the same time, other people held on to the legend that at the moment when Vivien replaced the clean and transparent White Rose with the opulent, complex bouquet of Bellodgia, she did not accept gifts from anyone but her husband, thus coming straight to the point: it was a gift of Henry Leigh Holman.
I have managed to find a vintage Bellodgia – a pre-war bottle and only a slightly damaged composition, which I recognize and appreciate. There is another bottle which I own – not exactly a coeval of the great actress, but created during her lifetime.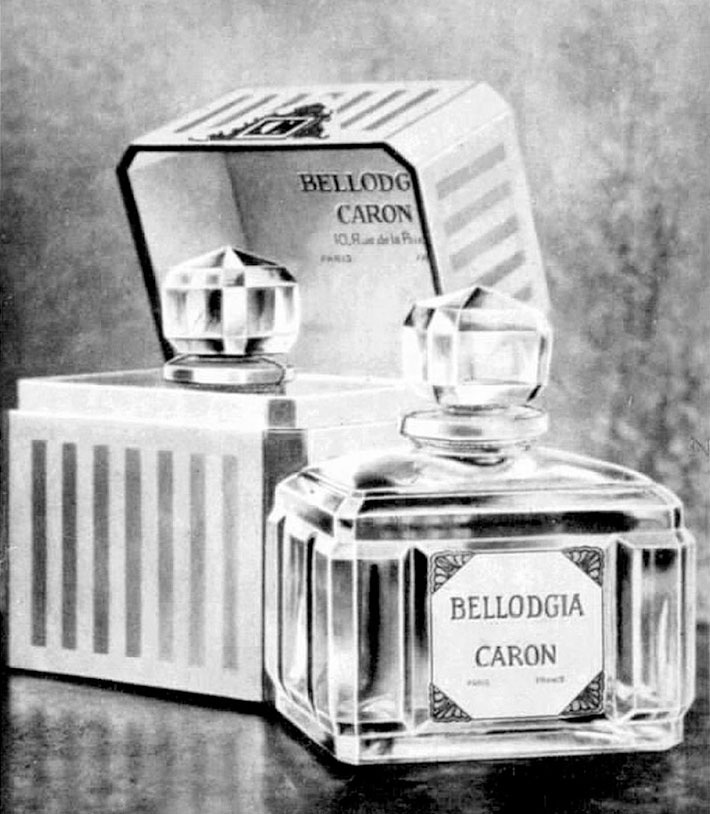 I am always surprised to hear that Bellodgia is often considered to be a fragrance devoted to carnation. Maybe eventually it became such, but the vintage perfume is blooming with heady, honeyed China roses, an abundance of sumptuous and tender flowers with a sweet and slightly resinous smell. They outshine their even more odorous neighbors – hot and sweet white carnations, moist forest violets, and even overshadow the thick and languid wafts of the slightly salty, vanilla-white lily aroma. The huge bouquet is wrapped up in fine and quietly rustling veils made of heliotrope powder; as soon as you're accustomed to the luxuriously concerted notes of flowers that coexist in this baroque composition, you can embrace the base notes of noble sandalwood and spicy cloves.
Bellodgia tells a story of the sophisticated splendor of a foretime, of tender immaterial beauty, mythically arising from the foaming sea… Of an entirely hand made lacework, of shiny tiaras made by René Lalique, of bonnets embroidered with colibri feathers, of strands of choice pearls, winding around swan necks, but most importantly it tells of feelings so grand which allow to neglect not only all the pearls and laces, but also the sustainable future and a roof over one's head. An immaterial beauty cannot exist sacrificing all the material goods, which is why Bellodgia is all about death for the sake of love.
Vivien Leigh's heroines died for love more than once: Myra Lester threw herself in front of a cab, Anna Karenina leaped under a train, while Emma Hamilton lost herself into drinking, but all of them remained Unforgettable. Just like Vivien Leigh herself.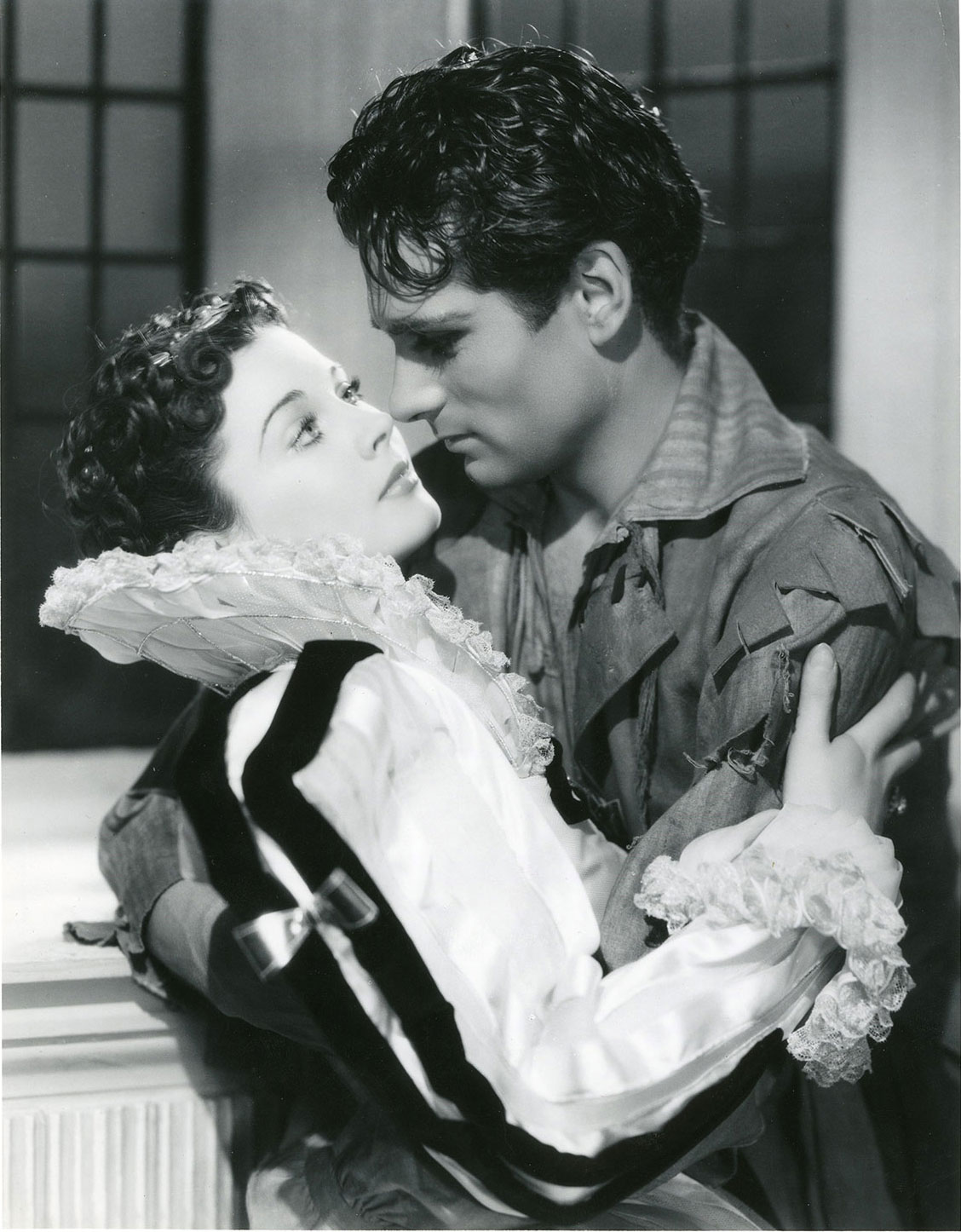 Vivien Leigh and Laurence Olivier in 'Fire Over England'
In 1936, Vivien Leigh and Laurence Olivier played in a film of Alexander Korda, Fire Over England, and realized that it was a love at first sight. They officially abandoned their families in 1937 and managed to get married three years later, right after they got divorced. Henry Leigh Holman and Suzanne couldn't forgive Vivien for her betrayal. Jill Esmond, the ex-wife of Olivier, on the contrary, did not attack her husband and his new mistress. Vivien had an increasingly cozy relationship with her stepson Tarquin, compared to the one with her own daughter.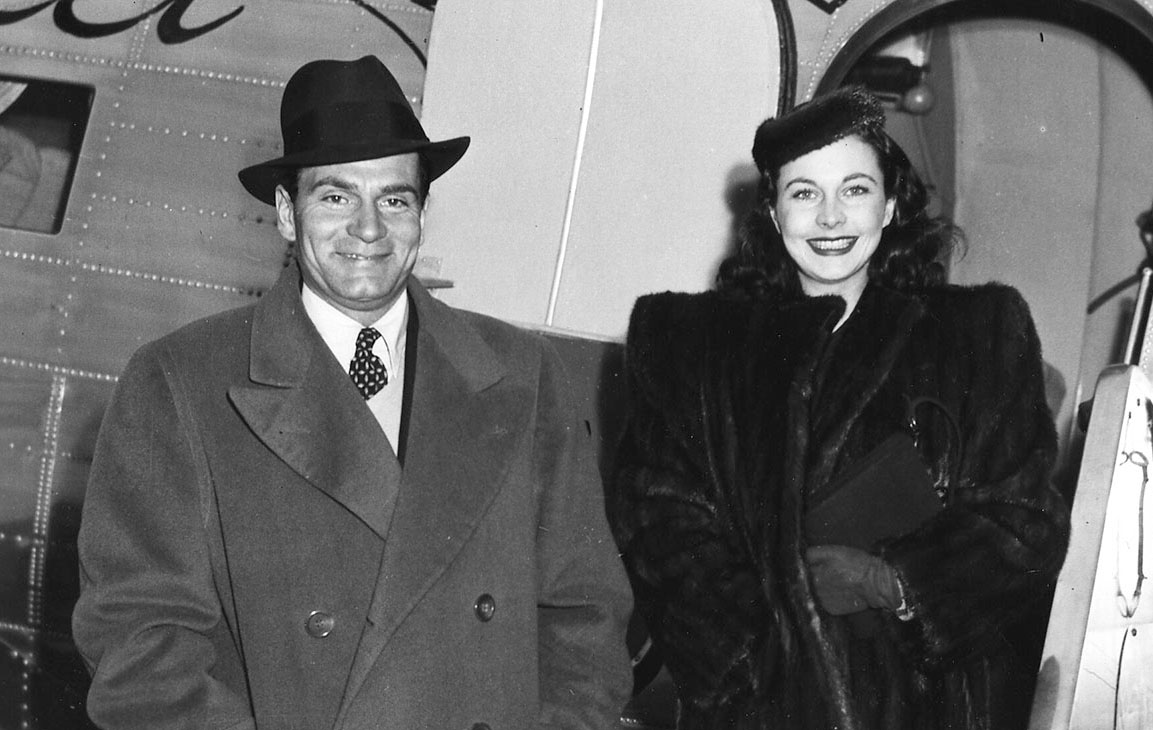 Vivien Leigh and Laurence Olivier loved each other madly. They were called "beloved by the grace of God;" so society managed to forgive their adultery and divorces – since it was due to the beauty of a maddening passion, of shiny eyes, and scorching glances of adoration. They adored playing together, especially on the stage, as they could live the life of their characters. Vivien repented that it was not Laurence, who played Rhett Butler in Gone With The Wind, while Olivier always regretted that it was not Vivien, who played Cathy, the beloved of Heathcliff, his character in Wuthering Heights.
Playing together, loving Laurence, and being loved by Laurence – that was it, her reason to live and everything that mattered.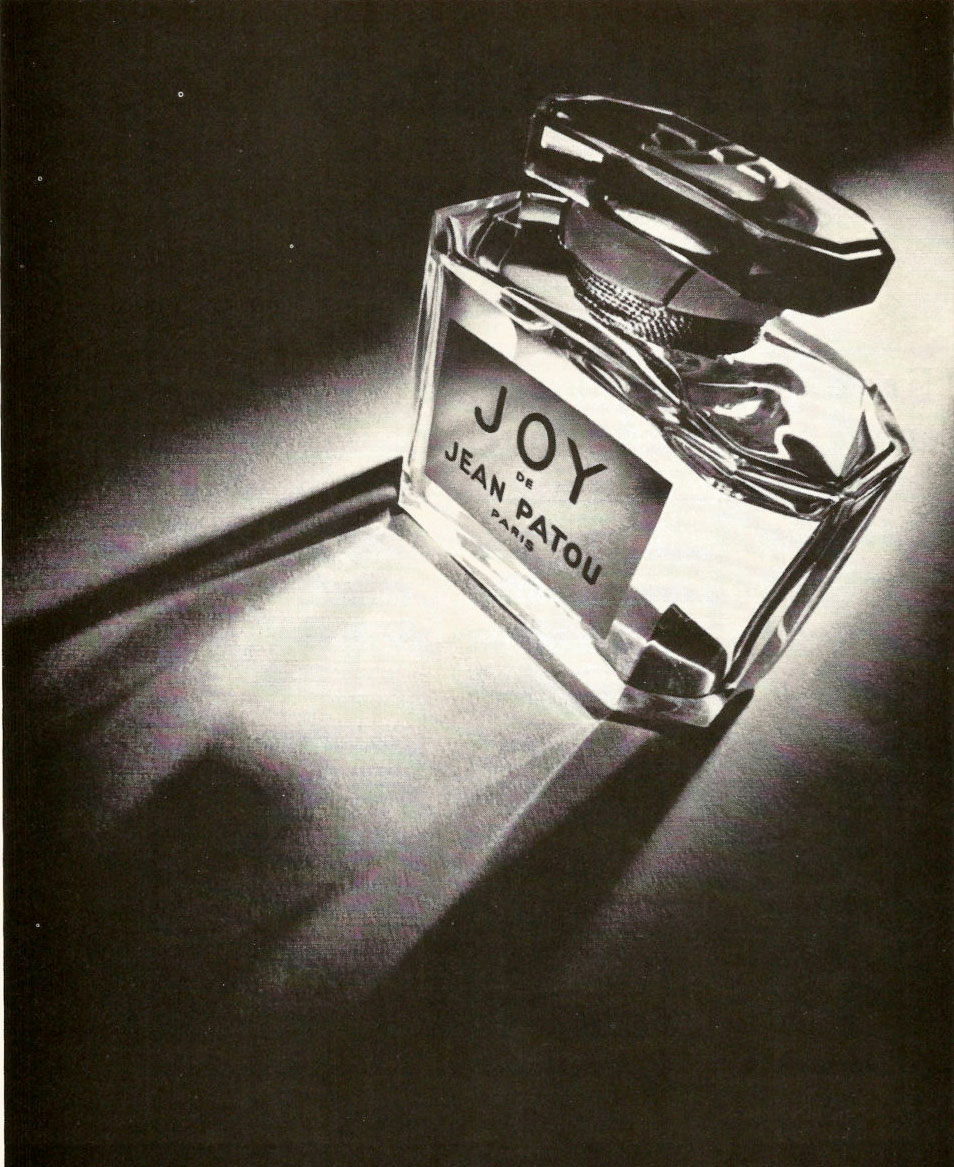 The main perfume of her life was Joy by Jean Patou. This was a perfume created after the Wall Street Crash of 1929, a charming flower shield for the women of high society, accustomed to luxury and intimidated by the Great Depression. It was a personal favorite of Olivia de Havilland (who played Melanie Hamilton Wilkes in Gone With The Wind), of Jacqueline Lee Kennedy Onassis (the wife of the youngest president of the USA), and of Vivien Leigh, who received a bottle of precious liquid from Laurence Olivier.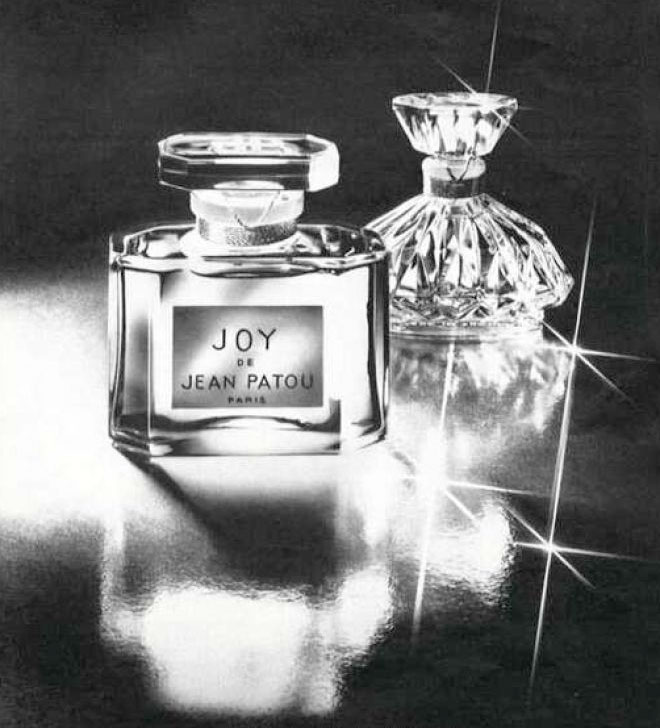 Avid lovers of Joy distinguish between a "rose" and a "jasmine" iteration. I tried both of them, both of them vintage – and I even tried the Joy of the same epoch, contemporary to Vivien Leigh. As far as I can judge, there is only one Joy, but some bottles have a more pronounced note of jasmine.
And still: Joy is most certainly all about roses. An eruption of roses. An ocean of roses, deep enough to sink a battleship. Glorious, slightly tart roses, with a delicate hint of jasmine and glimmering with sweet, tender, and bodily musk. Keep in mind, the jasmine and musk humbly deliquesce in the plethora of roses, but their presence makes the rose arabesque warmer and even more complex. The rose of Joy is undoubtedly royal: indulge yourself in a single drop and you are cuddled by a dense rose vapor. It lasts so long, that when you come back to the room, where you opened the bottle of Joy once, you are likely to be met with a breath of roses.
Wearing Joy is similar to living in a rosarium and spreading the aroma of roses all around you – not the smell of a rose oil, but the smell of the living flower.
No surprise that Vivien loved it so much, but I personally think we should not forget it was a gift of Larry (her nickname of Laurence Olivier). It was something he chose for her, and Vivien never forgot Joy, even when her path with the love of her life split in two.
***
Vivien Leigh could be a humble and happy woman – aside from her tremendous talent and brittle health. Her beauty could even excuse a much more average ability, but Vivien was a great actress. It is of course possible, that the grandeur of her talent rooted in her mental illness (Vivien struggled with bipolar disorder), which helped her to live the life of her characters: Myra, Emma, Juliette, Scarlett, Ophelia, Cleopatra…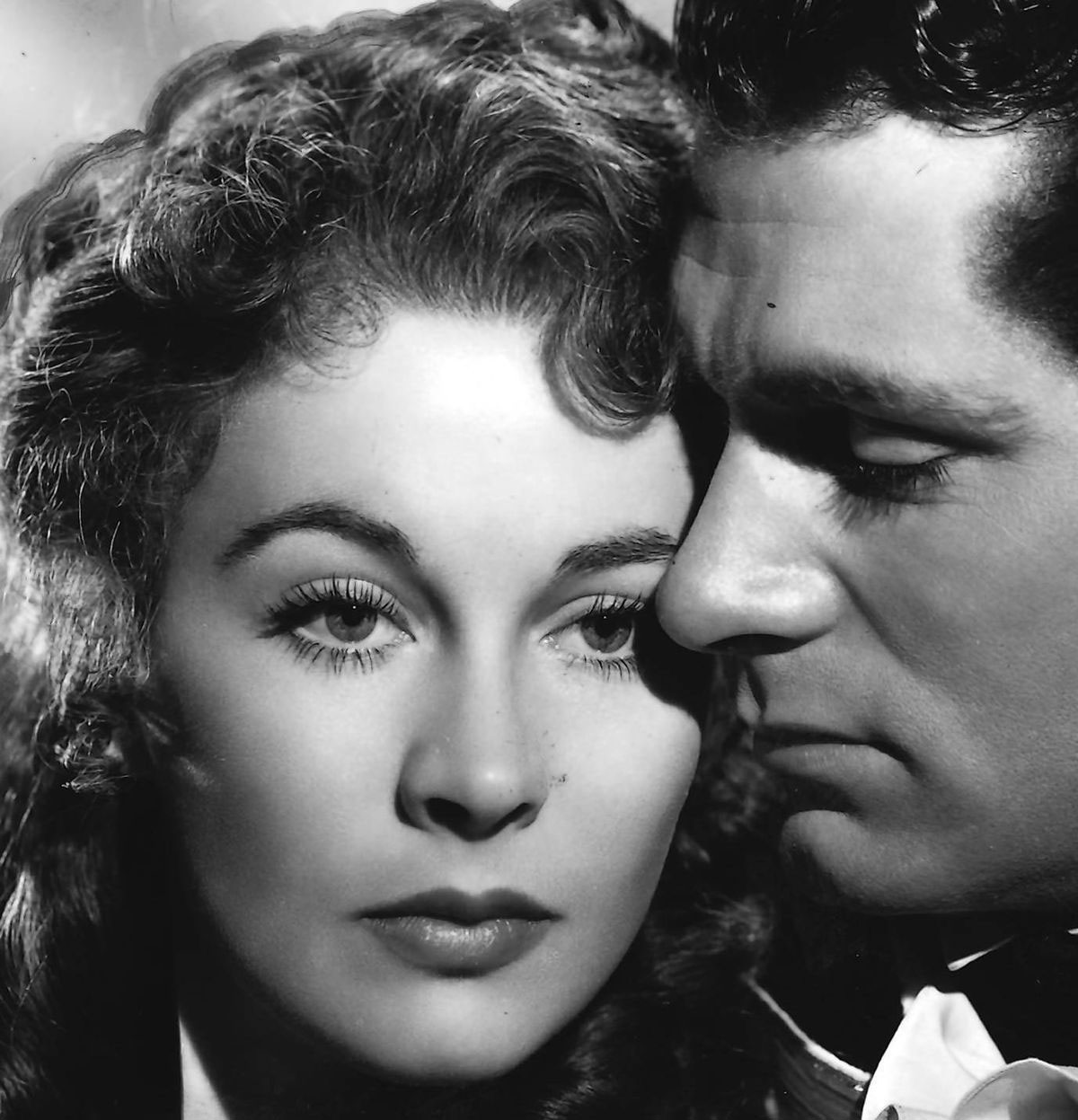 Her talent grew steadily, but so did her illness, which swallowed her increasingly. She suffered from tuberculosis and had two miscarriages: she lost two wanted children the couple was dreaming of having. These disastrous losses were a devastating blow for her fragile psyche and led to lingering depressive episodes interspersed with bouts of uncontrollable rage. In compliance with the dominant opinions on the cure of mental illnesses, she was electrocuted – and right after the procedure she hurried to appear on the stage. She played entrancingly, but the illness remained incurable.
"Apparently, everyone knows that I'm as mad as a Hatter," she told her doctors.
Vivien Leigh could play a vibrant, dynamic woman, but she performed best as a woman from a crystal world, fragile like a lily-of-the-valley, who clashes with the harsh word outside, only to die on the inside or to wither away.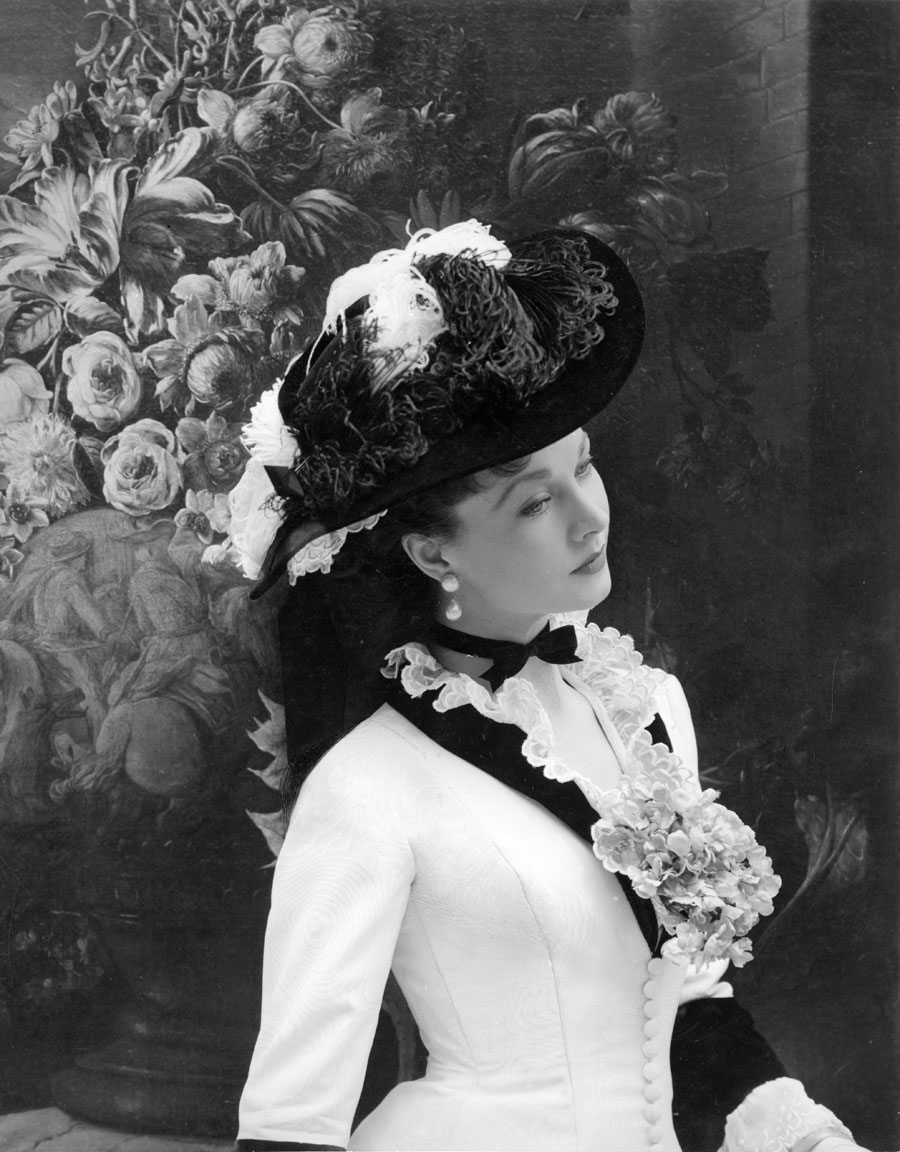 Surprisingly, all her health problems, which tormented her soul and exhausted her body, had no effect on her beauty.
"She has a cat face (pointed at the tips), a cat grace, a cat jumpiness, a cat insolence, cat eyes, and cat claws. She is superbly skillful at executing catnips and cat tantrums – or "catrums". She is saucy, pert, and imperious. Sir Laurence called her "Puss." I can well imagine her spanning the whole kingdom of cathood within a week as if, say, on the Monday she were to be a playful little kitten and by the weekend a full-grown tigress." — Elaine Dandy talking about Viviene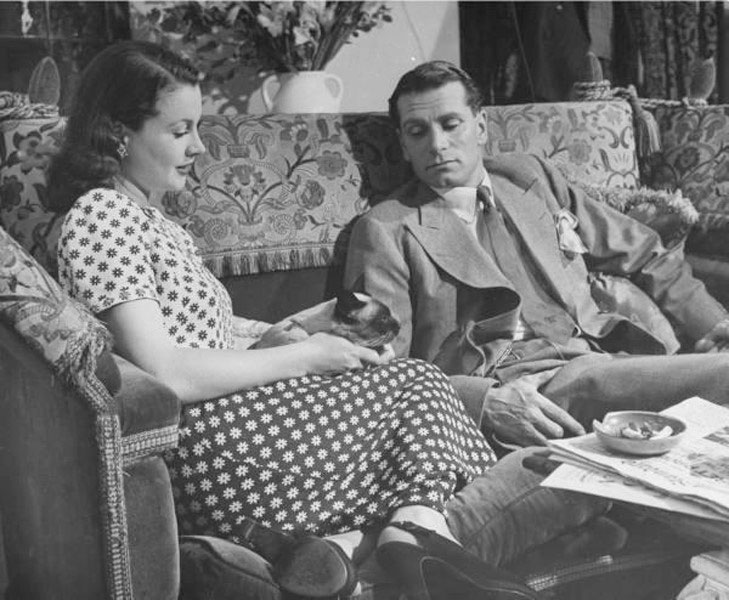 Flowers and cats. The house of Laurence and Vivien was full of flowers and cats. She called him "Larry-boy", while she was "Puss" for him.
But Olivier still could not handle her. He left Vivien for the sake of another woman, Joan Plowright; he found peace with her, and she gave birth to a girl and two boys. Even though Vivien was known to be bitter about Joan for the rest of her life, Laurence and Joan were happy together. Not glaringly, intoxicatingly happy, as he once was with Vivien, but he remembered how much he had to pay for this happiness. He never repented, but he still thought, that was "the real thing."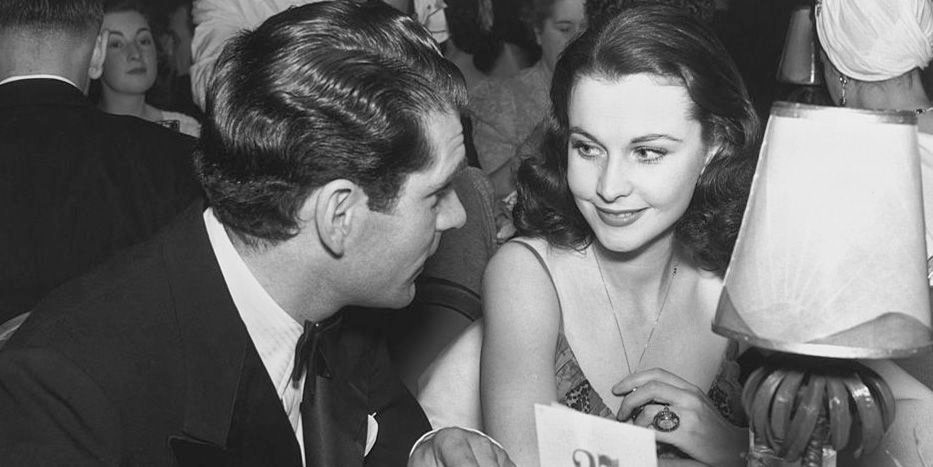 Vivien found herself another man – an actor, John Herman Merivale. Laurence Olivier made him pledge that he would take care of Vivien.
That was impossible, though, as her whole life without Larry was impossible.
Her stepson Tarquin, who visited Vivien in the pulmonary sanatorium not long before her death, remembered their last talk:
— "Leigh Holman taught me how to live, your father taught me how to love, and John Merivale taught me how to be all alone. It's better to live several days with him, than a whole life without him…"
— "Who is 'him'?" asked Tarquin.
— "Larry," finally exhaled Vivien and turned her face to the wall.
Almost identical to how Emma Hamilton, unrecognizable and ruined by drinking, talks of her love for Admiral Nelson and of his passing, and becomes silent. She is asked again: "And then? What happened next?", and she answers: "Nothing. There was no 'then'."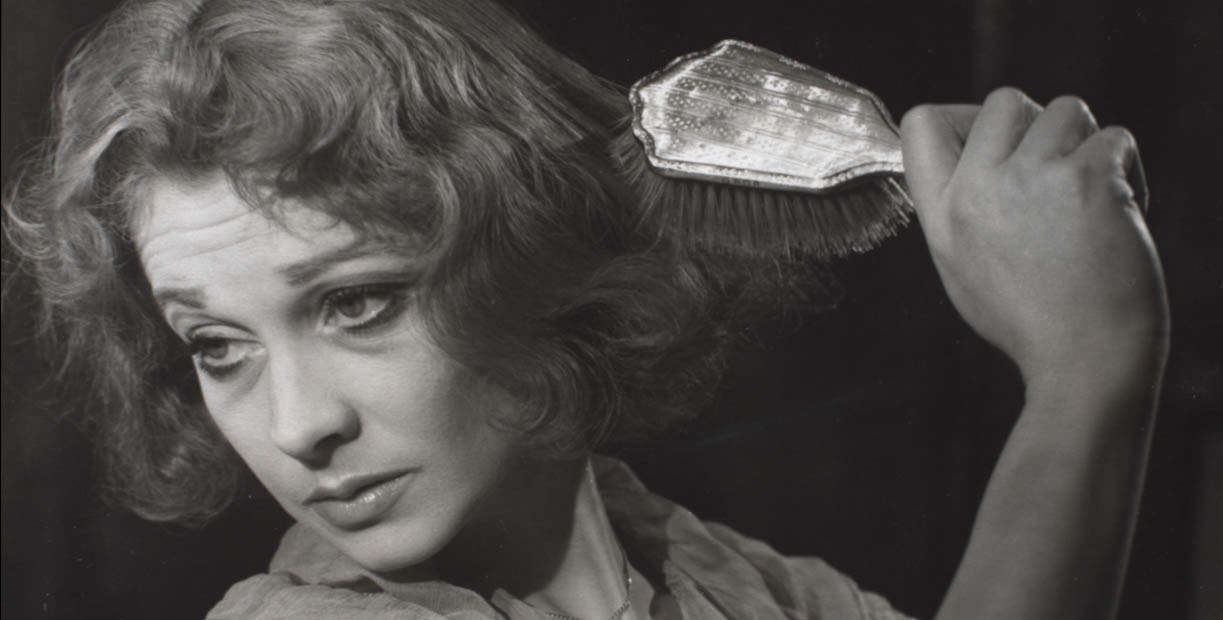 I have a bottle of each, of Bellodgia and Joy. Two special perfumes, because these were her perfumes. These bottles are not that old, and the bottles look different, but still – they were made when Vivien Lee was alive and breathing, could smile from time to time, and played on the stage.
I wear them and think of her and her characters.
And I most certainly wear one of these perfumes when I watch one of her films.
Elena Prokofieva

Author


Elena was born in Moscow. She studied at the Gerasimov Institute of Cinematography and at the Philological faculty of Moscow State University. She is the author of several novels (some of those written under the pen name of Elena Klemm) and specializes in writing biographical books. She loves history, Gothic novels, tales of terror, ancient cemeteries and old maisons, St. Petersburg, Carcassonne, Blois, Siena, Toledo, and Cesky Krumlov. Her enamorment with perfumes dates back to her childhood, and now she has a profound collection of perfumes significant for her