[unable to retrieve full-text content]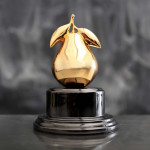 The Art and Olfaction Awards are an awards mechanism celebrating excellence in independent, artisan, and experimental work with scent. Their annual public event – the awarding of the Golden Pears – takes place in locations around the world.  The sixth annual Art and Olfaction Awards will take place at Oude Kerk in Amsterdam on May 2, 2019, and the third annual Scent Summit will take place two day…
Read full article: The Art and Olfaction Awards Finalists Announced at Excense 2019 in Milan from Fragrantica Perfumes and Colognes Magazine.