[unable to retrieve full-text content]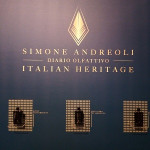 Simone Andreoli's scents are usually autobiographic. They are about his own life experiences and emotions. This time, this Italian young man decided to create a new collection, also based on his sensations, but paying tribute to his country and the smells that come from some of its materials. This new line was presented in Milan, at the Esxence 2019 show. The name of the group of three perfumes i…
Read full article: ESXENCE 2019: The Excellence of Italy as Seen by Simone Andreoli from Fragrantica Perfumes and Colognes Magazine.