Sheet Pan Thai Cashew Chicken and Vegetables
[unable to retrieve full-text content]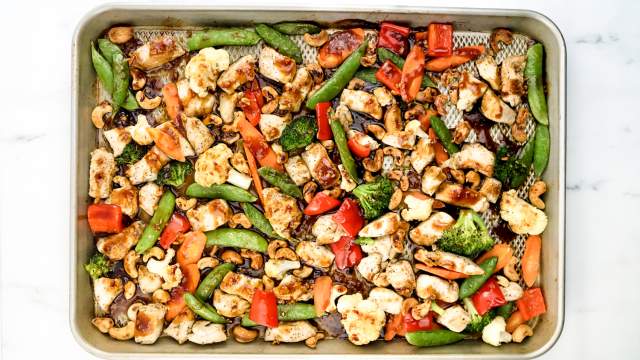 Sheet Pan Thai Cashew Chicken and Vegetables comes together in 20 minutes for a dinner that's better than takeout and good for you. This healthy meal made with chicken breast, cashews, veggies, and a sweet and spicy Thai sauce seriously couldn't be more delicious. And with under 350 calories and only 5 Weight Watchers SmartPoints, it's a meal you will immediately add to the rotation.
Sheet pan meals are my jam. I mean what isn't to like about a meal that is all cooked on one sheet pan for easy clean up and simple meal prep. Now to be perfectly clear, this dish actually involves an extra pan to make the sauce, but it is 100% worth it. We almost finished an entire sheet pan's worth between two of us one night. I loved it so much, I decided to skip the rice so that I could have more chicken and veggies.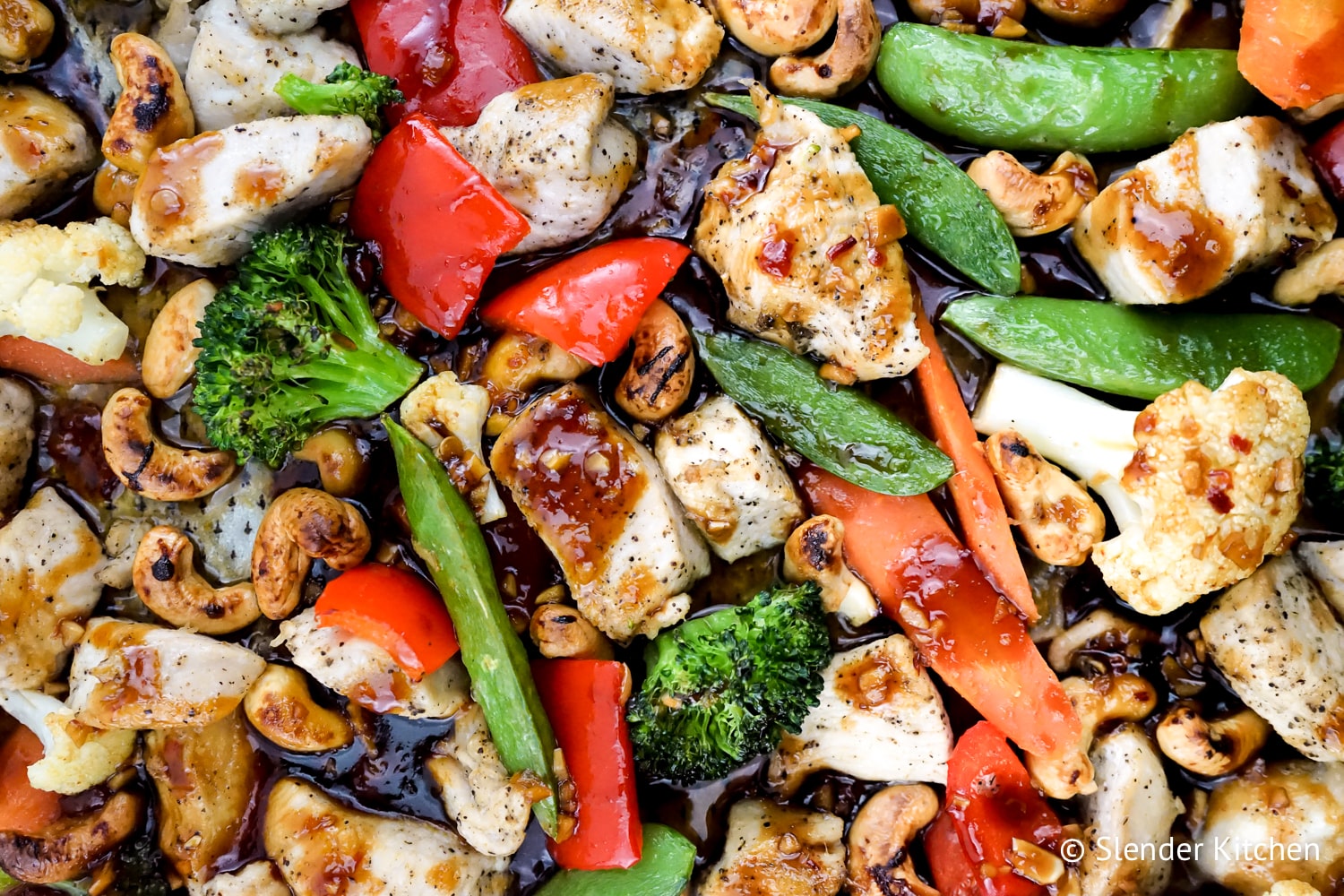 Now let's talk about what this is not. It isn't a typical Thai Cashew Chicken that is made with super spicy dried Thai chilies, palm sugar, fish sauce, and usually a touch of Thai Whiskey. (I have a lightened up version of the traditional version here if that is what you are looking for.) Instead this is a Thai inspired version that uses a combination of soy sauce, oyster sauce, garlic, honey, and Asian garlic chili sauce to create a sticky sauce that is perfect for chicken and veggies.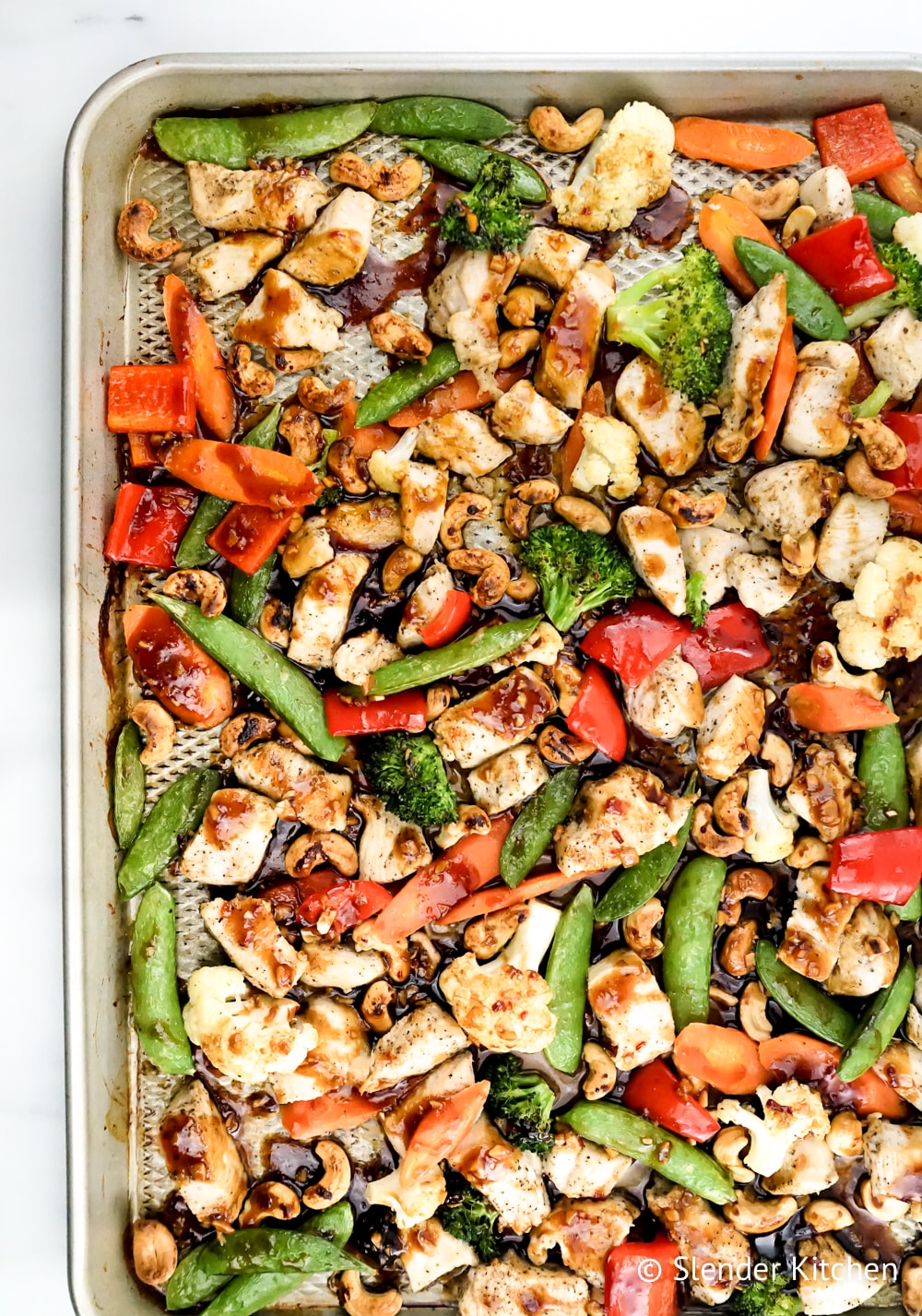 What about the cashews? While you may be tempted to leave them out, please, please don't! The lightly roasted cashews add so much to the dish. They are nutty, rich, and we were fighting for the last ones. They are seriously delicious and although the dish would be good without them, it is so much better with them. Plus cashews add extra protein, antioxidants, minerals, and vitamins. In fact, if you aren't worried about calories/points, I would add some extra!
Tips for Making this Sheet Pan Thai Cashew Chicken and Vegetables
You can make the sauce ahead of time for an easier weeknight meal. Store the sauce in the fridge and then just heat it up a touch in  a pan or the microwave before using so you can easily drizzle on the chicken and veggies.
If you don't have a large sheet pan, you may want to cook this on a couple of sheet pans. The chicken and veggies cook best when they aren't crowded and are in a single layer on the pan. 
For easy clean up, cover the sheet pan in foil or parchment paper. Foil will work best since sometimes the sauce drips under the parchment paper. 
This dish can be made as spicy or mild as you like it. The first few times you make it, add the garlic chili paste to the sauce at the end so you can control the heat. 
This recipe will work with chicken breast, chicken thighs, pork tenderloin, or tofu. For tofu make sure to press it beforehand so that it can get crispy.
Looking for more healthy Asian chicken recipes?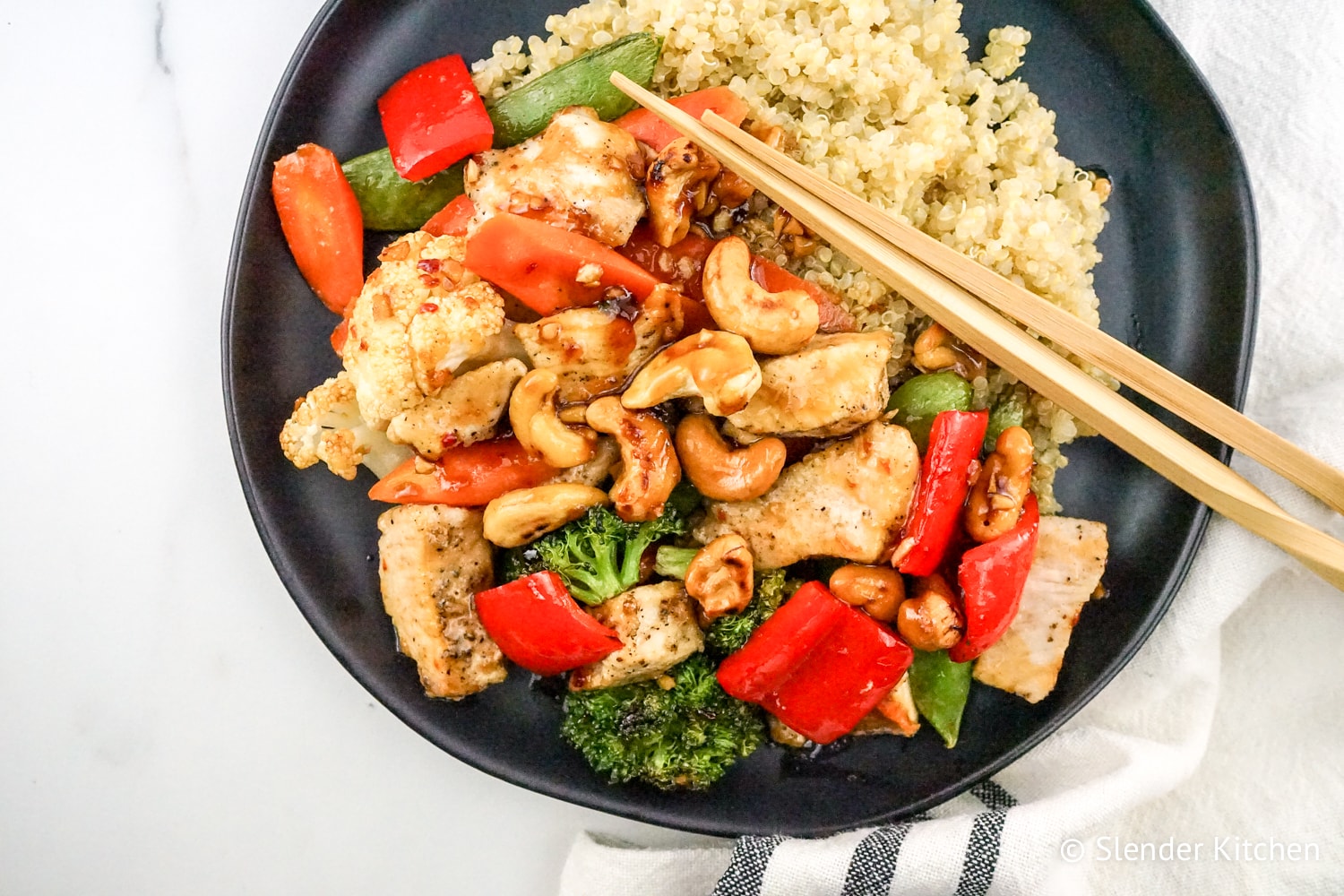 Calories 326, Total Fat 6g, Total Carbohydrate 27g, Protein 37g, Serving Size 1.5