Healthy Chicken Fried Rice
FFOL Editor 1
[unable to retrieve full-text content]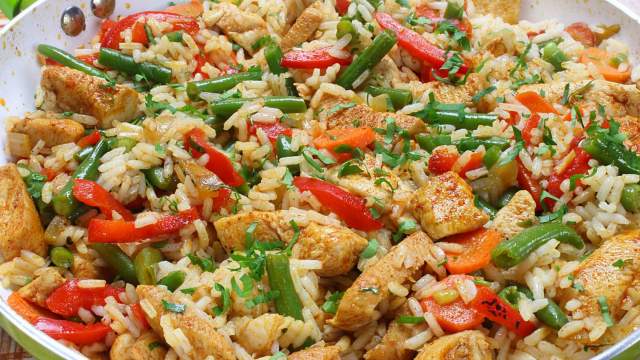 Forget takeout with this Healthy Chicken Fried Rice, you can enjoy fried rice at home without the guilt. This recipe is easy to make, filled with protein and veggies, and has just 6 Weight Watchers SmartPoints and 366 calories for a big serving.
Confession time. I love Panda Express. The orange chicken and fried rice is delicious. Lucky for me, I don't live anywhere near one and it is an occassional indulgence on road trips since as we all know it's not the healthiest option. However, it is actually pretty easy to make some amazing fried rice at home that is actually good for you.
The key to making a really good chicken fried rice at home that actually crisps up and browns is using cold, previously cooked rice. To make this easy, I usually try to plan a meal with rice a few days before and just save the leftovers. Then you just need to grab some previously cooked chicken, which I always have on hand, and veggies and you are ready to make dinner in about 15 minutes.
A few more notes to consider before making this recipe. Although traditional fried rice uses peas, I prefer to use edamame instead. Not only does it pack in some extra protein, it also retains a great color and texture when cooked. Sometimes peas can get mushy and brown. You'll notice I didn't use either in the recipe, but many people have asked about adding them in.  Also if you prefer a more traditional rice, use white rice instead of brown.
Calories 366, Total Fat 8g, Total Carbohydrate 31g, Protein 39g, Serving Size 1.5 cups