[unable to retrieve full-text content]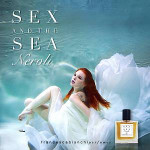 Let's add some intrigue to our awaiting of the ESXENCE 2019 exhibition in Milan. Francesca Bianchi, who created the perfume The Lover's Tale that was named amongst the best perfumes, has just announced two new perfumes to be launched. Sex And The Sea Neroli and Etruscan Water will be available starting at the end of April 2019 and will be presented in Milan, but we have the possibilit…
Read full article: Esxence 2019: New Perfumes By Francesca Bianchi from Fragrantica Perfumes and Colognes Magazine.