Zoologist Launches Hyrax For The Lovers of Animal Smells
The prolific house of Zoologist launched two new perfumes this year – Moth and Hyrax – adding to its exotic Noah's Ark. Hyrax, a tribute to a small and almost unknown animal who pees a wonderful perfumery material called hyraceum, is the first composition created by German perfumer Sven Pritzkoleit outside of his own artisan line SP Parfums. It was me who introduced Zoologist owner Victor Wong to Sven, believing the two would get along. It seems I was right…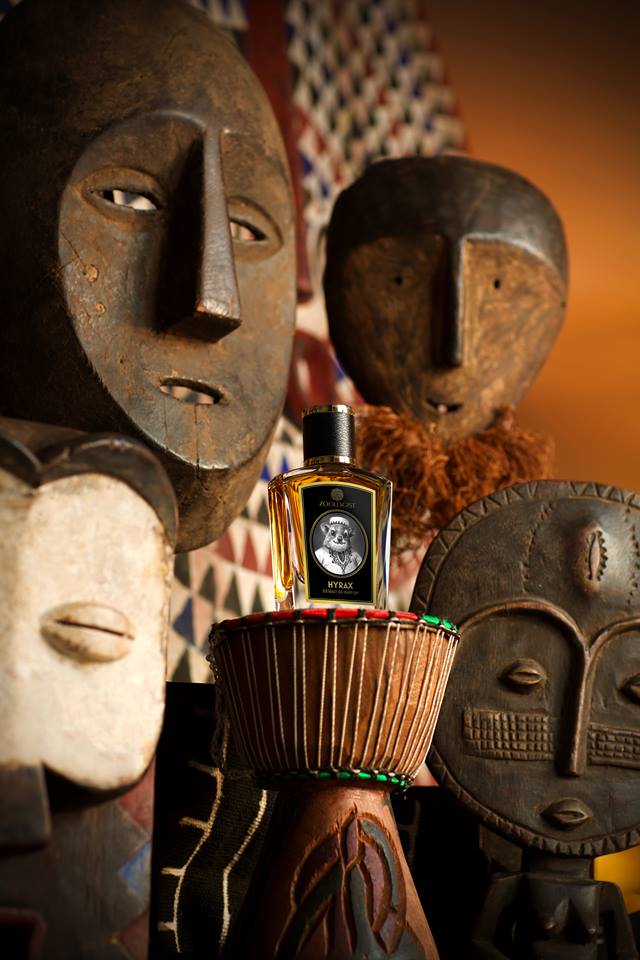 "Hyraxes are little rodent-like mammals that live in African mountains. Their closest relatives are actually elephants! Hyraceum is the petrified and rock-like excrement composed of both the urine and feces excreted by them. It ages and petrifies over hundreds of years, and now it's a sought-after material for perfumery." – Zoologist
Sven Pritzkoleit's signature way of composing is based on the premise that there has to be a central ingredient or accord that shines above all of the adornments and structures that he may build around it. That's a key to understanding his style. When Sven was selected by Victor Wong to create a scent for another animal in the Zoologist line, this time Hyrax, Sven immediately started to work and I followed some of the process. From the beginning, it was very clear for Sven that the actual material, hyraceum, had to be very noticeable and actually prominent as the central role of the fragrance. The first mods, which I had the opportunity to smell, were actually a very literal interpretation of the also called "Africa Stone". So, when I finally got the chance of smelling the final product, I was flabbergasted with the result and the way that Sven and Victor decided to create a magistral entrance to the powerful smell of hyraceum in Hyrax.
The opening of Hyrax is a blast. I like it a lot, but it has to be said that the top notes can be too much for the more sensitive noses. It is a lively explosion of pink pepper and elemi, and it has that "pow!" factor of spices and lemony tones of biblical proportions. "The opening of Hyrax is a peppery, 'razzle dazzle' animalic, a hyrax declaring, 'Here I am, it's me!' scent. I love that shock! I love perfumes that open with a shock, because I am excited to find out what comes next," Sven Pritzkoleit explained in an interview published on the Zoologist website.
Some might say that this is aggressive and they have to wait for that effect to settle. I find it energizing and uplifting. It's also a very much needed contrast for the deep, warm, dirty animalic and ambery overall sensations that follow next. "I used authentic hyraceum not just because I want to have authenticity, but because there are some side effects – like that urinous aspect, and some special tar-woody notes, which are unique. First, I tried to make my own accord that smells like hyraceum with different materials so I could get it in contact with other raw materials and see how it works with them. Also, authentic hyraceum tincture is not strong enough to have the power of civet/castoreum to last for hours, so I created my own animalic mix," explained Sven.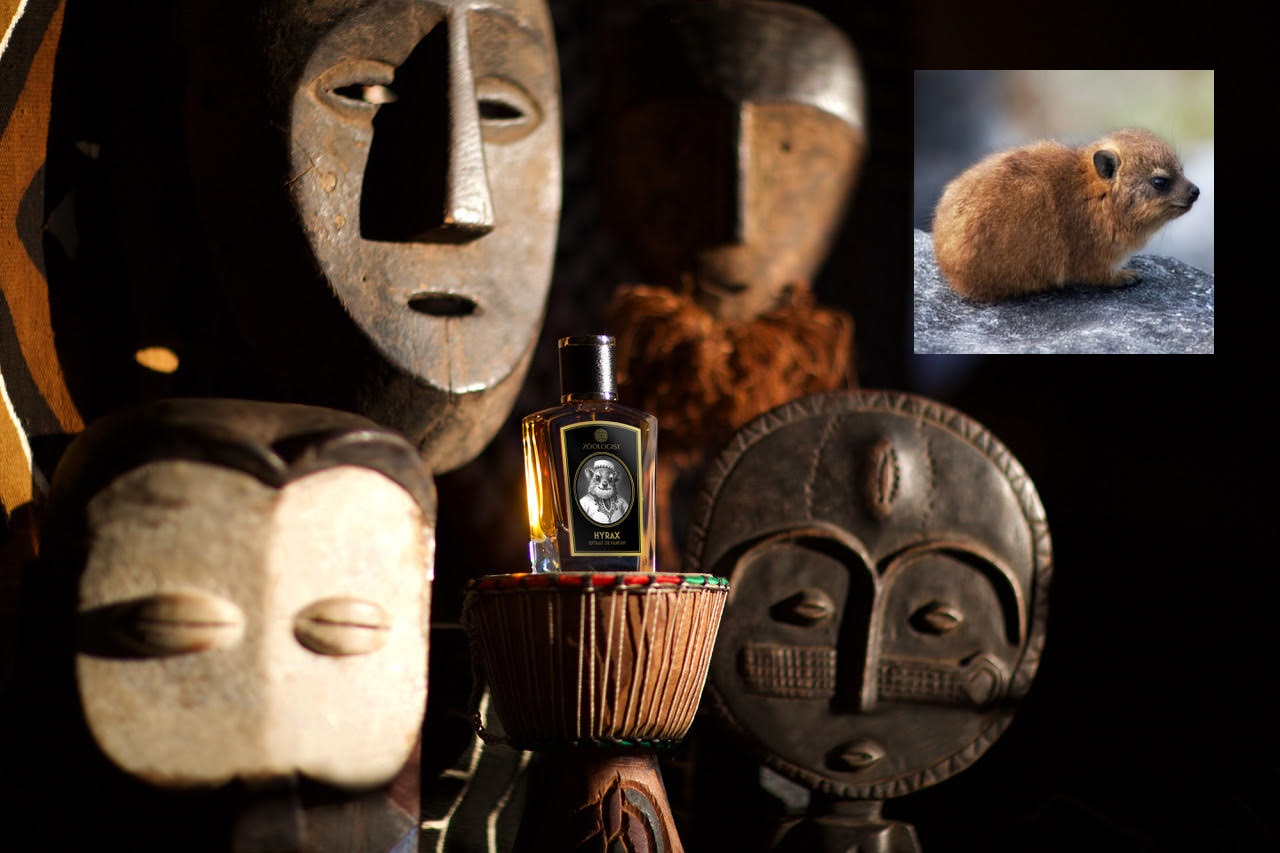 You can smell hyraceum clearly in a few niche and artisan perfume brands mainly. For example: Talismans Sogno Reale, Nadia Z Japanese Spring, Gri Gri Sideshow, Mendittorosa Rituale… They all share a urinous, amber, woody scent with a touch of salt. It is not a very strong material, but it gives warmth and some solar kind of depth to a fragrance. The material, very animalic, slightly mineral and strange at first, is worked in this fragrance with mastery. It is adorned in such a way that it doesn't lose its character but if fact, it is highlighted in some facets. Whisky is a very clever add to it, along with the aforementioned pink pepper and elemi. It brings up the heat and it also an alcoholic overtone that melts with the amber shades. Then, there is another element. Sven's method around one specific material means that there are two or three blocks or accords that are essential to the transformation of the main theme. We already spoke of dynamics and freshness. We spoke of a drunken aspect. And there is also a floral theme that is not very evident but contributes to the stunning effect of this masterpiece. The florals are Turkish rose and hyacinth. And although they are sort of camouflaged, they impart some gentleness. Rose with a sweet and jammy feeling. Hyacinth for a soapy-clean contrast to the dirty core. These contrasts are keys to the mechanics of the scent.
What follows next is a symphony of all the golden hues you can imagine in perfumery, mixed in a way that cushions the hyraceum theme and elongates its scent in a more comfortable way. It lasts very, very long and gets mellow as it approaches the final stages of the drydown. So, you start with a blast, proceed to a sensual dream, only to end in a warm embrace of resinous amber and benzoin, creamy and woody sandalwood, earthy patchouli and the enveloping fluidity of musk.
Zoologist Hyrax is quite diffusing and in fact it's very easy to overspray it. I like to overdose in scent, but with this one I normally have 2 or 3 sprays, tops. It becomes too much after that dosage. Its power can be comparable to a high quality Middle Eastern oud fragrance and it actually can please the lovers of this style of compositions. In fact, according to Sven, "While 'playing' with some hyraceum tincture, I got an association of oud from Laos, which has that animalic smell. The idea of an 'oudy perfume' with hidden florals was born, and I tried to find some molecules to construct that. In the end, I decided to do an animalic floral oud with a harsh mineralic, peppery, razzle-dazzle start to represent 'Hyrax is coming, look at me!', then soften it with hidden lilac-hyacinth florals, coming up more and more with tonka, woodsy and musks and a slightly soapy touch in a skin musk dry-down."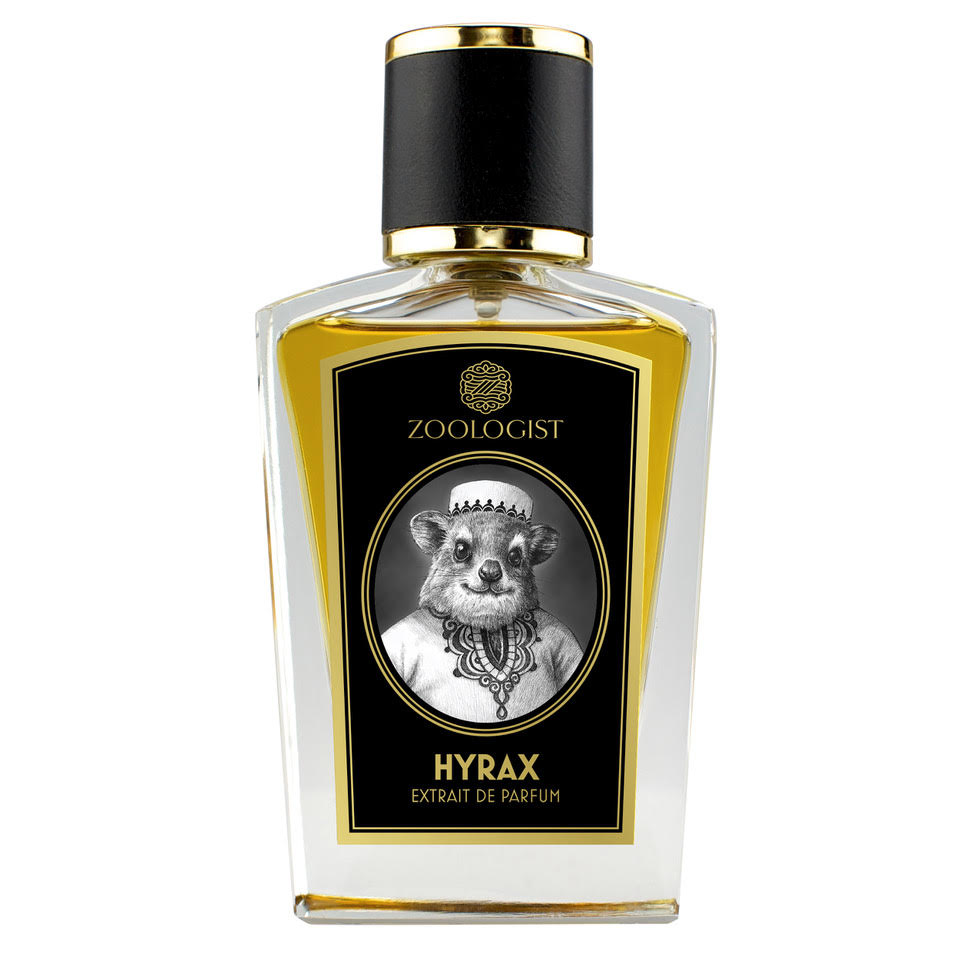 TOP NOTES: Elemi, Pink Pepper, Saffron, Turkish Rose . HEART NOTES: Hyraceum, Hyacinth, Styrax, Whiskey . BASE NOTES: Amber, Benzoin, Castoreum, Civet, Patchouli, Sandalwood, Tonka Bean
---
Hyrax is, for the moment, the ultimate symbol of the use of hyraceum in perfumery. It's not an opinion, it's my conviction. It is a fragrance you absolutely have to smell in order to learn and be literate on animalic accords. In fact, being a lover of animalic scents, this is already part of my DNA and Hyrax is already a fragrance that my friends say they identify with me when they smell it from my neck. Am I becoming a cute rodent from the desert?
Zoologist's Hyrax is available exclusively at Luckyscent in honor of its 15th Anniversary. A bottle of 60ml extrait de parfum costs $145 USD and there are also samples available.
| | |
| --- | --- |
| | Miguel Matos joined Fragrantica in 2013 and edits the Portuguese Fragrantica.com.br. Miguel also writes for Beautyalmanac.com. |