Zero Point Weight Watchers Taco Soup
[unable to retrieve full-text content]
This Weight Watchers Taco Soup has zero Freestyle SmartPoints! It can be made in your crockpot or cooked in just thirty minutes on the stovetop with all the flavor of a traditional taco soup, but good for you!
Today I would love to chat about those days when you realize its only 4:00 PM and you have already eaten all your points. Ugh. It happens more often than I would like to admit, but sometimes it's just reality. Temptations pop up, lunch plans change, someone brings girl scout cookies to work….you get the idea. I would love to know what your strategy is for days like that. On the old plan, I relied almost exclusively on salads and veggie soup, but on the new plan there are so many more options. What do you eat on those days? And even if you aren't on Weight Watchers, we all have days where we over indulge during the day and contemplate trying to make it through the last four hours of the day on nothing but lettuce.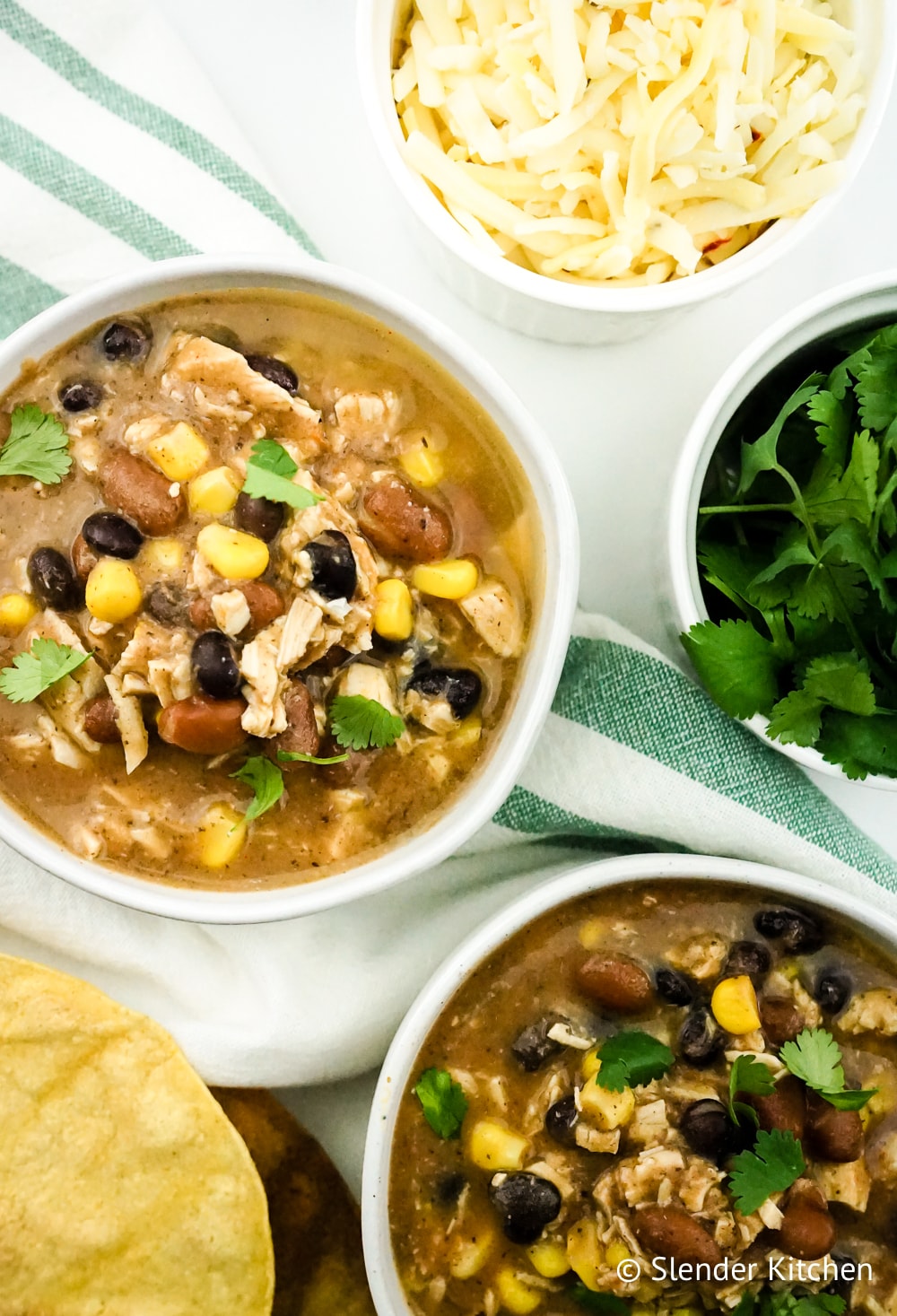 For me, I like to have some easy low point/healthy options available at all times in the freezer and this zero point taco soup is topping the list as one of my favorites. It's super filling, packed with fiber and protein, and tastes amazing. It's seriously good. Plus if you have some points to spare, you can add things like cheese, baked tortilla chips, or avocado on top to really take it to the next level.
Another thing that makes this Weight Watchers Taco Soup the best is that it couldn't be easier to make. Other than the onion and garlic, you are just dumping ingredients into the slow cooker and walking away. You can use almost any combination of beans you like and feel free to switch out the protein. Ground turkey or chicken are delicious in this recipe, just brown it before adding it to the slow cooker. If you aren't worried about keeping it zero points, you could also use ground beef or chicken thighs. Or go for a veggie version and leave the meat out entirely for some extra beans.
Ways to Customize this Weight Watchers Taco Soup
Protein: You can use chicken breast, ground chicken breast, or 99% lean ground turkey for a zero point soup. You could also use chicken thighs, ground beef, ground turkey sausage, or vegetarian ground meat, just adjust the points.
Vegetarian option: Leave out the meat and just add an extra can of beans.
Taco seasoning: Store bought taco seasoning is fast but it is packed with sodium. Consider making a homemade version to cut back on the sodium in this recipe.
Cut back on sodium: Look for low sodium beans, tomatoes, and chicken broth to cut back on the sodium levels in the recipe. Also make the homemade taco seasoning referenced above.
Veggies: You can defintiely add lots of extra veggies to this recipe. Bell peppers are a good option. I have also added zucchini, spinach, and cauliflower. You can also doubel the tomatoes. 
Freezer friendly: This soup freezes really well. I recommend freezing it in individual servings for quick and easy lunches.
Traditional Taco Soup with ranch: Many people also like to add a packet of ranch seasoning to their taco soup. Feel free to add that as well if that is how your family enjoys it.
Thicker soup: To thicken up the broth, consider adding a can of fat free refried beans. It will make the soup thick and creamy.

Cooking Options
This soup can be made in the slow cooker, instant pot, or on the stove top. It is a really versatile recipe. My personal preference is the slow cooker since the flavors have the most time to combine and deepen, but they all work great.
Slow Cooker / Crockpot: This can be made in the slow cooker and cooked on low for 4-8 hours. The longer it cooks, the deeper the flavor will be.
Instant Pot: To cook this in the Instant Pot, just use the soup setting (8 minutes) and then let the pressure release naturally.
Stovetop: It takes about 30 minutes to cook this taco soup on the stove top but it can simmer much longer than that to deepen the flavors. Just make sure remove the chicken breast so it doesn't over cook.
Calories 306, Total Fat 3g, Total Carbohydrate 44g, Protein 28g, Serving Size 1,.5 cups