[unable to retrieve full-text content]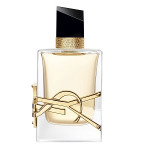 Yves Saint Laurent is launching a new pillar – the women's fragrance Libre – expected in stores in August 2019. Yves Saint Laurent Libre is a fragrance designed for strong, bold and free women who experiment with their freedom, as stated by the brand. The idea of freedom, as an important part of the DNA of this fashion brand, served as the inspiration for the new concept. The fashion designer hi…
Read full article: Yves Saint Laurent Libre from Fragrantica Perfumes and Colognes Magazine.