[unable to retrieve full-text content]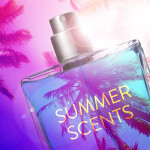 Summer 2019 will go down as the hottest summer in human history so far. July especially scorched Europe and swept Northern countries in a deadly grip of heat which tested the patience and endurance of their inhabitants and tourists. Huge forest fires, the size of entire countries swept through Siberia and the Amazon forest (which supplies 1/5 of the planet's oxygen!), and ancient glaciers bega…
Read full article: What Fragrantica Writers Wore This Summer (2019) from Fragrantica Perfumes and Colognes Magazine.