Vegetarian Challenge Week 4 Recap
Hey guys!! Four weeks down and just a few days to go! It's so interesting to me how much my experience changes each week with this vegetarian challenge. With so much leftover food in the freezer from weeks 1-3, I scaled back my cooking even more in week 4, and enjoyed having less work to do and fewer groceries to buy. So, are you ready for the week 4 recap??
Quick Summary: I only made two main recipes this week because my freezer is getting too full! Both of my recipes were so delicious and satisfying that I had no problem eating up every last bit. Very little waste this week! I had another super stressful week, and spent a few days under the weather, which definitely affected my appetite and meal pattern. I feel like I ate fewer vegetables this week and more carby things, which made me realize just how much focus it takes to get all those vegetables in each day. It takes plenty of planning, focus, and dedication each and every day. I began to wonder, will I have the stamina to keep this up long term?
Vegetarian Challenge Week 4 Recap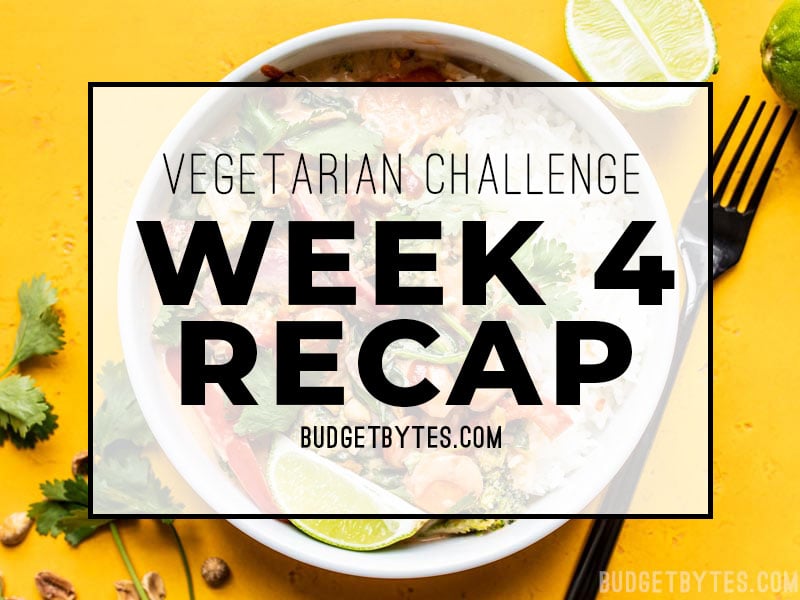 What I Bought
With so much food in the freezer to choose from, I really didn't need much this week. I bought the ingredients needed for the two recipes I had planned, plus my staples for throw-together meals, like spinach, tomatoes, eggs, bell peppers, and an avocado as a splurge. 🙂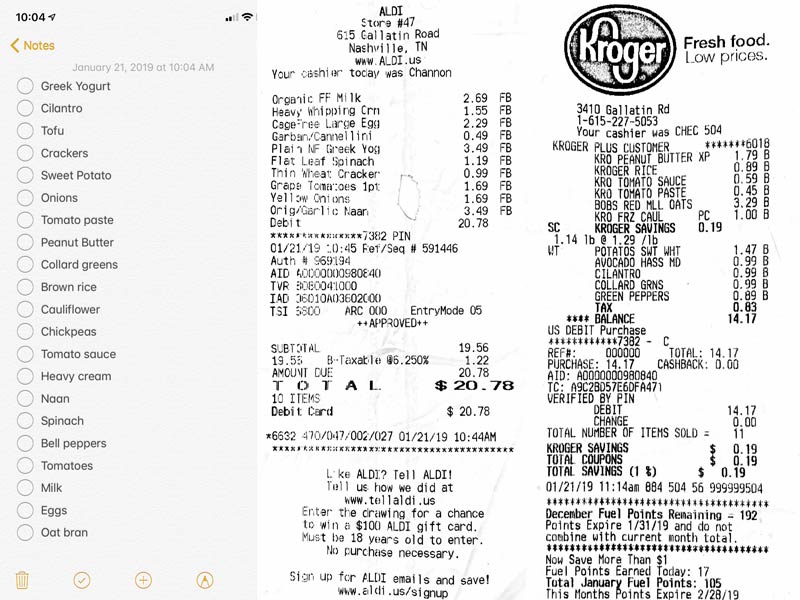 Total Expenses: $34.95
What I Cooked
Here is what I cooked in Week 4:
I had planned to make Curry Tofu Salad, but the grocery store was out of tofu (there was a sale going on and it was sold out), and I never made it back to the store later that week to pick it up. It would have been nice to have, but I had plenty of food so it wasn't missed.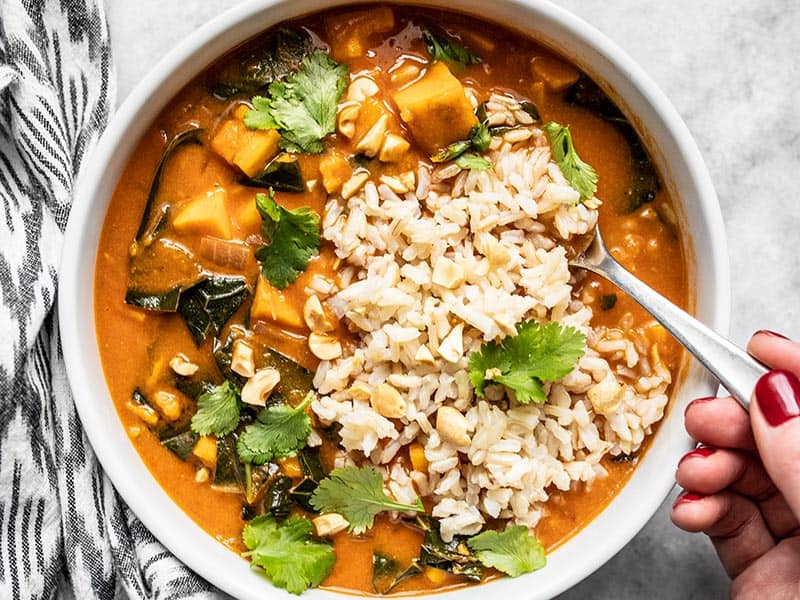 What I Ate
Here is a detailed log of what I ate during the week and the approximate costs. As a reminder, this is not meant to be a meal plan for anyone to follow because we all have unique nutritional needs. This is just real life, and sometimes life throws you curve balls and you don't eat as you should. This was especially true this week. I definitely think my diet was less than ideal in week 4.
Tuesday 2-22-19 Daily Total: $3.95
Wednesday 2-23-19 Daily Total: $5.44
Thursday 2-24-19 Daily Total: $4.23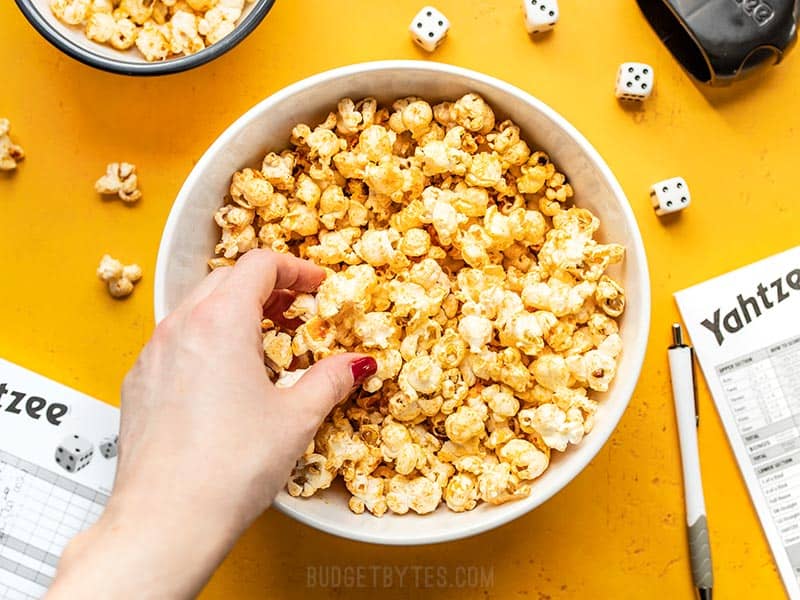 Friday 2-24-19 Daily Total: $4.41
Saturday 2-25-19 Daily Total: $2.25
Sunday 2-26-19 Daily Total: $4.24
Feeling really under the weather this day, so I was definitely comfort eating! I baked lime bars for fun and because I was craving a dessert.
Monday 2-27-19 Daily Total: $3.96
Again feeling really under the weather this day. Went to bed very early, ate very little.
Leftovers
What Got Frozen: I froze 3 servings of the West African Peanut Stew, complete with rice. I'll be very happy to have those later!
What Will Carry Over into Week 5: Crackers. Since I never got around to making the Curry Tofu Salad, I still have the crackers. I snacked on some this week, but there are still plenty left. I also have plenty of spinach and tomatoes left, since I ate far fewer vegetables this week, but luckily they are not wilted yet. I have about 3/4 of the carton of heavy cream left, so I'll probably make a batch of freezer biscuits to make sure it doesn't go to waste! I also have plenty of Greek yogurt left, which I will surely enjoy in week 5.
What's Going in the Compost Bin: Unfortunately my cilantro didn't make it this week. It was half wilted when purchased and I wasn't able to revive it back to life. But, as that is literally the only thing going in the bin, I still feel like this week was a success!
How I Feel
I feel like this week I kind of fell off the vegetable wagon. Not because I ate meat, but because I ate so many fewer vegetables. The couple of things that I bought that were carb heavy (the naan and crackers) totally got me and I found myself snacking on them instead of vegetables. It such a good example of how important it is to stock up on the good stuff to prevent temptation later. If it's there, I'll eat it, so it's best to stock up on the best stuff.
That being said, I also took comfort in food this week while I was not feeling well and I don't necessarily see that as a bad thing. I think it's important to take care of yourself and if that means once in a while eating comfort food, so be it. I'm all about moderation. As long as it's not a frequent habit, I won't get down on myself.
In week three I felt really "in the groove" like this style of eating was getting easier. In week four that "groove" kind of morphed into exhaustion, and I wonder how long I'll keep it up. Am I just exhausted with the logging everything I eat part? Or will I totally fall off when I no longer have to log it, or when I know no one will be watching anymore? It will be very interesting to see what happens when I'm no longer under the spotlight.
As always, awareness is important when it comes to improving, so I've taken note on how my habits and feelings changed this week, and used those notes to adjust my plans for the future.
Goals For the Last Few Days
I'm reducing my recipe plan even further for the final days, and only cooking one recipe. I will be forcing myself to eat up what I have in the freezer, or at least as much of it as possible, before I begin stocking it back up again.
I need to refocus my energy and dedication to getting those extra vegetables in my meals and snacks and end this challenge strong. I want my habits to be as strong as possible before my accountability goes away. I'm really looking forward to carrying as much of this as possible beyond this month, but I know that it will probably always require at least some level of mindfulness.
How about you? What part of the challenge do you plan to continue or discontinue? Are you looking forward to the end? What do you think will be the first thing you'll eat after January? Stay tuned for Friday, where I'll do a really quick final thoughts post and recap of the final few days. 🙂 Until then!