Vegetarian Challenge Final Thoughts
Every time I do a challenge I learn so much about myself. I set out on this 31 Day Vegetarian Challenge intending to increase my vegetable intake, reduce my dependency on pasta and cheese, and build some all around healthier food habits in the process. While I think I accomplished those goals, my bigger take away was re-discovering the benefits of being mindful. Crafting a weekly plan with intention and choosing each meal mindfully had positive effects in so many areas of my life. This, above all, is what I hope to continue going forward.
First, here are some quick links to January's Vegetarian Challenge if you want to catch up:
Vegetarian Challenge Final Thoughts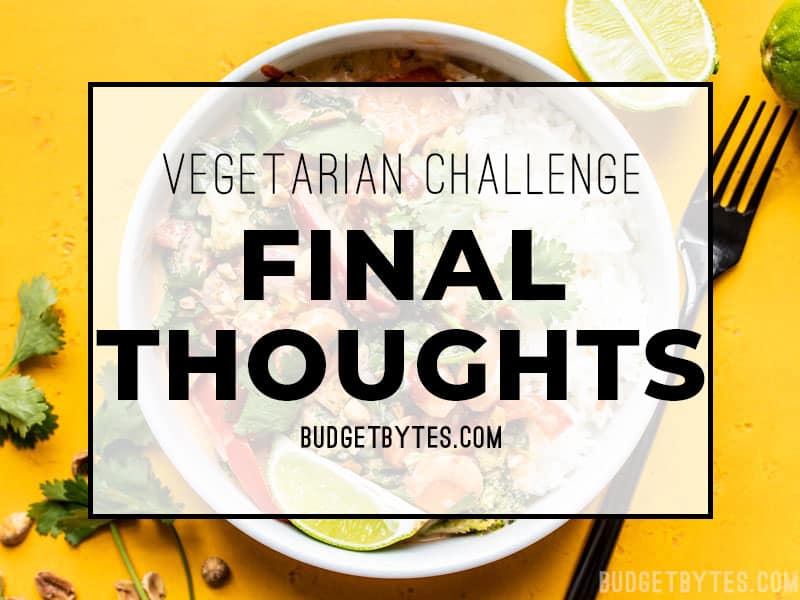 No Meat, No Problem.
As I mentioned above, this was actually kind of a hybrid challenge for me. First, I was challenging myself to eat no meat for the month. No problem. I eat at least 50% vegetarian anyway, so I really didn't miss it. BUT I also challenged myself to reduce my consumption of cheese, and I usually lean pretty heavily on cheese for protein, so I had to make some adjustments there. I love beans, so I made sure to include plenty of beans in my meal plans. Eggs also made a regular appearance, as did peanut butter. I also increased my consumption of seeds, by adding them to my morning oat bran, or sprinkling them over yogurt. Those few intentional moves plus having a diet full of vegetables and whole grains helped me hit those daily protein goals. Getting the recommended amount of protein per day during the challenge did not prove to be difficult. (See 5 Easy Sources of Plant-Based Protein)
The Challenges
While not eating meat isn't particularly hard for me, this month wasn't a total cake walk either. Here is what I found to be difficult:
Getting used to being "fiber full." I described this new phenomenon in week 1. Feeling so full from all the fiber rich foods, but still being hungry for calories. It's not the most pleasant feeling and it took some getting used to, but I learned how to manage it very quickly (increase plant fats, like peanut butter or avocado).
Breaking that cheese addiction. The first week the withdrawals were HARD. Like cheese on the brain 24/7 hard. But then it disappeared and never haunted me again. I even felt a little sick when I ate a cheese heavy pizza for date night in week 2.
Making myself sit down to plan on Sunday night. Does this ever get easier? Life is 100% better when I take time to plan, yet it's still so hard to make myself sit down and do it. I never regret it once it's done, though. Kind of like exercise!
Grocery shopping on a specific day. Sometimes I just couldn't get to the store on the day I had planned, and it would throw me off each time. I needed to replenish my groceries on a regular basis to make sure I was well stocked with healthy choices, otherwise the temptations would creep in.
Cooking when I was tired. I experienced some pretty big stress and exhaustion in the second half of the month, which made me start slacking. I really think this is probably the biggest and most difficult hurdle everyone faces, ammiright? I don't have any special tricks for making this easier, unfortunately. You just have to power through and not get too down on yourself when you can't.
Not splurging on take out when I'm super stressed, tired, or sick. I honestly don't think I could have made it through this part if I didn't have the accountability of the internet watching me. But hey, 80/20. As long as I make a good decision 80% of the time, I'm satisfied.
The Benefits
So much good came out of this challenge! So many unexpected benefits!
My blood sugar stabilized. When I do get hungry, it's a lot less intense, which allows me to make smarter decisions with my food.
I enjoy food more. Limiting myself to eating out once per week and taking a more utilitarian approach to food has made me enjoy the "fun" food even more. It's more special and I appreciate it at a much higher level.
Heavy food doesn't sound as good. I guess my body got used to the lighter, fiber and water filled vegetables, because rich and heavy foods sort of lost their appeal. Sort of, anyway. 😉
Less work in the end. The few minutes of planning on Sunday night and the one (sometimes two) days of cooking up front left me free to enjoy the rest of the week without any effort. Who doesn't want that??
A freezer full of meals ready to go. I ended this month with at least a week's worth of food in the freezer, ready for me to reheat and eat without any effort.
Dramatically reduced waste. Again, planning is the key here. Being intentional about using up leftovers from week to week has seriously reduced the amount of food (and therefore money) that I waste. It's a little weird to see my fridge so bare at the end of the week, but it's better bare than full of food that is just going to sit there taking up space until it eventually gets thrown out.
Less grazing/mindless eating. Having a clear plan about what I'm going to cook, eat, and snack on really had an impact on my mindless eating. You know, boredom eating. I did lose a few pounds during the challenge and I have no doubt it's mainly due to the fact that I didn't mindlessly graze on food at all during the challenge.
Small spending. While I don't have a "before" number to compare to because I normally have to buy a lot of food for recipe testing, video production, and other blog activity, I spent about $35-$40 per week on food (for just me) during the challenge and I think that's a really good number.
I learned what works for me. Meal planning needs to be extremely individual and tailored to your lifestyle and food preferences, but just by forcing yourself to try meal planning every week you learn really quickly what types of meals work for you and will give you the most bang for your buck (and effort).
I got creative! Necessity is the mother of invention, indeed! With less resources you're forced to get creative. Every time I've done a challenge it has helped me come up with some of my best recipes. This challenge was no exception.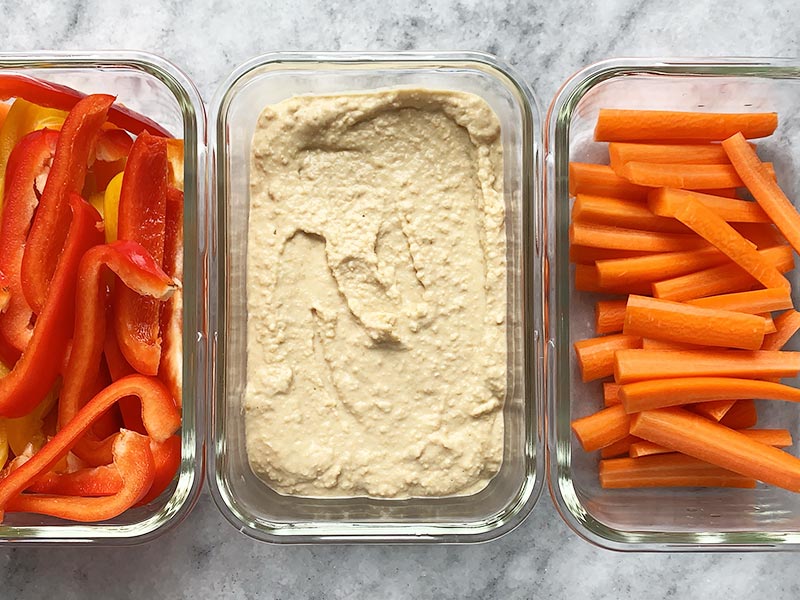 What Worked for Me
Meal planning is very individual and it can take some time to learn what works for you. Through this challenge I was able to identify a few things that helped me meet my goals week after week. Hopefully they'll help you craft an effective meal plan of your own.
Buying multi-purpose ingredients. Almost every week I bought spinach, grape tomatoes, and bell peppers. These vegetables are so versatile that I was able to use them in different recipes and meals nearly every day. they became just as much of a staple group of ingredients as my milk, eggs, and butter.
Focusing on Freezer Friendly Recipes. I don't eat a lot so it was pretty critical for me to be able to freeze my leftovers to keep them from being wasted. Cooking things like the West African Peanut Stew, Roasted Cauliflower and Quinoa Salad, Vegan Winter Lentil Stew, Freezer Garlic Bread, and Rosemary Pepper Drop Biscuits kept me stocked with a freezer-full of alternate meal options and made sure that none of my grocery dollars went to waste.
Cooking for Fun. A couple times during the challenge I dug into my pantry and made a little "treat" with whatever I could find (I made a Dutch Baby in Week 3 and Lime Bars in Week 4). These little splurges were enough fun to keep me from wanting to splurge on take out and they were FAR less expensive as well. It's important to treat yourself now and then, but do it reasonably. 🙂
Baby Steps. Week 1 was really hard for me because I took too big of a step, or changed too much of my diet at once. I scaled it back in week 2 and life was 100% easier. It's easy to get too ambitious, so just remember to take baby steps!
Be Easy on Yourself! Making lifestyle changes is not an all or nothing deal. Every good decision you make has value and is not negated if you happen to make a bad decision. Take pride in even the small changes you make, and let that fuel you to do even better the next day.
What Did I Spend?
Here's a summary of my weekly expenditures:
Week 1: Groceries $32.76; Value of meals eaten $29.44
Week 2: Groceries $38.29; Value of meals eaten $30.92
Week 3: Groceries $40.06; Value of meals eaten $33.36
Week 4: Groceries $34.95; Value of meals eaten $28.48
Not bad! The grocery expenditure and value of meals eaten each week were fairly close, especially if you take into consideration the amount of food that got saved in the freezer.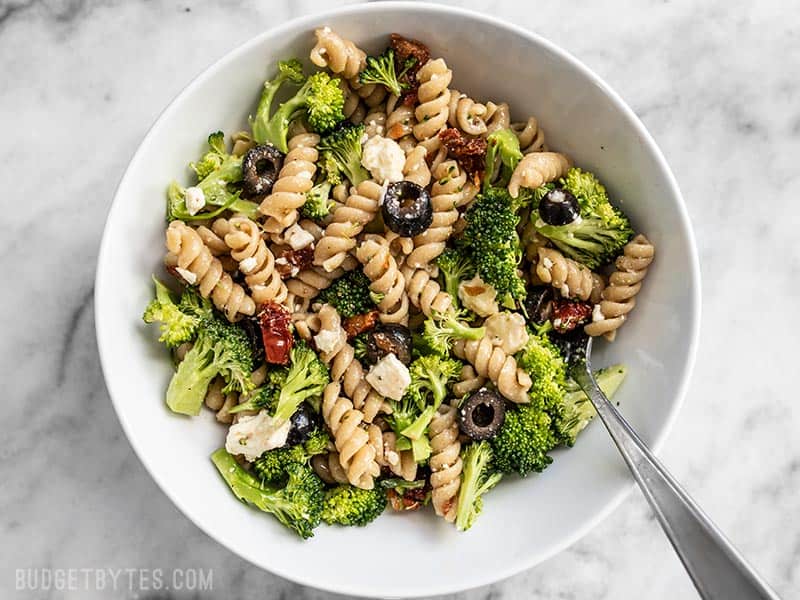 The Last Few Days…
For the last few days of the challenge I planned to eat mostly out of the freezer, make a big pasta salad, and stock up on my weekly basics. Here is what I bought:
What I Ate:
TUESDAY 2-29-19 DAILY TOTAL: $4.21
Breakfast: 2 cups coffee ($0.42), 2/3 cup milk ($0.22), 1/4 cup oat bran ($0.18), 2 Tbsp peanut butter ($0.16), 1 Tbsp chia seeds ($0.16), 1 Tbsp ground flaxseed ($0.03), 1/3 cup frozen blueberries ($0.36), 1 Tbsp maple syrup ($0.30)
Late lunch/Dinner: Roasted Cauliflower and Quinoa Salad ($1.41), 1 large egg ($0.25), 1 slice Freezer Garlic Bread ($0.19)
Snacks: 1 lime bar ($0.33), 16 crackers ($0.12), 1 Tbsp peanut butter ($0.08)
WEDNESDAY 2-30-19 DAILY TOTAL: $5.25
Breakfast: 2 cups coffee ($0.42), 2/3 cup milk ($0.22), 1/2 Tbsp butter ($0.04), 1 egg ($0.25), 2 cups spinach ($0.30), 1/4 bell pepper ($0.25), 6 grape tomatoes ($0.34), 1/4 tsp seasoning salt ($0.03), 1 tortilla ($0.17), 1 oz. goat cheese ($0.50)
Lunch: 1 serving "Sweep The Kitchen" Pasta Salad ($1.82), 1 mozzarella cheese stick ($0.19)
Dinner/Evening snack: Greek yogurt ($0.44), 1 banana ($0.17), 1 Tbsp ground flaxseed ($0.03), 1 tsp honey ($0.08),
THURSDAY 2-31-19 DAILY TOTAL: $4.53
And that's a wrap! I'm sure I have so many more thoughts about all of this, but my brain is a little fuzzy today, so I'm going to end the final recap here. If you have questions or are curious about anything, feel free to drop them in the comments below! And if I remember anything significant that I wanted to mention, I'll amend the post. 🙂
Thank you so much for joining me! I hope this challenge was as insightful for you as it was me!