[unable to retrieve full-text content]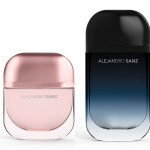 Spanish Grammy Award-winning musician Alejando Sanz  presents his two new fragrances Mi Acorde in male and female versions, created in collaboration with Tailored Perfumes. In 2007, he presented the fragrance duo Sieta, made under the company Idesa (Argelini Beauty,) and the Mi duo in 2011. Tailored Perfumes said that the singer was very involved in the process of production and selection of …
Read full article: TFWA 2019: Alejando Sanz Mi Acorde from Fragrantica Perfumes and Colognes Magazine.