Snuff Schiaparelli: Ceci N'est Pas Une Pipe
A spicy woody fragrance for men, Snuff Schiaparelli was released in 1939. The story goes that at first it was given to Elsa Schiaparelli's personal friends, and only then released to the perfume market.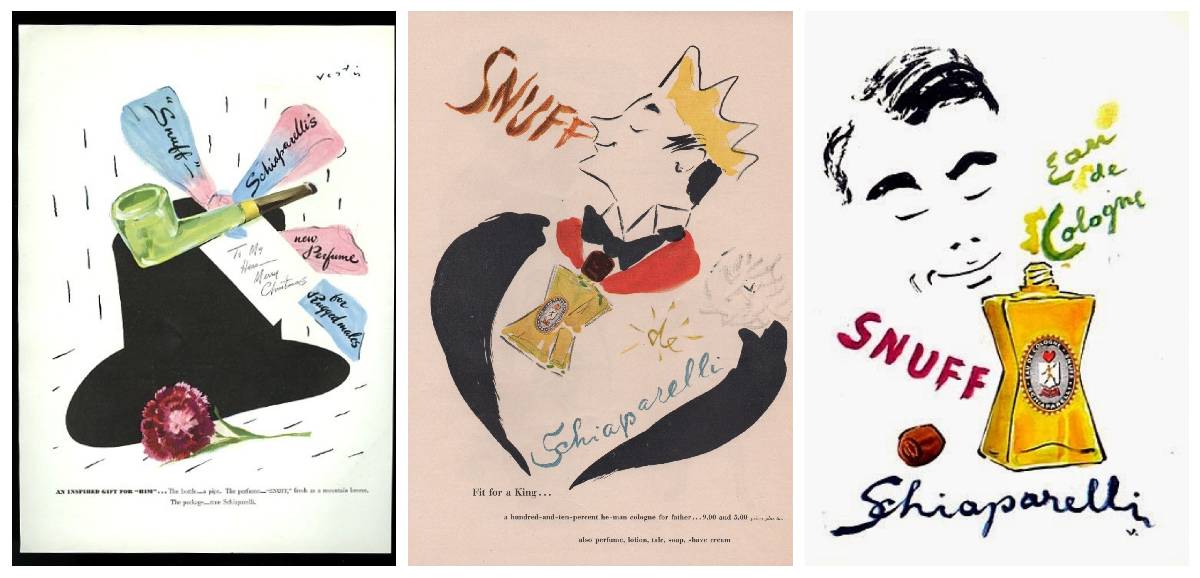 The name Snuff, like Shocking, is due to the color of the fabric that the designer used in her work – Shocking was a special bright pink, and Snuff stands for an emotionless, dusty gray-brown color.
The production of fragrance was French for only a short time as most of the fragrance bottles were produced in the USA after Elsa Schiaparelli moved there, fleeing the Nazi occupation.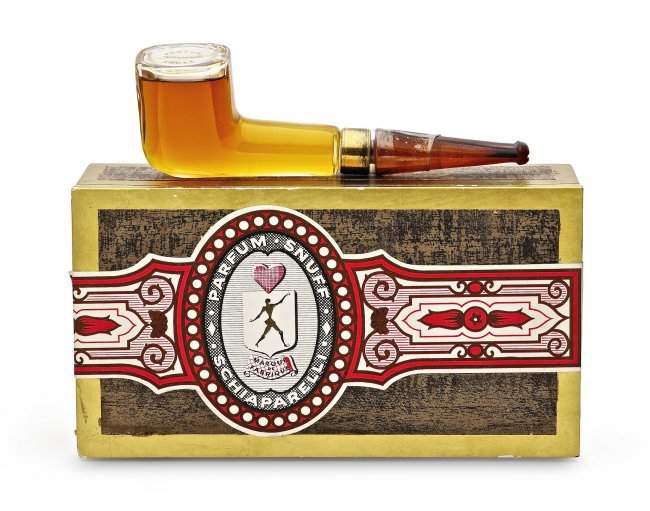 Snuff Schiaparelli perfume can be found in four bottle designs:
1) the pipe-bottle a la Rene Magritte (designed by Fernand Guerycolas; see the image above), which was released exactly 10 years after the famous "The Treachery of Images";
2) a bottle resembling an hourglass or an angular male version of the Mae West mannequin with a brown burlap stopper (design by Raymond Loewy);
3) an hourglass of gray-green glass with a smoking pipe stopper or a cylinder stopper (the author is unknown to me; see the image below);
4) or a cheap transparent cylinder bottle with a plastic or metal stopper of the same boring form (the most affordable option, 30 ml).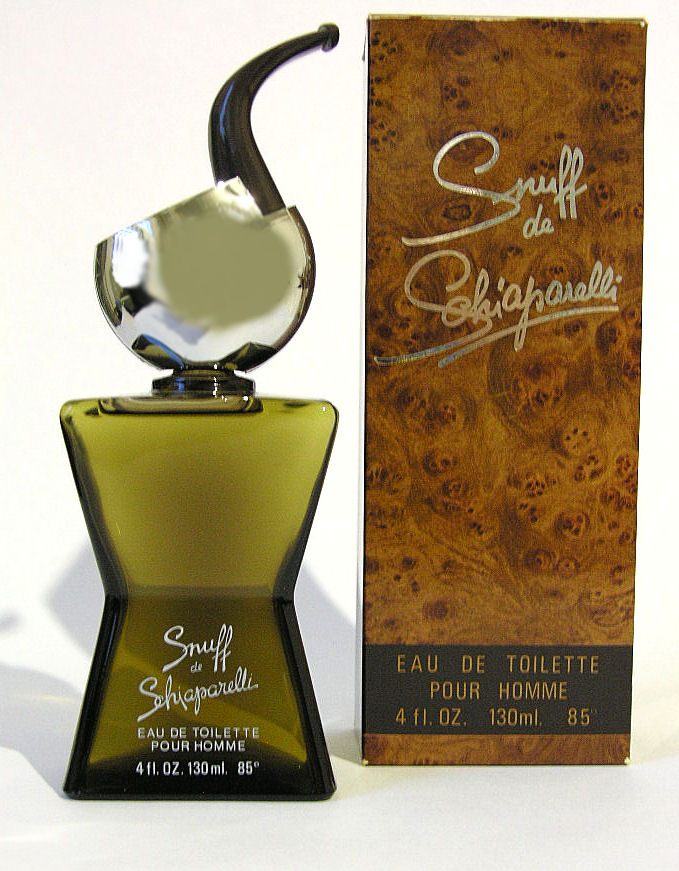 The first two designs coexisted between 1939 and the mid-1960s, as more luxurious and more utilitarian variants (the first was made for parfum, the second bottle used for cologne, shaving lotion, powder and talc). Labels for the second bottle were designed to resemble a cigar bow.
The third and fourth variants appeared after the resurrection of Schiaparelli perfumes, in 1977-1978, for a short time. They did not have labels; the name was imprinted by serigraphy. In the 90s, when the brand Schiaparelli was revived again, Snuff was not among the released fragrances. Today, haute couture Schiaparelli is functioning, but plans for perfume creation have not been announced.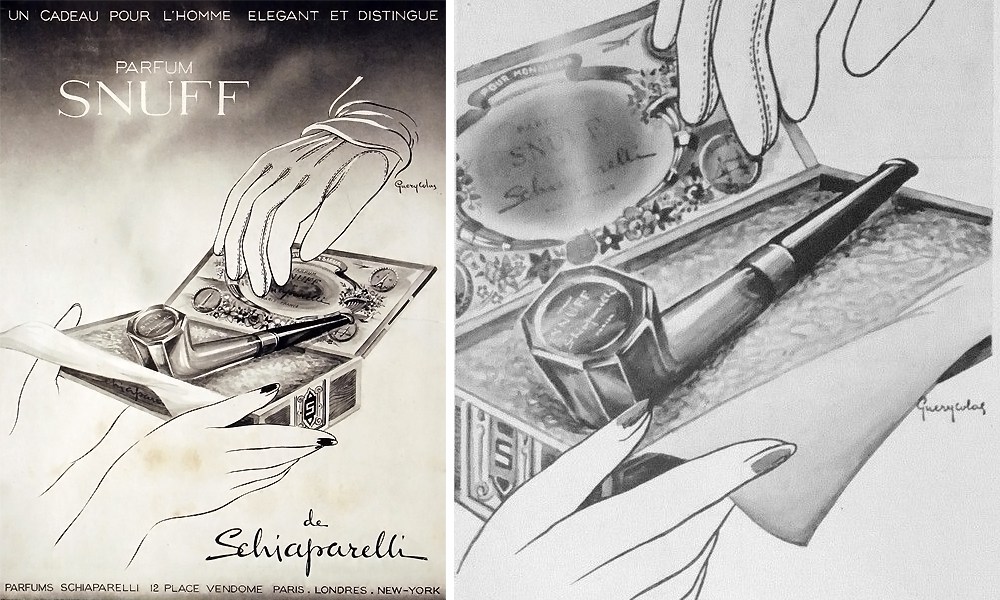 Snuff posters by Fernand Guerycolas (1939-1940)

Prior to the Second World War, Snuff posters were created by the artist and designer Fernand Guerycolas. The fragrance was described as "a gift for the elegant and special man". Post-war Snuff posters were made by the illustrator Marcel Vertes, and the text described the fragrance as suitable "for men with ideas", for "father and daddy", "fit for a King", "one hundred and ten percent he-man cologne for father", and cologne "for rugged males".
After the fragrance relaunch in 1977, the slogan was replaced by a more general "Schiaparelli Un Nom Connu Non Commun" (something like "Schiaparelli – a name known but not common").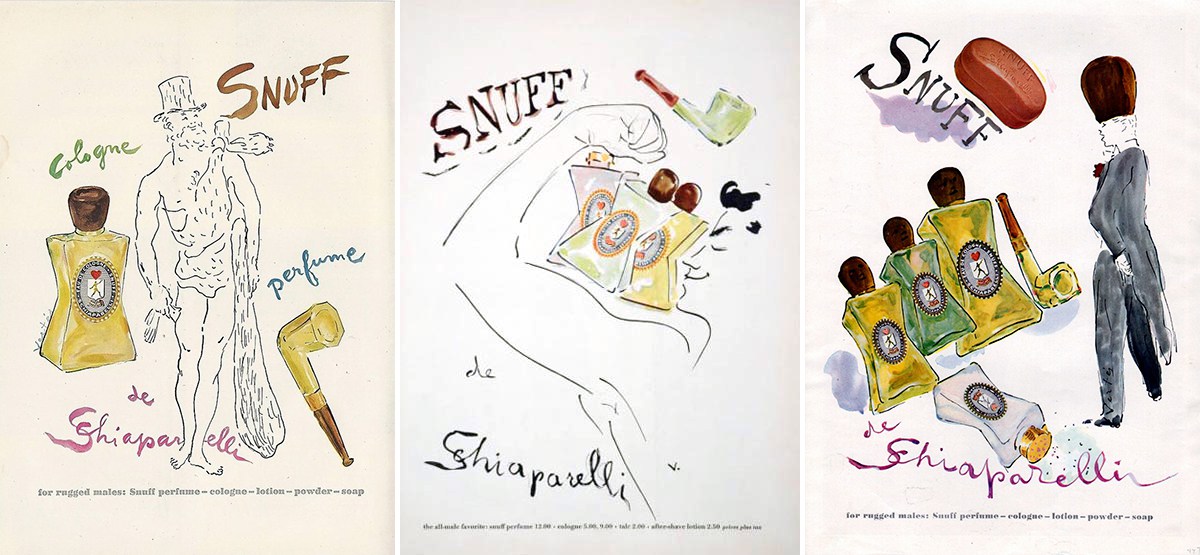 Snuff posters by Marcel Vertes

My splash bottle of cologne is an hourglass that was produced before the 60's, 4 ounces in size (120 ml), with embossed letters "schiaparelli" on the bottom and a brown plastic stopper with a walnut wood pattern. The liquid is tea-colored with an orange tinge. On the front side of the label in small letters is "Parfums Schiaparelli Inc, New York"; on the reverse side there is an inscription "For Demonstration. Not For Sale", therefore it's a tester.
The aroma is persistent enough (more than 8 hours), but the initial impression is fresh and slightly boozey – lavender (more) and bergamot are fresh and well-perceptible, against a background of spicy and drunk fruity notes. A resinous bergamot hue is lightly supported by green evergreen needles.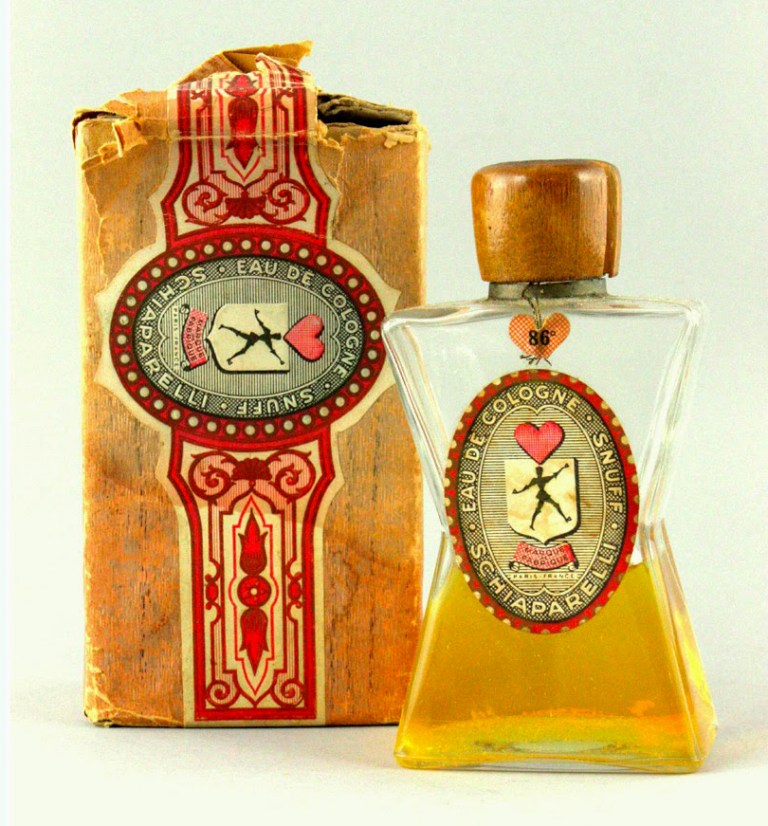 Snuff has a floral, spicy and slightly powdery heart (jasmine, geranium and carnation flowers, in descending order). A dry, woody-amber sillage starts simultaneously with flowers, and patchouli with oak moss predominate in it. I find it strange that the tobacco does not stand out in the fragrance – much more patchouli and dry wood like vetiver and cedar powdered with iris and carnation/clove, while synthetic honey is predominate in the far drydown.
Civet and honey-clover Mellis last till the next day on skin, perhaps because it's cologne, and in parfum they will be more pronounced and powerful. The general character is rich, spicy, woody-ambery, and quite old-fashioned in spirit.
*****
Tabu Dana (the main chord "patchouli-jasmine-carnation") came first to mind as the most similar fragrance – the differences between them are the orange-citrus start, the brighter flower bouquet and thick resinous animalic base that are featured in Tabu Dana, and in the male combination "lavender, pine needles, & tobacco", which makes up Snuff's character. Interestingly, Shocking and Snuff were often advertised as a couple, but Shocking is more different from Snuff than Tabu.
I would suggest that Tabu (1933) and Snuff (1939) were created by the same perfumer Jean Carles of Roure Bertrand, and the first was taken as the starting point for the second. Carles created Shocking de Schiaparelli for Elsa two years earlier, in 1937, and this collaboration between Roure Bertrand and Schiaparelli could well have continued for Snuff in 1939. Louis Amic, Roure president of the time, realized that new players would soon come to the perfume market and focused on all European couturiers, offering them the best formulas of Roure perfumers. In addition, the relationship between Snuff and Tabu explains why Snuff Schiaparelli was popular not only among men, but among ladies as well (remember, smoking became popular with women in the 1920s).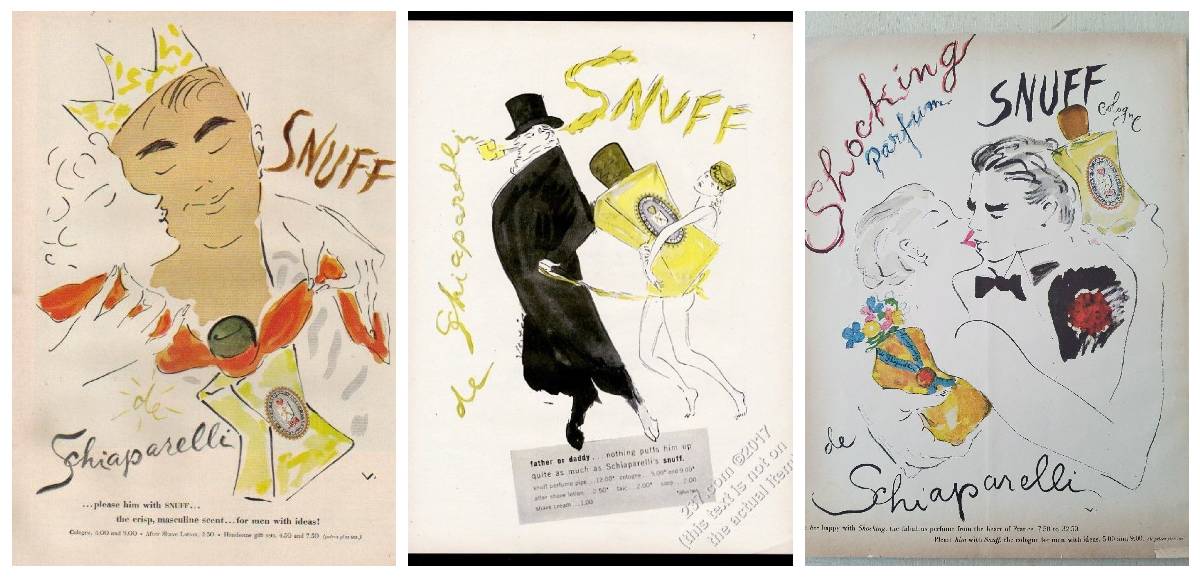 Note the gentleman's hoof in the center poster. Is he a lover, gentleman or Satan with human appearance?

Another fragrance that reminds me of Snuff is Davidoff Original if Snuff were diluted. In addition, Snuff has something in common with Yatagan and Le Troisieme Homme de Caron – but it is more calm and quiet, anti-bright as a dusty-brown color.
You still can find and purchase Snuff fragrance, although it was discontinued 40 years ago. Perfume in the pipe-bottle is very rare and much more expensive; the version from 1978 is more available and cheaper, often found on German and Italian ebay. However, I have not yet compared my vintage cologne with 1978's version – I believe, it is quite possible that the fragrances vary.
Top notes: Bergamot, Fruity notes, Green notes and Lavender;
Middle notes: Vetiver, Carnation, Jasmine, Geranium, Sandalwood, Patchouli, Orris and Pine;
Base notes: Oak moss, Ambergris, Vanilla, Olibanum, Myrrh and Leather.
| | |
| --- | --- |
| | Sergey Borisov has been involved in perfumery since the early 90`s when he had his own perfume-devoted program "Close to Body" on Krasnoyarsk radio (1993). As a perfume enthusiast (known as moon_fish), he became famous in Russia for his translation of Luca Turin's Perfume: Le Guide. He made a career as a fragrance journalist and contributed to distinguished magazines such as GQ, Vogue, Elle, Cosmopolitan, Interview, Forbes, Allure, Robb Report, Flacon, Departure, RBC-Style, TSUM-Magazine (2008-2016). His own online columns for RBC-Style.ru, Vogue.ru, and GQ.ru (2006-2015) have earned him international recognition and an invitation to be an editor for the Russian edition of "The Little Book of Perfumes" by Luca Turin & Tania Sanchez. Sergey Borisov was invited as a speaker at Esxence 2012 (Milano) and Intercharm 2015 (Moscow). In 2013, Sergey joined the Fragrantica team. |