Sesame Soy Grilled Tuna
FFOL Editor 1
[unable to retrieve full-text content]
This Sesame Soy Grilled Tuna with an Asian marinade with soy sauce, rice vinegar, garlic, and ginger makes a perfectly grilled tuna steak that is full of flavor. It's great with Sesame Soy Edamame, Asian Zucchini Noodles, or this Asian Kale Salad.
This easy grilled tuna with Asian flavors is as good as you would get in any restaurant and doesn't come with a huge price tag like the restaurant dishes normally do. It's marinated in a simple blend of soy sauce, rice vinegar, garlic, ginger, green onions, and sesame oil. This adds tons of flavor to the fish without adding lots of calories in a heavy sauce or oil rich marinade. It can be cooked on an outdoor grill, on a grill pan, or even pan seared. It's so good and really couldn't be simpler to make.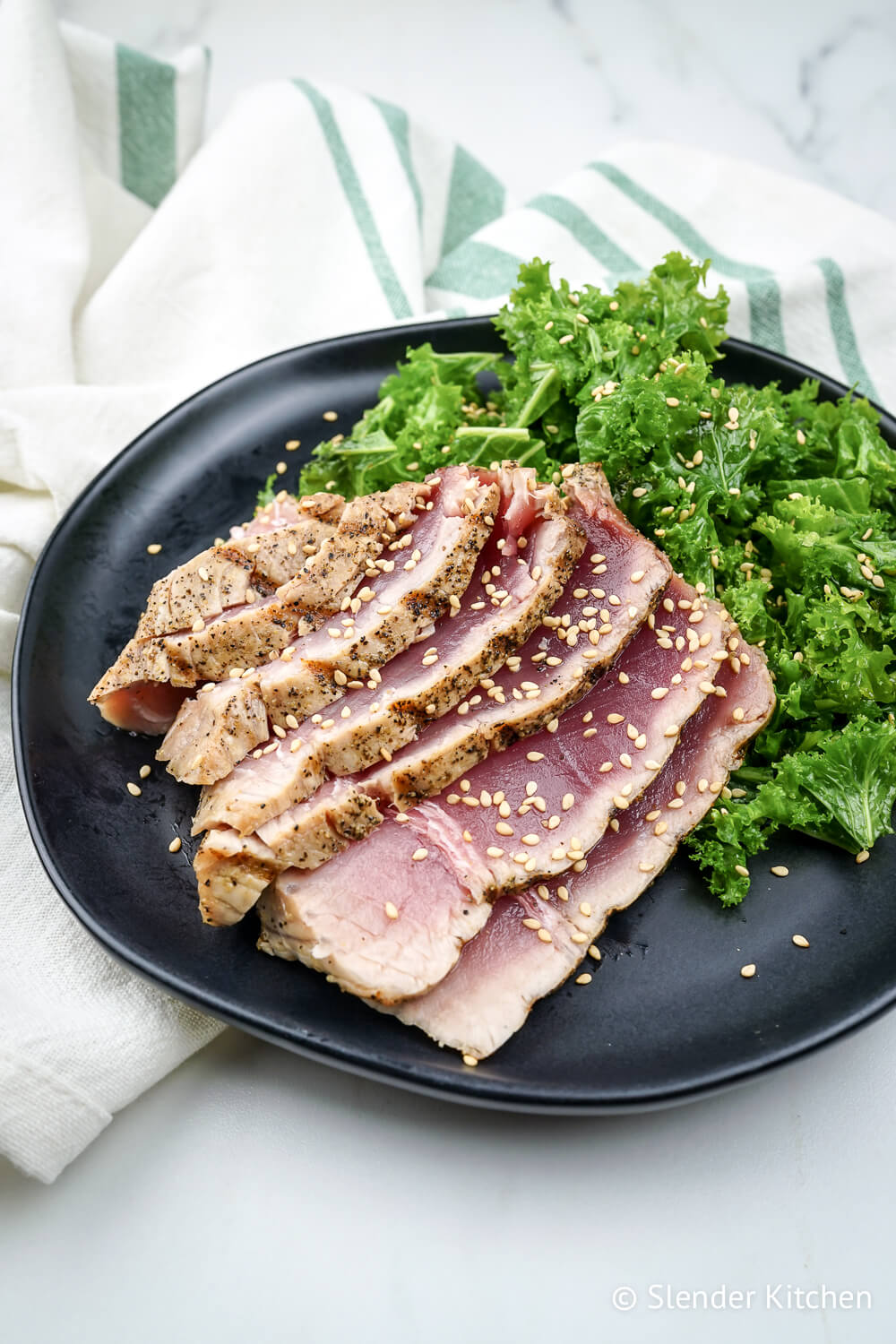 Before we talk about this grilled tuna steak recipe, let's talk about the elephant in the room – cooking almost raw tuna at home. When I first made this recipe and shared it on Instagram, so many of you reported you would be scared to make this dish at home. But you shouldn't be! As long as you are buying the right fish, you can definitely cook medium rare or rare tuna at home just like you would get in your favorite sushi restaurant. It's easy, fast, and a really healthy option for dinner. And if you prefer things cooked all the way, that's an option too. This grilled tuna recipe will work for barely cooked tuna or fully cooked tuna.
A Quick Guide to Buying Tuna
Since buying fresh tuna can be expensive and a little scary for some, especially if you are preparing it raw or almost raw, it's important to know what to look for when buying tuna steaks.
Type of tuna: There are lots of different types of tuna and most can be enjoyed raw or just seared on the outside. Ahi tuna, also known as yellow fin tuna, is probably the most popular but you can also look for bluefin, bigeye, or albacore tuna. Most stores sell tuna as steaks and many times, these steaks are cut to order from a large loin piece.
Color: The color of the tuna should a deep red to pink color and should be shiny and almost translucent. Differerent species will vary slightly in color but they all should have a rich pink to red color. The tuna should never be brown or matte looking. This normally means it is getting older. Another sign of age is any gaps in the tuna steaks. They should be a nice whole piece.
Smell: Fresh tuna should always have a fresh ocean smell, but shouldn't smell overly fishy. 
Previously frozen: Almost all tuna sold in grocery stores and fish markets has been flash frozen at sea to preserve freshness. So unless you are buying tuna that has just been caught, it is almost always previously frozen.
Frozen: You can buy frozen tuna steaks and defrost them yourself at home. Just make sure to buy high-quality fish. 
Markets:  Whenever in doubt, make sure to buy your tuna steaks at a quality market where you can count on the freshness or a fish market if there is one available. Many grocery stores have fish counters with knowledgeable staff that can ease your fears about buying fresh tuna.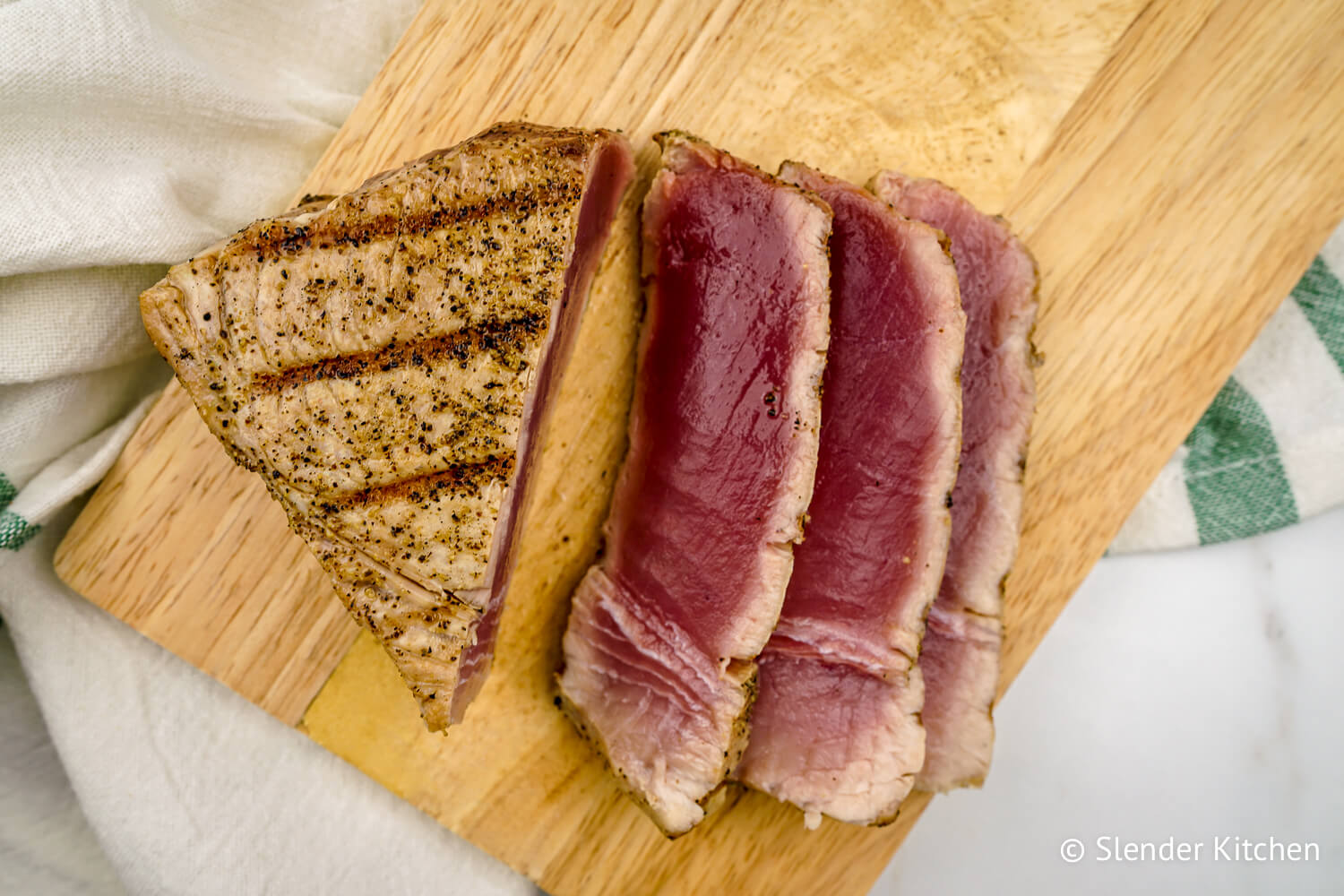 How do you know when a tuna steak is done?
If you are cooking a tuna steak to medium rare, many times the best way to make sure you don't overcook it is to use a timer. To get medium rare tuna, it will only take between 2-3 minutes per side since you are just looking to sear the outside of the fish. Always make sure to use a very hot pan or grill and the tuna will naturally release when it is seared and ready to flip. If you want your tuna more cooked, you could cook it for about 5-6 minutes per side. Tuna gets dry quickly, so beware of overcooking it.
What spice blends and seasonings go with tuna steaks?
There are tons of different spice blends, seasoning, and marinade options when it comes to tuna. If you don't want to use the Asian marinade I suggested in the recipe, you can try all kinds of other combinations. Almost anything that would work as a crust for steak will work for tuna. Just make sure to not use anything too strong that will overpower the fish. Here is one of my favorite simple tuna steak seasoning blends.
Tuna Steak Seasoning
2 tbsp paprika
1 tbsp cumin
1/2 tbsp chili powder
1 teaspoon garlic powder
1/2 teaspoon onion powder 
1/2 tsp thyme
1/2 teaspoon kosher salt
1/2 teaspoon pepper
How do I pan sear tuna steaks?
If you want to pan sear the tuna steaks instead of cook them on the grill, you can follow the exact same instructions but cook the tuna in a heavy pan or a cast iron skillet. Make sure to add some high heat oil, like vegetable oil, to the pan first. Once it is nice and hot, add the tuna and cook for 2-3 minutes on each side. Let the tuna rest 5 minutes before serving.
Can I keep leftover tuna in the fridge?
This tuna will keep well in the fridge for 2-3 days after it has been cooked. It doesn't reheat very well so it is best to serve it cold. It is delicious in salads, over rice, or with cold Asian noodles. It also makes great tacos and lettuce wraps.
Calories 237, Total Fat 4g, Total Carbohydrate 4g, Protein 43g, Serving Size 6 oz.