[unable to retrieve full-text content]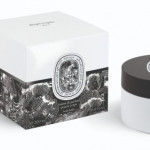 The ancillary bath body products of major fragrances seldom gain enough notoriety to warrant specific paeans to their merits, but when they deliver they do ignite powerful memories and nostalgia of sensuous indulgence. Who can forget Aromatics Elixir's body lotion? The densely scented soap of Lancome's Poeme, enough to scent an entire wardrobe before even getting wet? Or the post-shave balm of Ch…
Read full article: Pleasuring My Body with Rich Sandalwood and Complex Musk from Fragrantica Perfumes and Colognes Magazine.