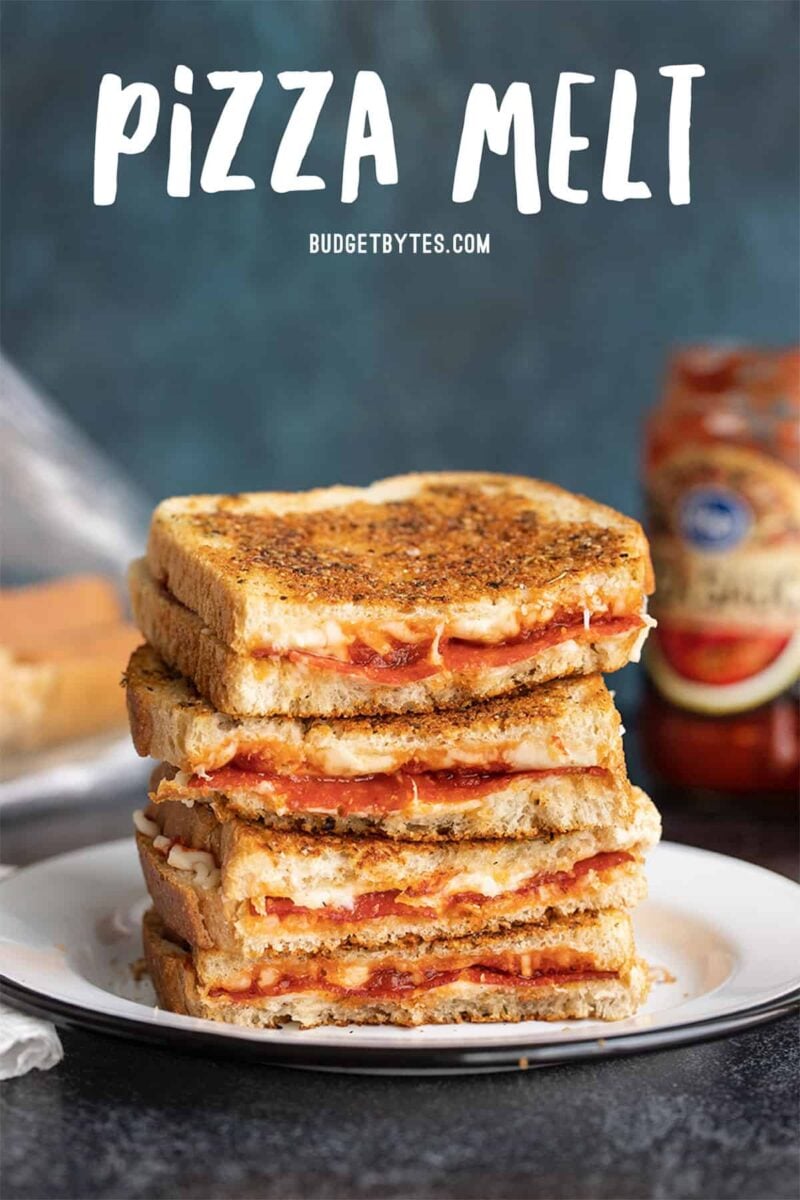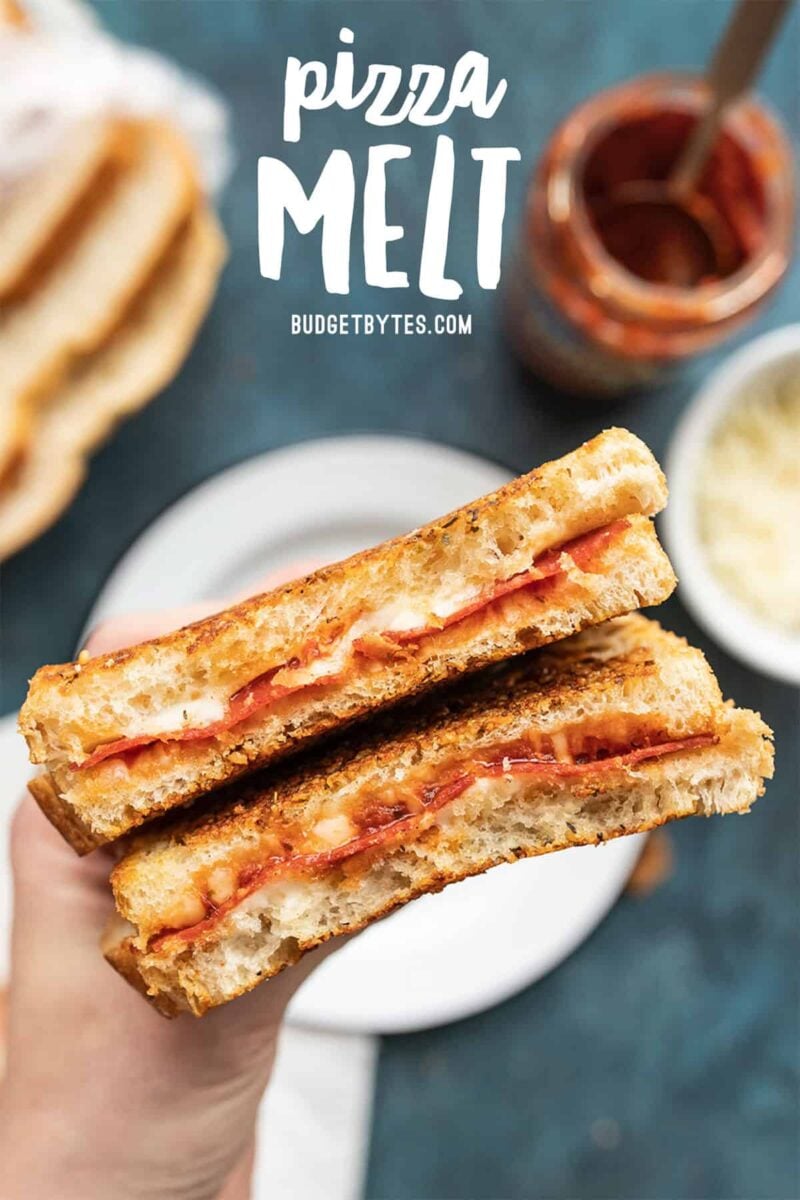 What do you get when a grilled cheese and a pepperoni pizza have a baby? A PIZZA MELT! (Sorry for yelling, I'm excited.) I used to eat these as an after-school snack when I was growing up because they're super easy and who doesn't want pizza? But now, decades later, I took this pizza-inspired sandwich to the next level by adding an herby-Parmesan butter to the bread which creates an extra crispy finish. It's to die for and way better than the pizza melts of my teen years. You've got to try it!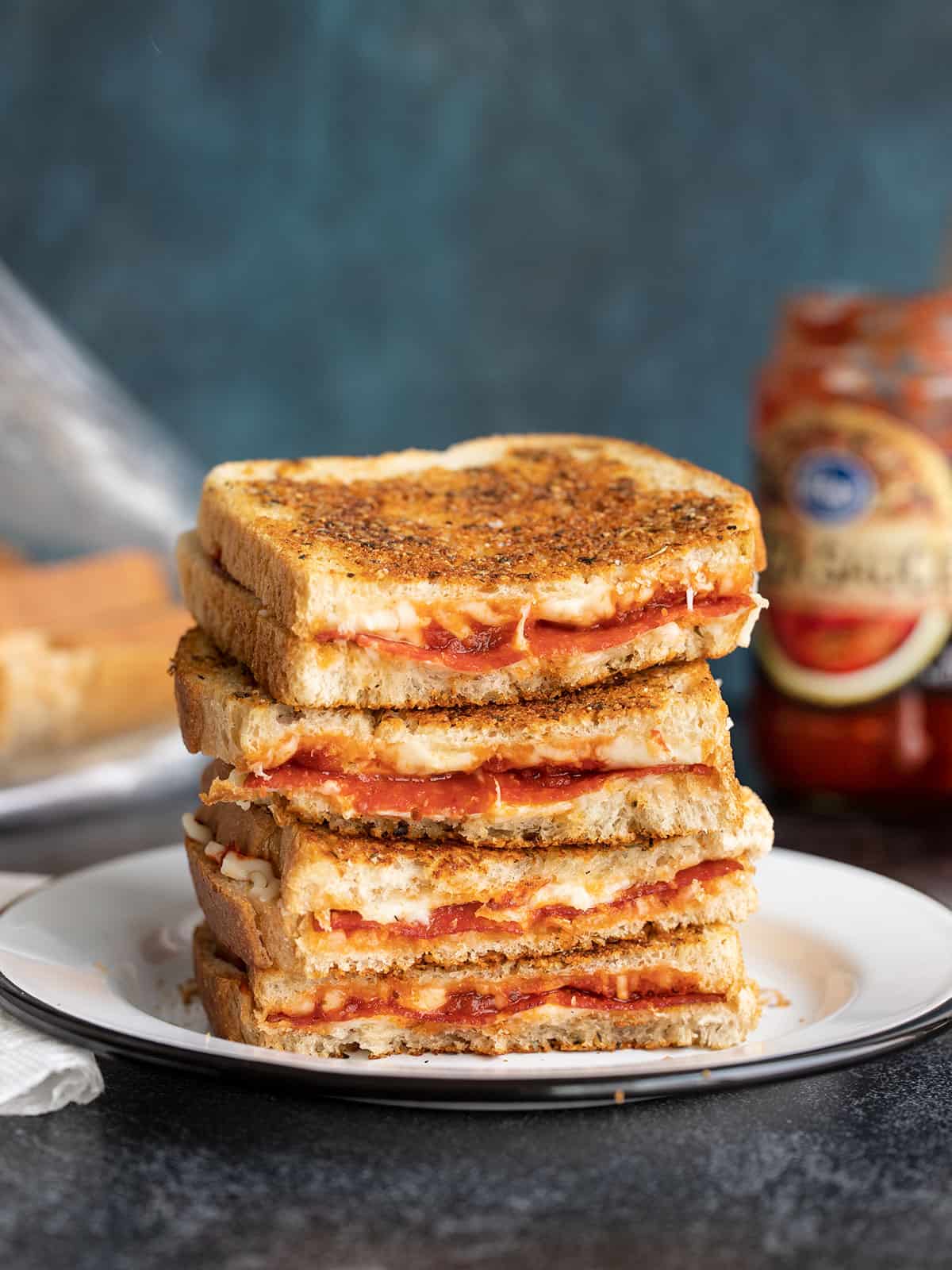 What Kind of Bread To Use for Pizza Melts
You definitely want to use some sort of sturdy bread for your pizza melt. If you try to use a soft white sandwich bread it just won't hold up to the moisture in the pizza sauce. I used a sourdough loaf, which gave my pizza melts even more flavor. Something like a rosemary olive oil bread or some homemade focaccia would also be amazing. Just make sure the bread is strong!
What Else Can You Put on a Pizza Melt?
A pizza melt, even in its most basic form (pizza sauce, cheese, pepperoni), is awesome, but if you happen to have some leftover ingredients on hand and you want to throw them on there, go for it! Here are a few ideas:
Diced bell pepper
Olives
Red onion
Bacon bits
Ham
Spinach
Mushrooms
Feta cheese
Banana peppers
Sun dried tomatoes
I would caution against using any ingredient that is very wet, like fresh tomatoes or canned artichoke hearts, since this can make the bread soggy.
Use Medium-Low Heat for the Perfect Grilled Cheese
Making a grilled cheese with a perfectly browned exterior and melty-cheesy interior can take a little practice. My trick is to cook over a slightly lower heat. This gives the inside time to warm up before the outside gets too brown or burns. It might take a little more patience, but you'll get the most perfectly delicious grilled cheese. …or pizza melt. 🙂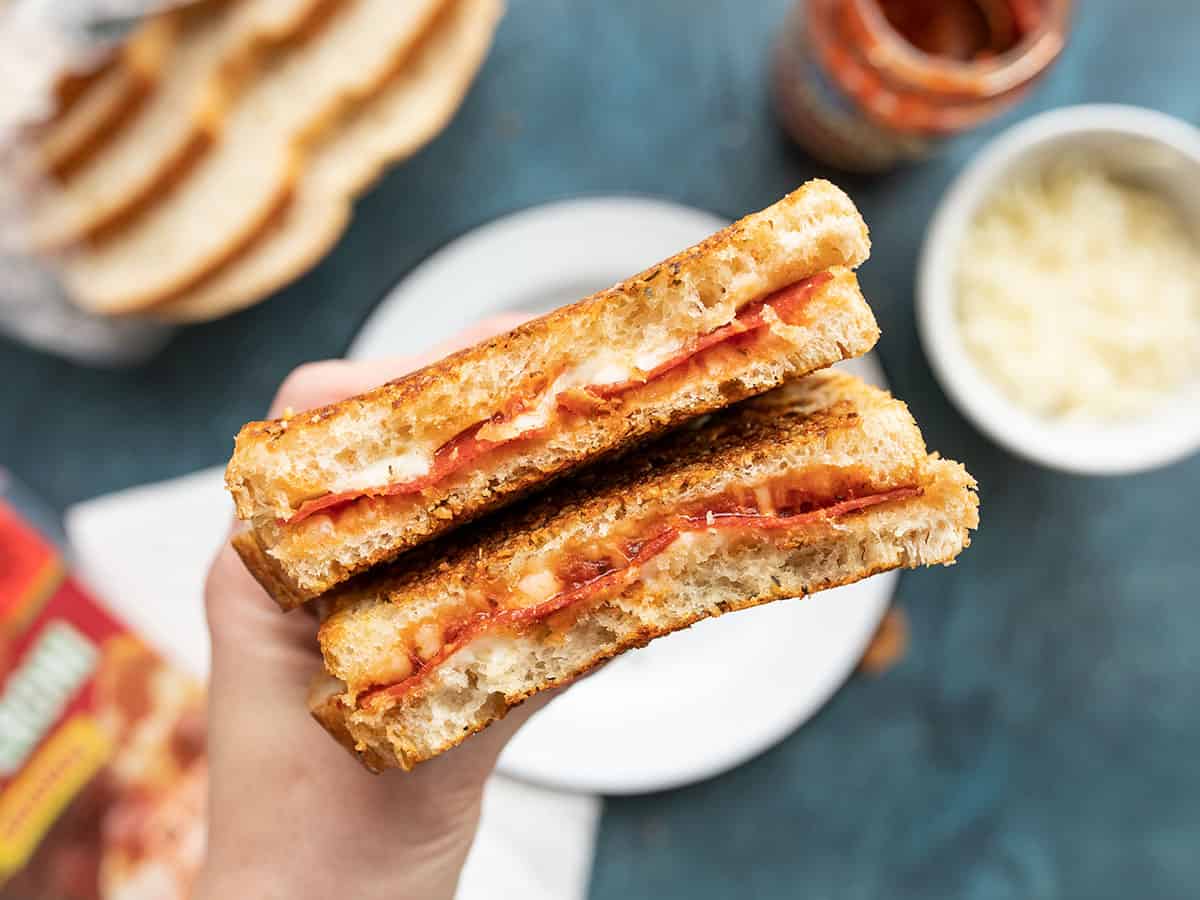 Pizza Melt
Pizza melts are like a cross between your two favorite comfort foods: pizza and grilled cheese. They're fast, easy, and the perfect quick meal!
Author: Beth – Budget Bytes
Servings: 1
1

Tbsp

butter, room temperature

($0.11)

1

Tbsp

grated Parmesan

($0.11)

1/2

tsp

Italian seasoning

($0.05)

2

slices

hearty bread

($0.44)

1/3

cup

shredded mozzarella

($0.19)

1

Tbsp

pizza sauce

($0.06)

6

slices

pepperoni

($0.15)
Stir together the room temperature butter, grated parmesan, and Italian seasoning in a small bowl until evenly combined. Spread the Parmesan butter over one side of each slice of bread.

Flip the bread over so the un-buttered side is facing up. Place half of the shredded mozzarella on one slice of bread. Next, add small dollops of the sauce over top of the cheese, followed by the sliced pepperoni. Finally, add the remaining cheese. Place the second slice of bread on top to close the sandwich, butter side facing out.

Place the sandwich in a skillet and cook over medium-low heat until golden brown on each side and the cheese is melted on the inside. Cut the sandwich in half and serve!
See how we calculate recipe costs here.
---
Serving: 1 sandwich ・ Calories: 451 kcal ・ Carbohydrates: 30 g ・ Protein: 19 g ・ Fat: 28 g ・ Sodium: 991 mg ・ Fiber: 3 g
Nutritional values are estimates only. See our full nutrition disclaimer here.
---
The equipment section above contains affiliate links to products we use and love. As an Amazon Associate I earn from qualifying purchases.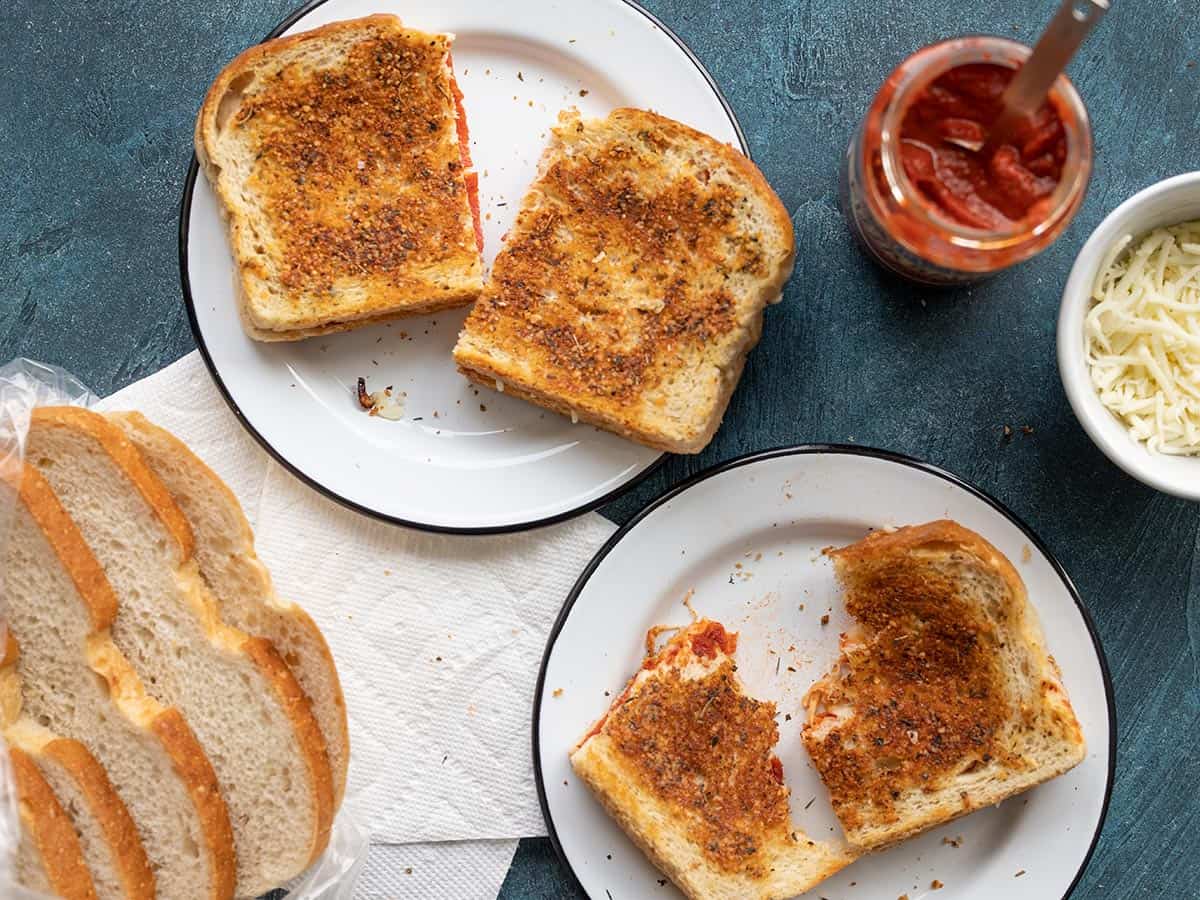 How to Make a Pizza Melt – Step by Step Photos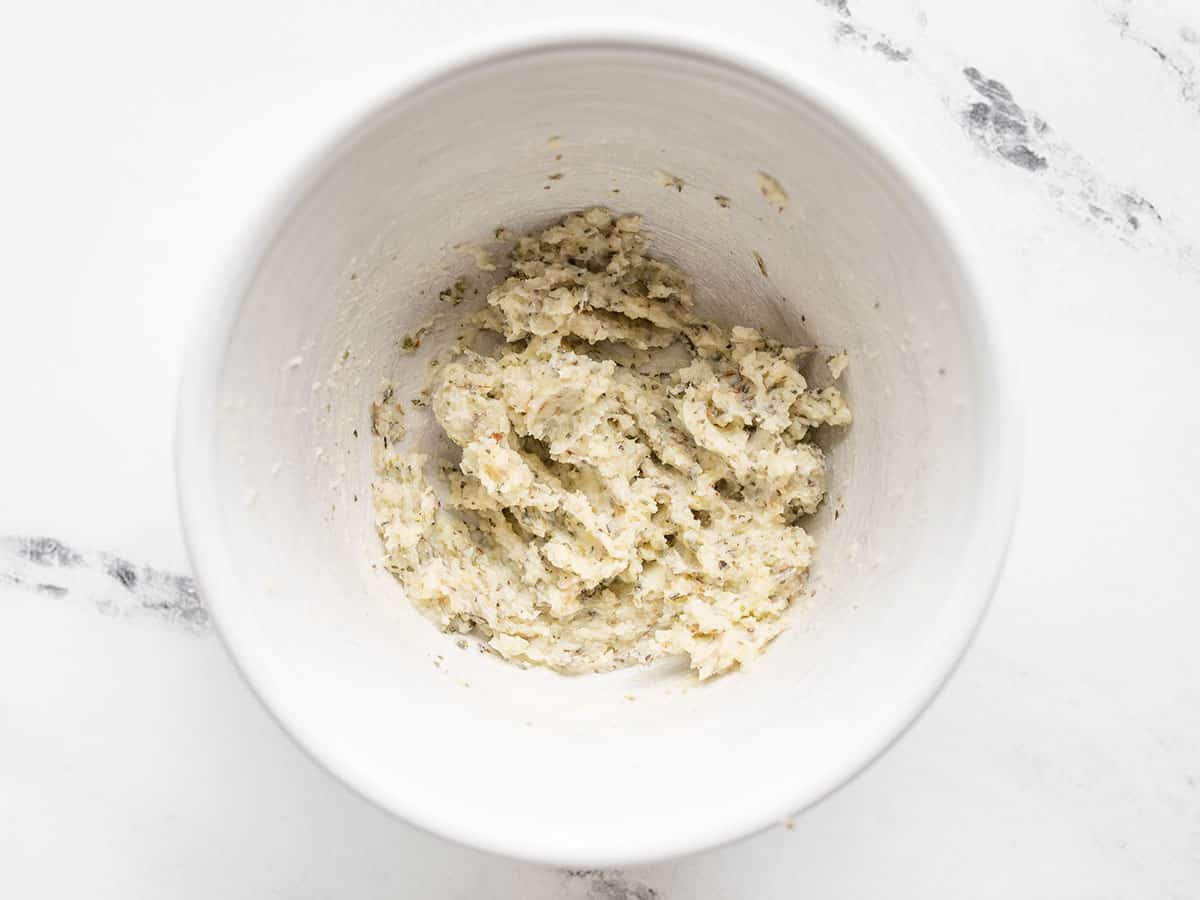 Combine 1 Tbsp room temperature butter with 1 Tbsp grated Parmesan, and ½ tsp Italian seasoning. Mix them together until they form a paste.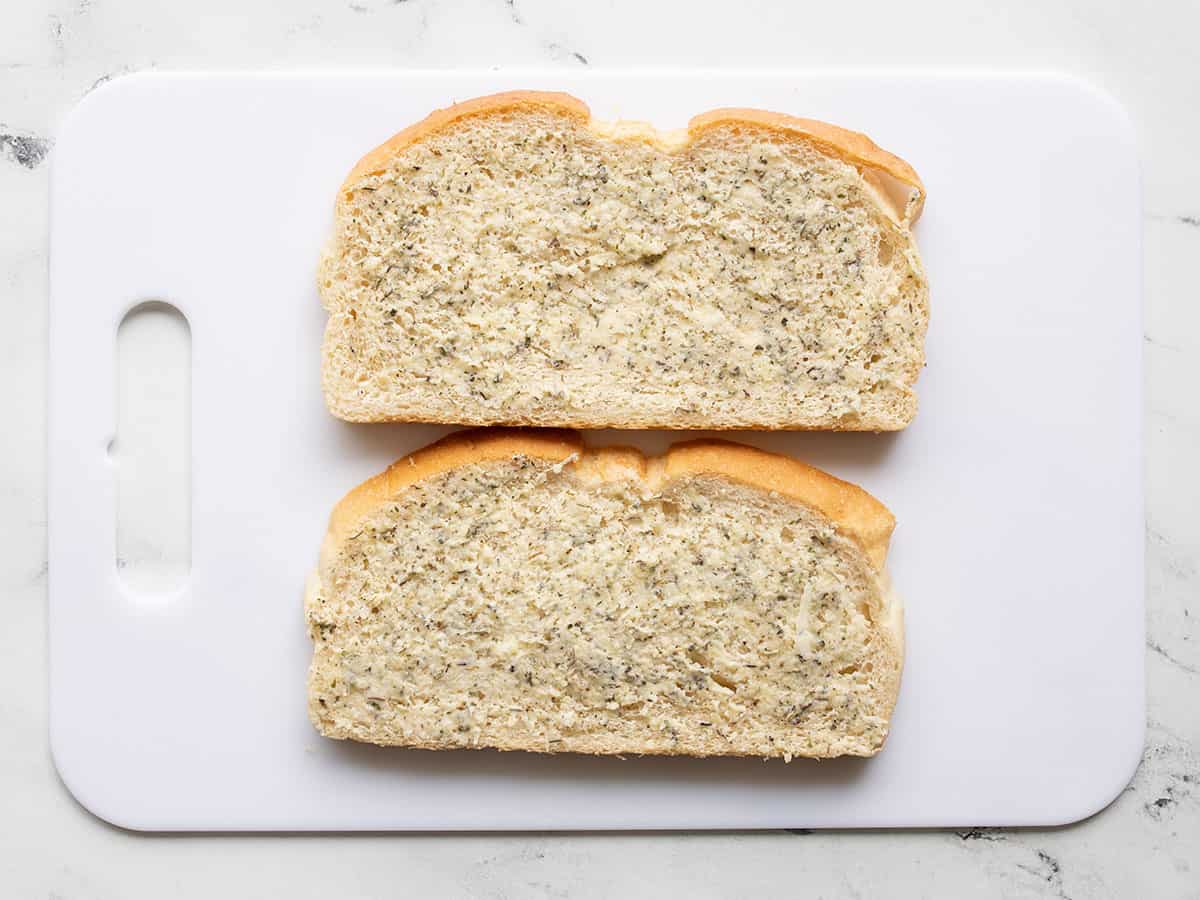 Spread the Parmesan butter over one side each slice of bread.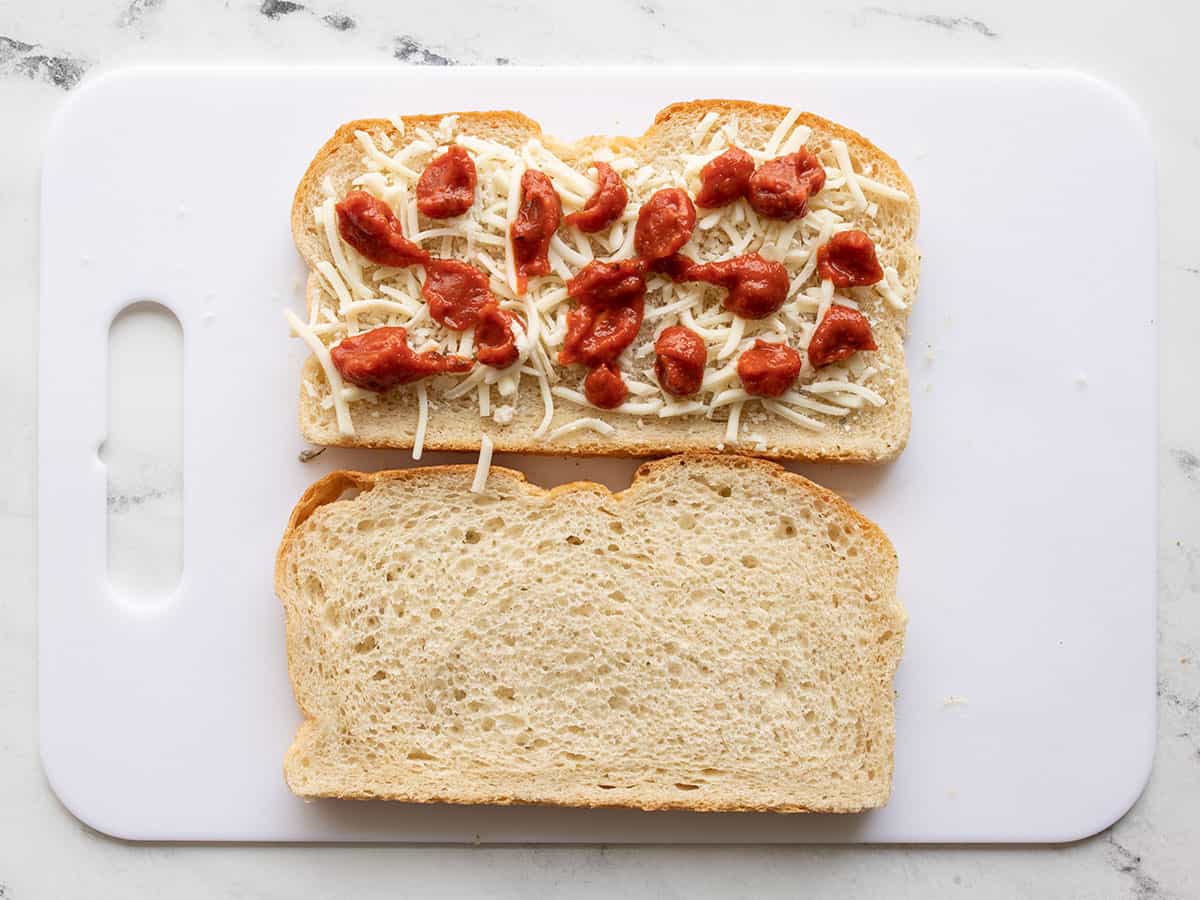 Flip the bread over so the un-buttered side is facing up, then top one slice with ½ of the ⅓ cup shredded mozzarella. Add about 1 Tbsp pizza sauce in small dollops over the cheese (that helps make a barrier so the sauce doesn't soak into the bread and make it too soggy).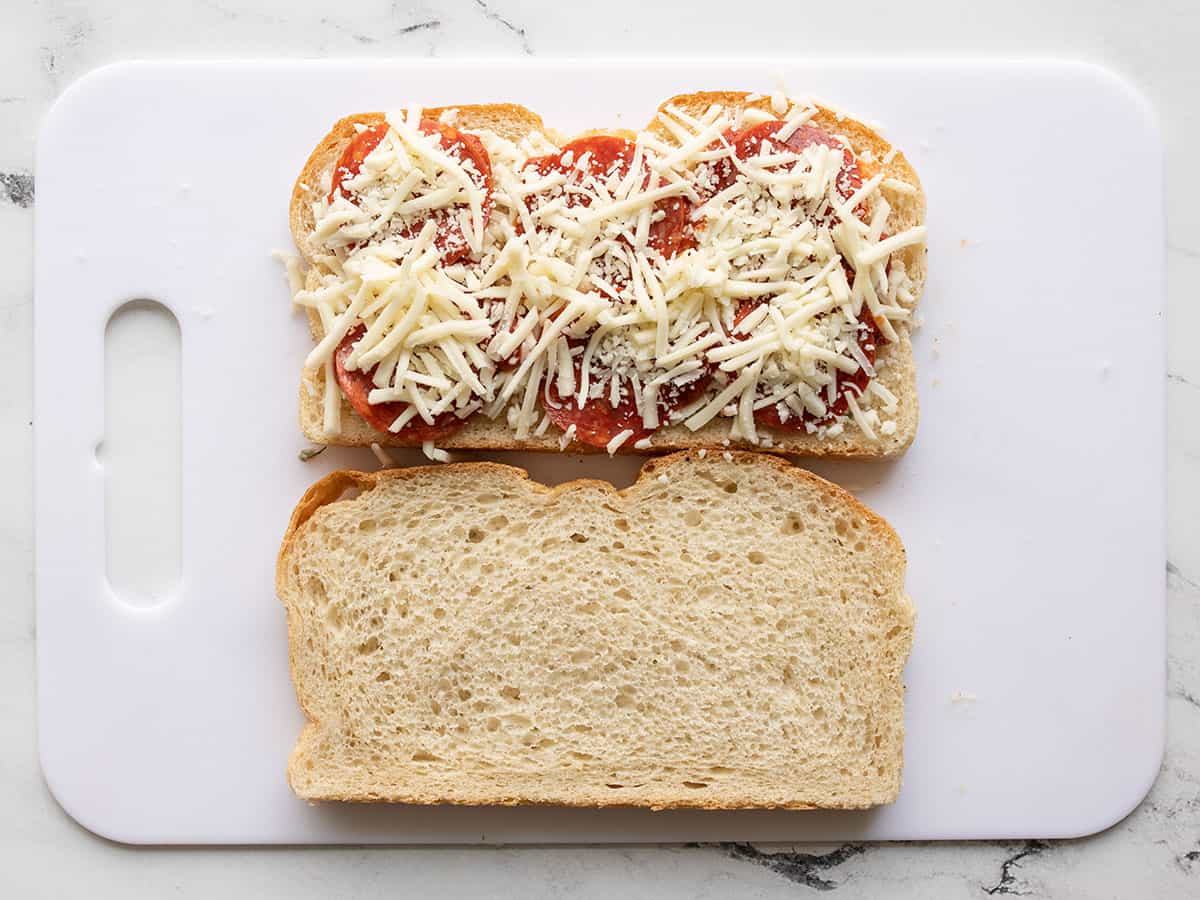 Next add about six slices of pepperoni, and then top with the remaining shredded mozzarella. Place the second slice of bread on top, buttered side facing out.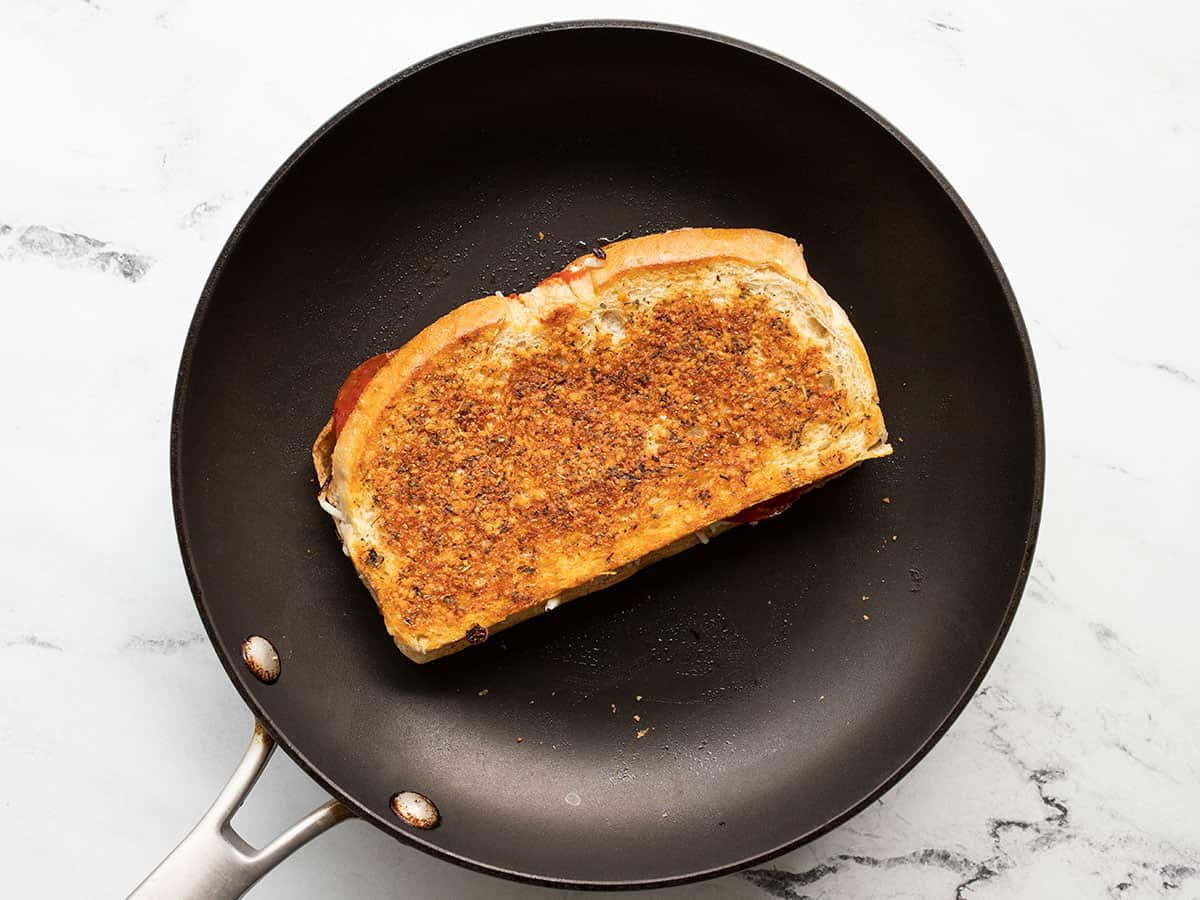 Cook the pizza melt in a skillet over medium-low heat until it's golden brown and crispy on both sides and the cheese inside is melted.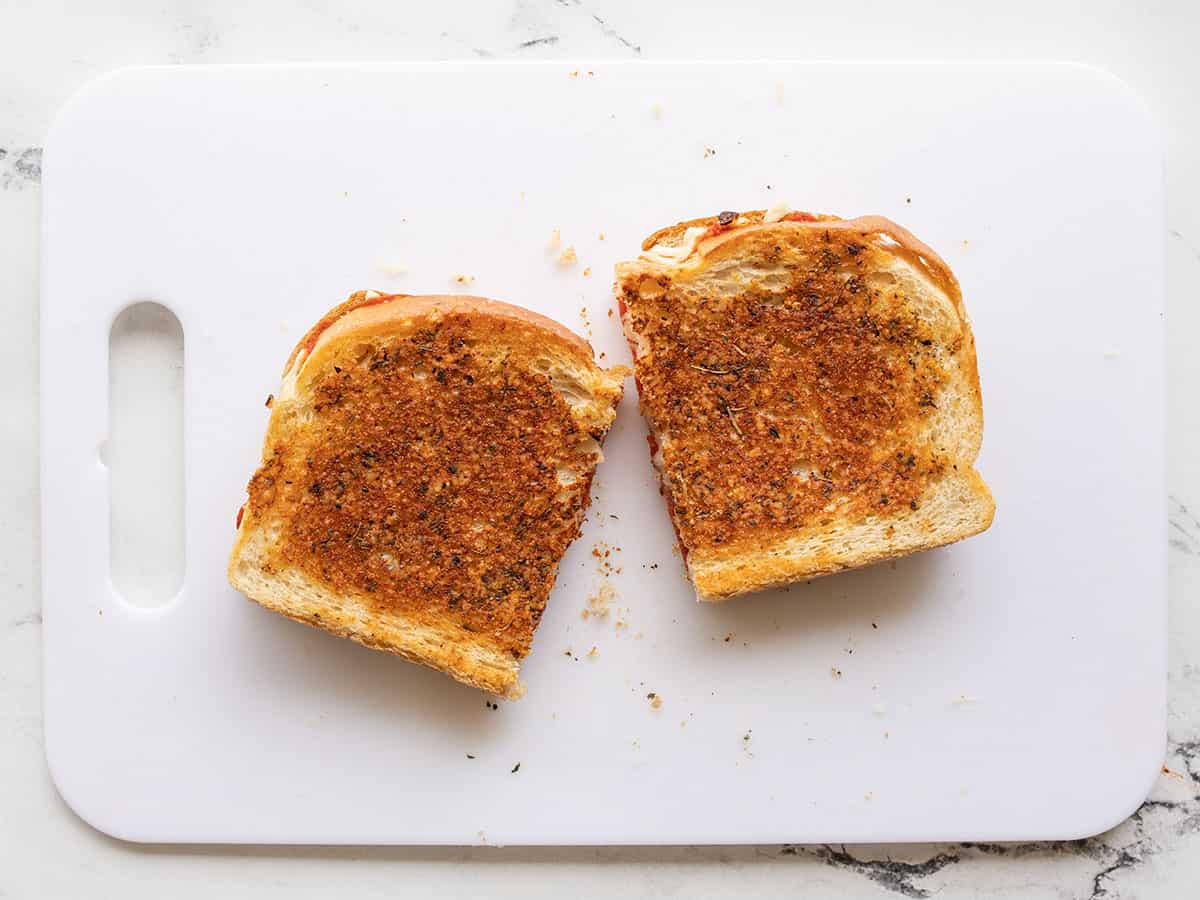 Cut the pizza melt in half and enjoy!