[unable to retrieve full-text content]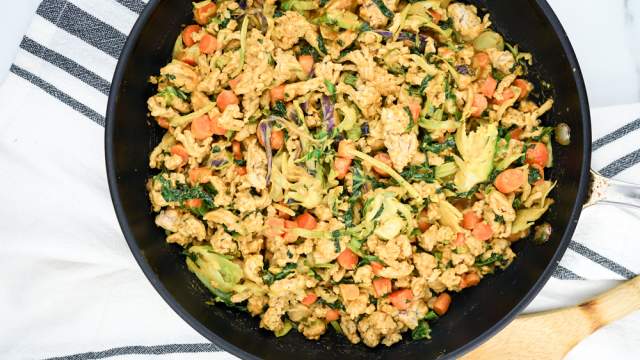 This healthy Peanut Chicken Stir Fry tastes just like chicken satay without all the work of marinating skewers, making a complicated sauce, and grilling. It's ready in less time than it takes to order takeout, is made with ingredients you likely have at home, and is full of flavor. Plus with around 325 calories and only 4 Weight Watchers Smartpoints per serving, it's a meal you can feel good about eating.
Whenever we order Thai food, we order at least two orders of Chicken Satay. It's one of our favorites and we are always fighting for the last skewer. And let's be honest, a big part of that is the amazing peanut sauce that comes with any good chicken satay. Yum. I would eat that stuff on almost anything. So when I was brainstorming new chicken stir-fry recipes last week, a chicken satay stir-fry was one of the first things I thought about. 
To keeps things really easy and fast, I decided to start with ground chicken so there was no need for slicing the chicken beforehand. It's only a small step but it saves at least 5-10 minutes in prep work. Next I decided to use a store bought veggie mix, another great way to save time. I used the Cruciferous Crunch mix from Trader Joe's since I had some on hand. It's basically a mix of shredded kale, red cabbage, green cabbage, broccoli, and Brussel sprouts.  Then I threw in some carrots as well.  However you could use any veggie mix you like. A colelsaw or broccoli slaw mix would be the easiest. 
Then all you need is a delicious peanut sauce. This one uses a combination of peanut butter, soy sauce, ginger, lime juice, honey, and curry powder. It's sweet, savory, and has a kick of spice from the curry powder. You will want to eat it on everything, believe me. A few notes about this peanut sauce. Typically chicken satay includes coconut milk of some kind. If you want to incorporate that flavor, you could substitute canned coconut milk for the water. 
Easy ways to Customize this Chicken Peanut Stir-Fry
Protein: This probably doesn't need to be mentioned, but you can definitely try all different proteins in this dish. Use ground chicken, beef, or turkey. You could also use chicken breast, chicken thighs, or thinly sliced sirloin steak. I also imagine it would work with tofu but I haven't tried it yet.
Veggies: I find the easiest option is to use a packaged vegetable mix. Normally I reach for something that is cabbage based, but any combination of veggies will work. For the photograph, I used the Cruciferous Crunch mix from Trader Joe's and added some carrots.
Heat: If you like things spicy, you can add some Sriracha to the peanut sauce. Yummy,
Coconut: For more coconut flavor, which is traditional in chicken satay, you can replace the water in the sauce with canned coconut milk.
Special diets: For a gluten free, Paleo, or Whole30 version you will want to replace the soy sauce with coconut aminos. You will also want to sub in honey for paleo and leave out the sweetener for Whole30 or use some finely minced dates. Then use arrowroot in place of the cornstarch.
Curry powder: You can use almost any kind of curry powder for this recipe or substitute in a Thai red curry paste.
Looking for more healthy Asian recipes?
Calories 338, Total Fat 13g, Total Carbohydrate 14g, Protein 40g, Serving Size about 1.25 cups