Ombre De La Nuit Ungaro: To the Fertility God
Today, I would like to write about a rare and discontinued fragrance. Twenty-five years ago, only 12,000 bottles were released. Therefore, to find an Ombre De La Nuit Ungaro bottle is difficult, and it is quite expensive to purchase it, which, for most of us, is unnecessary.
This review is rather a tribute to history: There was such a fragrance launched in 1993 for the 10th anniversary of Ungaro Parfums, and it is known for being the personal fragrance of the couturier himself, Emmanuel Ungaro. If no one writes about it, the perfume will just fall out of memory, obscured by new favorites. I do not want to let it pass into the Lethean stream.

The story should be started from the bottle. This is a hexagonal red glass flacon, to which is attached an elongated human-shaped form in the spirit of Giacometti. This strange shape is very close to the Etruscan bronze statuette of a boy, dated approximately to the 3rd century BC, found in the 18th century and kept in the Mario Guernacci Museum in Volterra, Italy. The sculpture is called "Ombra della Sera," or "Evening Shadow," and its name comes from its elongated thin shape, resembling a long shadow, which appears in the evening just before night falls.
There are many interpretations of its purpose: "Ombra della Sera" may be the personification of any of the Etruscan gods, but recently it has been considered that the boy is a fertility god. Most likely, this sculpture was created to be thrown into the ground in the spring, protecting the fruits of the earth. The sculpture style could have inspired the sculptors Diego and Alberto Giacometti before being used in a mini-form by Emmanuel Ungaro. The perfume name, as we see, is also inspired by the sculpture; a few minutes are enough for the sunset.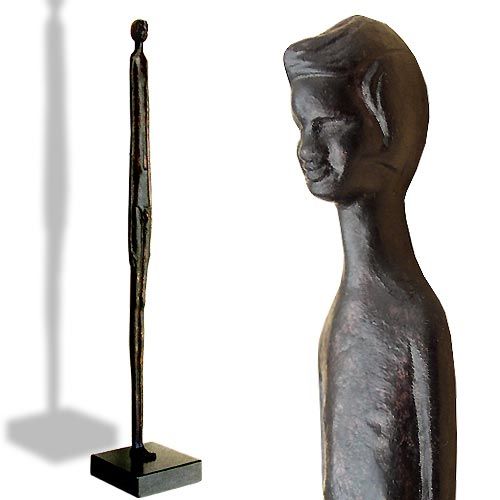 In the early 90s, the owner of the Ungaro perfume house was Chanel Parfums, and therefore, Ungaro fragrances of the time are usually attributed to the perfumer Francois Demachy, who worked at Chanel, first with Henri Robert, and later with Jacques Polge until 2006, when Mr. Demachy was invited to become the director of olfactory development at LVMH. (He has made most of the Christian Dior perfumes since then, but also some Acqua di Parma, Givenchy, Emilio Pucci, Fendi, and Kenzo fragrances.)
Like a prelate who would periodically go to the desert to reinvigorate his faith, leather fragrance [family] provokes from time to time providential creations that draw it from its tendency to comfort. We imagine that the first Knize Ten was to look like Ombre de la Nuit, before accommodations turn this dark hero into a good clean husband. Ombre de la Nuit is very expensive, but I do not see any alternative if one absolutely wants to wear a perfume under the surplice and chain-mail: Tabac Blond Caron is just as good but softer, Cuir de Russie Chanel splendid but much less virile, Or Black Morabito is less faithful to the formula, Peau d'Espagne Santa Maria Novella is more medicinal, Bel Ami Hermes is deliberately modern. In the saddle!
Obviously impeccable on a woman. To avoid: burial style first class.
Available at the Ungaro shop, Avenue Montaigne in Paris
Luca Turin, Parfums: Le Guide 1994
I do agree with the Maitre: The best approximation for the rare Ombre de la Nuit is another legend, Knize Ten. The differences between them are not so dramatic to distinguish them easily without a two-wrist test. First, let's discuss the temperature difference. Ombre de la Nuit is more ardent, sultry and hot. Starting from the very first moments, when the resinous coolness of citrus and aromatic greens starts in Knize Ten (tested from an EDT manufactured at the beginning of the 21st century), only orange and bergamot zest with some tropical flowers manifested themselves in Ombre de la Nuit. Knize Ten finishes with a leather-balsamic drydown, whereas Ombre de la Nuit has honey, civet, and benzoin added to the similar violet-powder-leather base.
Secondly, another difference lies in the volume of the flowers: The Ungaro fragrance is more floral and feminine-leaning. The heart of both perfumes is quite similar; both are spicy floral accords of jasmine, geranium, and roses, and warmed and powdered with cinnamon, cloves, and orris. However, in Knize Ten, the heart moves faster to the tart leather Cuir de Russie base constructed around isobutylquinoline, after which it shows a woody drydown, while in Ombre de la Nuit the transition is slowed down by a "rose-civet-honey" floral-animalic accord that is not very far from that of Shocking Schiaparelli. The honey and civet remain even longer than the very lasting leather base. I believe fans of leather fragrances can get away with the Knize fragrance, while the rare Ungaro fragrance can be considered as an investment in art.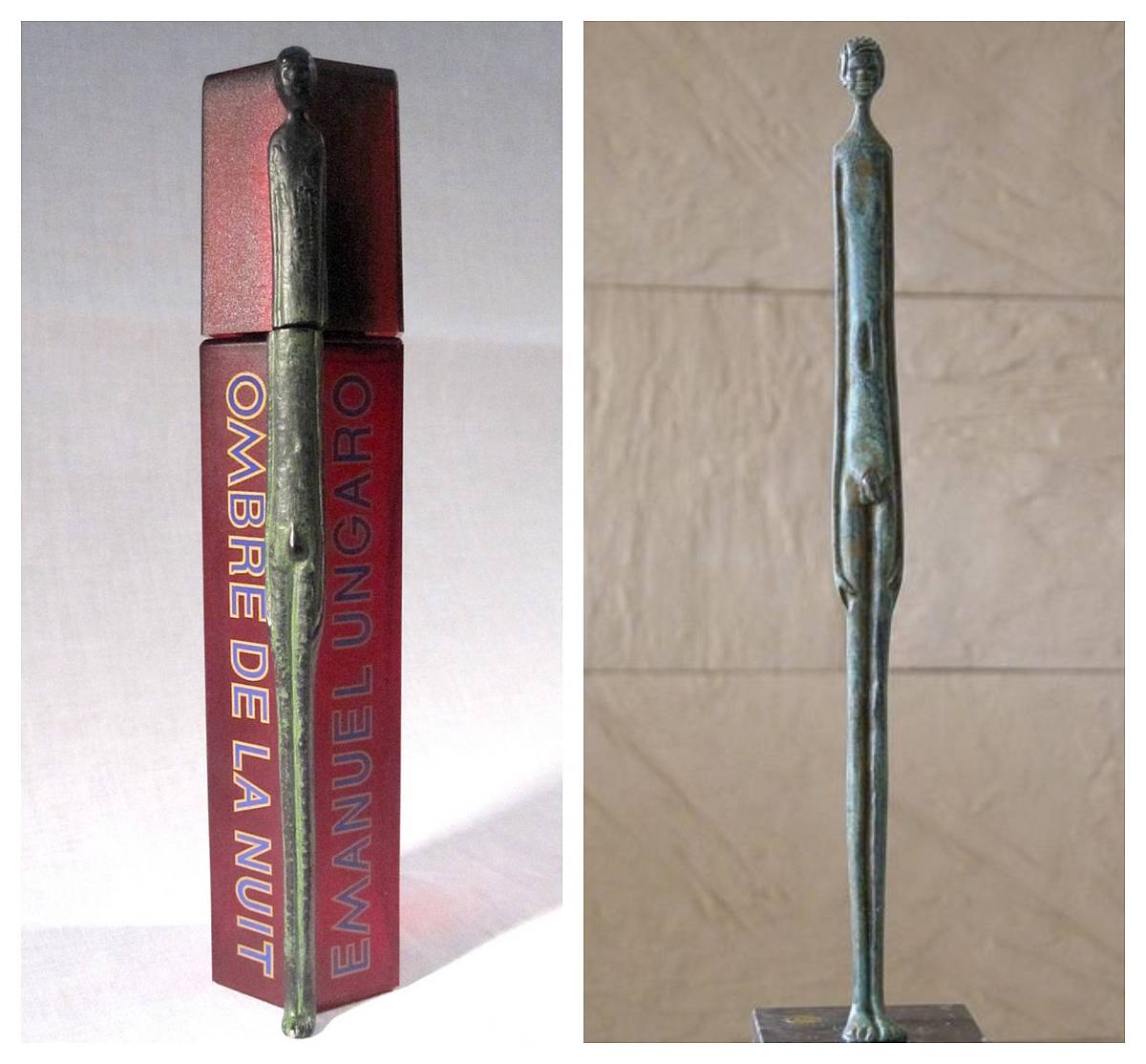 It seems like Ombre de la Nuit borrowed from the Etruscan fertility god sculpture not only its name and shape, but also its function. Creating it for the tenth anniversary, Emmanuel Ungaro conceived that Ungaro Parfums would be a fruitful and successful perfume house. I don't know whether couturier buried one of the bottles in Italian soil or broke it in the perfume factory, but the idea of sacrifice to the god of fertility worked great. As the Fragrantica database shows, Ungaro Parfums launched about 50 new perfumes after its 10 year anniversary.
Notes: Bergamot, Ylang-Ylang, Jasmine, Cloves, Cinnamon, Geranium, Iris, Labdanum, Tonka Beans, Sandalwood, Leather, Spices, Amber, Musk, Woody Notes, Honey, Civet.
Photo credits: Thanks to Jim Griffith (Griff) for the Ombre de la Nuit bottle and box photos
| | |
| --- | --- |
| | Sergey Borisov has been involved in perfumery since the early 90`s when he had his own perfume-devoted program "Close to Body" on Krasnoyarsk radio (1993). As a perfume enthusiast (known as moon_fish), he became famous in Russia for his translation of Luca Turin's Perfume: Le Guide. He made a career as a fragrance journalist and contributed to distinguished magazines such as GQ, Vogue, Elle, Cosmopolitan, Interview, Forbes, Allure, Robb Report, Flacon, Departure, RBC-Style, TSUM-Magazine (2008-2016). His own online columns for RBC-Style.ru, Vogue.ru, and GQ.ru (2006-2015) have earned him international recognition and an invitation to be an editor for the Russian edition of "The Little Book of Perfumes" by Luca Turin & Tania Sanchez. Sergey Borisov was invited as a speaker at Esxence 2012 (Milano) and Intercharm 2015 (Moscow). In 2013, Sergey joined the Fragrantica team. |