First Fragrances: Armani Femme by Giorgio Armani (1982)
FFOL Editor 1
One of the first perfumes that I donned on my juvenile person and came to absolutely love, earning lots of compliments in the process and assuming poses well beyond my years, was Armani (Femme) by Giorgio Armani, the designer's first ever scent that launched in 1982. Perhaps more of an erotically green perfume than a conservative floral-chypre, it came in a bottle tri-faced like a Byzantine triptych, which enchanted my historically bent soul even back then.
The aroma of greens merged with the powdery and lush whiffs of flowers and fruits that never became sweet. It was perfume-y and really proud of it, asserting its persona beyond a doubt with a warm, erotic base that surely made more promises than those delivered to my admirers back at that impressionable age. Sadly, I can't replenish anymore. It's a fragrance that's been discontinued for several years now, in favor of newer, rather blunt releases…For shame, Mr. Armani, for shame. But I digress…Back then, when it came out, it made headlines and was unique in the collection, being the benchmark for Italian designer perfumes ever since.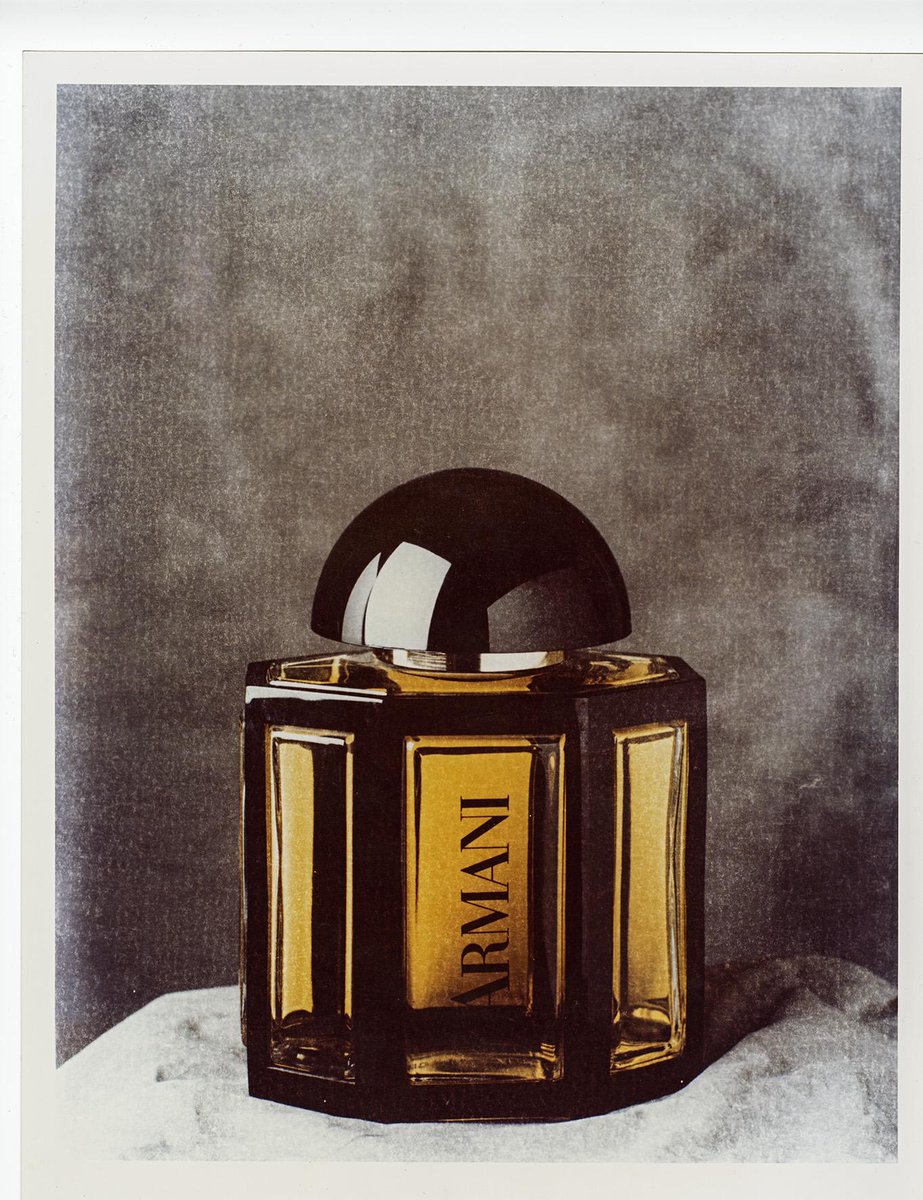 Known as Le Parfum Giorgio Armani, this eponymous Armani fragrance came onto the fragrance scene as the shooting star of the newly celebrated designer who made headlines and who would dominate the history of fashion in the late 20th century with a style all his own.
The international success for Giorgio Armani was momentous as much as it is now timeless. In 1978, Diane Keaton picked up her Oscar for Annie Hall wearing an Armani jacket, and in 1980, his clothes were worn by a promising young movie star, Richard Gere, in the now-classic film, American Gigolo, catapulting the designer's reputation worldwide. This success was cemented on a 1982 cover of Time magazine which celebrated him by writing, "Clothes are the fabric of history, the texture of time. And this time, right now, belongs to Armani."
The following year, the Council of Fashion Designers of America awarded him with Designer of the Year. In fact, he unquestionably dominated the 1980's with his version of "power dressing."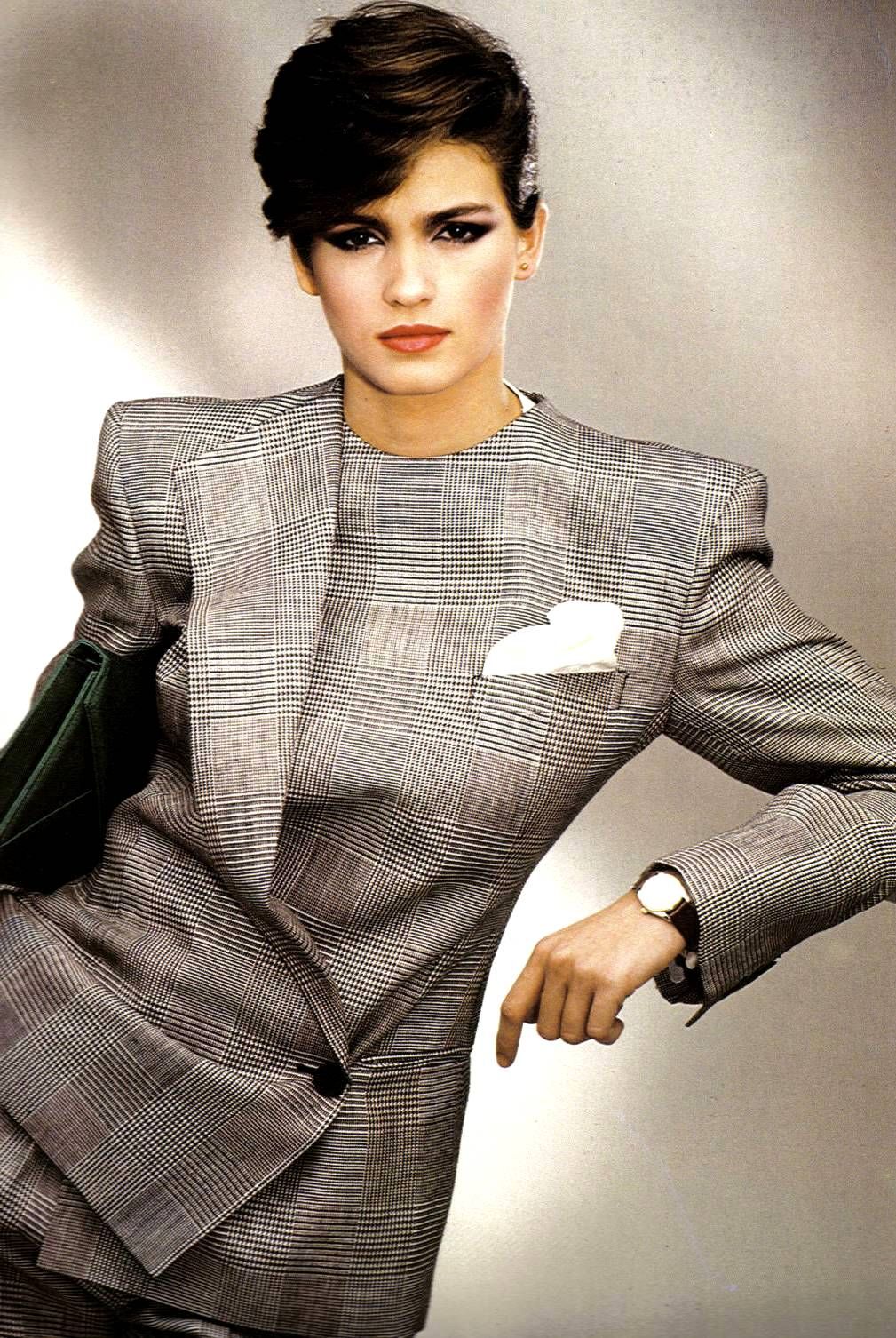 As Fragrantica and Igor commemorated in our anniversary article celebrating Mr. Armani's 84th birthday, "Giorgio Armani was born on July 11th, 1934, in the small town of Piacenza in the North of Italy. When he was 23 years old, after his service in the military and two years at the medical faculty of the university in Bologna, Giorgio Armani decided to drastically change his path in life, and devote himself to fashion, which had always attracted him.
He obtained a position as merchandiser for the big store of Rinascente in Milan. A few years after, he was already working as a designer for Nino Cerruti, and not long after that – as a freelance designer for other fashion companies, collecting precious experiences for his own glorious beginning and unique style."
It's not difficult to understand the appeal and the need for Armani's designs during the early 1980's. Corporate America, especially, grew in that seminal decade, and women's emancipation, materialized not only in just working in the outside-the-home world, but actually having a career. Women were mapping a new identity, one that was as strong as a man's, as sturdy and as capacious, and the fashions needed to adjust accordingly. Therefore the man's corporate uniform, nay, the uniform for presenting themselves to the world ever since the late 19th century, the suit, was eerily transformed into a feminine garment, following softer curves but retaining the structure for which it is revered and respected. Armani succeeded on that score better than anyone else, softening the shoulders, but retaining the fluidity of the lines and giving an image of professionalism alongside soft sensuality, thanks to the draping of the cloth and the superior mix of yarns.
The movie that best sums up this fashion moment semiotically is Working Girl: The metamorphosis of the vulgarly kitsch "secretary's outfits" into corporate executives' in large part due to image. (NB. Back then the term executive assistant was a plea, as mentioned in almost those words at the end of the film, not the current politically correct term to denote mostly secretarial duties.)
Interestingly, Working Girl was stylistically designed by Ann Roth, who memorably references an immortal line by Coco Chanel, "Dress shabbily, they notice the dress. Dress impeccably, they notice the woman." Armani wasn't too far from that concept when he said that "Elegance doesn't mean being noticed, it means being remembered." In many ways, Armani is the cerebral successor of Mlle Chanel after all.
Giorgio Armani truly followed this axiom with all of his might. His clothes were, and continue to be, in a palette of luxurious neutrals, viscerally denoting wealth and status. You won't catch women wearing Armani in bright, eye-catching shades, and you won't find them in vividly patterned clothes; his solids and tame patterns are used to highlight the cut of the dress or the suit drape, rather than the material. The movement of the cloth serves to give fluidity and a sense of quiet strength, rather than catch the eye in a neon sign proclaiming "Notice me!" Also oddly enough, in the era of footballer's shoulder pads, he managed to retain a certain femininity in his clothes. As the character Jack Trainer from Working Girl would have put it, [the Armani woman is] "the first woman here that dresses like a woman, not like a woman would think a man would dress if he was a woman." Which is ironic, given that his 1980's fame was built on transforming the masculine uniform into a woman's version, much like Chanel did with her famous "suits" and jersey clothes.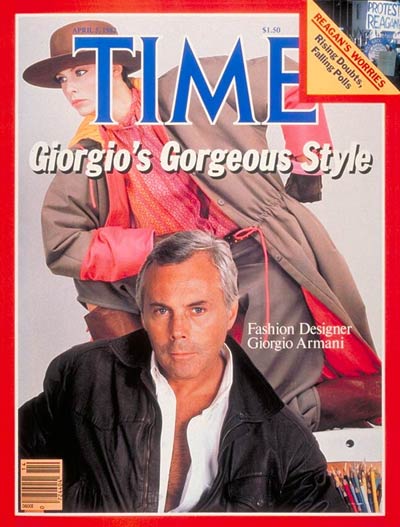 The first fragrance by Giorgio Armani, for women, Le Parfum Giorgio Armani, or simply Armani by Giorgio Armani, follows these terms of style, only transliterated in olfactory terms. Precision, fluidity, elegance, and seriousness without eschewing femininity.
Armani by Giorgio Armani is a chypre-floral fragrance for women. Armani was launched in 1982. The nose behind this fragrance is Ron Winnegrad. Top notes are aldehydes, pineapple, mint, galbanum, marigold, and bergamot; middle notes are cyclamen, tuberose, orchid, orris root, jasmine, lily-of-the-valley, rose, and narcissus; base notes are sandalwood, tonka bean, amber, musk, benzoin, oakmoss, and cedar.
The huge chunks of galbanum and oakmoss conspire to give a perfume-y aura right off the bat, engulfing the wearer in sophistication. These are aromas that predispose one to be a force to be reckoned with. The soapy section of aldehydes, with a distinct cyclamen, lily-of-the-valley, and narcissus chord–which projects the way Balmain's Ivoire used to lean clean and crisp, while at the same time green–is akin to putting on a silky garment designed by Mr. Armani himself.
By the 1980's, designer perfumes had truly gained the benefits which early 20th century designers such as Patou and Chanel had envisioned: It worked to cement the brand and allowed consumers who could not afford to be patrons of the fashions partake in the glamour and prestige of the designer's mystique. "I'm wearing Armani;" it used to mean something.
The composition also resembles the character of Gucci No.3, an Italian perfume from the same era and succeeding it by 3 years, another floral-chypre heavy on the aldehydes, oakmoss, and narcissus core of chords. Comparing the two, I find Armani more womanly, rounder, and with an erotic undercurrent that is lacking in both Ivoire and Gucci No.3.
The flacon design, inspired by the rhythmic, geometric patterns of Art Deco and conceived by designer legend Pierre Dinand, was a clear, pure block of sculpted glass adorned with vertical black lines.
The eau de toilette came in a somewhat plainer, yet still-architectural bottle. I owned this one. In fact, I went through a couple of them, always receiving compliments beyond the scope of my years. It seemed like I was taken for a woman, rather than a girl, while wearing this, and it makes total sense, especially with the hindsight of a couple of decades past. It's actually among my most complimented perfumes, even when I put on a couple of drops from my 99% empty bottle. It makes me wonder whether what people say about "what the majority likes" are really projections of themselves onto an untapped audience which eludes them.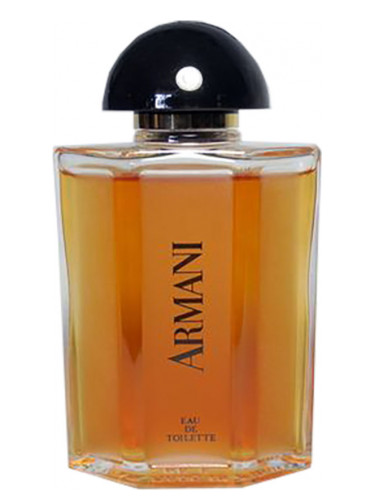 I'm not sure whether the actual formula of the introductory Giorgio Armani fragrance could be reintroduced in a grandioso reissue the way some other brands bring back cult fragrances (look at Venezia 2011 or Ivoire 2012 indeed). Probably not, due to the allergens' restrictions on the percentage of oakmoss (and its atranol properties), galbanum, and lily-of-the-valley synthetics ratio. It would be worth pondering what they might do successfully with contemporary materials, like E. Lauder proved with the sadly ill-fated Private Collection Jasmine White Moss. I still can't help but wonder all the same.
Elena Vosnaki

Elena Vosnaki is a historian & perfume writer from Greece and a Writer for Fragrantica. She is the founder & editor of Perfume Shrine, one of the most respected independent online publications on perfume. Her writing was recognized at the Fifi Awards for Editorial Excellence in 2009 and in 2011. She is consulted as a fragrance historian & expert, and has been curating fragrance installations at museum exhibits at the Milan Expo 2015 and elsewhere. She also contributes to publications around the world.
Read her articles on Fragrantica Follow her on Twitter