Eggplant Pizza Bites
FFOL Editor 1
[unable to retrieve full-text content]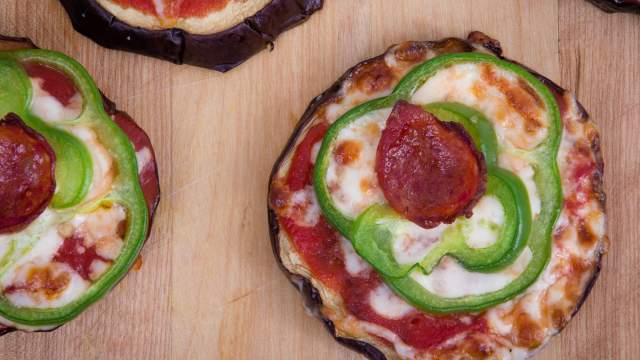 Eggplant Pizza Bites are a flourless pizza made with roasted eggplant, marinara sauce, cheese, and all your favorite pizza toppings. They are a healthy, gluten-free, and low carb way to enjoy delicious pizza without the carbs.  You'll also want to try these Zucchini and Ground Turkey Pizza Boats and Spinach Artichoke Pizza.
Eggplant makes the perfect base for a healthy pizza and is also an awesome way to get almost anyone to eat their veggies. I have been a long time fan of making healthy pizza using roasted vegetables as the crust and eggplant is one of the best options. It gets nicely browned on the outside, stays tender inside, and has a mild flavor that works with virtually any topping.  I am telling you, eggplant pizzas will be your new favorite thing. 
It is also one of those meals that gets everyone in the family excited. I mean who doesn't love pizza? The kiddos are excited because, well, pizza obviously. And I am excited because the kids are happily gobbling down tons of veggies.  To make it fun for the whole family, I let everyone build their own Eggplant Pizzas and choose all the different topping combinations they like. And since they are bite-sized, it is easy to make all kinds of different combinations. For our eggplant pizza bar, I always set out mini turkey pepperoni, green bell peppers, mushrooms, ham, jalapenos, fresh basil, olives, and spinach. It's a super fun meal.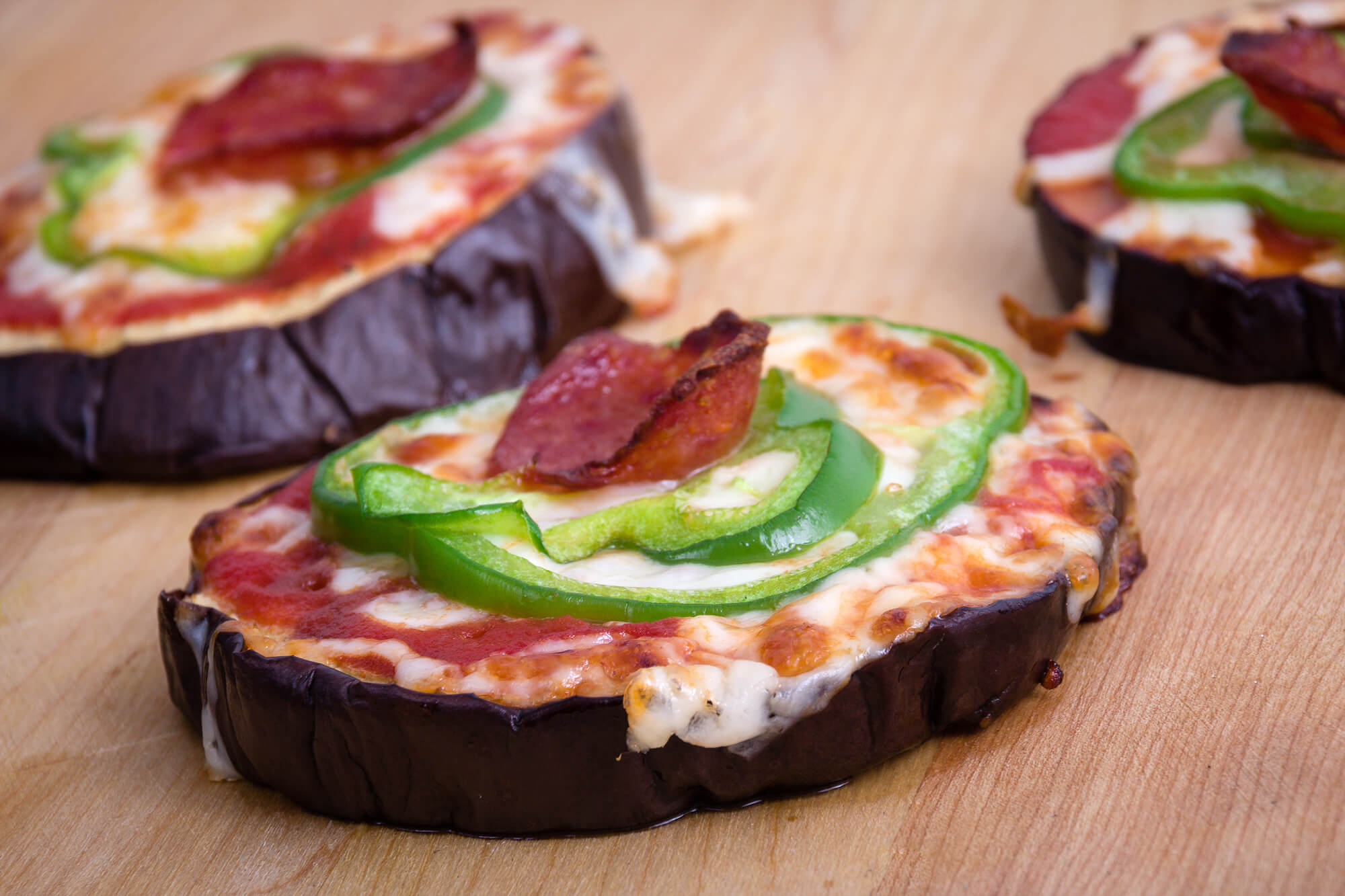 Julia Child Eggplant Pizzas
It is impossible to share this recipe and not talk about Julia Child, who it seems was the original creator of these yummy pizzas. Her original recipe is a little more complex than the one I am sharing today but it is equally delicious. To make Julia Child's eggplant pizzas, it starts with salting the eggplant, also sometimes called sweating the eggplant. This removes moisture from the eggplant and makes for a better crust. If you have time, I recommend taking this extra step.
Her version also uses a quick homemade tomato sauce made with olive oil, garlic, Italian seasoning, and canned diced tomatoes. In this version, I opted for a store-bought marinara sauce to save time. However, you could also make your own. Basically, all you have to do is saute some garlic in olive oil. Add a can of petite diced tomatoes, Italian seasoning, and extra oregano. Simmer for thirty minutes, breaking up the tomatoes chunks as you go. Season with salt and pepper.
After that, it is pretty much the same. Roast the eggplant. Then remove the eggplant, spread with sauce, top with cheese and bake until the cheese is nice and melted. Delish.
Are these Eggplant Pizzas Keto?
Eggplant is a keto friendly ingredient with just 2.3 net carbs for a 1 cup serving so they make a great base for a keto friendly pizza. To make sure these pizzas stay keto friendly, it is important to choose a marinara sauce that has no added sugar. Rao's and Paul Newman's Marinara sauce are both good options. Even though these didn't contain any added sugar, they still contain tomatoes, which can have more carbs. Therefore it is important to limit the amount of sauce you use. In this case, the recipe only uses about 1.5 tablespoons of sauce per pizza. Finally, make sure to choose a full-fat cheese and use keto friendly toppings.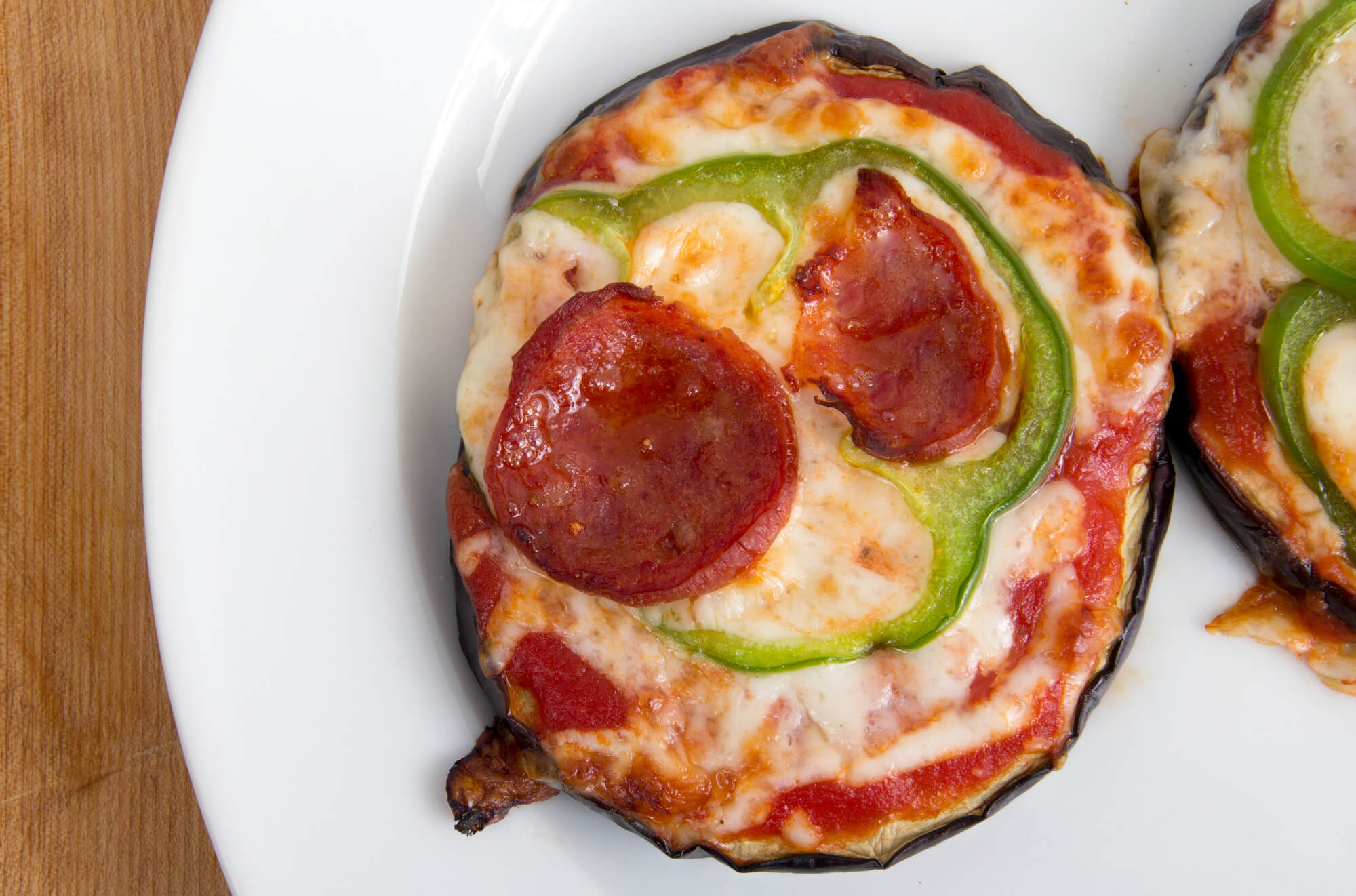 Could I make a Vegan Eggplant Pizza?
There are a few options to make a vegan version of this eggplant pizza recipe. In my opinion, the most delicious option is to use a vegan cheese. While you could use a vegan shredded cheese, I find they don't melt very well. So I prefer to use a vegan ricotta cheese, the one from Kite Hill is insane, to get the cheese flavor. You can also top the pizzas with nutritional yeast, which will give them the flavor of Parmesan cheese. The last option is to make them without any cheese and just top the eggplant slices with sauce and all your favorite toppings.
Topping Ideas for Mini Eggplant Pizzas
Mini turkey or regular pepperoni
Sliced bell peppers
Shredded zucchini  – I like to cook it first so it doesn't get soggy
Chicken or turkey sausage
Mushrooms
Onions
Black Olives
Jalapenos
Barbecue sauce and chicken
Mini Meatballs
Fresh basil
Cherry tomatoes
Parmesan cheese
Ricotta cheese
Calories 104, Total Fat 6g, Total Carbohydrate 9g, Protein 5g, Serving Size 2 pizzas