Chocolate: Seduction and Magic
FFOL Editor 1
The fragrance of chocolate is much more enticing to me than the taste. Don't get me wrong, I certainly do love chocolate. I especially love cocoa beans themselves, just as they are. I am also keen on dark chocolate with sea salt or red pepper flakes – not everybody's cup of tea, I know, but it's the ideal combo in my opinion. Chocolate comes with all sorts of add-ins now, actually…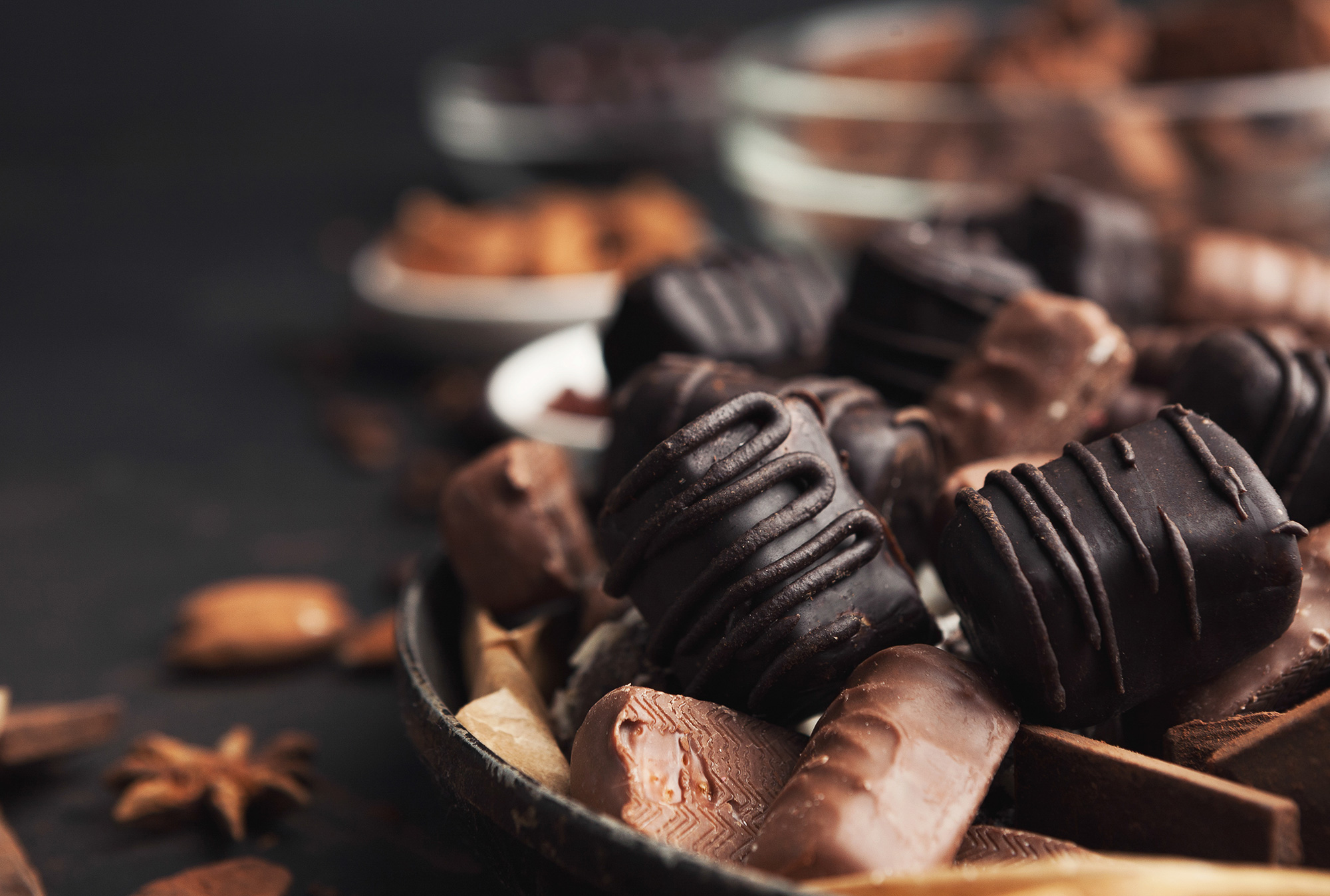 Anyhow, when cocoa beans were just brought to Spain from America, chocolate was considered a drink that provoked lust. It was prepared with mixed spices or corn puree and only the richest people could afford it, while many priests deemed it the devil's potion aimed at pushing people into sin.
Today chocolate is the most popular treat and it is everywhere. You find it in bar and candy form, in the shape of an egg with a surprise inside, or sold as novelty chocolate figurines. Cakes and ice cream, muffins and milkshakes, cookies and pastries – all of it is made of chocolate, with chocolate or at least covered in chocolate.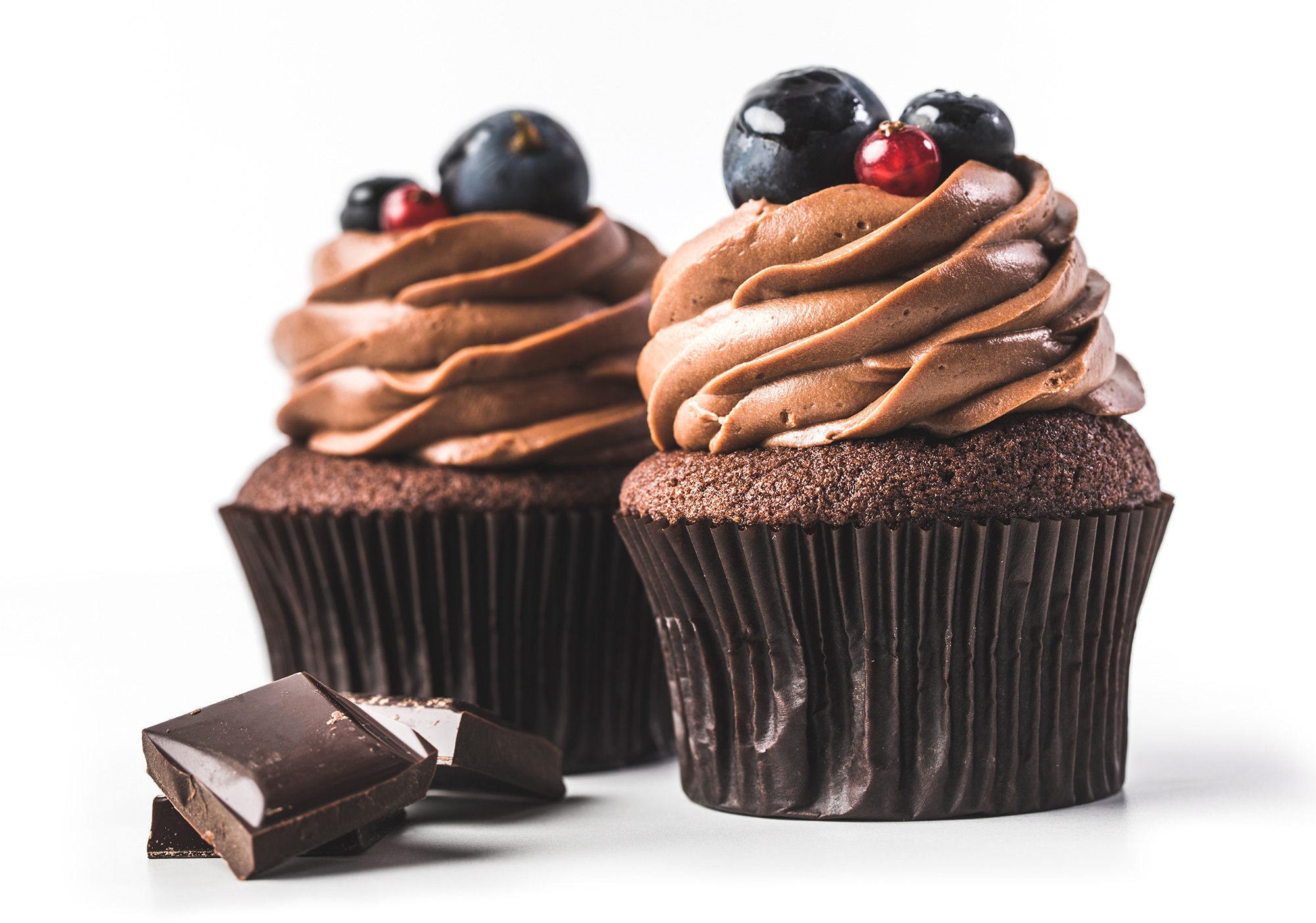 And yet, if the chocolate is real, it smells so fantastic that its taste cannot give me as much pleasure as I get from its aroma.
Thus, I simply adore perfumes that smell like chocolate. I am not afraid of smelling like a pastry shop. Moreover, perfumes with a chocolate note are usually quite complex and smell like a magic potion, not a pastry shop. They don't even necessarily have to be sweet.
However, all chocolate fragrances have one trait in common: They smell really great in cold weather. When it's hot outside, even the very best of them can develop into something quite unfortunate… On cold days, on the other hand, they last long and exude deep aromas that dazzle us with all facets of their beauty, seducing and warming everyone around.
If you still haven't found your 'signature' chocolate fragrance, winter is the best time to start looking.
***
My perfect perfumery chocolate is Xocoatl by Fueguia 1833: A truly fabulous fragrance; luxurious, deep, dense, enveloping and soft… There are not enough words to describe how beautiful this fragrance is.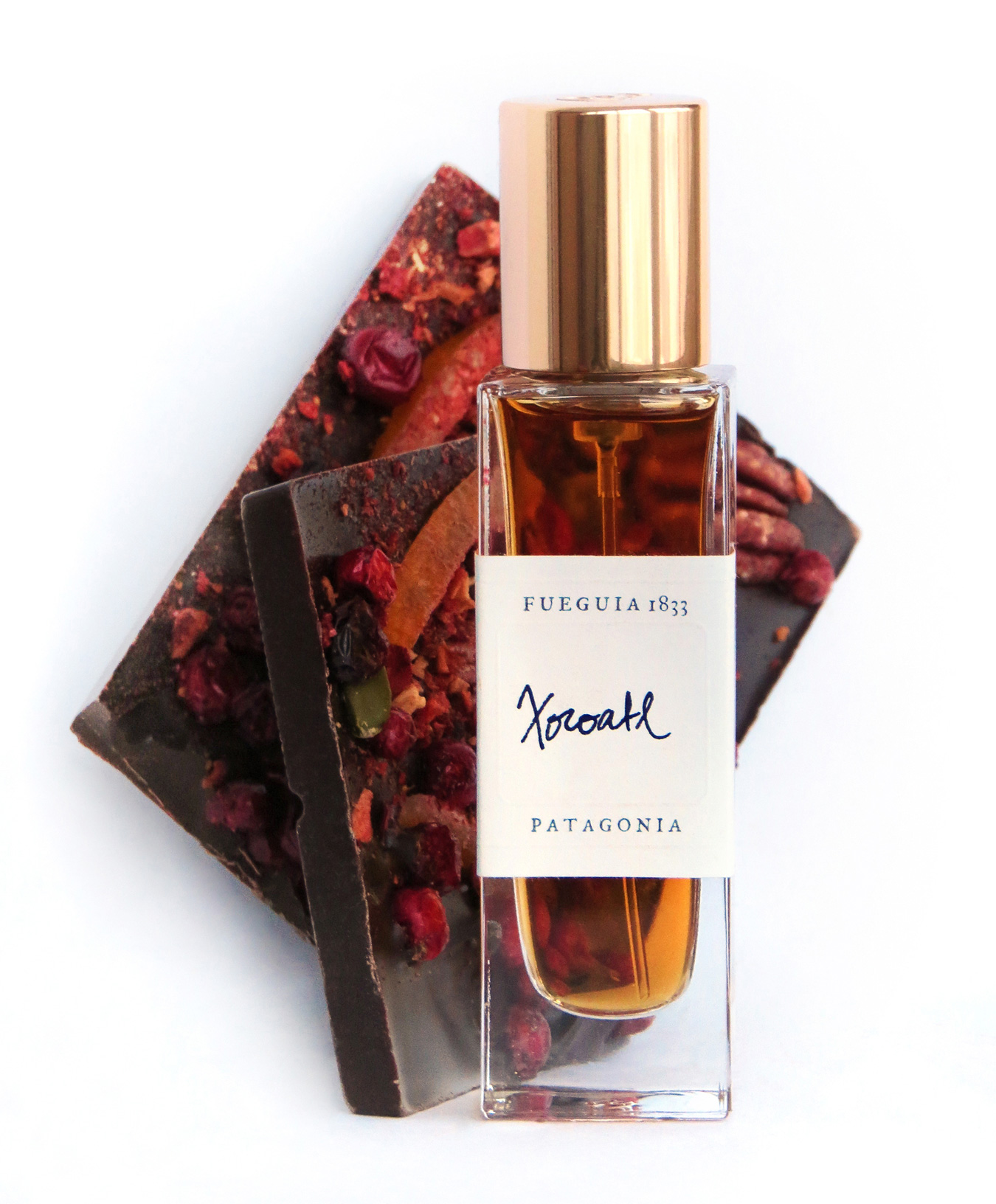 It is dark and warm, like a warm Southern night in a place where starlight does not even get through the crowns of trees. It is as mysterious as sacred Aztec rituals, but certainly not nearly as dangerous.
There is just as much sweetness in Xocoatl as there is in the aroma of natural cocoa beans themselves. The aroma is so close to the original (nearly identical, actually) that you feel its particular kind of bitterness on your tongue just from smelling it. Little by little, the main note is expanded by the addition of others, such as the sweetness of rum with its golden, floral-vanilla modulations. There is also the sweetness of natural vanilla. The sweetness of dried fruit soaked in rum. I also sense some flowers that are unknown to me personally, as well as some woody and spicy notes, plus a certain sharply pungent herb – it is neither mint, nor rosemary, but something just as refreshing.
Xocoatl creates the sensation of a thick fluid chocolate mass, a sacred drink in a stone chalice, a witches' brew of ground cocoa beans. It is hot, like a cup of chocolate somewhere in Spain, where they really know how to make it especially delicious. However, the fragrance does feature something wild and ancient, one can even say, something majestic, that is especially true when the perfume pulls through its rather lengthy sweet phase and settles into its dark-chocolate-and-unknown-herbs potion phase.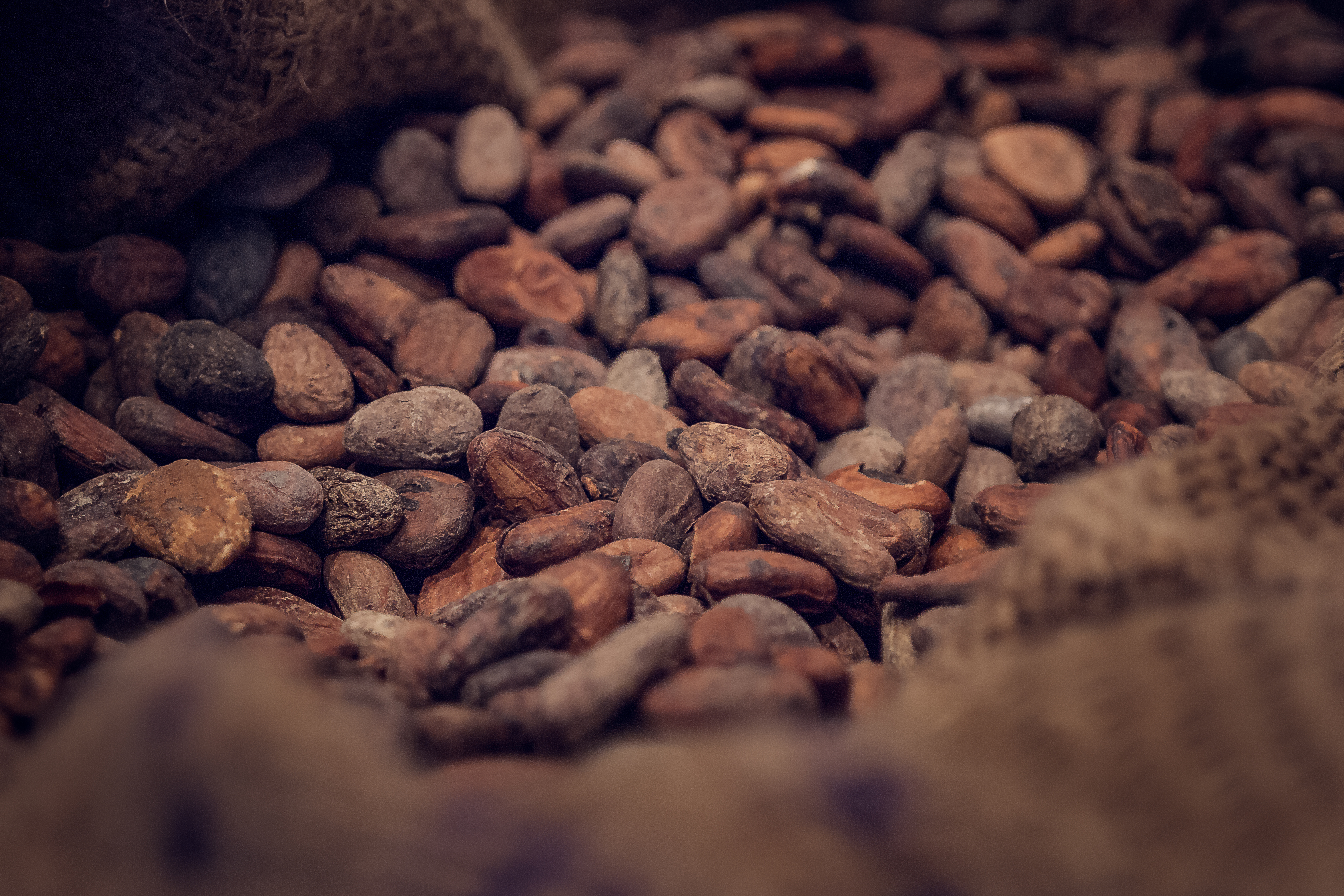 Xocoatl is a very concentrated perfume. Just one push on the sprayer and it seems that the flacon unleashes a heavy, velvety wave of chocolate that envelops the body, absorbs into the skin, and becomes part of your own personal scent.
Xocoatl is definitely a trail/sillage kind of fragrance which fills the entire space around it; it can be felt from a distance and yet it is not obtrusive. It seems as if it has come from a different era. There were no fragrances like that in the past, though. Another place, maybe? That sounds more like it. I can easily imagine some place like the equivalent of Diagon Alley, only this time in modern Buenos Aires; a place where conventional reality gives way to magic and where they also have a Fueguia 1833 boutique, albeit run by wizards pretending to pass for 'muggle' perfumers.
Exotic Chocolate:
Borneo 1834 by Serge Lutens
Bûche de Noël by Odoratika
Cocoa Tuberose by Providence Perfume Co.
Dragon Blood (Cuir Vermillion) by Nimere Parfums
Omniscent 0.96 by Yosh
***
Another witchcraft kind of chocolate is Mandala of Desires by Nimere Parfums. This is dark chocolate with Peru balsam. Hot cocoa with specks of myrrh and a cinnamon stick. Tonka beans covered in chocolate. A luxurious chocolate truffle, saturated with cognac and a drop of castoreum. An impossible fragrance that is both horror and seduction rolled into one.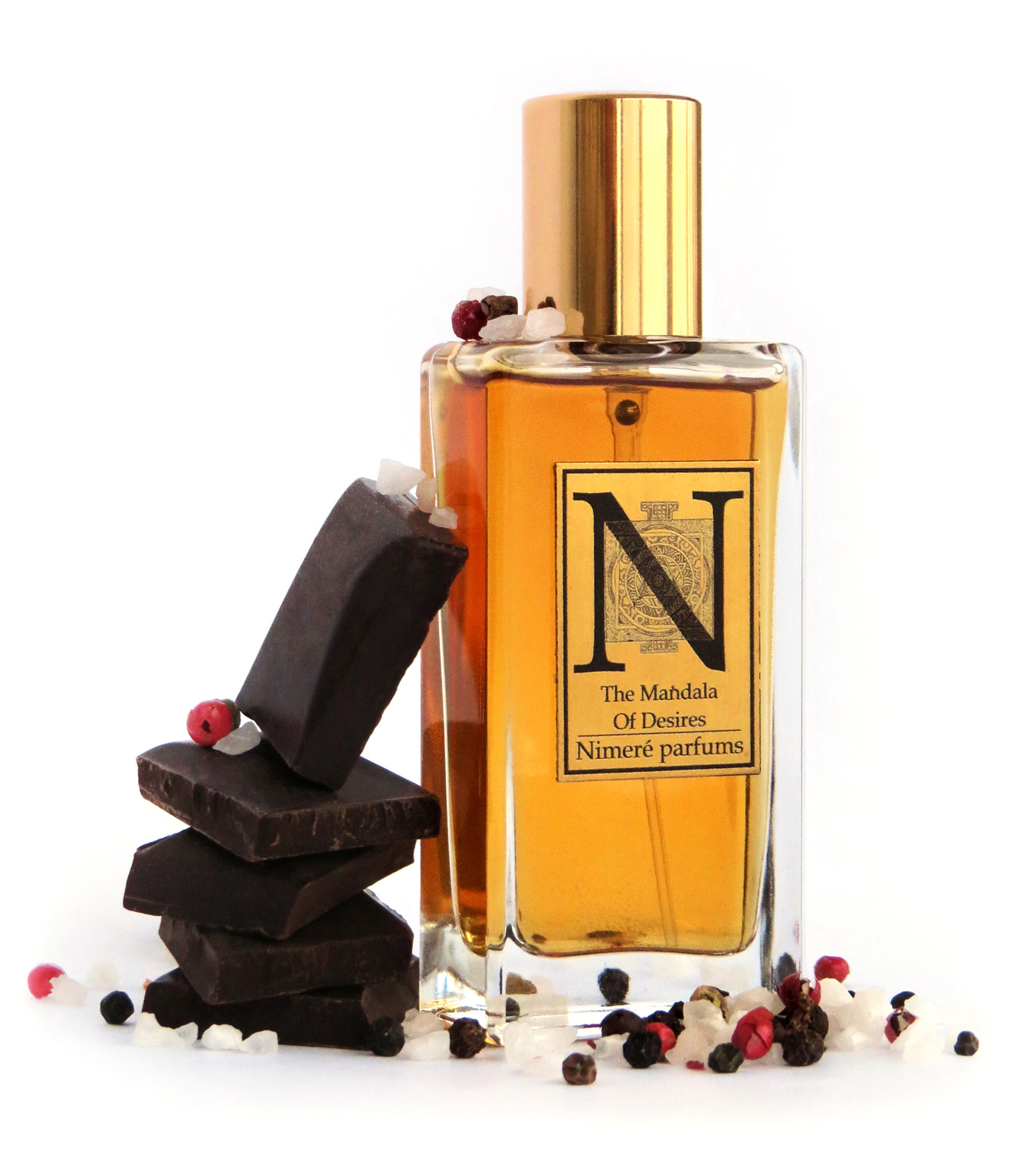 …This pastry shop is run by a real wizard, a descendant of Maya Indians. He sells not sweets, but magic in his shop. He mixes chocolate with ground roots and dried mushrooms brought from the jungle, then adds a dash of the hottest pepper that you won't even feel while savoring his handmade bonbons. Only later, you will suddenly get all hot and bothered, feeling like your blood is about to boil. Here, bitter and pungent scents drown in the thick aroma of chocolate.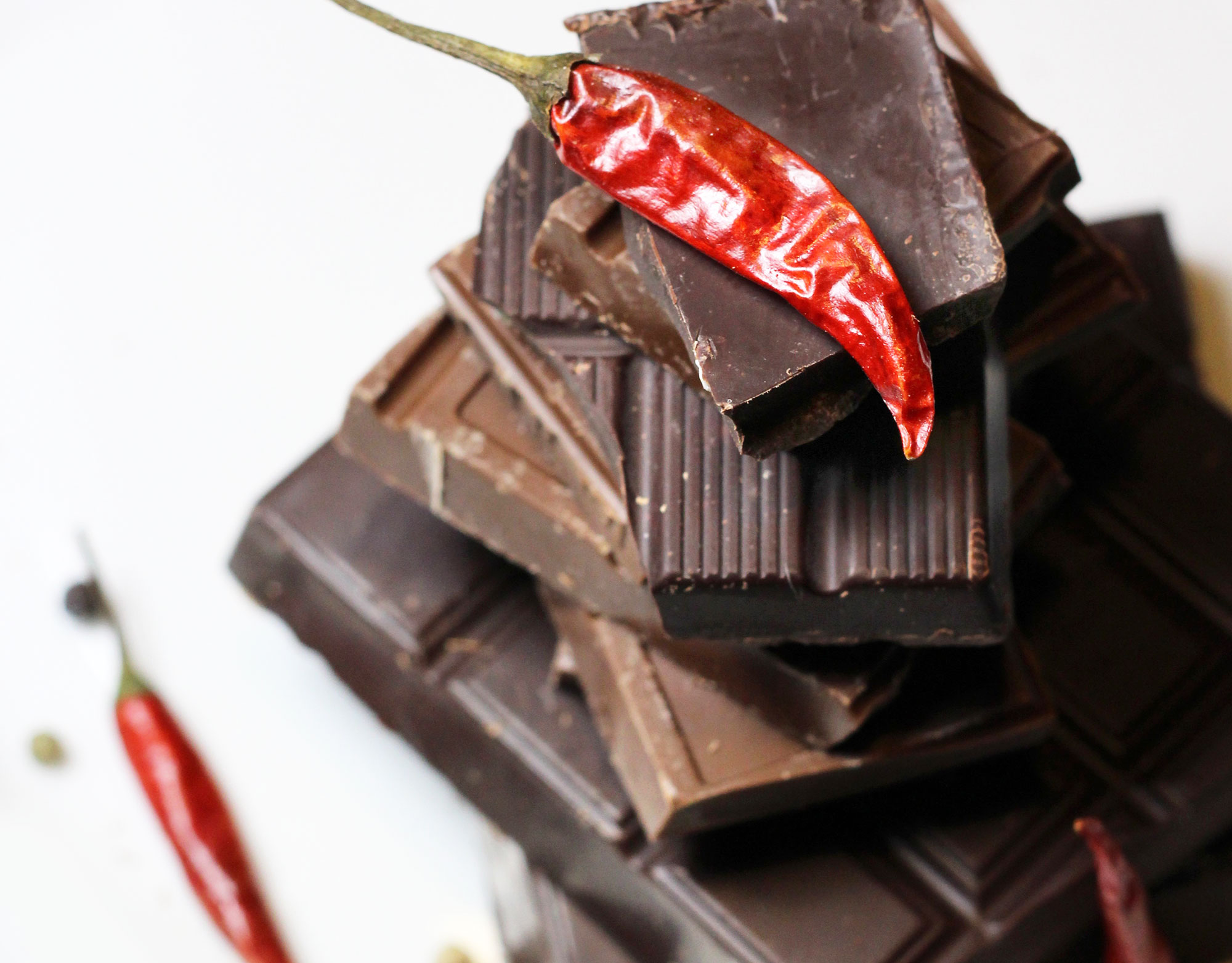 These chocolate candies are sold individually, in exquisite boxes, much like pieces of jewelry, and they cost nearly as much. They make your wishes come true. And yet you have to pay for every wish granted, and not with money alone. Nevertheless, wealthy ladies (usually ladies, since men are not as eager to believe in magic) love to stop by this little chocolate boutique. Their wishes do come true, after all! And the payment? That does not come until much later…
Material girls do not believe in such things as debt repayment anyway. At the same time, they are quite eager to believe in love spells, or getting rid of a rival, or even that a chocolate candy can buy you a career promotion. Moreover, it is delicious and one constantly wants to taste yet аn other flavor of these magical chocolates.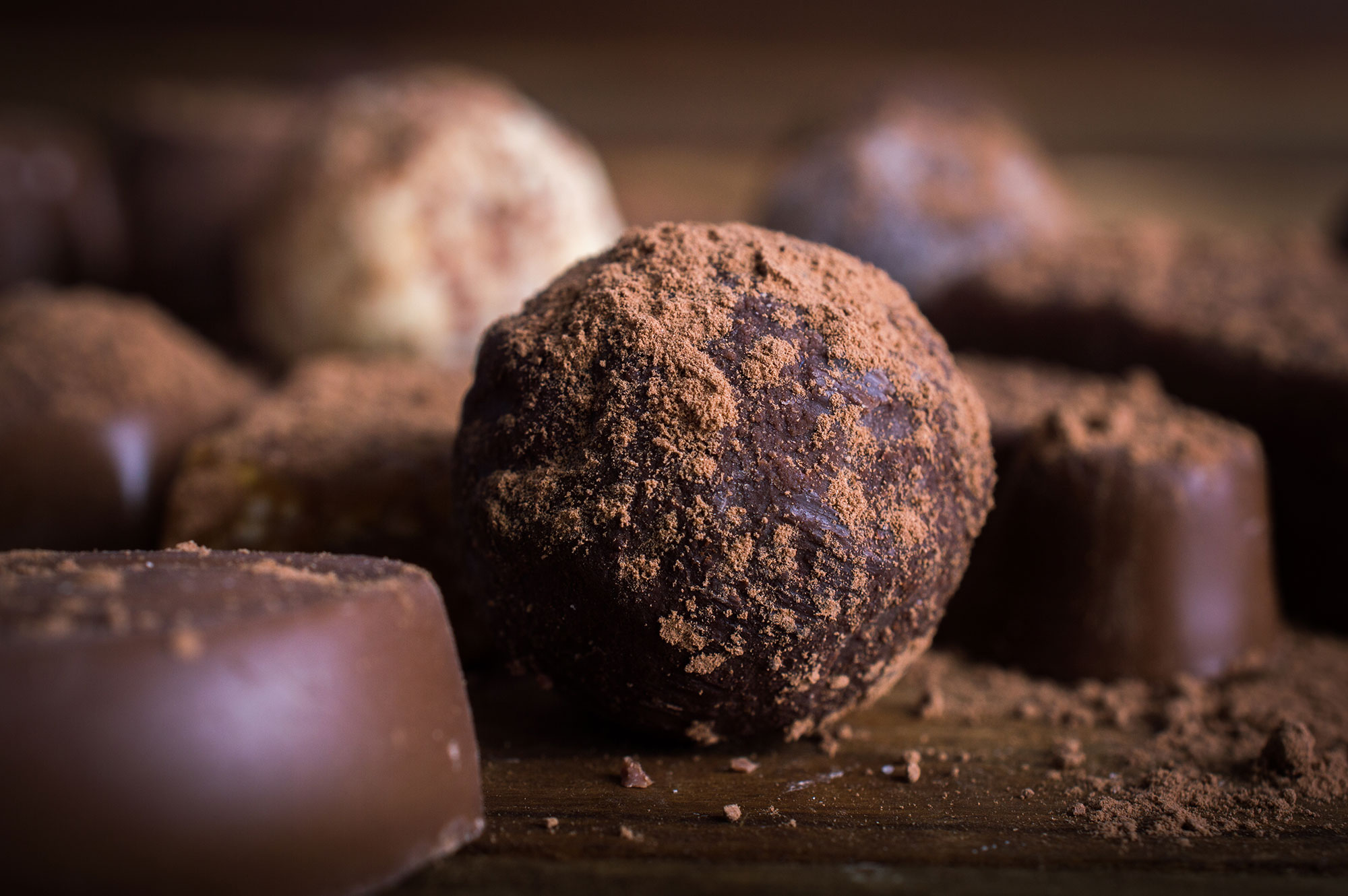 This chocolate has no coziness to it, no childhood memories attached, and especially no sugar or cream. It has only magic, only the luxury of rare ingredients, and the voracious appetite for life, be it carnal passion or love of risk.… All of the above is slightly veiled by the cool and aristocratic aromas of violet water and iris powder. Noble women know how to look noble even when they sin, again and again.
The owner of the pastry shop throws their money at the foot of a little deity tchotchke, carved from stone many thousands of years ago, and promises it the women's souls for eternal slavery. He believes the deity will make good on his promise.
Dark Chocolate:
Black Orchid by Tom Ford
Dark Chocolate Royale by Opus Oils
Gothic I by Loree Rodkin
Marron Chic by Nez a Nez
Noir Aphrodisiaque by By Kilian
Veilleur de Nuit by Serge Lutens
***
Elixir Charnel Gourmand Coquin by Guerlain used to seem like the sweetest fragrance in the world to me, unbearably sweet, actually; I could not imagine that I would ever want to wear it. That is until I felt the dark chocolate, sweet liquor and fresh roses in its trail.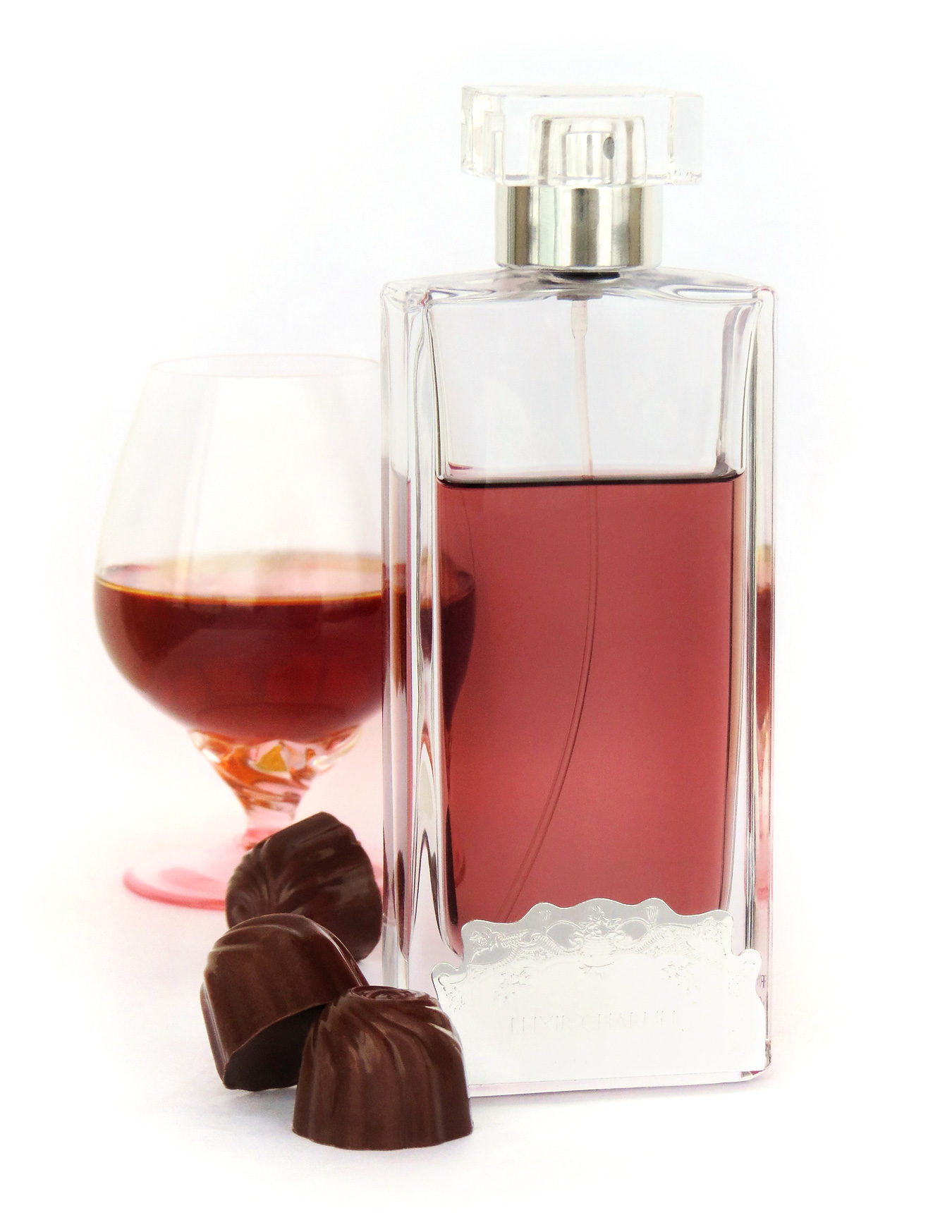 Elixir Charnel Gourmand Coquin became enticing with this discovery. So, I felt the urge to try it on my skin. I bought just a small amount at first. Then I realized that I needed a full bottle of this weird fragrance that had first made me angry with its combination of price and cloying sweetness.
It is dark chocolate.
However, it is not the aroma of cocoa beans ground in a stone mortar. It is the aroma of the most expensive, delicate and fragrant Swiss chocolate or chocolate candies sold individually at a chocolate boutique; the sales assistant takes them out piece by piece with the help of gold-plated sugar cube tongs, carefully placing each one into its own tissue paper nest, thus creating very pretty, custom-made boxed sets that she further adorns by tying them with satin ribbon.
It is also a rose bouquet: We've got the brightly pink Soul and the pale pink Herzogin Christiana varieties here, both noble and intensely fragrant.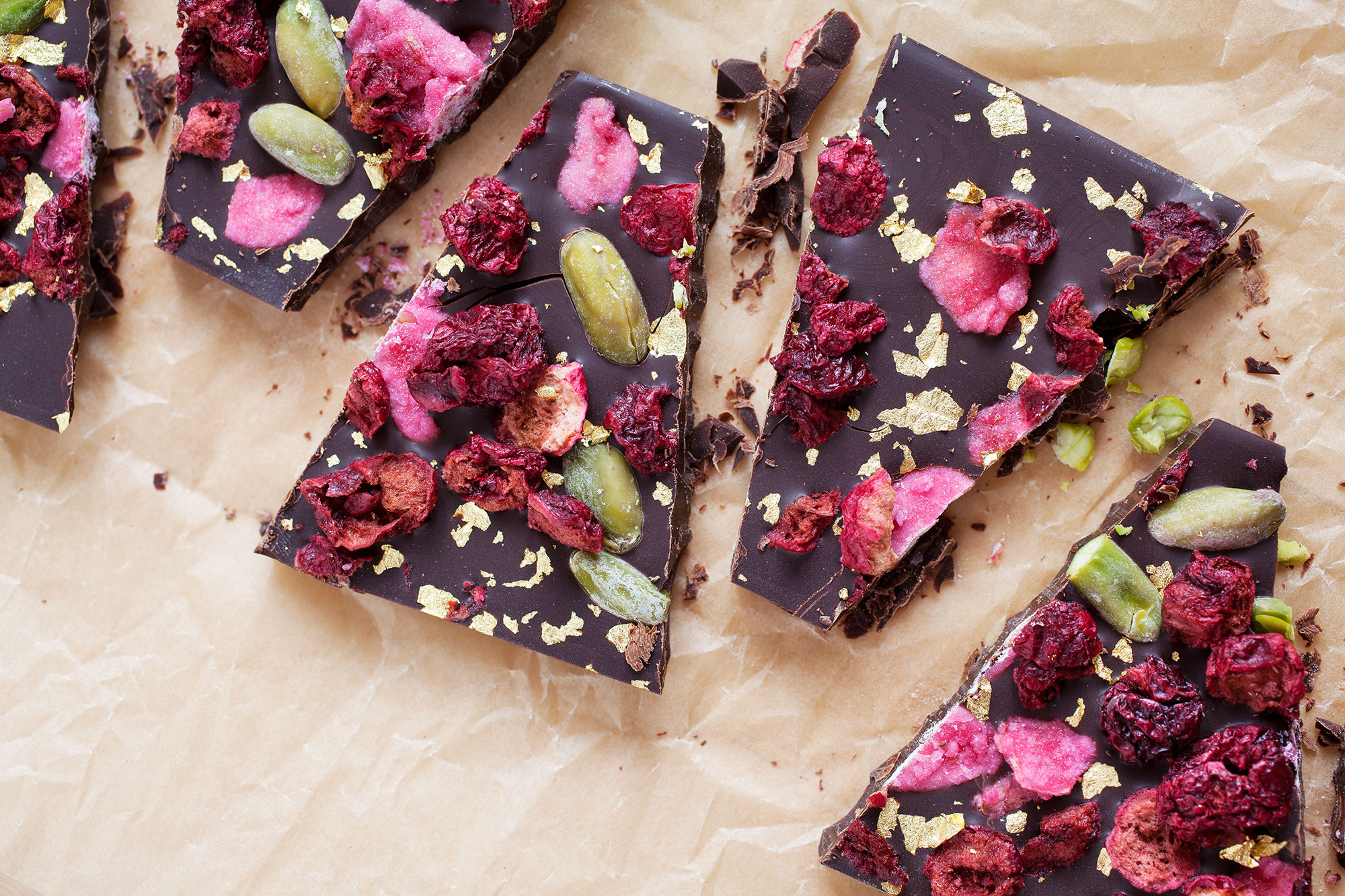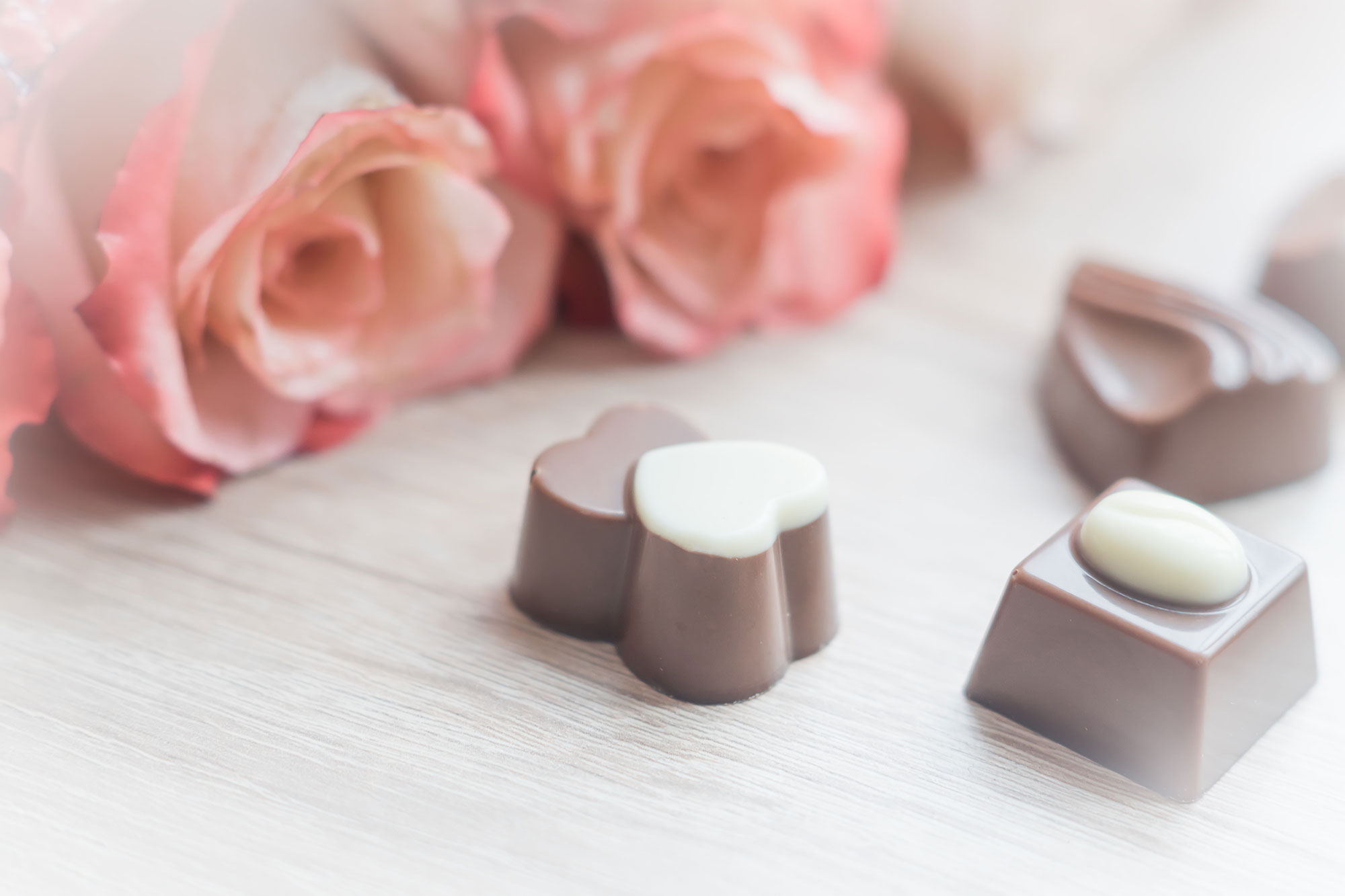 Then there is some liquor; golden vanilla rum, creamy Bailey's, and the somewhat bitter, honey-and-spice, herbal Chartreuse.
Elixir Charnel Gourmand Coquin is so exquisite in all its sweetness, that it resembles lace spun from sweet notes and silk.
Sophisticated Chocolate:
Angel Extrait de Parfum by Mugler
Dimanche by Strange Invisible Perfumes
Equistrius by Parfum d'Empire
Fève Délicieuse by Christian Dior
Les Exclusifs de Chanel: Coromandel Chanel
***
Its direct opposite is Chili Choco by Siordia Parfums; a fragrance for those who love chocolate but do not want any sweetness there at all. This chocolate is very dark, with some really hot red pepper in it. it is the hottest chocolate fragrance that I have ever tried! It is sizzling hot!
Notes of smoke and leather add extra facets to the bitterness. Here, the leather is rough, and this can be felt in the fragrance nearly as strongly as the chocolate.
It is original and elegant. Seduction and domination. And nobody would dare call you sweetie!
Chocolate candies:
Angel Muse by Mugler
Arabian Nights (Black) by Arabian Oud
Choco Violet by Mancera
Missoni Gianduia by Missoni
Praline by Nobile 1942
***
And what if one simply wants some hot chocolate, without any alcohol or spices? This person needs to look for a bottle of Lait et Chocolat by Chabaud Maison de Parfum.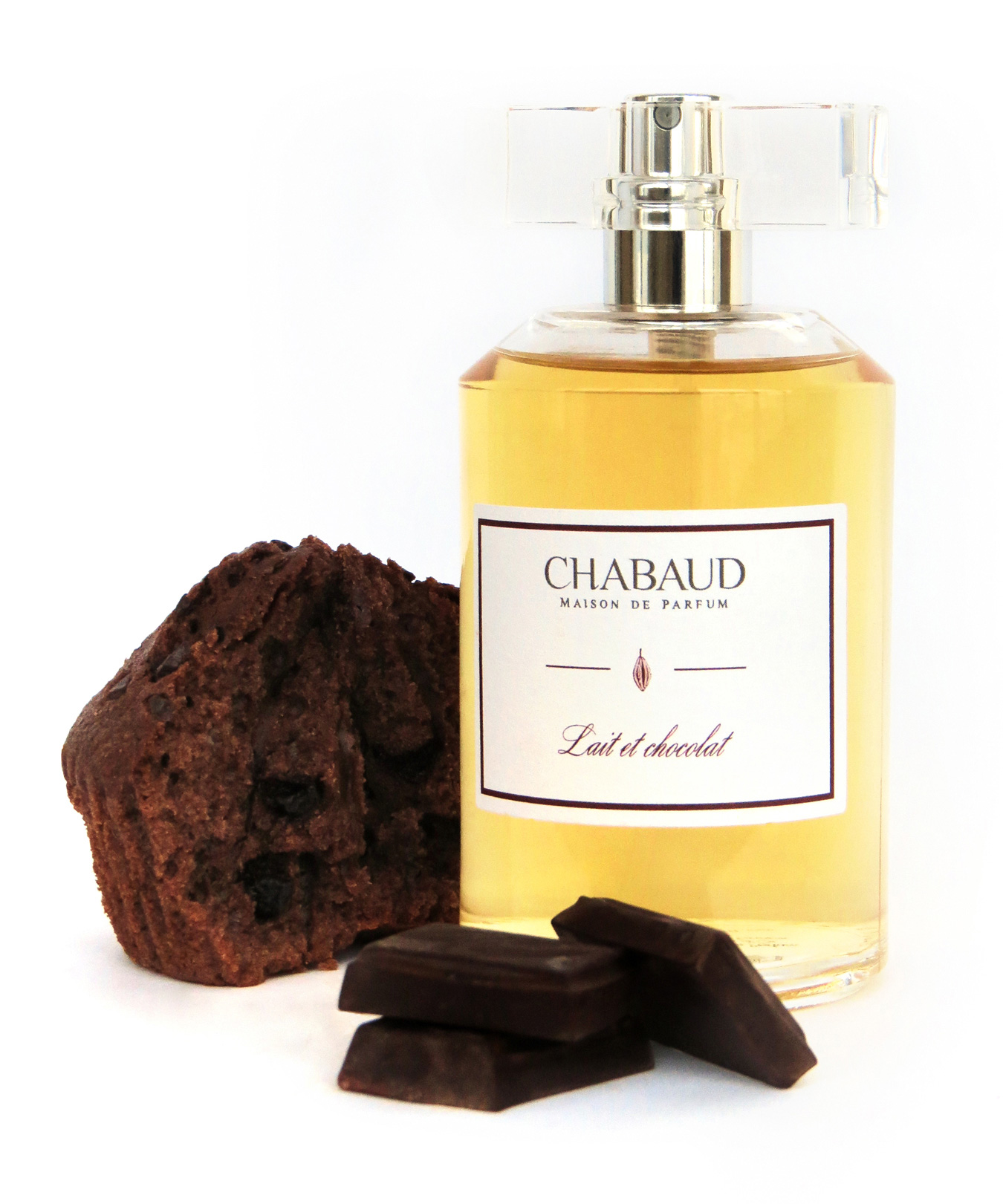 It smells like the hot chocolate one can purchase at any European coffee shop when one needs an energy boost or something warming. This is also the chocolate you can make at home on a cold evening, pouring the liquid into a big mug and then savoring it, relaxing after a busy yet dreary winter day.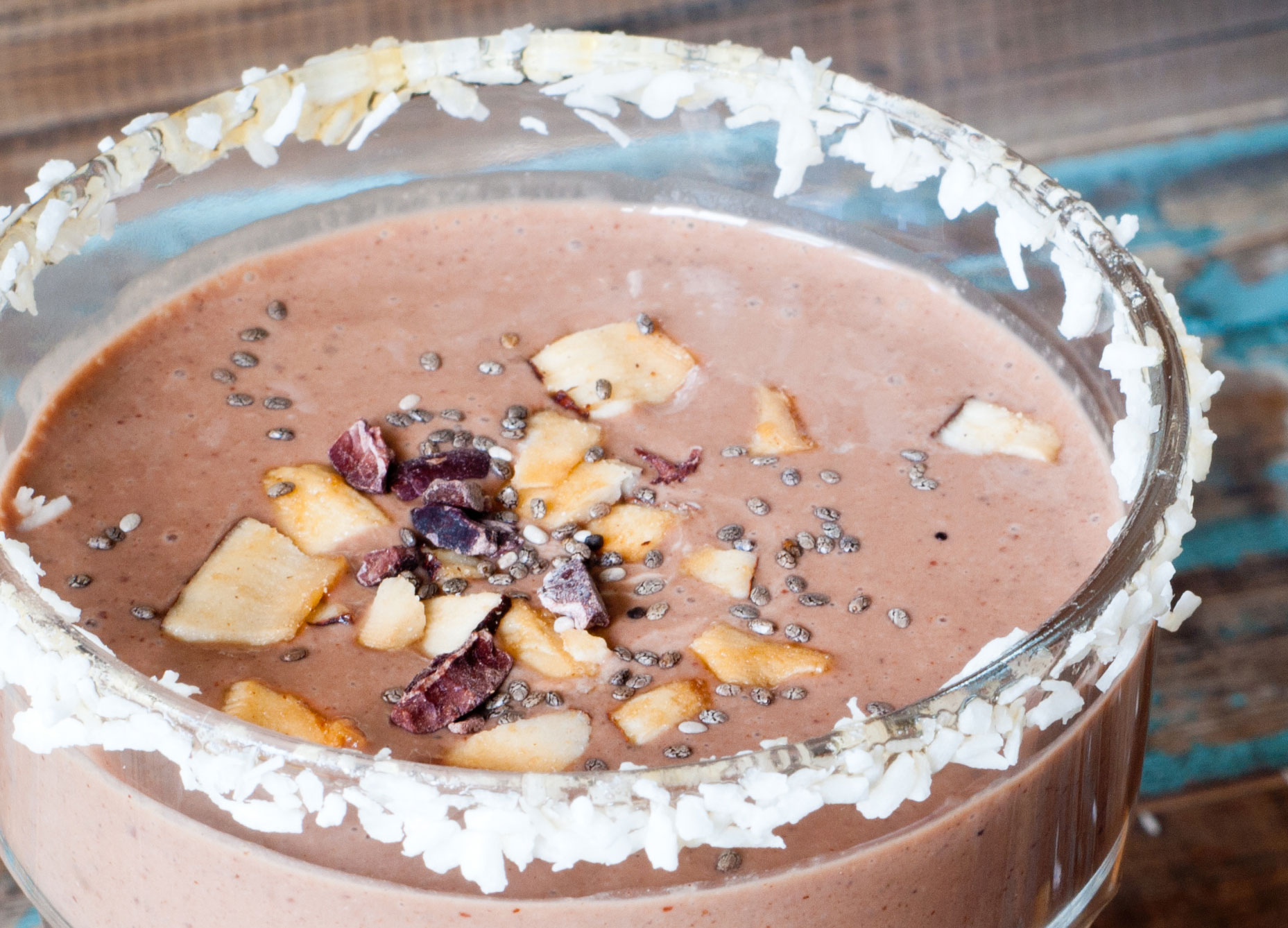 Lait et Chocolat contains notes of chocolate cookies and chocolate-filled chocolate muffins, roasted nuts and the crunchy crust of a French baguette; in short, all things yummy. It has plenty of milk (as promised by the name) and lots of sugar: Lait et Chocolat is sweet and yet I don't find it cloying.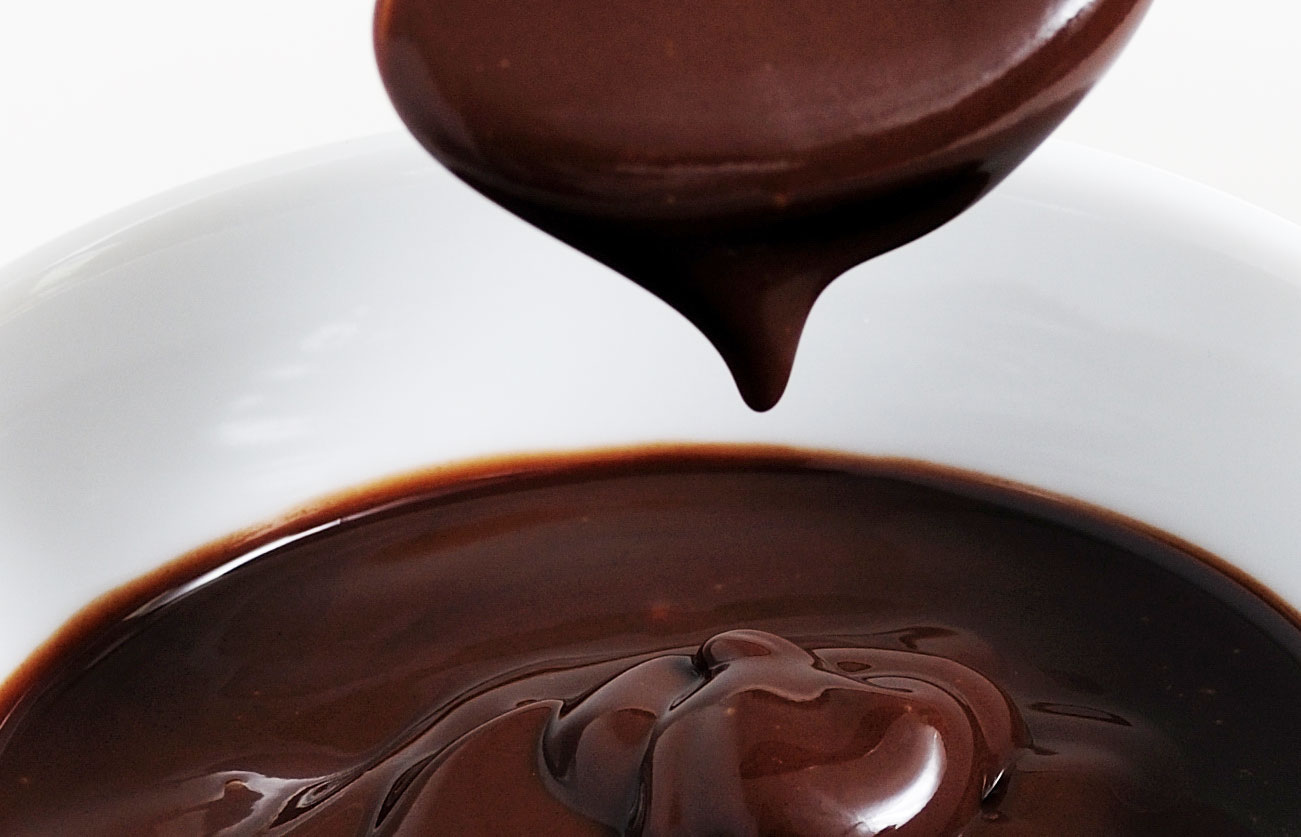 Lait et Chocolat is a fragrance that you mainly use for yourself, just to feel the fragrance and take pleasure in it. First you think of how nice it is to smell it, and only later you realize that it is great to smell of it. Indeed, it is pleasant as perceived by others, better than many other more complex chocolate perfumes. It is very long-lasting, yet it is rather demure and delicate.
Hot Chocolate:
Angel Étoile des Rêves Eau de Nuit by Mugler
Amber Chocolate by Abdes Salaam Attars Perfumes
Ehsas Al Hub by Sarahs Creations
Patchouli by M. Micallef
Rouge Avignon by Phaedon
Sorriso by Profumum Roma
***
A chic and expensive version of hot chocolate in perfumery that is not intended for minors is Dolce Passione by Pantheon Roma.
This is a quintessential gourmand fragrance, an embodiment of the sin of gluttony; hot chocolate, milky hazelnuts, fudge, lacy caramel and all of it steeped in liquor. A positively 'boozy' scent. Drunken and sweet, and the quality of the sweetness is top shelf here.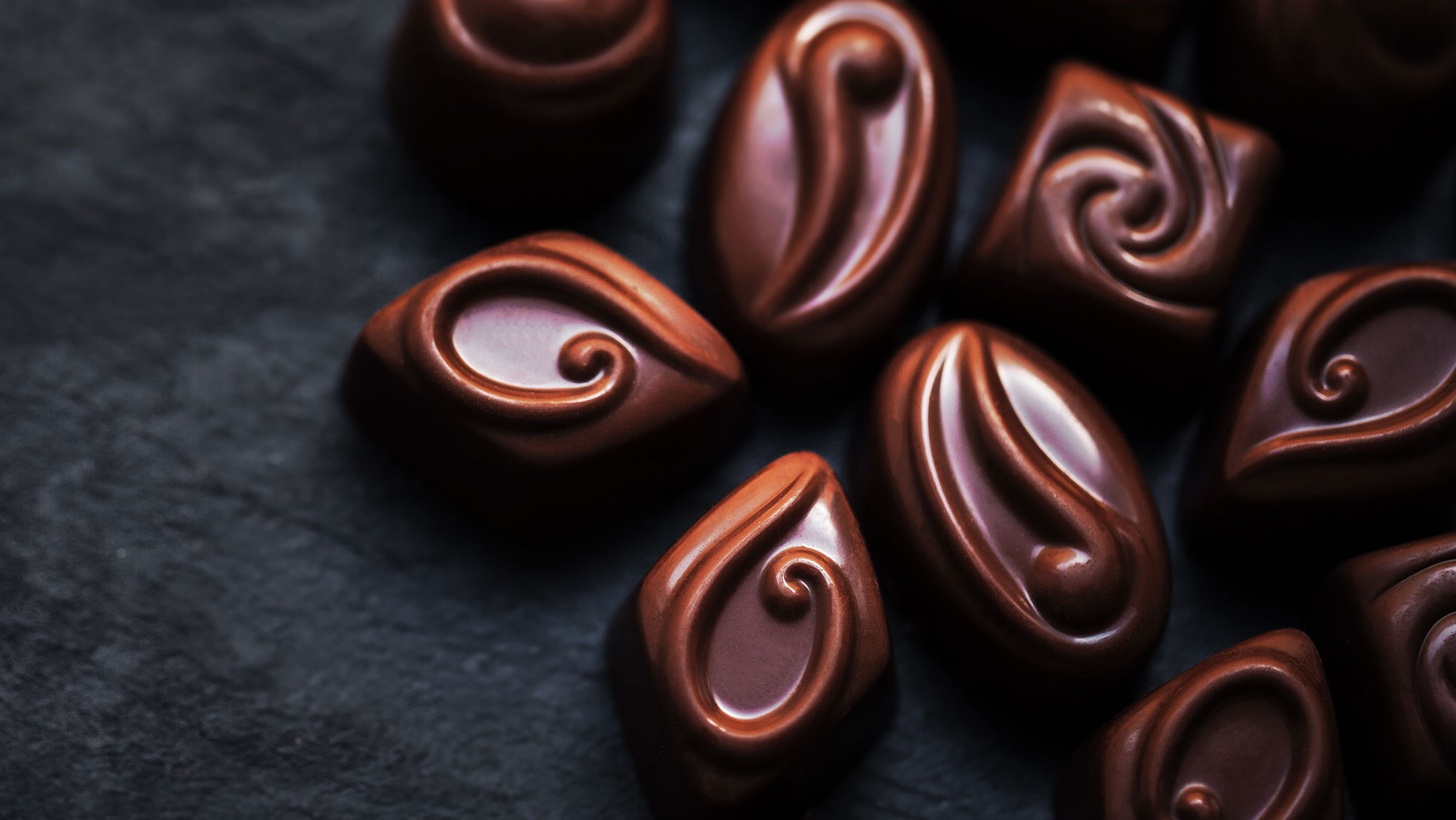 There are more overly sweet fragrances in modern perfumery than there should be, and there are not too many high quality ones among them. The ones that are great not in spite of but thanks to their sweetness are indeed few and far between.
Dolce Passione gives you pleasure. It is a fragrance for hedonists. Or at least for those of them that love chocolate.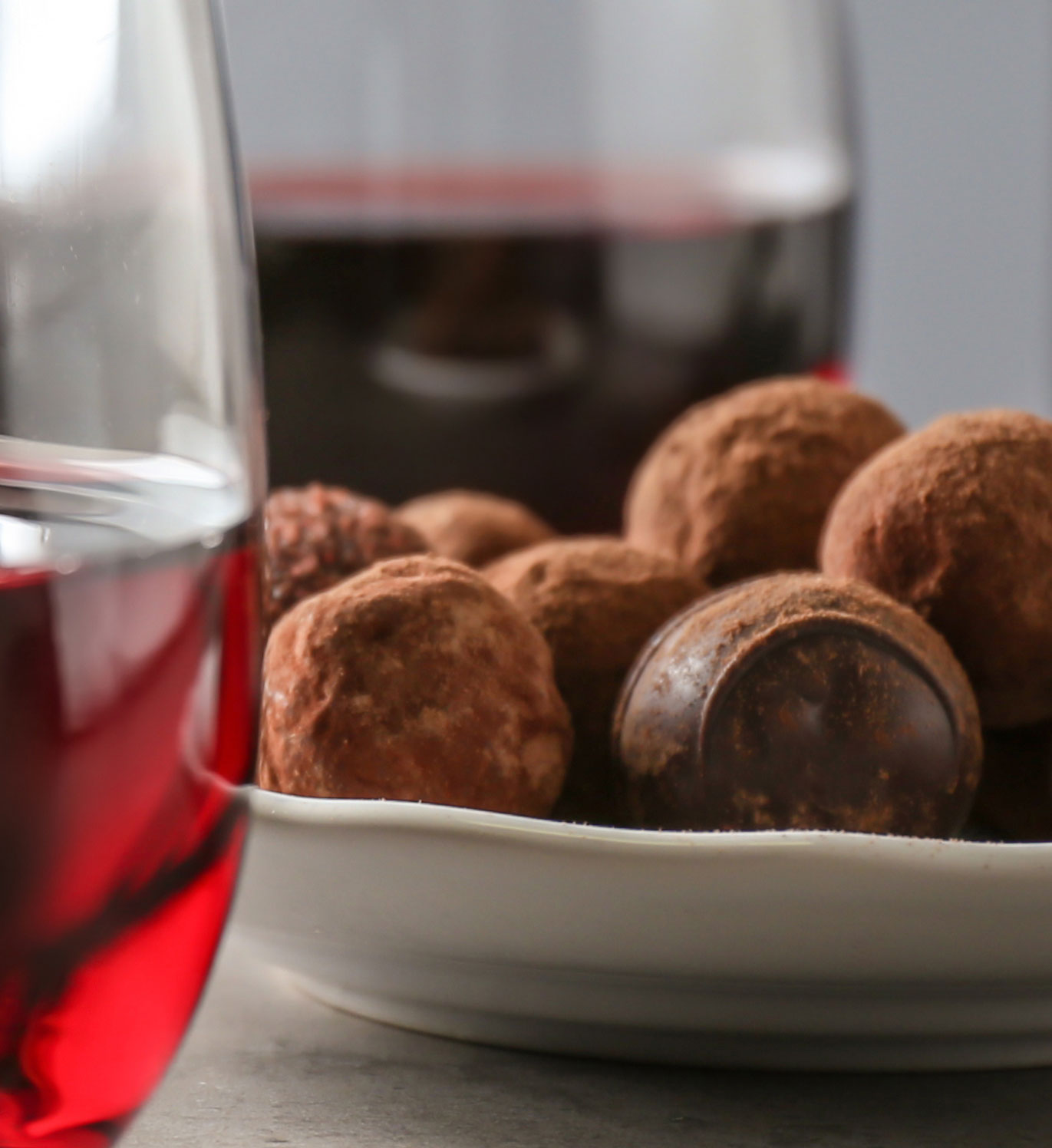 Unfortunately, the chocolate feast does not last for long; four hours, maybe, after which we are left with a vanilla-liquor base. Vanilla, alcoholized in rum; ideal to steep sponge cakes in, or simply a beautiful, tender fragrance that you can feel long after the chocolate note leaves, taking all the other notes with it.
Chocolate plus Liquor:
1697 by Frapin
Alambar by Laboratorio Olfattivo
A*Men Pure Tonka by Thierry Mugler
Angel Liqueur de Parfum by Mugler
Miss Dumonten by Serge Dumonten
***
An even more delightful chocolate fragrance from the same brand is Pantheon Roma: Trastevere.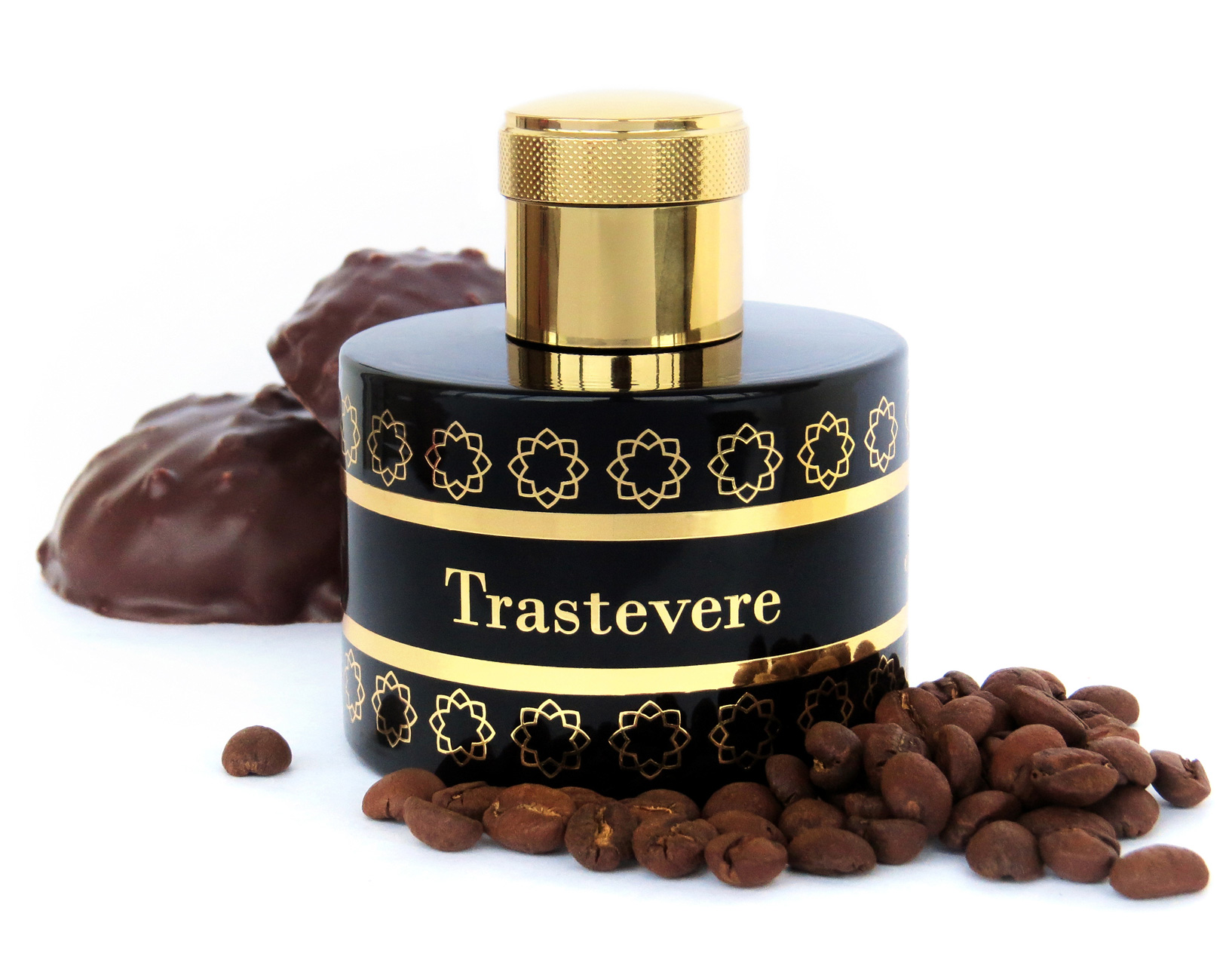 …When I say that in chocolate, it is the aroma that I enjoy more than the taste, even though the taste also pleases me, then the story with coffee is quite different. I adore the aroma, it perks me up and improves my mood, but I very rarely enjoy the taste of coffee, for it is easier to find high quality chocolate than coffee done right.
I am thrice as lucky with Trastevere, because its three main notes are all big favorites of mine; coffee, roasted chestnuts and chocolate.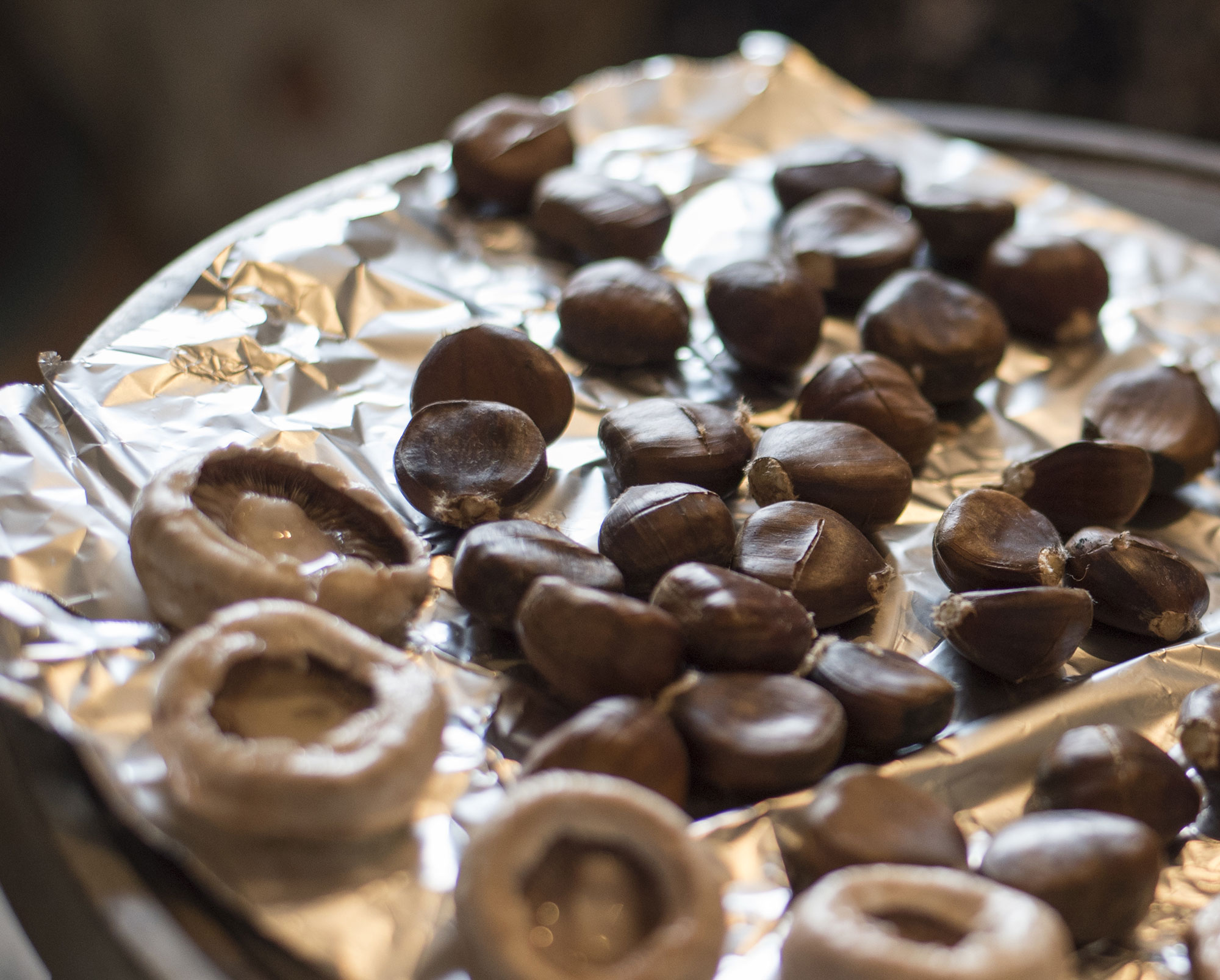 The coffee note in Trastevere changes from black coffee with cognac, to cappuccino with a thick layer of foam, to coffee with cream and vanilla syrup, to a sweet latte topped with chocolate shavings… And then to hot chocolate with a shot of Kahlua liqueur.
Roasted chestnuts smell like Paris and Vienna, freedom and happiness. You would think that that's it, perfection is reached. But then Trastevere also smells like my favorite jasmine, the Southern indole-and-honey kind of jasmine that is all languor and nighttime.
Trastevere is an exciting fragrance that demands that you pack your bags and set out on a trip in search of amorous adventures. In case you have already found your love, and you now live together under the same roof – it's an excuse to remember when it all started, when everything was new and you two were all hot and heavy… To feel it once again – and to make your loved one feel it too! How do you do it? Trastevere gives no pointers, but, pulsing on your wrists, it demands immediate action.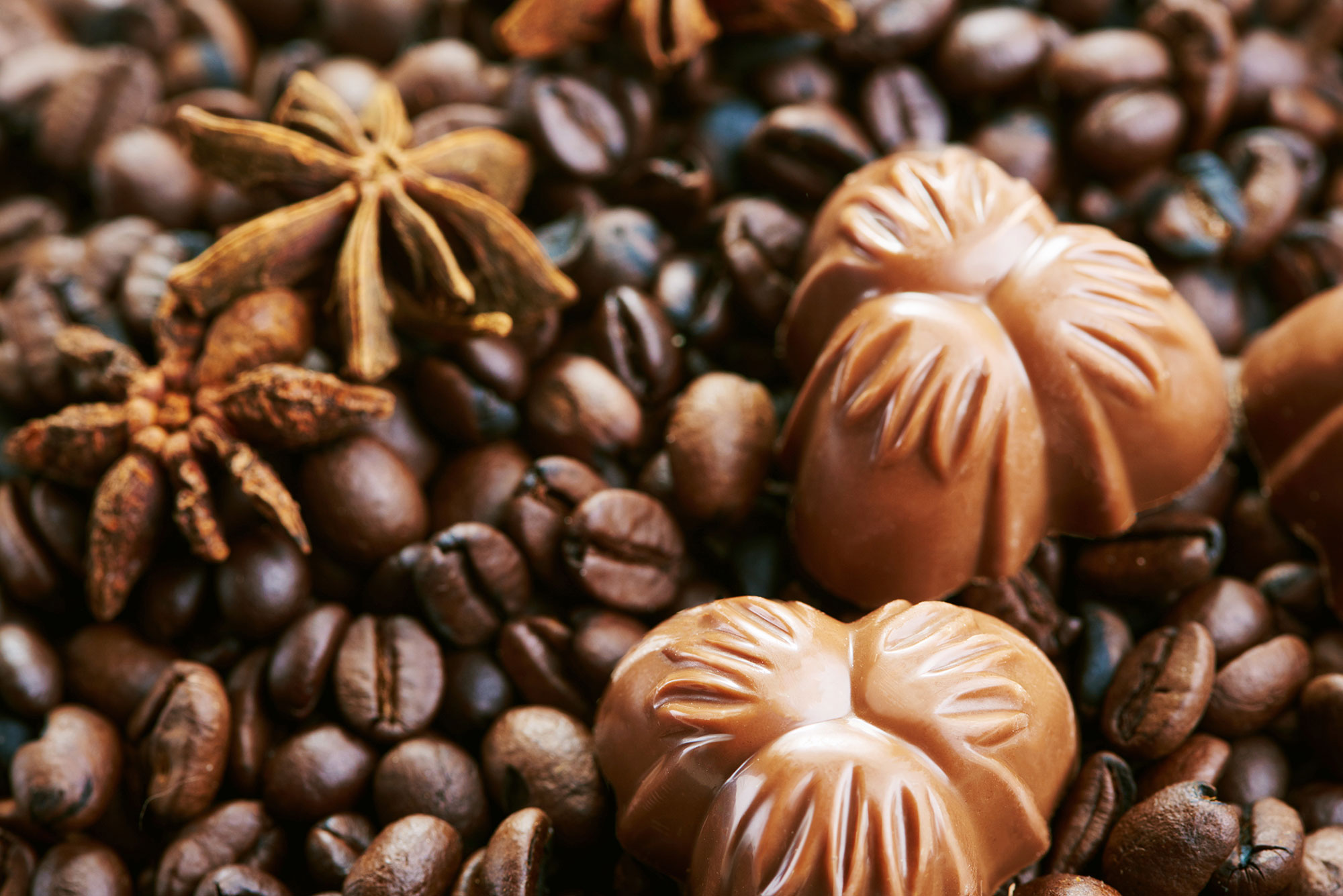 Trastevere is very intense and has a lasting trail/sillage; just one spritz and you'll be walking on a cloud of delicious, enticing aromas, with coffee, chocolate and 'drunken' vanilla. Even a shower is no obstacle for this one. It starts to smell a bit more faint, but once you start moving more proactively again, the fragrance returns.
Coffee and Chocolate:
A*Men Pure Coffee by Mugler
Cafe Italy by Nimere Parfums
Al Fanar by Abdul Samad Al Qurashi
Espresso Royale by Sebastiane
Vanille Mokha by Comptoir Sud Pacifique
***
Another successful combination of coffee and chocolate in a perfume is Coffee and Chocolate by Anna Zworykina. This is a dark, dense, nocturnal fragrance.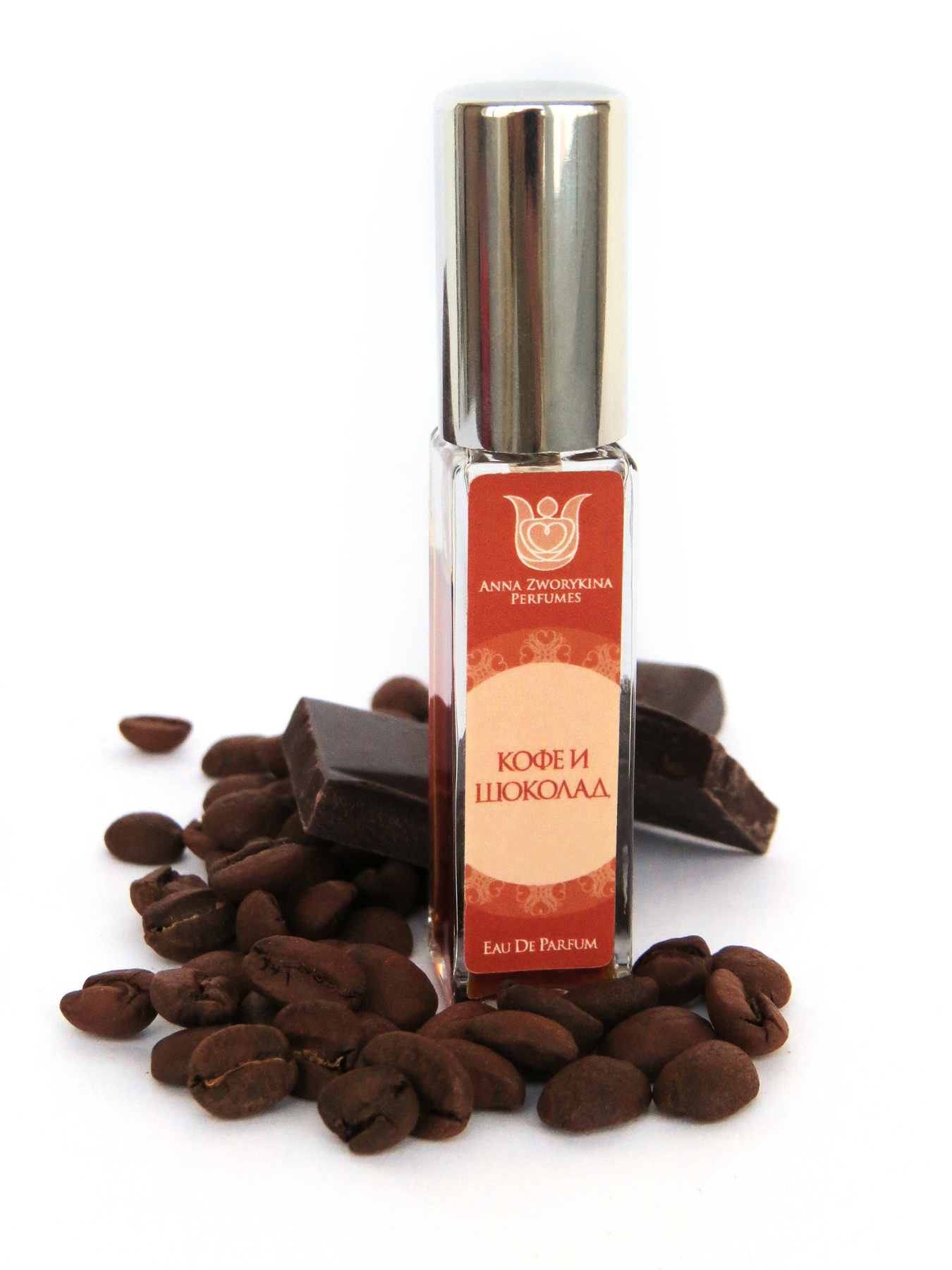 The coffee here is very fresh, very black and very strong. A coffee done utterly right, no sugar, no creamer, no spices. The coffee of my dreams, basically. The chocolate unveils itself with either bitter and fragrant cocoa beans, or noble dark chocolate, or even chocolate with orange. All of the above develops on a dark sweet and resinous backdrop of labdanum.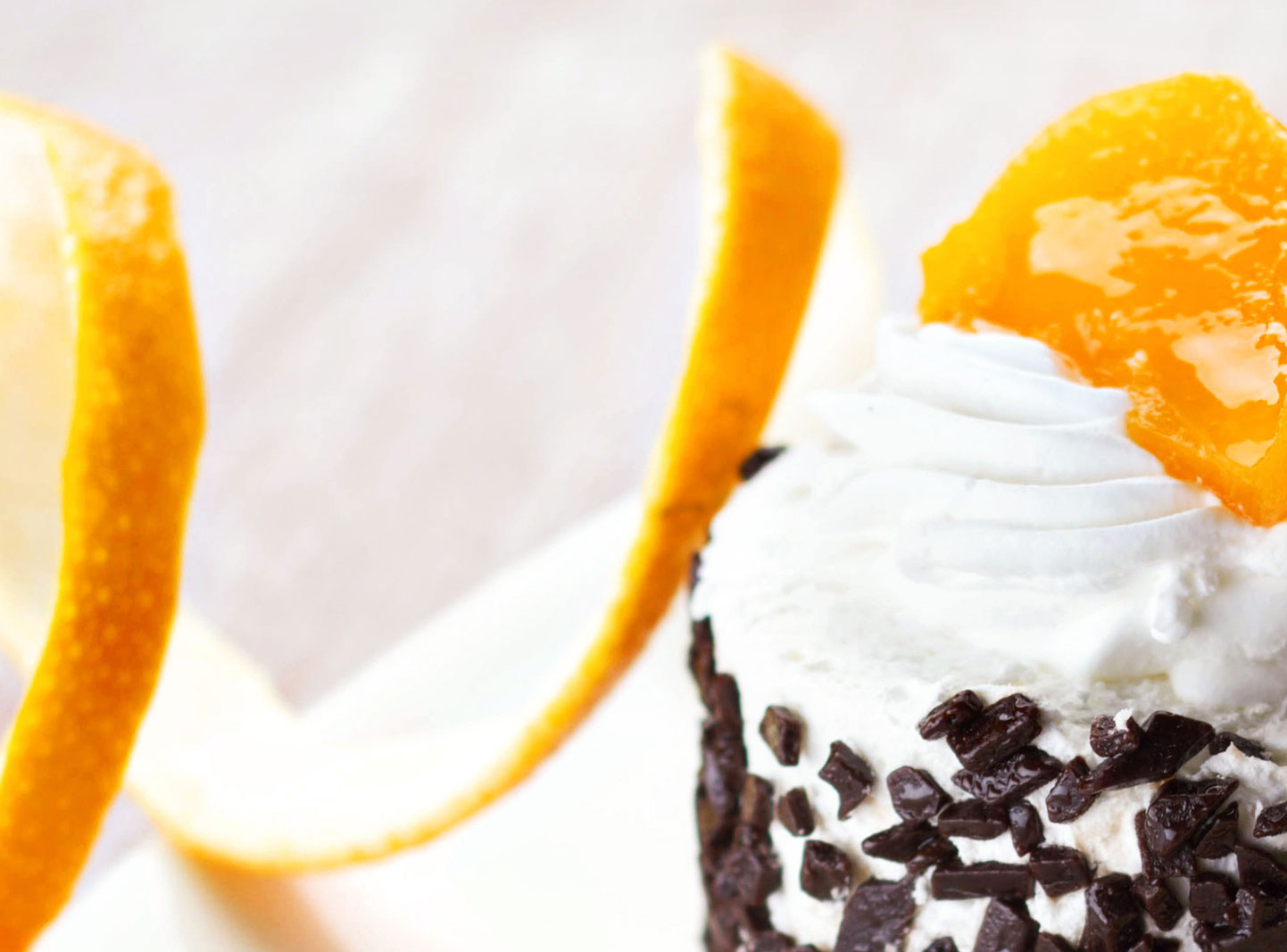 Coffee and Chocolate is almost not sweet at all. It is as sweet as the natural aromas of cocoa beans and labdanum naturally are, no more.
White Chocolate:
Coco Blanc by House of Matriarch
Iris Ganache by Guerlain
Le Chocolat de Vanille by Serge Dumonten
Musc Maori by Pierre Guillaume
***
And now let's get to the chocolate perfumes that are not that easy to find (and yet are the kind that could be truly enjoyed by a real chocolate lover).
Let's take a little gem intended for sweet chocolate fragrance lovers: Angel Cocoa Powder Thierry Mugler… I wrote about it earlier. However I cannot help but mention it again. What if you still haven't tried the perfect fragrance for Malvina/the Fairy with Turquoise Hair? (Malvina, the Russian character from children's book/popular movie "The Adventures of Buratino", based of the Fairy with Turquoise Hair from Carlo Collodi's Pinocchio, has become the synonym of unabashed yet sophisticated girlishness in Russia – note by translator). Even though it was a limited edition, it is still available.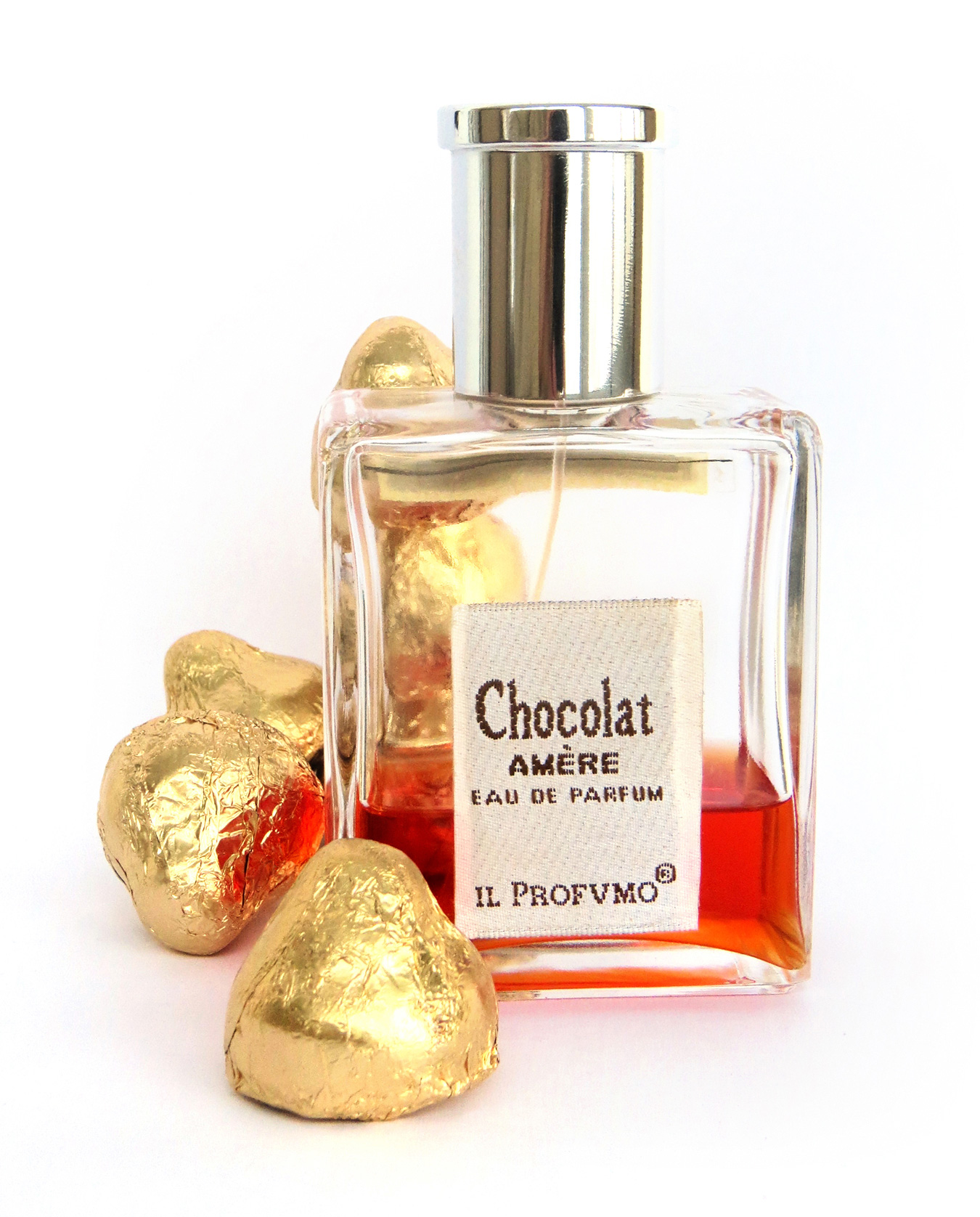 It is harder to find my very first chocolate perfume, Chocolat Amere by Il Profvmo.
Il Profvmo used to have four chocolate fragrances.
Chocolat — dark chocolate with nutmeg and orange peel.
Chocolat Frais —chocolate with fruity and floral notes, plus heliotrope powder.
Chocolat Bambola — chocolate dessert with tropical fruit.
And my favorite, Chocolat Amere — dark chocolate with cognac.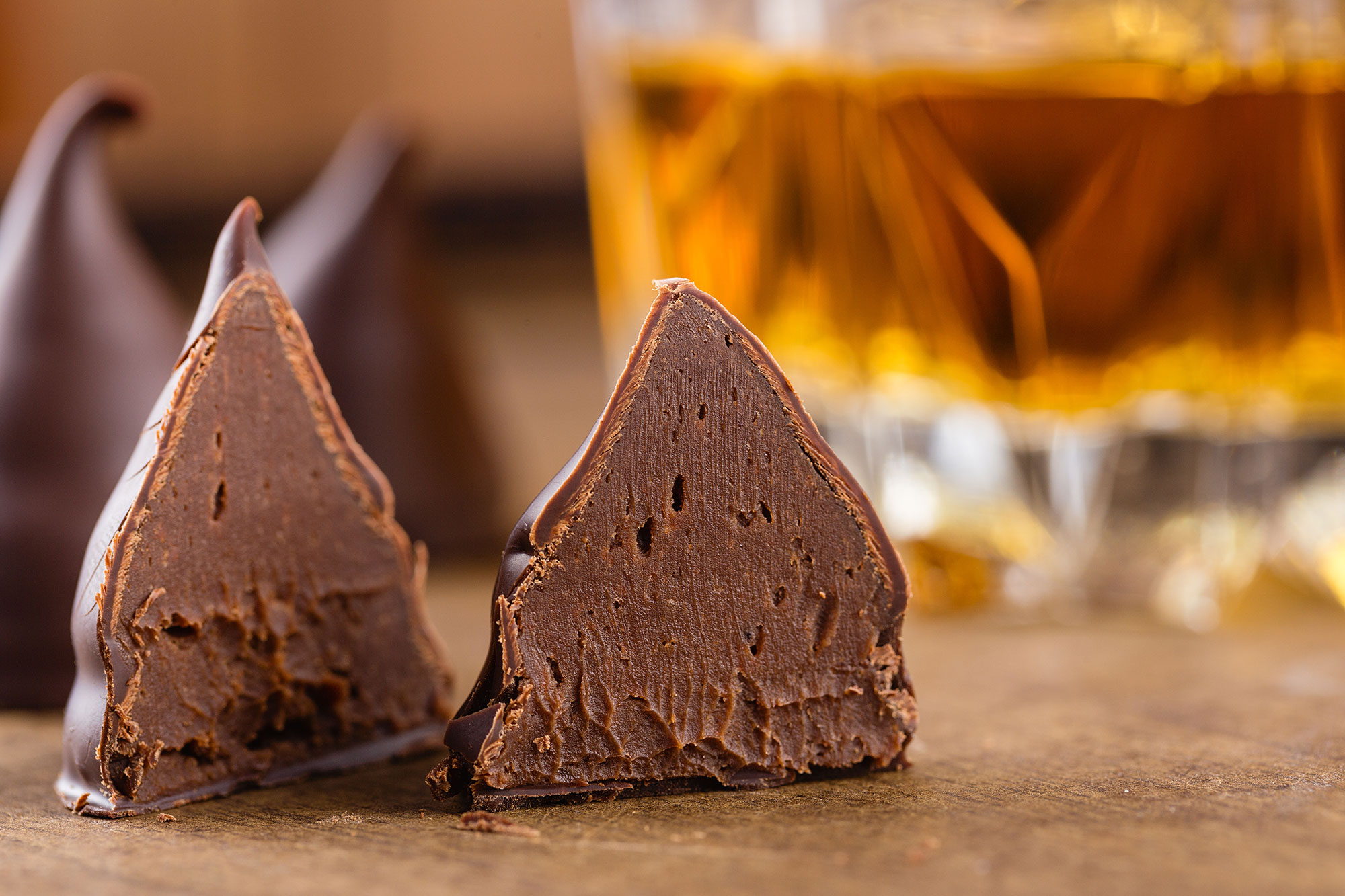 Il Profvmo only produces Chocolat and Chocolat Bambola now. In my opinion, Chocolat Amere was the best out of the four, so they should have kept producing it… But I am guessing that the choices made were not at all random. I can certainly be subjective here, since I have loved it ever since I first tried it many years ago. Even though I have tried many a fragrance with a chocolate-based central note, many of them better or even more chocolate-y, Chocolat Amere remains a favorite of mine, regardless.
This is the aroma of hot chocolate with spices. Chocolate candies with brandy filling. It is not too sweet, but thick and warming instead. It smells of nutmeg and cardamom, and you can feel the burning taste of ginger with a note of incense to boot.
Chocolat Amere is not particularly original, but it is quite elegant. It can be worn by a man because its sweetness is just the natural aroma of cocoa beans. When this perfumery chocolate was being made, no sugar was added, but a generous shot of cognac was poured into the mass instead.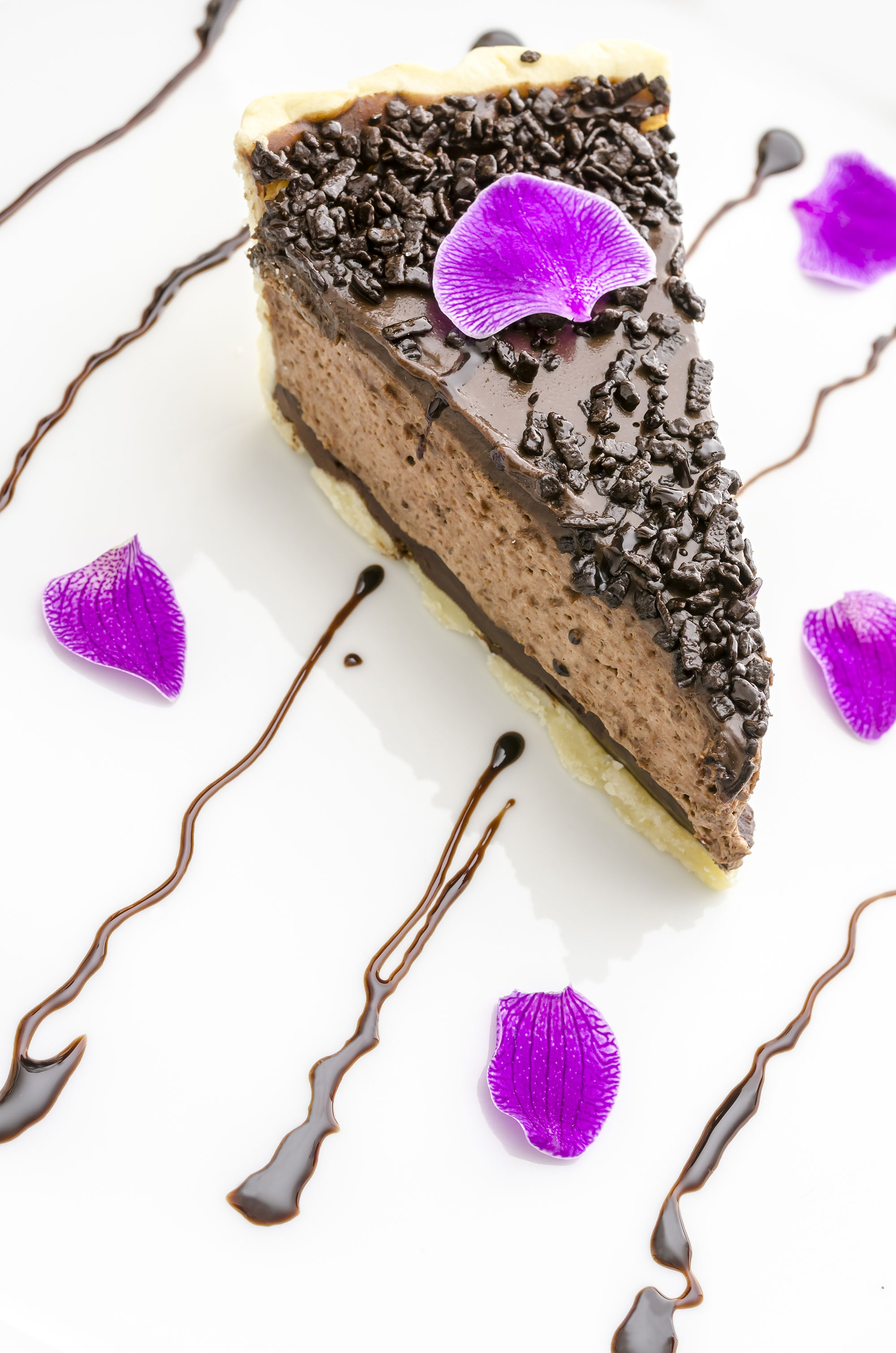 Chocolate Desserts:
Amour De Cacao by Comptoir Sud Pacifique
Chocolate Greedy by Montale
Choco Musk by Al-Rehab
Elfe Noir by Les Contes
Noir Intense by Nobile 1942
Roses & Chocolate by Mancera
***
It is even harder to get a hold of the luxurious Durrat Al Arabia by Arabian Oud, but the lovers of chocolate should try and test at least two of the three fragrances in this series.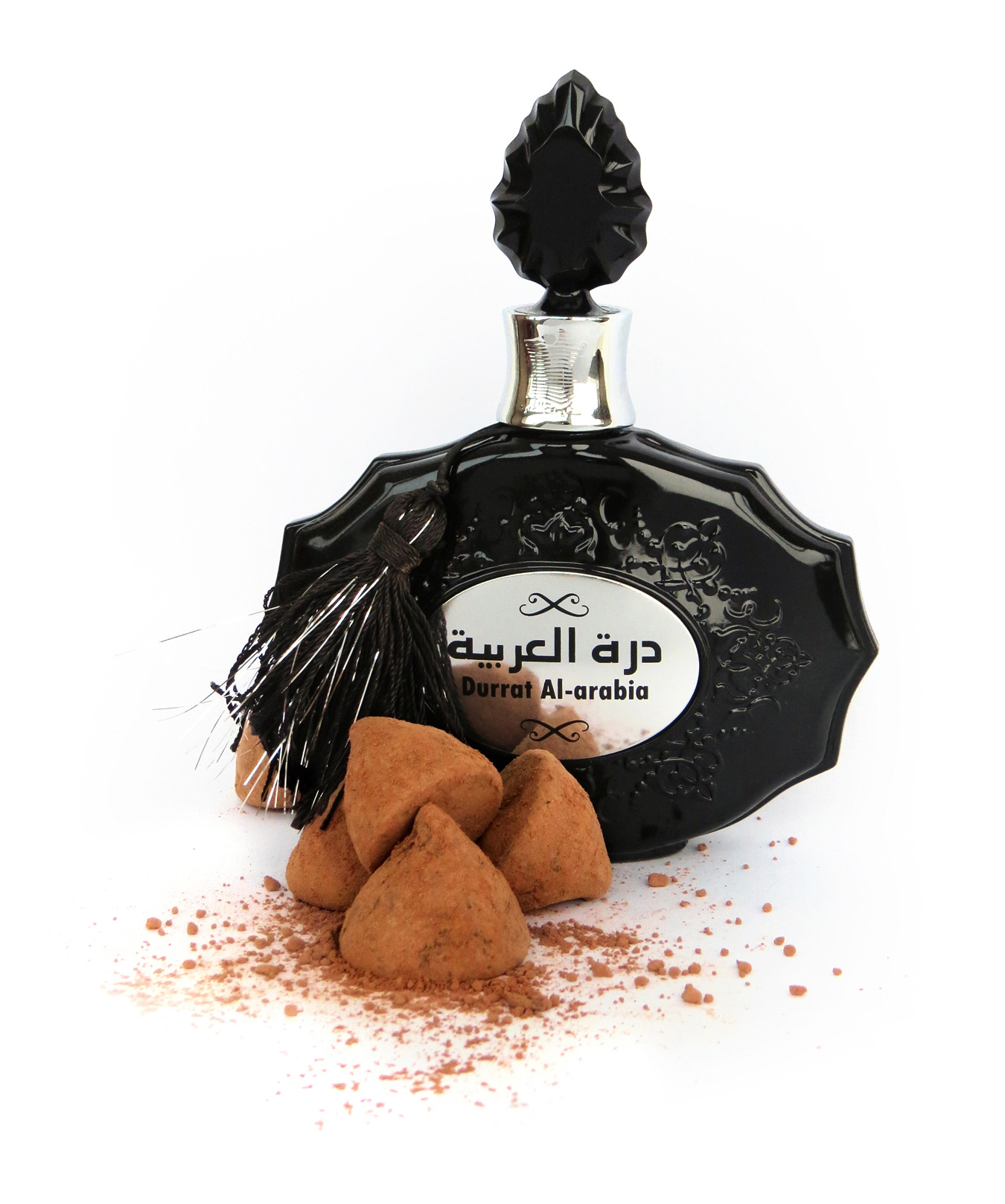 When the two were available, Durrat Al Arabia, a unisex fragrance, was considered the more popular one; it came in a black bottle adorned with gold and was redolent of chocolate with cherries and pomegranate juice.
I never got to own it, but I bought the male version, in the black and silver flacon and then I realized that I liked it even more.
Durrat Al Arabia is a dark, big, vividly fragrant chocolate. Not a chocolate bar, but the soft truffle kind, soaked in cognac and with a dash of spices. That said, there are no notes of cocoa beans or chocolate listed in the notes pyramid. However, Arabian perfumers rarely list all of their fragrance notes. Or maybe it's the patchouli that is played around in a way that the end result is perceived as a chocolate-amber fragrance.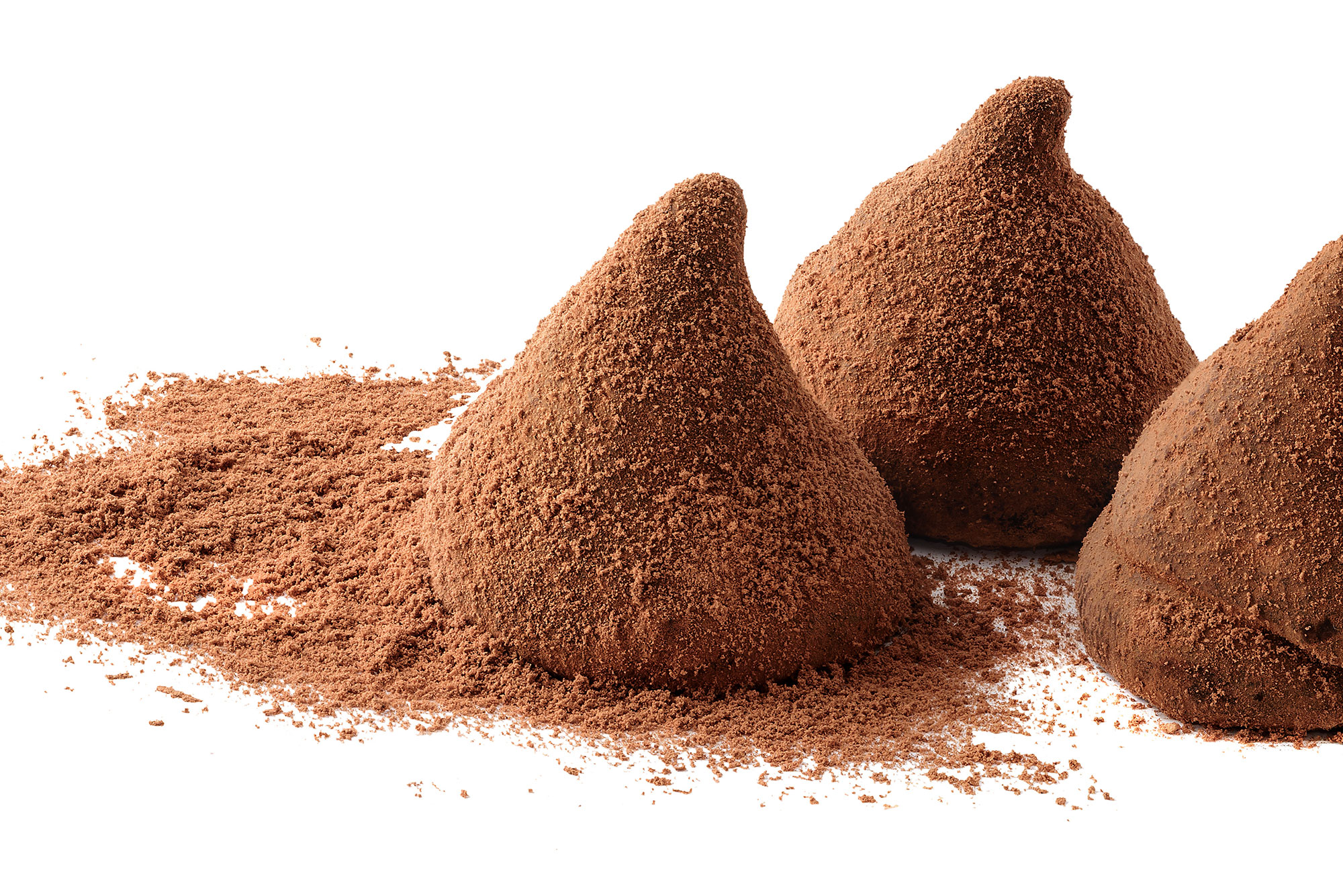 This fragrance is experienced as a taste and a texture; first, you get the dark chocolate powder on the tip of your tongue, just for a mere second, then the truffle unfolds in its buttery softness and all the facets of its chocolate taste. This deep and velvety fragrance is gradually augmented by the aroma of resins, with a light touch of smoke and a pinch of salt. Afterwards, amber mixes in with the chocolate note…
Durrat Al Arabia is chocolate with amber, and brings to mind the way it used to be savored in Spain a long time ago, when chocolate was a marvel from the New World, a precious and bitter potion that provokes carnal passion.
Photos of fragrances from the author's personal collection.
Elena Prokofeva

Author


Elena was born in Moscow. She studied at the Gerasimov Institute of Cinematography and at the Philological faculty of Moscow State University. She is the author of several novels (some of those written under the pen name of Elena Klemm) and specializes in writing biographical books. She loves history, Gothic novels, tales of terror, ancient cemeteries and old maisons, St. Petersburg, Carcassonne, Blois, Siena, Toledo, and Cesky Krumlov. Her enamoredness with perfumes dates back to her childhood, and now she has a profound collection of perfumes significant for her.