Authentic Chile Verde – Slow Cooker, Instant Pot, or Stovetop
[unable to retrieve full-text content]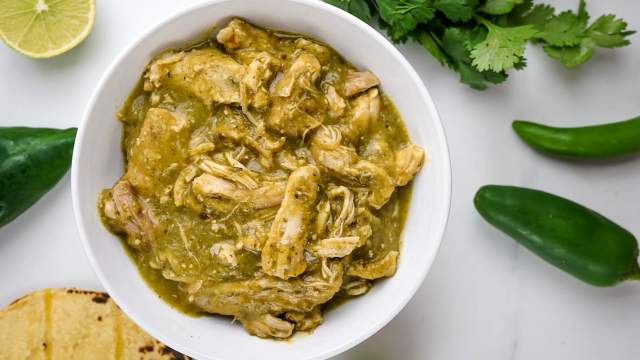 This authentic Chile Verde recipe made with fresh tomatillos, poblano peppers, jalapenos, onion, garlic, and cilantro takes a little more work than the typical "salsa dump" recipes but is absolutely worth it! Serve it with these Slow Cooker Pinto Beans, corn tortillas, or with some Cilantro Lime Cauliflower Rice.
There are so many different recipes out there for chile verde but unfortunately, most of them involve grabbing a jar of store bought salsa verde and dumping it into the slow cooker with either chicken or pork. And while this can be really delicious (case in point: Slow Cooker Salsa Verde Chicken), it will never be as good as making the green salsa from scratch. And while making salsa from scratch may sound intimidating, it's actually really easy and only takes about 5 minutes of active prep.
Let's start with the salsa. Chile Verde is made with a tomatillo salsa verde made with fresh tomatillos, chile peppers, onion, and garlic. The first step to creating this flavor is roasting the tomatillos and peppers. Roasting everything deepens the flavor, adds smokiness to the salsa, and also mellows out some of the sour flavor in the tomatillos. Next, it is important to brighten up the salsa and that is where the cilantro comes in.
When it comes to the heat in this recipe, it comes from using three different types of chile peppers that vary in strength and flavor. The poblano has the least amount of heat but adds a lot of flavor similar to a slightly spicy bell pepper. The jalapeno is in the middle when it comes to spice and the serrano is spiciest. You can vary the heat in the salsa by using different amounts of each pepper to find the right combination for you. You can also remove the seeds for less heat or leave them in for more.
Whenever making salsa, start slowly and taste along the way until it is as spicy as you like. Generally, I recommend making it slightly spicier than you want your final product since it will mellow out when cooked with the protein. Also if you have kids who don't like spicy, make the salsa using just one seeded poblano pepper for flavor. Cook the protein in this mild salsa. Then puree the remaining peppers with a little chicken broth. Stir this spicy salsa into your dish individually so you can have a spicy version. I always make it this way and my toddler devours the milder chicken while I make mine super spicy.
The next decision when making Chile Verde is what kind of protein you would like to use. Traditionally Chile Verde recipes are made with pork but it is often made with dark meat chicken as well. Both options are delicious. Normally I like to make it with chicken for a quick meal and I use pork when I will have more time since the pork takes much longer to cook. To keep things lighter, I like to use boneless skinless chicken thighs or a lean pork shoulder roast, but any protein would work.

How to Serve Chile Verde
Traditionally this dish is served with rice, beans, and tortillas with fresh limes but there are all kinds of ways you can use this. Here are some of my favorites:
Tacos: This is a no brainer, but clearly this stuff is delicious in tacos. Warm the tortillas and serve the chicken with fresh cilantro, limes, and queso fresco or avocado.
Burritos and Burrito Bowls: Build your own burritos or burrito bowls with rice and beans. Personally, I like to make burrito bowls since the chicken is moist and sometimes I find the burrito begins to fall apart before I finish eating it. 
Quesadillas: While it may be tempting to stuff this inside a quesadilla, I actually prefer to serve it on top so the quesadilla gets nice and crispy on the outside. Simply make a cheese quesadilla and then top it with Chile Verde.
Scrambled eggs: This is so good for breakfast with some scrambled eggs and pinto or black beans. Trust me.
Baked potatoes: This is a great stuffing for baked potatoes or sweet potatoes topped with some melted cheese.
Chilaquiles: Chilaquiles are one of my favorite breakfast recipes and this Chili Verde is so good on a pile of chiliquiles. If you think you might make chilaquiles, I recommend doubling the salsa so you can cook the chips in the extra tomatillo salsa.
What is Chile Verde?
Many people wonder about the origins of Chile Verde and there is some debate whether chile verde is from Mexico or New Mexico. Most people agree that it is a dish that hails from Northern Mexico, and possible areas in New Mexico as well. In Mexico, it is traditionally made with pork that is slow cooked in a spicy roasted tomatillo salsa that uses a variety of chile peppers. In New Mexico, it is made in a similar manner but traditionally uses Hatch chile peppers or other native New Mexico green chiles.
Calories 249, Total Fat 9g, Total Carbohydrate 9g, Protein 31g, Serving Size 2/3 cup