Amouage The Library Collection Opus XI
Niche Perfumery

AMOUAGE is launching a new fragrance within THE LIBRARY COLLECTION inspired by the Orient, which is announced as a "dynamic composition and a celebration of integrity, creativity and virtuosity." OPUS XI comes in a royal blue bottle made of the finest glass crystal and will be available in the amounts of 50ml and 100ml Eau de Parfum.
The Library Collection was launched in 2010 and today offers 11 editions including the new Opus XI, which celebrates the beauty of the majestic ingredient oud.
Amouage's Creative Director Christopher Chong describes the new fragrance as "A manifestation of a genuine and timely study of Orientalism. It expresses the inextricable relationship between artistic representations and contemporary history."

[embedded content]
OpusXI_No Border from Amouage on Vimeo.
In the opening of the composition, Opus XI reveals the aromatic marjoram accord, announcing the potent and intense oud note in the heart. The base notes blend the balsamic, flowery and animalic nuances of styrax, combined with a note of what the house calls 'woodleather.' Powerful and intoxicating, Opus XI illustrates the unique dynamism of oud.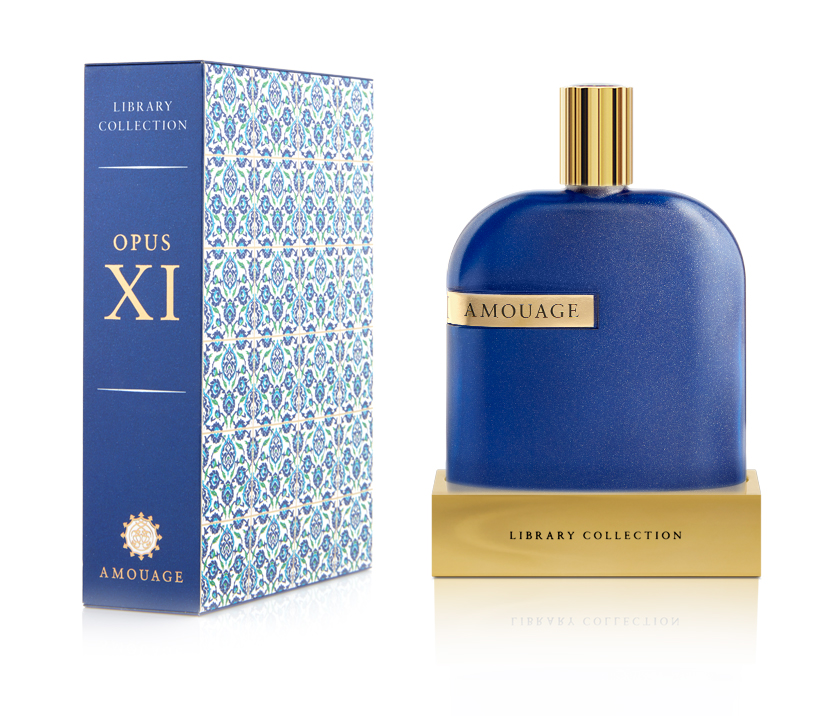 ---
top notes: marjoram
heart notes: oud
base notes: styrax, woodleather
---
As explained by Amouage, the outer packaging is reminiscent of a tome covered in a floral-oriental mosaic jacquard printed on a silk-like fabric. The fragrance is available from the 1st of December, exclusively in Amouage stores in Oman, Italy and the UK.
At the official website of Amouage the new Opus XI is already presented and available for purchase: the 50ml Eau de Parfum flacon is available priced at 260 EUR, while the 100ml Eau de Parfum flacon is available at 330 EUR.
Author:
Sandra Raičević Petrović

Fragrantica Executive Editor, Writer and Designer
leila_mic

I'm curious to test it
Although not all of the Opus collection are my type of frags, I admire each and every one of them for their beauty and uniqueness
Nov
30
2018
Jean B Grenouille

@NZFH
If a house popular in the West should know how to "do oud" it would be Amouage. Seems like very few remember the glory days of the house and the original attar range. Christopher Chong has moved Amouage so far away from its core in an attempt to modernise it that people mistake them for jumping a bandwagon with oud. What a sad development for such a prestigious house.
Nov
30
2018
Gurahl

I guess we will have to disagree about using the adjective 'majestic' when talking about oud.
Nov
30
2018
NZFH

Marjoram is not a note I have personally encountered in perfumery before, to the best of my knowledge. Finally Amouage is doing a true oud fragrance. The house has been notoriously shy of this ingredient up until now – all the more surprising, given its middle-eastern origins. Of course there are many different types of oud, so simply listing "oud" as an ingredient only indicates so much. Stunning bottle and packaging, as is the norm for this house.
Nov
30
2018
Mando
How completely unique and NEVER done before, a scent based on Oud! LOL
Nov
30
2018
Add Your Review
Become a member of this online perfume community and you will be able to add your own reviews.