[unable to retrieve full-text content]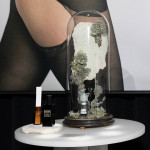 Did you know that there's Museum of Perfume Art (MoPA) in Vilnius, Lithuania? MOPA (Museum of Perfume Art), a fictional perfume museum, was first introduced at the annual art fair ART Vilnius'18. The name MOPA serves as an ironic allusion to the monikers of the contemporary art museums: MOMA, MUMOK, MOCAK, etc. It was created by the Crème de la Crème Haute Parfumerie niche perfume chain store…
Read full article: A New Conceptual Perfume Exhibition Named "Forbidden Ingredients" Took Place in Lithuania from Fragrantica Perfumes and Colognes Magazine.