5 Easy Sources of Plant-Based Protein
One of the biggest hurdles most people encounter when contemplating a vegetarian lifestyle, or even just practicing a "meatless Monday" is the question, "Where would I get my protein?" So I wanted to write this quick, non-definitive guide to plant based proteins to show that it's a lot easier than you think. I've rounded up these five food groups, which can provide a good source of plant-based proteins and, when used in a balanced and varied diet, can provide all the protein you need.
We tend to box food into groups like "carb" "fat" or "protein," but the truth is that most foods contain a mixture of these nutrients. So I'm hoping you'll find some surprise protein sources in the list below, which will in turn give you more options and flexibility when creating your budget-friendly meals. Replacing some or all animal proteins with plant proteins can be very cost effective, and has been a valuable strategy for keeping my budget in check over the years.
The nutrient values listed in the examples below are estimates and have been sourced from the USDA Food Composition Databases.

5 Easy Sources of Plant-Based Protein
Beans and Lentils
Beans and lentils are probably the most commonly known source of plant-based protein, and my favorite way to increase the protein content of my food while keeping costs low. Beans and lentils are extremely inexpensive, provide a ton of nutrients like fiber and minerals, and are very shelf stable.
How to Use Beans and Lentils
One of my favorite cost-cutting tricks is to replace half of the ground meat in recipes with either lentils or black beans (see: Sloppy Joe's Plus, Baked Beef and Black Bean Tacos, Snap Challenge One Pot Chili Pasta). Beans and lentils also make the most hearty and satisfying soups and stews. Some of the least expensive and most loved recipes on this website are bean or lentil based soups. Plus, they also tend to be very easy to make (see: Winter Lentil Vegetable Stew, Slow Cooker Lentil Vegetarian Chili, Smoky Potato and Chickpea Stew). But beans aren't just for soups and stews. Browse my entire collection of Bean Recipes and Lentil Recipes for more ideas.
Examples of Bean Protein Contents (per 1/2 cup cooked):
Chickpeas – 7 grams
Kidney Beans – 7.5 grams
Brown Lentils – 9 grams
Black Beans – 7.5 grams
Soy
While technically a bean, there are so many different soy based products available on the market that I decided it needed a mention of its own. In addition to the fresh whole bean form (often called edamame), soy beans can be made into tofu, tempeh, soy milk, and more. Soy products are generally less expensive than meat and because their popularity has been booming over the past few decades, they can be found in most major grocery stores. This wide range of products makes it easy to work a little more soy into your meal plan.
How to Use Soy Products
Frozen, shelled Edamame makes an easy protein filled snack, or they can be added to salads or bowl meals (see: Sesame Slaw, Spicy Tuna Guacamole Bowls). Tofu has a very unique texture that can take some getting used to, but once you do it's quite versatile. I use it in stir fries, dips, sandwiches, and more (see: Pan Fried Sesame Tofu with Broccoli, Curried Tofu Salad, BBQ Tofu Sliders). If you're not a fan of tofu's texture, definitely check out tempeh, which is a fermented soy bean product. It's a great addition to stir fries, sandwiches, and more (see: Sweet and Spicy Tempeh Bowls, Buffalo Tempeh Sandwiches). Soy milk can be used in many recipes in place of dairy milk, although it can be a little less creamy, so the results may be subjective. I think soy milk works great in recipes like overnight oats, baked oatmeal, and smoothies (see: Golden Milk Overnight Oats, Pumpkin Smoothie, Oatmeal Cookie Baked Oatmeal).
Examples of Soy Product Protein Contents:
Shelled Edamame (1/2 cup) – 9 grams
Extra Firm Tofu (3 oz.) – 9 grams
Tempeh (3 oz.) – 16 grams
Soy Milk (1 cup) – 7 grams
Whole Grains
Most people think of grains as a "carb" but when you consume them in whole form, they can provide a significant amount of protein as well. Like beans and lentils, whole grains are very inexpensive and shelf stable, making them a budget powerhouse ingredient. Build your meals on a base of whole grains and you'll have a very filling meal that costs just pennies. Brown rice is a common whole grain, but you should also consider branching out to other grains like quinoa (technically a seed, but cooked and used like a grain), farro, and bulgur (cracked wheat). And of course there is the always versatile oat!
How to Use Whole Grains
Cooked and cooled grains make an excellent addition to salads, taking them from a "side" to a "main dish" (see: Roasted Cauliflower and Quinoa Salad, Parsley Salad with Almonds and Apricots, Mediterranean Farro Salad with Spiced Chickpeas). I also love switching up the base for my bowl meals to include a variety of grains (see: Soy Marinated Tofu Bowls, Sweet Potato Grain Bowls with Green Tahini Sauce). Grains make a great breakfast, too! In addition to the million ways to use oats, I've enjoyed both quinoa and farro for breakfast (see: Apple Nut Quinoa, Banana Nut Breakfast Farro).
Examples of Whole Grain Protein Contents:
Quick Oats (1 cup cooked) – 6 grams
Oat Bran (1 cup cooked) – 7 grams
Bulgur (1 cup cooked) – 5.5 grams
Brown Rice (1 cup cooked) – 5.5 grams
Quinoa (1 cup cooked) – 8 grams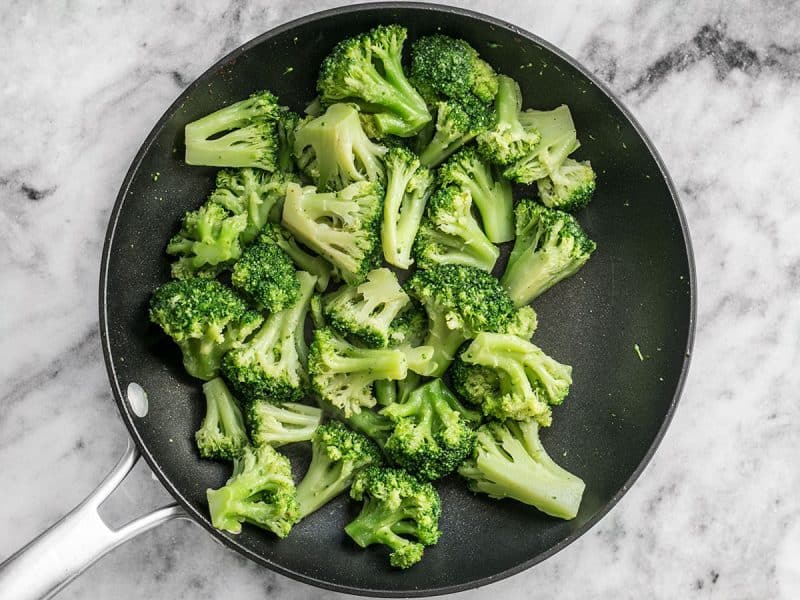 Vegetables
Vegetables are usually the last place people expect to find significant amounts of protein, but some vegetables contain a surprising amount! Add fresh or frozen vegetables to your pastas, salads, soups, casseroles, and more. I keep frozen vegetables on hand at all times to add to whatever I might be cooking for a quick nutrient boost. Here are some vegetables that you can add to your plate to help to your daily protein intake:
Russet Potatoes (large, 3-4.25″, baked) – 8 grams
Broccoli (1 cup cooked) – 4 grams
Sweet Peas (1 cup cooked) – 5 grams
Kale (1 cup cooked) – 3.5 grams
White Mushrooms (1 cup raw) – 3 grams
Brussels Sprouts (1 cup cooked) – 4 grams
Spinach (1 cup cooked) – 5 grams
Nuts and Seeds
Nuts and seeds are a concentrated source of plant-based protein, but they are also one of the most expensive. Luckily they're fairly shelf stable, and can often be kept in the freezer for even longer periods. In addition to protein, nuts and seeds provide plenty of fiber, healthy fats, and minerals. Whether you're using nut butters or whole nuts and seeds, adding just a tablespoon or two to your meals each day can go a long way.
How to Use Nuts and Seeds
I like to stir chia, hemp, or flaxseeds into my morning oats or smoothies (see: Make Ahead Seeded Oats, No Sugar Added Blueberry Almond Overnight Oats, Pumpkin Smoothie). I've also been successful in adding seeds to a variety of baked goods, like my Seeded No-Knead Bread or Apple Flax Muffins. Sunflower seeds and pumpkin seeds are great for adding to salads and bowl meals for extra crunch. And of course there are nut butters, which are great for much more than toast! I use peanut butter in sauces, stews, and baked goods (see: Spicy Coconut Vegetable Stir Fry, African Peanut Stew, Peanut Butter Brownie Baked Oatmeal).
Examples of Nut and Seed Protein Contents:
Peanut Butter (2 Tbsp) – 7 grams
Almond Butter (2 Tbsp) – 7 grams
Chia Seeds (1 oz.) – 4.5 grams
Flaxseed (2 Tbsp ground) – 2.5 grams
Hempseed (2 Tbsp, hulled) – 6.5 grams
Pumpkin Seeds (2 Tbsp) – 5 grams
And that's it! With all of these choices you can switch up your protein sources often and find a mix that fits your budget, taste buds, and dietary needs.
If you're a veteran of the vegetarian lifestyle, share your favorite plant-based protein sources in the comments below so we can all learn from each other!