13 Date Night Dinner Ideas for Valentine's Day and Beyond
FFOL Editor 1
Some of my favorite emails from readers are the ones describing how learning to cook together as a couple has been a highlight of their relationship (I even got invited to a wedding once!). Every task is more fun when you do it with a friend, and cooking together is one where you'll learn about yourself and each other in the process. AND you get to enjoy a really awesome meal when you're done. So, crack a bottle of wine, pick one of these 10 Date Night Dinner Ideas, and have fun cooking dinner together tonight!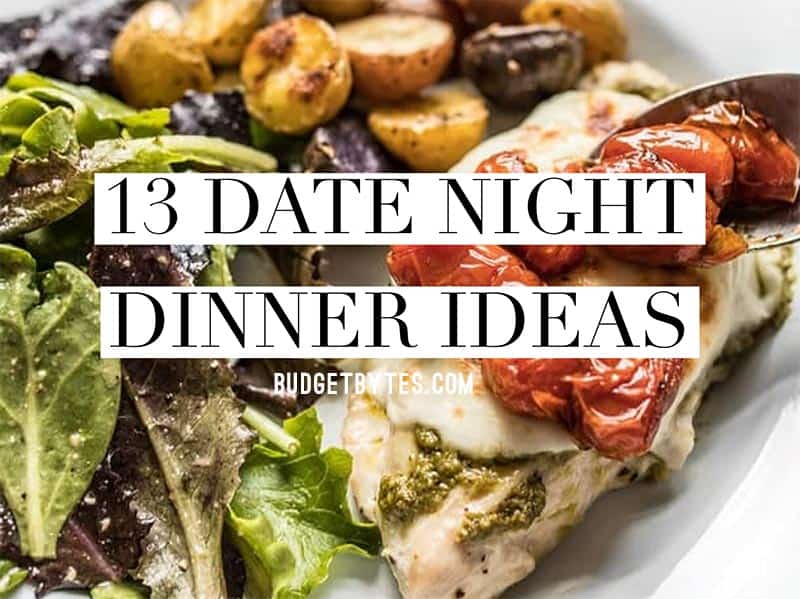 What Makes a Great Date Night Dinner?
My criteria for these Date Night Dinner Ideas is that they be at least a little bit fancy (no hamburger helper style meals here), but still very easy. Because while you want to make a really awesome meal, you don't want it to be so complicated that you can't have fun or interact with your partner. 😉 I kept the sides simple, again to reduce stress, but you can always add more when your skills improve!
Date Night for Less than $15
Most of these dinners will cost less than $15, depending on how stocked your pantry is or what prices are like in your area, but I can pretty much guarantee that it will be less than half the cost of going out to eat. Plus, most of these dinners make 4-6 servings, so you'll have a couple servings leftover to eat for lunch the next day, allowing you to relive the magic of the night before. 😉
13 Date Night Dinner Ideas for Valentine's Day and Beyond: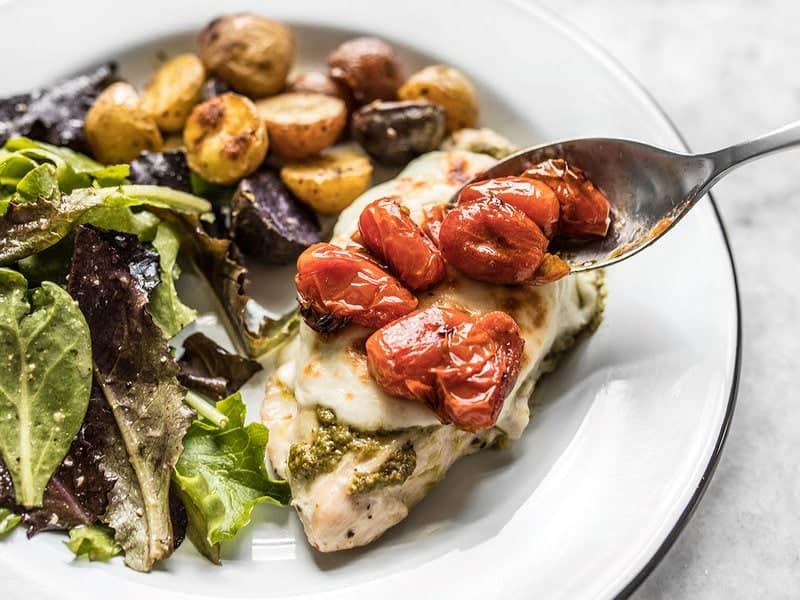 Sheet Pan Pesto Chicken Dinner – This recipe has everything you need for a full dinner in one recipe. The chicken, potatoes, and tomatoes roast together on one sheet pan as you whip up a simple salad for the side. This is restaurant quality goods with very little effort, so you can chat up you date while the food roasts. Approximate cost: $11.99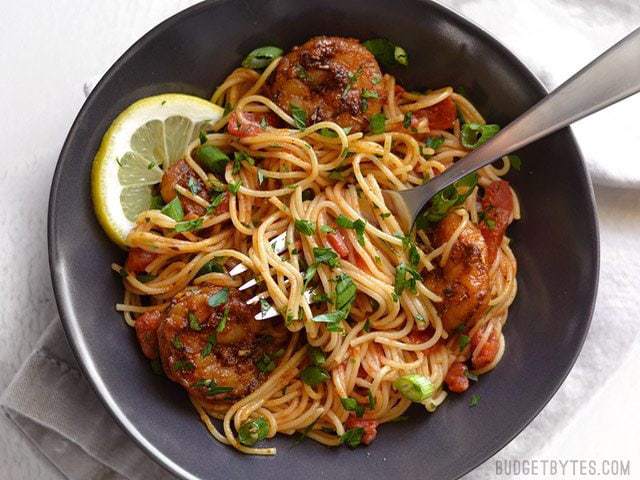 Blackened Shrimp Pasta with Homemade Garlic Bread – If you can't afford a romantic weekend getaway to New Orleans, bring it into your kitchen with this super simple Blackened Shrimp Pasta and a side of buttery Homemade Garlic Bread. Besides, date night is definitely a good excuse to splurge on shrimp! Approximate cost: $10.53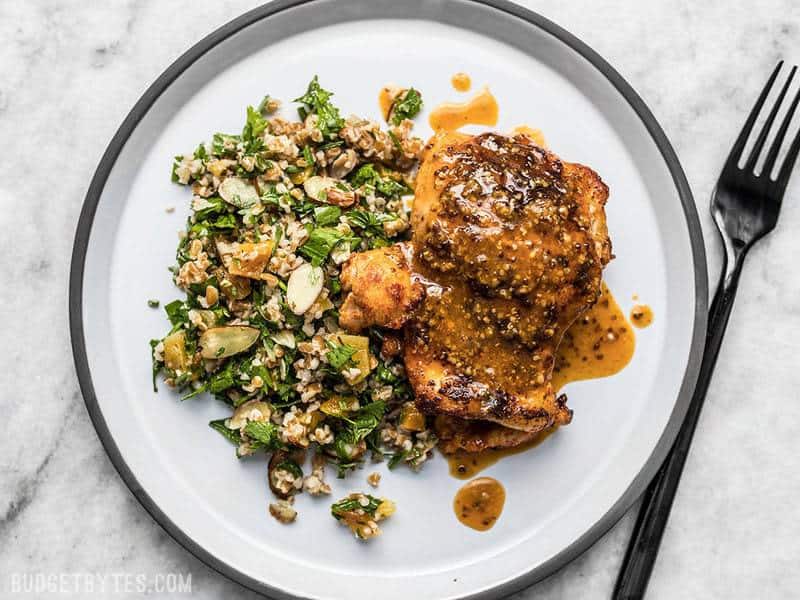 20 Minute Honey Mustard Chicken with Parsley Salad with Almonds and Apricots – Pan sauces are a great technique to learn for new cooks, so if you and your sweetheart are new in the kitchen, this 20 Minute Honey Mustard Chicken is a great place to start. It's fast, easy, and you get a super luscious pan sauce as a result. Pair it with this Parsley Salad with Almonds and Apricots to play up the sweet-savory flavor combo and you'll feel like you're at a fancy bistro. Approximate cost: $9.56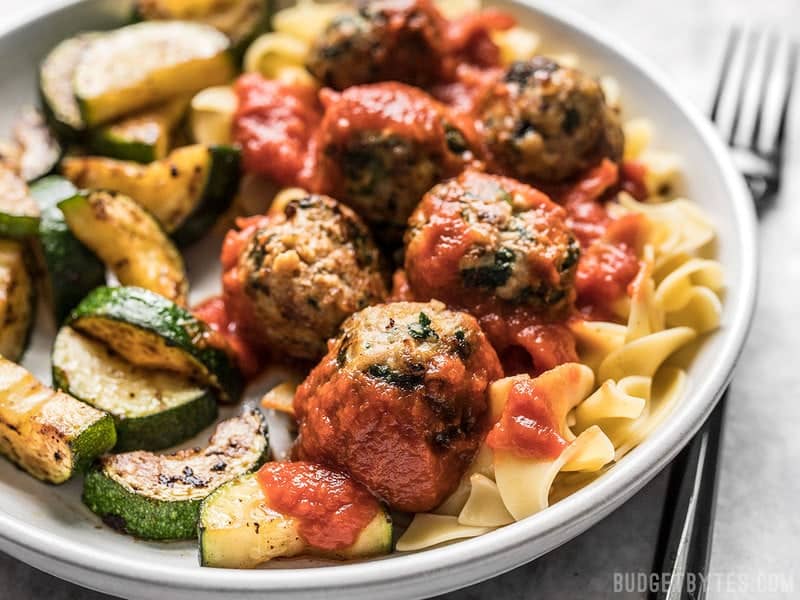 Spinach and Feta Turkey Meatballs, with pasta, marinara, and sautéed zucchini – This is one of my favorite meals, so easy and tasty! You'll find the recipe for the meatballs in the link above, but I simply paired it with 8 oz. pasta (cooked), a store-bought jar of marinara, and then I quickly sautéed about a pound of sliced zucchini in the skillet after browning the meatballs. Super easy! Approximate cost: $12.26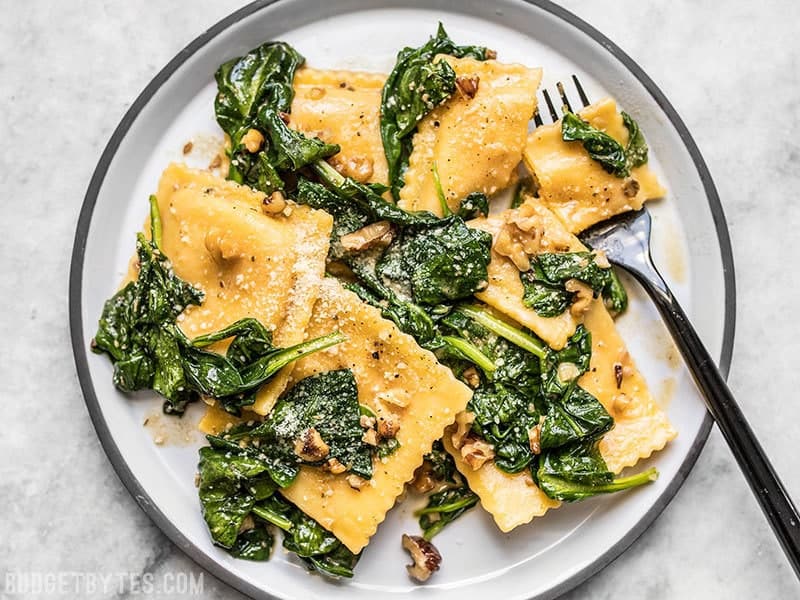 Ravioli with Sage Brown Butter Sauce and Homemade Garlic Bread – This Ravioli with Sage Brown Butter Sauce is the epitome of low maintenance meals that feel fancier than they really are, making it perfect for date night! Pair it with some simple garlic bread on the side and you're good to go! Approximate cost: $5.30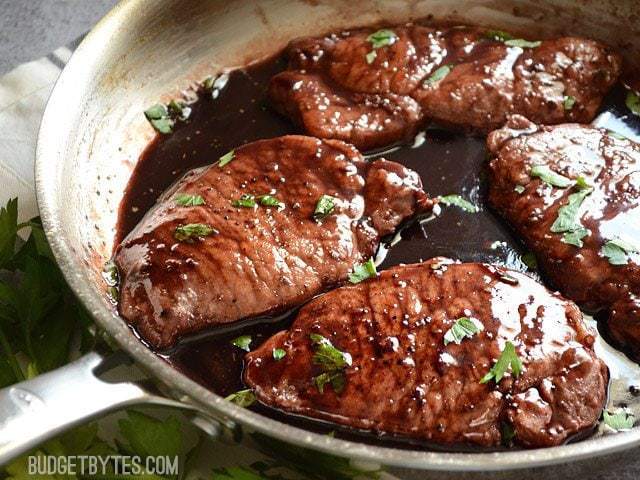 Blackberry Sage Pork Chops with Maple Brown Butter Mashed Sweet Potatoes – The sauce on these pork chops is soooo good, it will make your date weak in the knees! It's sweet, savory, rich, and perfect for spooning over the nutty flavor of the Maple Brown Butter Mashed Sweet Potatoes. It's a match made in heaven (like you two!). Approximate cost: $12.02
Sushi Bowls with Sriracha Mayo and Sesame Slaw – Sushi is a really fun project to learn together in general, but if you're not quite up for the rolling technique yet, you can do your sushi bowl-style! It's really easy and you can customize the toppings based on your preferences. Sushi Bowls are kind of a meal on their own, but if you want to bulk up your meal a bit, Sesame Slaw makes a nice side. And if you happen to be near a Trader Joes, their frozen gyoza are THE BOMB and would go great with both of these recipes. Approximate cost: $14.05
Fresh Tomato Basil Pasta with Ricotta and Homemade Garlic Bread – This Fresh Tomato Basil Pasta with Ricotta is ridiculously simple, but the addition of fresh basil and creamy ricotta makes it just a little extra special. I would splurge on good Ricotta for this one to take it over the top. Pair it with some simple Garlic Bread for a classic, light, summery date night dinner. Approximate cost: $11.12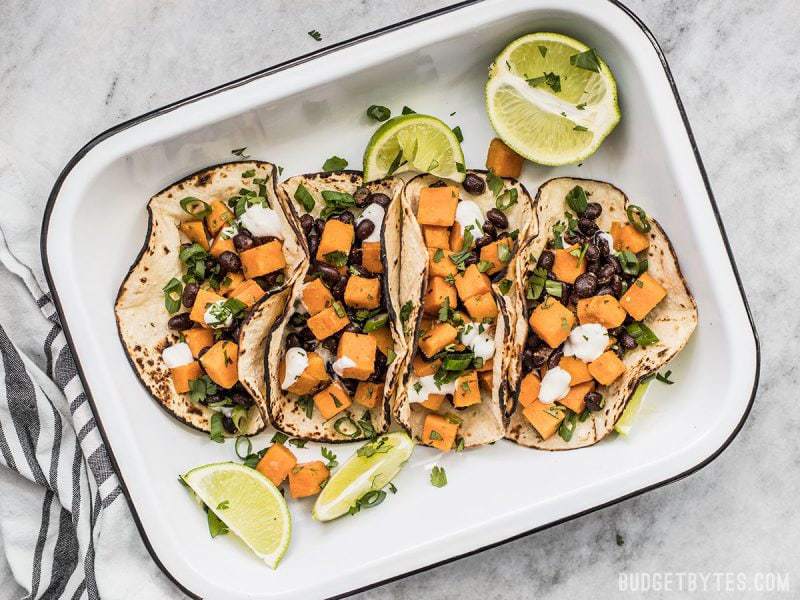 Sweet Potato Tacos with Lime Crema and Cilantro Lime Rice – Tacos for date night?? YEAH! Who doesn't love tacos?? Plus when you're making tacos with love, they're totally special enough for date night. Make sure to give those corn tortillas a good char for that extra special touch, and I promise this will be a meal to remember. Plus, this one is really easy to make vegan if you swap out the regular sour cream for a vegan sour cream alternative. 🙂 Approximate cost: $7.13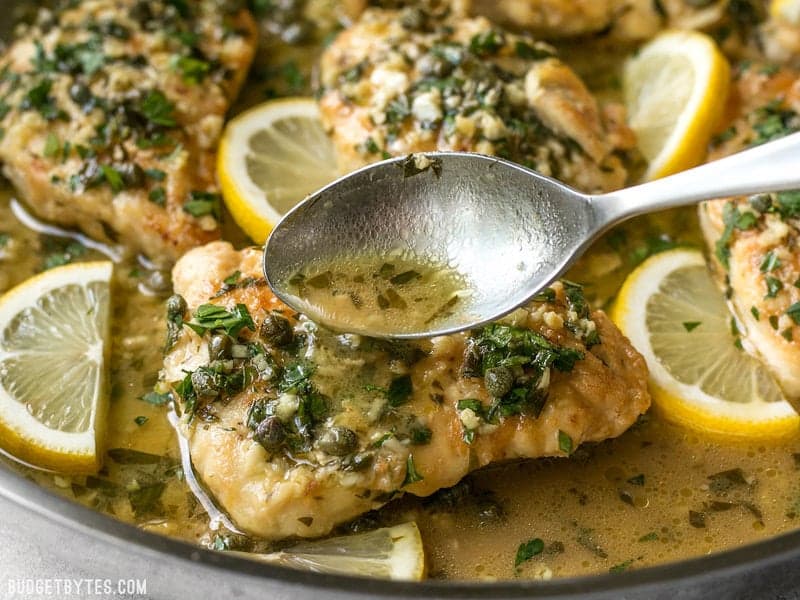 Chicken Piccata with Parsley Pesto Pasta – Chicken Piccata is another example of a recipe where a simple pan sauce transforms a plain piece of meat into something seriously special. Drizzle that sauce all over your plate and the Parsley Pesto Pasta for maximum yumminess! Approximate cost: $11.45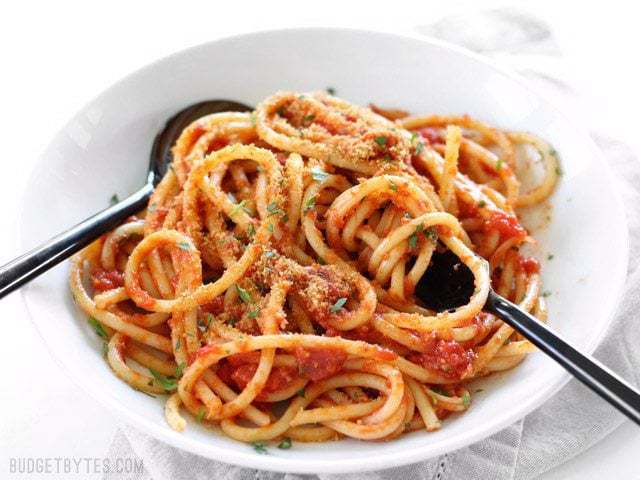 Pasta with 5 Ingredient Butter Tomato Sauce and Homemade Garlic Bread – If you and your date are true beginners in the kitchen, this recipe is a great place to start. You'll have fun making your pasta sauce "from scratch" and you'll be amazed at just how rich and flavorful it can be with so few ingredients. Pair it with the classic homemade garlic bread and you will have mastered Cooking for Couples 101. Approximate cost: $9.69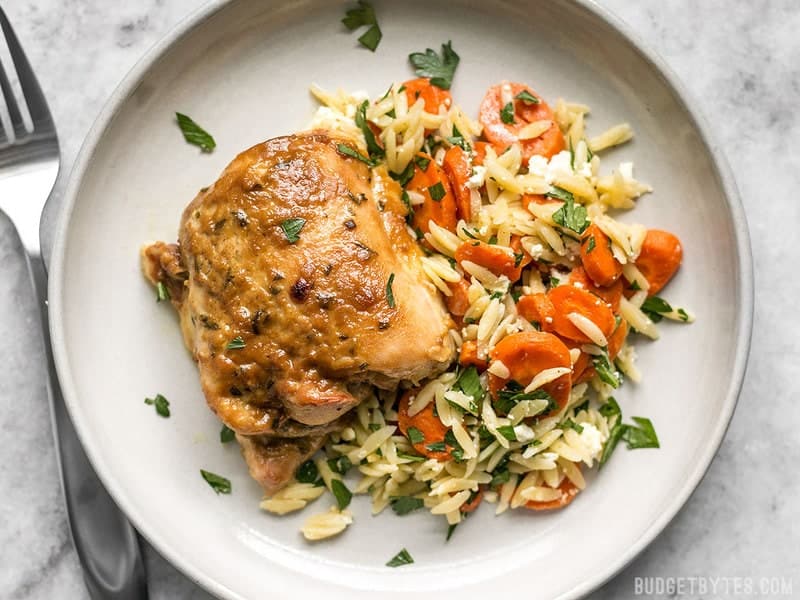 Maple Dijon Chicken Thighs with Carrot Orzo Salad – These Maple Dijon Chicken Thighs look a lot fancier than they really are. Just mix up a quick sauce, poor it over the chicken, and let the oven do the rest of the work while you chat up your date. 🙂 This one is just begging for a crisp white wine, so pair it with a chilled glass of Sauvignon Blanc, Pinot Grigio, or one of my favorites, Albariño. Approximate cost: $10.77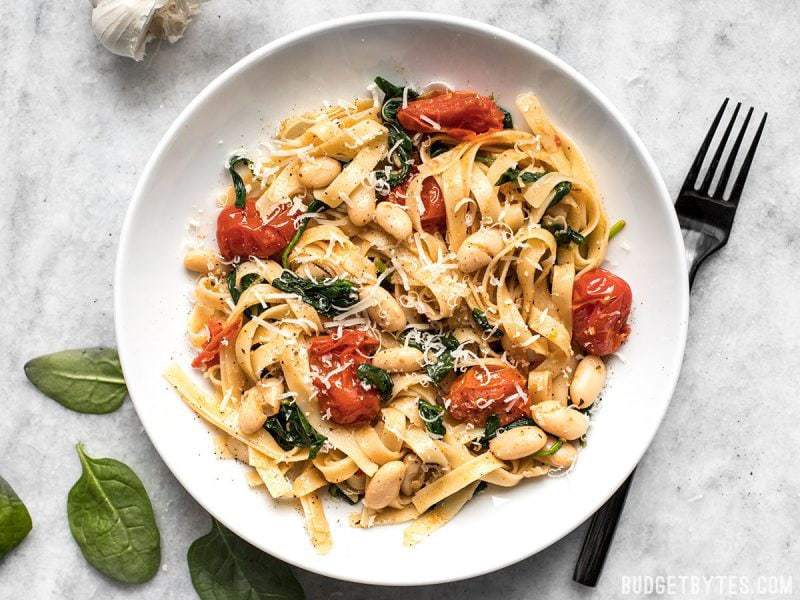 Tuscan White Bean Pasta with Homemade Garlic Bread – Just look at how pretty this dish is! I mean, if you want to impress your date or even just impress yourself with the cooking skills you've gained, make this amazing Tuscan White Bean Pasta. Your date will be "picture perfect." Again I paired this with a simple Homemade Garlic Bread because we don't want to get too complicated and garlic bread is a must with a big plate of pasta! Approximate cost: $8.88
Want Dessert?
I have to admit that I don't cook a lot of desserts, but here are two really great options that aren't too complicated and the flavors are universal enough to go with just about any meal: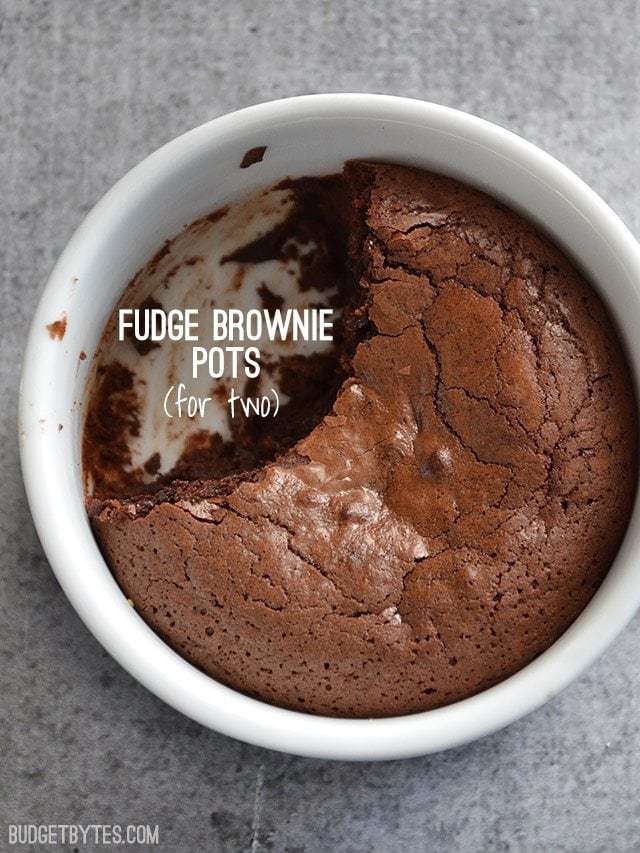 Also, check out my friend's blog, Dessert For Two, for lots of great dessert (and dinner) ideas for two! She knows what's up!
Share for fun…
And just for fun, if you want to share how cooking together has brought you and a loved one (anyone, not just a date) together, or you have a funny date night dinner story, feel free to share them in the comments below!