Yves Saint Laurent's First Fragrance: Y (1964)
FFOL Editor 1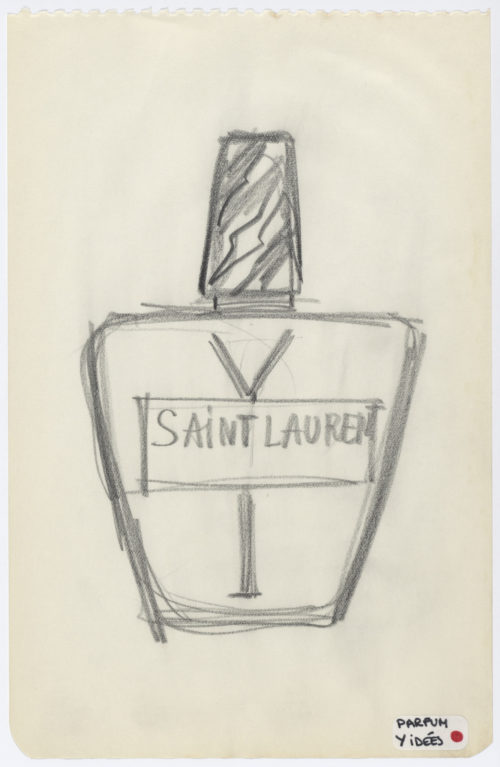 Research sketch of the bottle for the fragrance Y, 1964 © Musée Yves Saint Laurent Paris
It was Paul Poiret who first established that special bond between the designs of haute couture with scent at the beginning of the 20th century. The designer fragrance was meant as an accomplishment of the couturier's spirit, as well as the woman-in-question's finished look. Most people, however, associate Cabrielle Coco Chanel with that apex of the fusion between a fashion brand and perfume; her iconic No.5 transcends eras and acts, as powerfully and memorably as Coca Cola does, as the most distinctive logo among logos, even to people who have no idea about fashion at all.
When young Yves Saint Laurent, his lithe bespectacled figure a stem among men, opened his fashion house in the early 1960s, it was to these established legends of design that he looked up to. His own first fragrance would consolidate his impeccable taste, his unerring good measure for the balance between flamboyance and chic, and his progressive ideas about how women would be empowered through fashion; not only the exclusive haute couture, but also the more democratic ready-to-wear.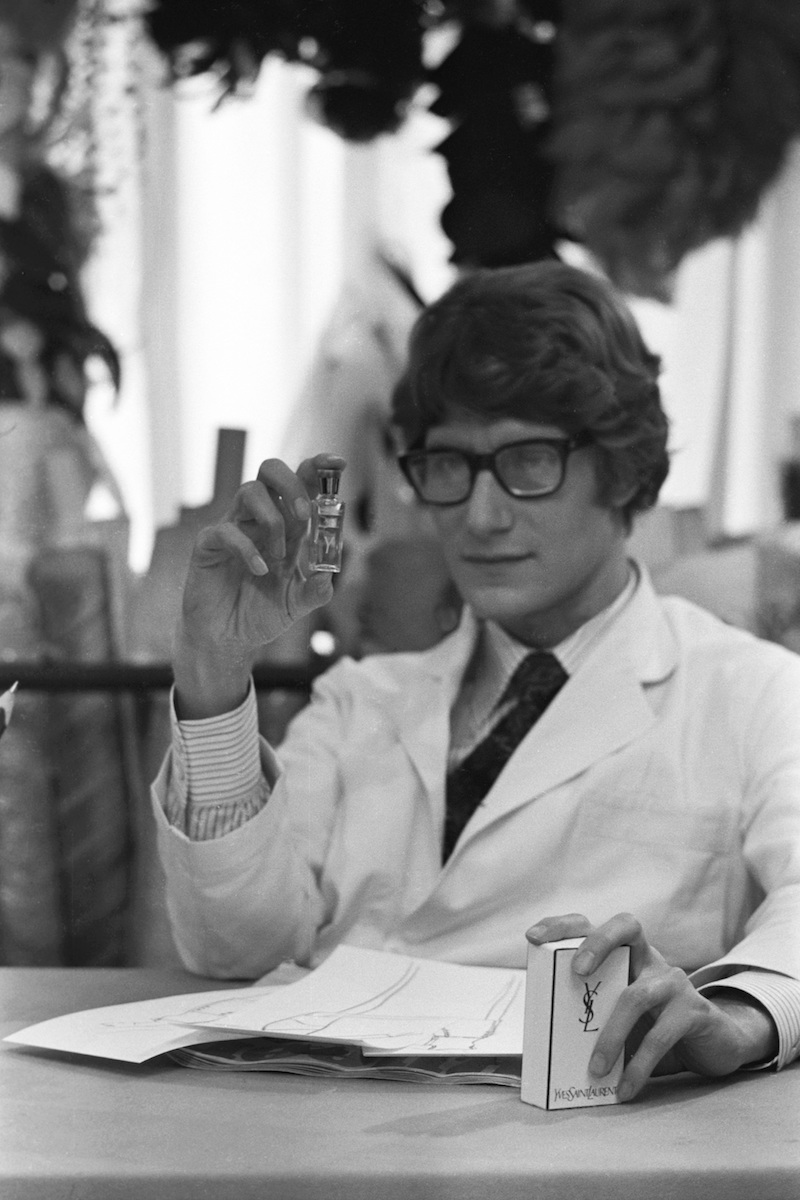 Yves Saint Laurent holding a bottle of the fragrance Y, 30 bis rue Spontini, Paris, 1966. Photograph by Giancarlo Botti.

In 1964, Yves Saint Laurent followed in the footsteps of Poiret and Chanel and launched Y, his first fragrance. He wanted to create a "lush, heavy, and languid perfume." His muse, the indomitable Catherine Deneuve, is seen here in the house's headquarters 2 years later, fronting a beautiful line up of boxes full of the transcedental elixir hiding behind the maker's first initial…Y parfum.
Most of you might know YSL the perfume brand from such best-sellers as Black Opium, and naturally the uber-monstre behind it, the original Opium, more youthful oriented themes as Mon Paris, and masculine head-turners like L'Homme and La Nuit de l'Homme, but there was a time when Y parfum (and subsequently eau de toilette) was the reigning deity in the YSL pantheon. Women were crazy about it in a way that was different to the addiction Opium instilled. Y did not enslave you, it made you loyal, as one memorable ad with Yves himself proclaimed. And although I confess to being a firm and unapologetic addict of the former scent, I cannot deny that the latter weaves an equally potent spell on its wearer and those she meets and it has been enjoying pride of place in my eclectic perfume wardrobe for several years now.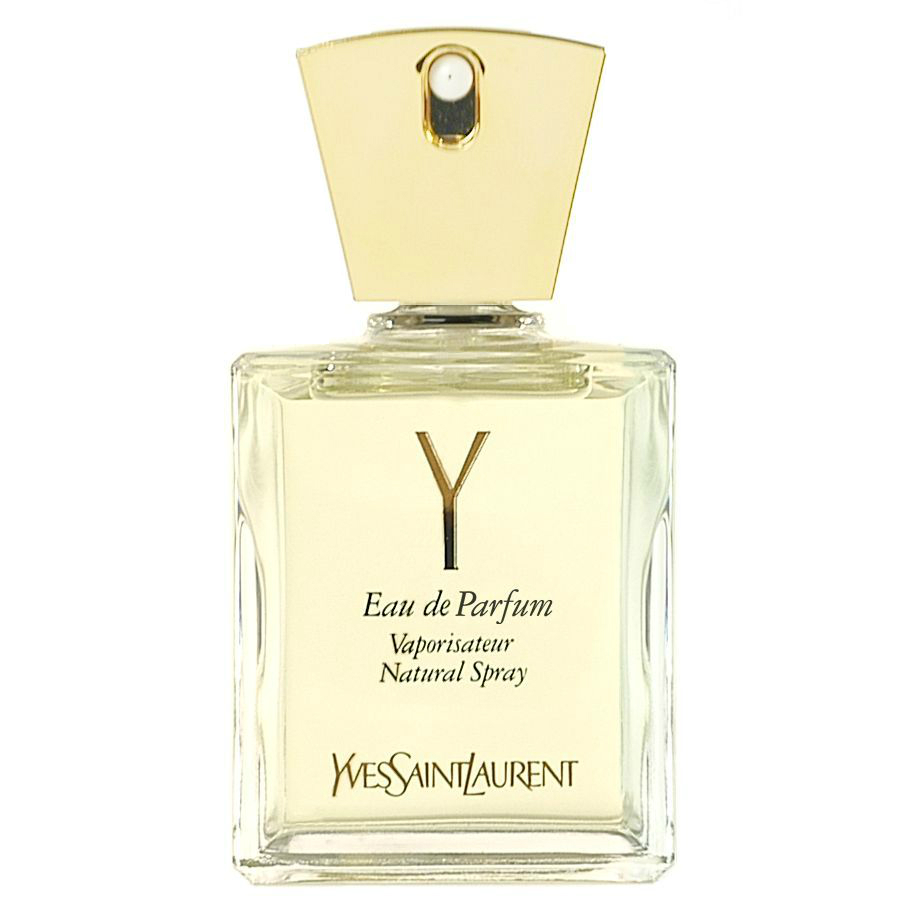 Y the fragrance (pronounced Yves, instead of eeh-grek as this French vowel is normally pronounced) was launched in 1964. The nose behind the formula is Jean Amic. Top notes are aldehydes, honeysuckle, gardenia, green notes, peach, mirabelle plum and galbanum; middle notes are tuberose, orris root, jasmine, hacynth, ylang-ylang and Bulgarian rose; base notes are sandalwood, amber, patchouli, benzoin, civet, oakmoss, vetiver and styrax.
They say hindsight is 20/20, and there's certainly wisdom in that, nevertheless upon finding that Y was conceived as "lush, heavy and languid", I confess that I confusedly find myself doubting my own perception. It doesn't seem to be any of these things to me! Well, maybe languid. Of course it might have to do with comparing it to the other monster in my bag (and Yves's) bag of tricks, the above mentioned Opium. In comparison to that one, Y does appear streamlined, ladylike and almost too much in control.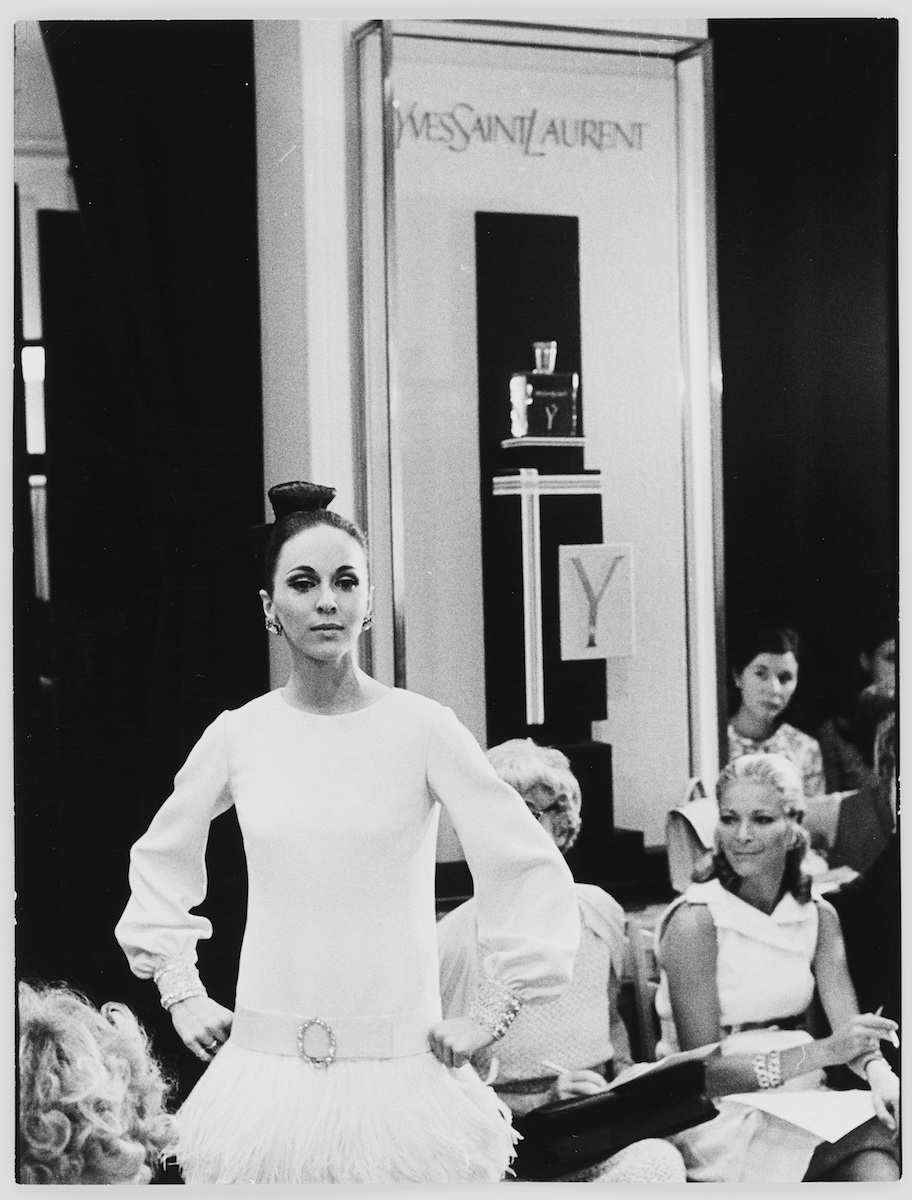 Display for the fragrance Y in the salons during the fashion show for the autumn-winter 1967 haute couture collection, 30 bis rue Spontini, Paris, July 1967. Photograph by Peter Caine.

Still the fragrance does feel lush and languid, even heavy, in comparison to contemporary fragrances, its soapy overture only treason for the depths of green, oily hyacinth and oakmoss that hides in ambush in the background.
I think that the crucial element in "'getting" what Y is all about is considering the persona of Catherine Deneuve in the 1960s and early 1970s, before her public association with the American advertisements for Chanel No.5 (what an irony!) sway you into thinking of her a certain way. With films such as Belle de Jour (more on which below), Repulsion (a psychological thrilled by Roma Polanski about a French manicurist descending into paranoia in an empty appartment during the summer) and Tristana (where she plays an orphan adopted by a nobleman who treats her as both spouse and daughter), she had cemented the icy maiden facade for which she became famous. Her eroticism was built on tension.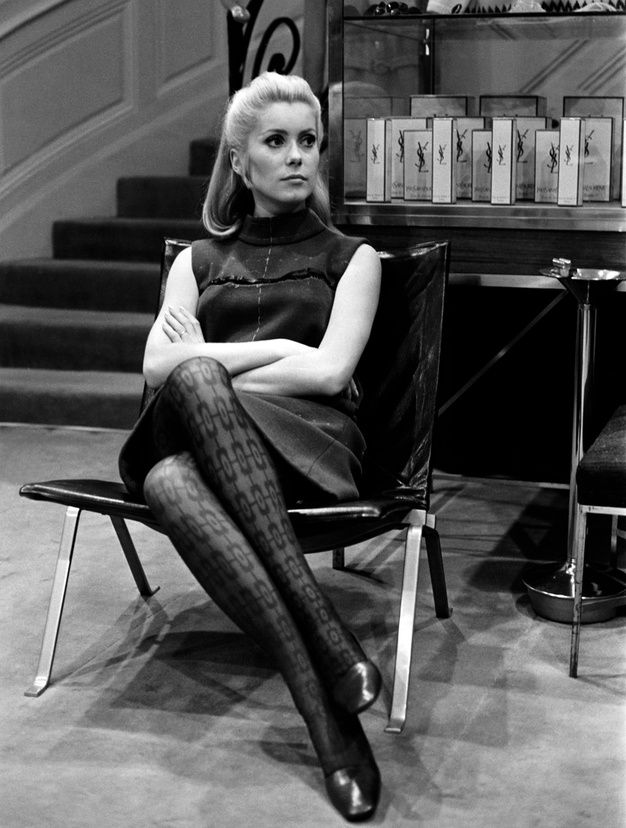 Catherine Deneuve in the YSL headquarters in 1966

Saint Lauren't friendship and prolific collaboration with Deneuve began on the set of Belle de Jour, the great Luis Buñuel film that interpeted the homonymous 1928 novel by Josseph Kessel. In it, Severine, the frigid wife of a bourgeois doctor spends her days fantasizing about sexual submission before embarking on an escapade as an afternoon whore at a very demure Parisian brothel. There she will come to know herself and get to test the boundaries of love for her husband.
Saint Laurent designed the wardrobe for Deneuve, expertly making her boxy suits that mysteriously looked young and elegant,instead of matronly, on Catherine's frame, which was underscored by the foot designs of Roger Vivier and his low pumps with a buckle that became an instant hit. She looked the very picture of respectability, and yet, behind it all, there lurked an animal magnetism which is so very French one could almost exclaim "mais oui, p'tain, c'est une pipe!'
["hell yes, darn it, this is a pipe"!", a reference to Magritte's infamous painting]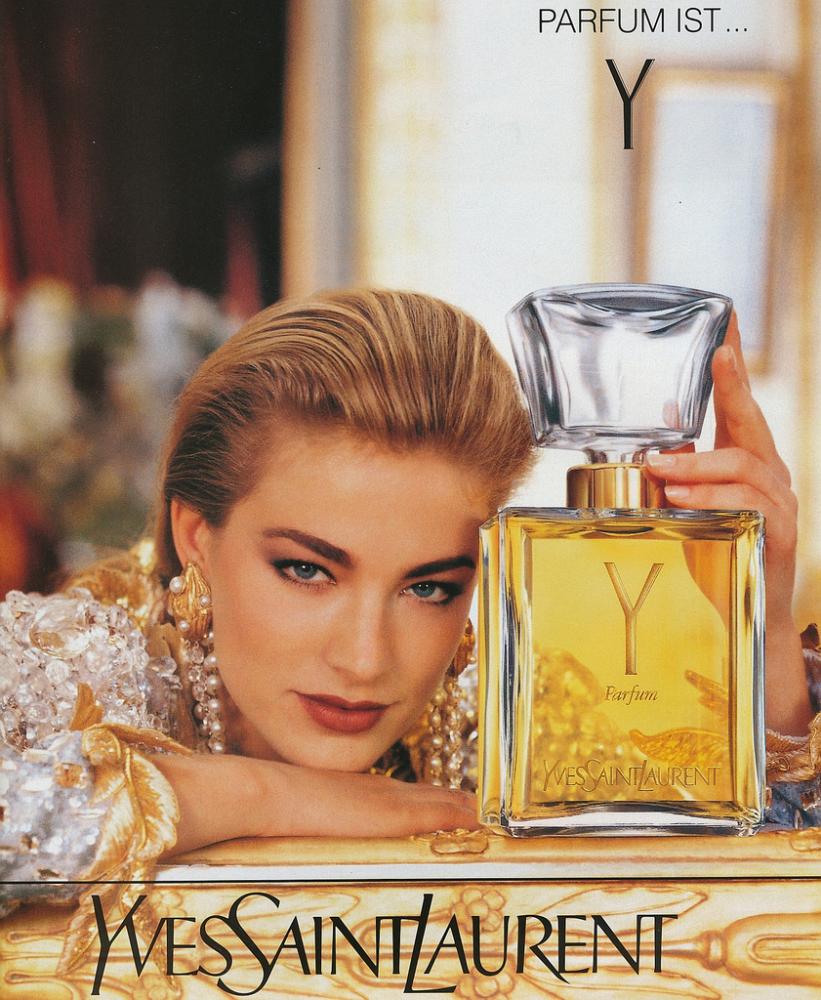 I might be overstrecthing it, but even the very name, the symbolism of that capital letter Y, is unmistakeably feminine. There is a yin receptiveness, a desire to open up like a flower, to that letter, and in reflection in the perfume's name and essence. It's as if it poses like a woman with her hands held up to open the curtains of her sexuality, much like the above 1980s ad suggests for us very subtly.
Y even in eau de toilette is a fragrance that poses an enigma. It's smooth and prim on the surface, while it harbors darker desires underneath, in small lettering which you need to come closer to fully appreciate.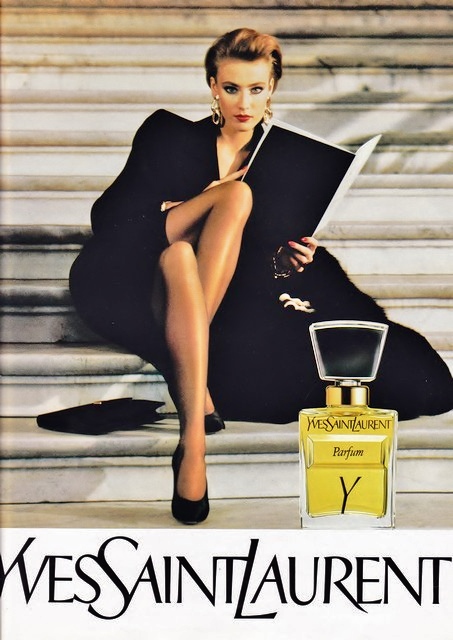 The scent has a certain tartness with the bold opening (that harsh galbanum that is so very nose pinching in classic chypres and green florals, just think of Chanel No.19), becoming softer like a murmur the longer it stays on the skin with a chic soapy, leathery note.
If one needs to fully grasp the paradox of Y, one need only cast their mind to the factoid that not only Deneuve, but the eternally ladylike Dame Julie Andrews had stated upon completing the filming of The Sound of Music that she wore Y by Yves Saint Laurent. It took us several decades and the film of her second husband, Blake Edwards, The Man who Loved Women, in 1983, to realise that Andrews too possessed a va-jay-jay and was not all schoolmarmy roles…

The fragrance has been reissued in the commemorating lineup La Collection Yves Saint Laurent some years ago and is theoretically still in production in that formula.
The bottle has lost the distinctive shape and diaphanous flacon that allowed for the lightly green juice to be discerned, and is uniform with the other La Collection YSL fragrances. But the scent is still head above shoulders over everything else in its league that's been issued recently…oh wait, nothing like it has been issued recently.
With Y by Yves Saint Laurent, a truly spectacular couturier has cemented his fame in the consciousness of the perfume buying public and has graced us with a true classic for the ages. Not to miss.
Elena Vosnaki

Elena Vosnaki is a historian & perfume writer from Greece and a Writer for Fragrantica. She is the founder & editor of Perfume Shrine, one of the most respected independent online publications on perfume. Her writing was recognized at the Fifi Awards for Editorial Excellence in 2009 and in 2011. She is consulted as a fragrance historian & expert, and has been curating fragrance installations at museum exhibits at the Milan Expo 2015 and elsewhere. She also contributes to publications around the world.
Read her articles on Fragrantica Follow her on Twitter