The Perfume Revival Project: An Interview With Michel Gutsatz
FFOL Editor 1
We covered the story of the Le Jardin Retrouvé Vintage Formula Revival Project earlier this year. First, Michel Gutsatz, the son of former Roure Bertrand Dupont perfumer Yuri Gutsatz ("The Unknown Perfumer"), found about 2000 perfume formulas created from the 1930's to the 1970's in the basement of his house (link). Second, he decided to relaunch some of them with the help of Maxence Mutt, a young Givaudan perfumer, and everyone could vote for the best perfume out of four unnamed formulas (link). Now, the time has come to give the results of the experiment. I contacted Michel Gutsatz to find out more.
SERGEY BORISOV: Hello Michel! How did your Perfume Revival Project go?
MICHEL GUTSATZ: Hello Sergey! Thank you for this new chapter of the Le Jardin Retrouvé story on Fragrantica! We are quite happy to share information on the Perfume Revival Project with you and all Fragrantica readers.
We had decided to produce 500 samples of each of the four vintage perfumes we had selected. After your article at Fragrantica and our work in social media, there were 400 persons registered to participate in the project (including 100 in China) who wanted to try them. So we sent them all of our sample sets, the same as you got. I have to say that most of people were really involved in the project, as 93% of them voted.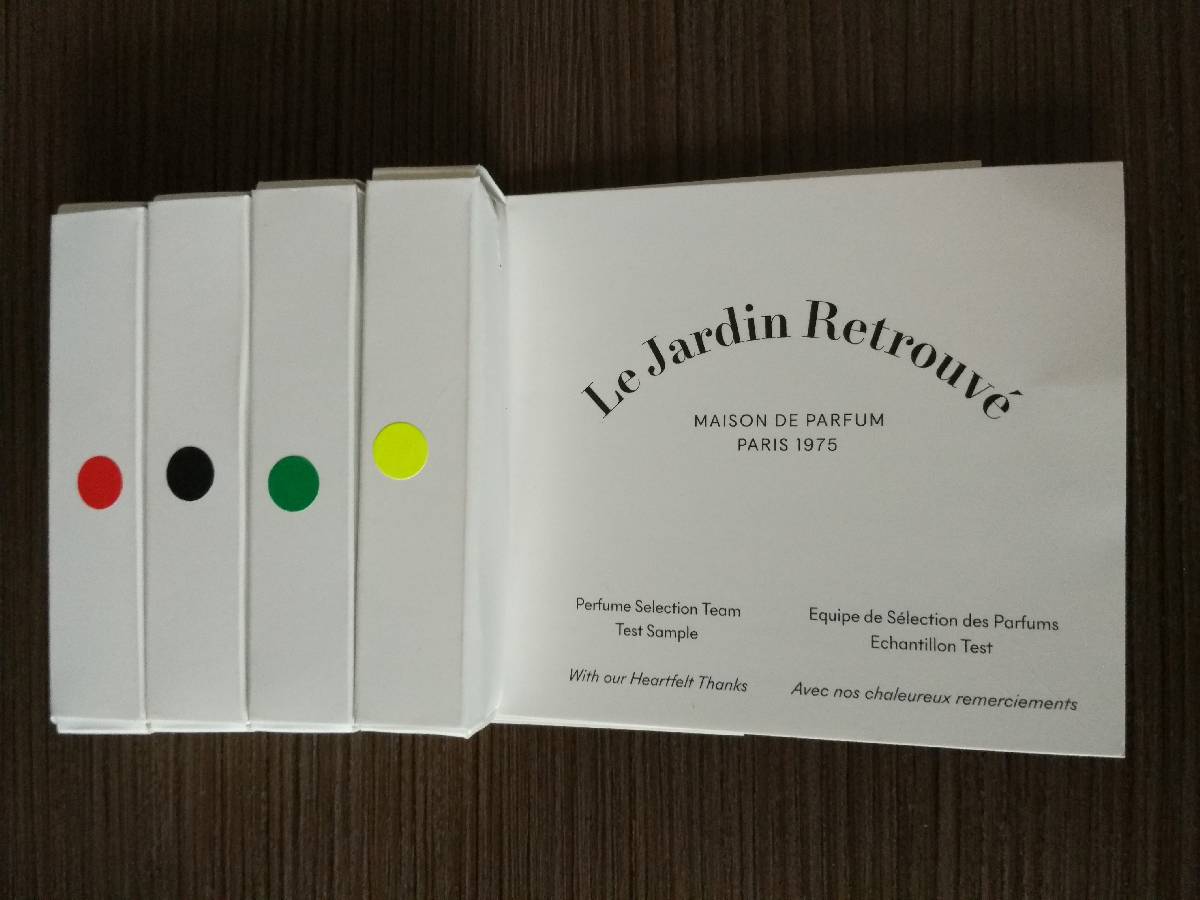 SERGEY: So, which fragrance got the most positive feedback?
MICHEL: Black Dot has won! It was voted as Number One by 47% of voters! Now I can say that Black Dot has got a name – Oriental Sans Souci by Le Jardin Retrouvé – and it was originally created in 1963.
It's interesting to mention that the same percentage of voters chose this fragrance in China and in the rest of the world. It means that Chinese customers have the same sophisticated tastes as the perfume lovers from other countries. It goes quite contrary to the belief that the perfume tastes of developing perfume markets are very different from the tastes of the Western world.
SERGEY: And what about the other fragrances? How far did they fall behind?
MICHEL: The fragrances with the Red Dot and Yellow Dot tied at second place, each getting about 23% of votes, so they were about half of the Oriental Sans Souci results, but still impressive. Their full names are Bois Tabac Virginia and Jasmin Majorelle.
SERGEY: I cannot believe that my favorite of the four, Green Dot, gathered only 7% of votes! Well, it's just more proof that my tastes are awkward!
MICHEL: You should be proud of that! As a result, we decided to produce three perfumes out of four (so the only one we abandoned was Green Dot) in a limited series. The bottles will be numbered: There are 200 bottles of Oriental Sans Souci, 150 bottles of Bois Tabac Virginia, and 150 bottles of Jasmin Majorelle only. Each box is numbered and signed by both Clara and myself, so all of these bottles will soon be collectors' items!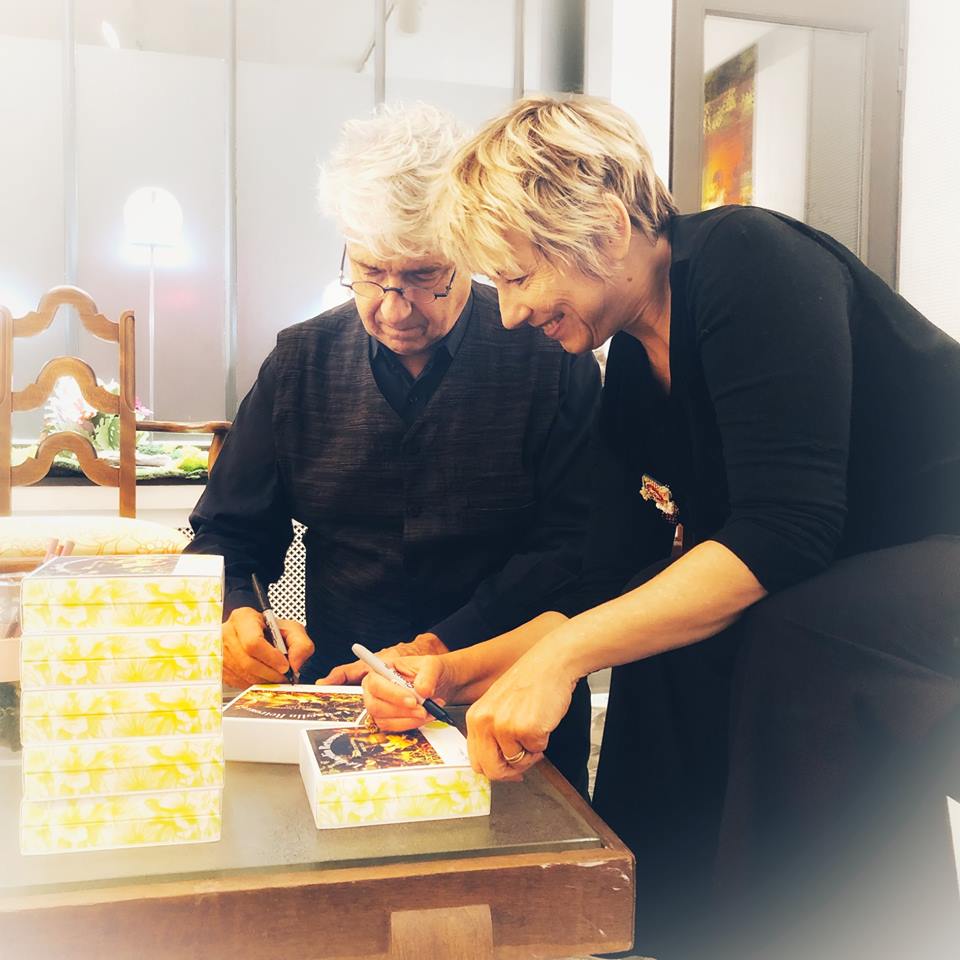 SERGEY: Are you happy with the results?
MICHEL: We are quite happy with the results, as the project has helped us to grow our brand awareness (and we have already sold more than 100 bottles out of 500 items produced).
Also, we have very high expectations, and the reviews made by both bloggers and perfume lovers on all three fragrances were excellent, so we said to the team, "If we were Guerlain (with the LVMH clout) or Editions Frédéric Malle (with the Estée Lauder Companies clout), we would have sold 100% of the Limited Series production within one month!…" As usual for small Haute Parfumerie Maisons like Le Jardin Retrouvé, growing our database and our brand awareness is the key to success.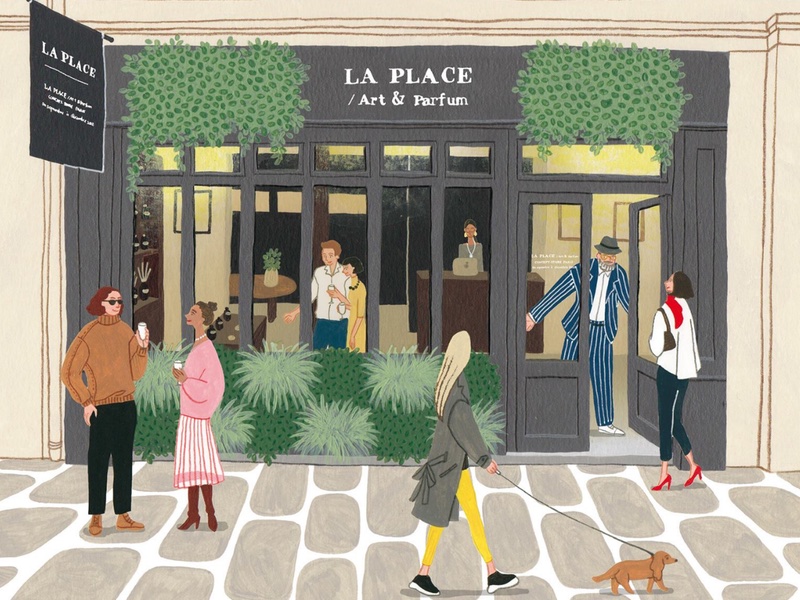 SERGEY: So, what are your plans for now?
MICHEL: We are organizing on 10 December 2018 a signature event in La Place, an art and perfume boutique in Paris (9 rue Française, Paris 2). La Place is a pop-up store that was opened on 2 September and will be closed by the end of December. It's a wonderful place and like a curiosity cabinet, where you can find some exclusive niche brands from France.
It's the brainchild of Virginie Roux (Au Pays de la Fleur d'Oranger) and architect Emmanuel Pierre, and there were different French brands that have presented in the boutique already, like Au Pays de la Fleur d'Oranger, Coquillete Paris, Rose et Marius, Paul Emilien, Absolument Parfumeur, M.Micallef, Hersip, and many others. There are some contemporary art exhibitions (like an exhibition "Flacons et portraits de famille" made in collaboration with Jerome Dinand) held there, as well as perfume-devoted lectures and meetings with perfumers, so it's a lively social place for true perfumistas.
SERGEY: Are you going to prolong your Perfume Revival Project?
MICHEL: Yes, of course! We will be doing a similar Perfume Revival Project in 2019 and hope to resurrect another one of Yuri's wonderful creations in the Le Jardin Retrouvé range!
P.S. Right now, Michel Gutsatz has begun another game with his scented candles, "GOLDEN TICKET: THE GARDEN RETROUVE." If you purchase one of 1200 candles, you could win a trip to Paris! The conditions are published here.
| | |
| --- | --- |
| | Sergey Borisov has been involved in perfumery since the early 90`s when he had his own perfume-devoted program "Close to Body" on Krasnoyarsk radio (1993). As a perfume enthusiast (known as moon_fish), he became famous in Russia for his translation of Luca Turin's Perfume: Le Guide. He made a career as a fragrance journalist and contributed to distinguished magazines such as GQ, Vogue, Elle, Cosmopolitan, Interview, Forbes, Allure, Robb Report, Flacon, Departure, RBC-Style, TSUM-Magazine (2008-2016). His own online columns for RBC-Style.ru, Vogue.ru, and GQ.ru (2006-2015) have earned him international recognition and an invitation to be an editor for the Russian edition of "The Little Book of Perfumes" by Luca Turin & Tania Sanchez. Sergey Borisov was invited as a speaker at Esxence 2012 (Milano) and Intercharm 2015 (Moscow). In 2013, Sergey joined the Fragrantica team. |