The Extraction is Free of Straws, Dairy and Beetles
Just days after the Green Siren trumpeted its protracted dismissal of plastic straws — or, environmentally speaking, the plastic straw man, as it were — Intelligentsia Coffee wants the world to know it's swinging that way, too. In an email to Daily Coffee News, the company said:
Intelligentsia will remove straws from their 10 coffeebar locations in Boston, Chicago, Los Angeles and New York City starting Sunday, July 15. Members of Intelligentsia's employee volunteer committee saw the negative environmental impact that straws have first-hand during a beach clean-up earlier this year, as the majority of trash picked up were either straws or plastic bags. Intelligentsia's team is committed to doing their part in the movement to fully eliminate single-use plastics, and will be joining the "Refuse the Straw" campaign across all coffeebar locations.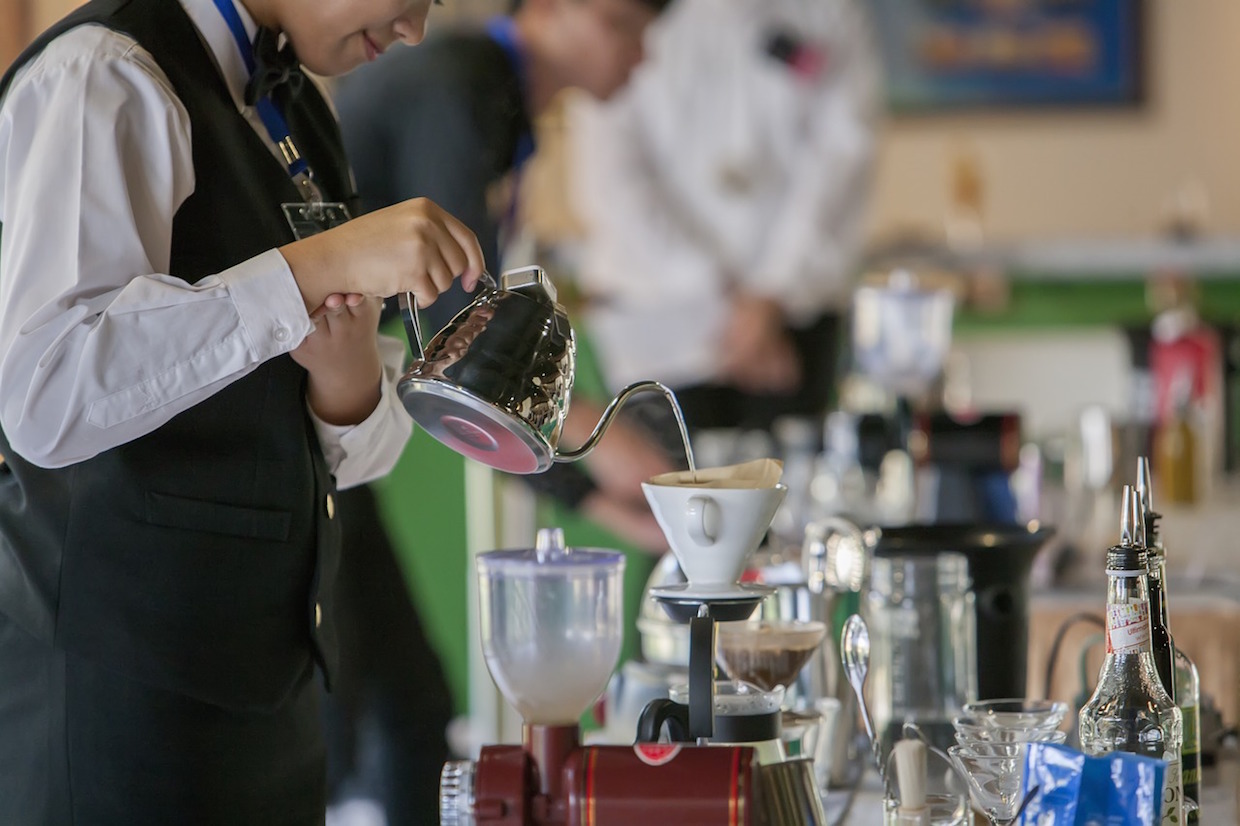 Should that strike you as news good enough to celebrate, revelations from a Daily Mail report this week might keep you in check as it clarifies that coffee is actually not an effective hangover cure:
Professor Tony Moss of London South Bank University tells presenter Jimmy Doherty on Monday's Food Unwrapped on Channel 4 that blood alcohol levels don't decrease after drinking a strong cup of coffee.

While you might feel more alert from the caffeine, your hand-eye coordination and other motor skills will still be affected from the alcohol in your blood, he said.
Coffee-loving art enthusiasts near Hyattsville, Maryland, just outside D.C., may currently enjoy an exhibit at Studio SoHy featuring works inspired by the nectar of the bean and other "vices," as the Hyattsville Wire put it:
"Caffeinated," which opened last weekend and runs through July 21, features works by a dozen artists from around the DMV chosen by curator Maximilian Mueller, best known locally for the giant mural on the side of the Vigilante Coffee in Hyattsville next to the studio.

"All artists are 'caffeinated' when working in some way or another, whether that means actually drinking coffee, or being on a 'high' from smoking, listening to music or other vices of their choosing," Mueller told the Hyattsville Wire.
Dairy-averse travelers, cafeteria patrons and waiting room sitters who prefer a dab of lightener in their joe got good news this week as PETA announced the upcoming release of Silk vegan single-serve creamer pods:
Shelf-stable for months, these individual creamer servings are vegan, gluten-free, and cholesterol-free. They also contain no artificial flavors or coloring and have zero grams of saturated fat. They should start appearing in retail settings in August.
Adding to the Kenyan coffee sector's recently noted struggles has been a wave of coffee theft. A major green coffee heist was reported by AllAfrica, involving a gang armed with guns and other weapons that broke into a factory, tied up the watchman Ephantus Gitari, and made off with 130 bags:
"My colleague had just left when the gangs entered the factory, got hold of me, tied me with a rope, took away my phone and Sh500 that I had in the pocket," said Mr Gitari.

He added that the men carried the bags out of the stores and loaded them into a vehicle that was parked a few meters away.

He said the gang was not in hurry as they spent approximately two hours comfortably loading the bags into the vehicle.
And yet while growers' woes persist, Kenyan retailers are having a much better summer. One Kenya-based chain, Java House, is according to Bloomberg seeking to expand beyond East Africa, possibly into China, even as its parent company, Abraaj Holdings, undergoes restructuring amid accusations of financial mismanagement:
Java House, which has almost 60 outlets across Kenya, Uganda and Rwanda, plans to boost that to as many as 200 over the next four years, Chief Executive Officer Paul Smith said in an interview in Nairobi, the Kenyan capital. The company has set aside almost 1 billion shillings ($9.9 million) to pay for the acquisition of businesses and real estate, he said, and is targeting new markets such as Nigeria.
The Associated Press dove deep into Mozambique this week, where government programs are being designed to convince farmers to cease reckless slash-and-burn practices in favor of longer-term and more profitable plantings of coffee alongside hardwood trees. It's a delicate situation, though, given tensions with rebel militias ensconced in their nearby mountain hideouts:
The problem: Base camps of Mozambique's main opposition force sit on the cloud-shrouded mountain, a redoubt that was the scene of military incursions and civilian flight in the last few years. There were times when managers of the coffee-and-conservation project couldn't go anywhere near the mountain because of the conflict, or had to walk up because the opposition had blocked the road with logs to prevent the military bringing up equipment.

With a lull in tension, they are pushing ahead with plans to plant more coffee and trees on a mountain that captures rainfall and supplies the rivers sustaining people and wildlife living around its base.
Technology is helping farmers in Hawaii strike a balance of their own in the fight against the coffee borer beetle, according to Hawaii Business. While mechanical harvesting remains a poor substitute for the accuracy of human eyes and hands, sorting out the beetle-bitten beans after the fact has gotten easier:
Tommy Greenwell, a fourth-generation coffee farmer, grabs a handful of the discarded beans and picks through them to show how well his mechanical sorter detects damaged ones. He finds beans with holes the width of a sesame seed – little more than a pinhole – and raises one to the light. A visiting farmer leans in to look and exclaims, "Wow."
Howard Bryman
Howard Bryman is the associate editor of Daily Coffee News by Roast Magazine. He is based in Portland, Oregon.