Let's wipe the dust from another perfume bottle! Maybe we should even create a new column called "Wipe Some Dust!" How to choose the perfume: I take a long-forgotten bottle from the far shelf, it's neither an expensive nor cheap fragrance, well-known to fragrance users, but not a bestseller, without a special niche or artistic approach. So we wear the juice from this forgotten bottle, and try to re-understand it after the many years that passed.
Today I decided to grab the white bottle of Tactics Shiseido (I cannot recall where I bought it at the beginning of the century) which for Russia was a unique fragrance because not many people knew it. The Japanese brand and the low price gave me confidence to purchase it.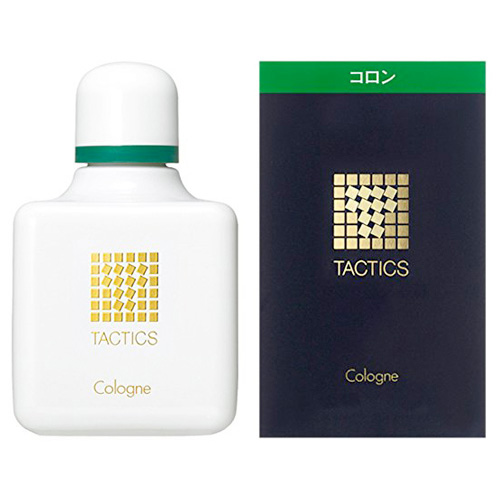 The classic bottle has a cubic shape with rounded ribs and corners – my cylindrical bottle is not so elegant. Following their old tradition, Shiseido does not disclose the perfumer's name.
I remember the fragrance as a bitter green and soapy cologne with the smell of cleanliness and "well-groomedness", going in the same direction as Gray Flannel but lighter, and with a nod to aldehydic green feminine chypres. A pretty pleasant cologne with a predominance of galbanum.
Let's take it out of the box, and press on the sprayer:
A sharp and bitter start, so sharp that it could work as a quick sobering medication or a perfume alarm clock – it's citrus, coniferous resinous and aldehydic notes that predominate. The start accord wakes you up and moves you to the bathroom, where there is a bar of some unnamed vintage green soap. It makes the whole room smell better! There I smell a lot of galbanum, green pine needles and fragrant herbs, a little bit of rose, and an aldehyde soapy accord.

[embedded content]
The initial part is similar to the green aldehyde fragrances of the past with that obvious galbanum scent – such as Ivoire de Balmain, or Chamade Guerlain. The green and white are changing places gradually, and the color white and a soapy purity come to the avant scene like in Eau de Patou. At the same time, the cologne quickly calms down and softens – just like a masculine fragrance created for a daily care line should behave (the Tactics line includes an after shower cologne, after shave lotion, a cologne and an eau de toilette).
A soft and modest drydown is characteristic for traditional men's fougères, bringing moss, musk, and tonka beans. It may well be that the prototype for the Tactics Shiseido was Brut Fabergé, a cologne that was popular at the time, reproduced in the cautious and discreet manner that Japanese colognes are famous for.
Judging by the greatly reduced cologne projection and cologne sillage (which also affects the fragrance's lasting power), the fragrance model was dialed down several times less, especially in its compact sillage. The Brut fragrance is much more than its bottle and should be applied carefully, to avoid turning into a fragrant lighthouse of the 70s, but the delicate and discreet Tactics can be applied to the body generously, you can literally bathe in it, even using the eau de toilette, and even today.
The Tactics line was created during the expansion of the company Shiseido in Europe and the US – so we should expect that it embodies some of the tastes and expectations of Western men.
[embedded content]
You can still buy this snow-white miracle of cleanliness and modesty – there are several bottles priced at anywhere between 14 to 40 dollars at Japanese Rakuten, for example. In Russia, some sellers are trying to sell it at excessively high prices as a great rarity, but it's unclear why. After all, the fragrance is still produced for the Japanese market, although international distribution does not exist anymore.
Top notes: Bergamot, Galbanum, Green notes, Juniper berries, Lemon and Peach;
Middle notes: White cedar, Clary Sage, Jasmine, Pine needles, Mint and Thyme;
Base notes: Amber, Oak moss, Spruce, Musk, Tonka beans and Vanilla.
| | |
| --- | --- |
| | Sergey Borisov has been involved in perfumery since the early 90`s when he had his own perfume-devoted program "Close to Body" on Krasnoyarsk radio (1993). As a perfume enthusiast (known as moon_fish), he became famous in Russia for his translation of Luca Turin's Perfume: Le Guide. He made a career as a fragrance journalist and contributed to distinguished magazines such as GQ, Vogue, Elle, Cosmopolitan, Interview, Forbes, Allure, Robb Report, Flacon, Departure, RBC-Style, TSUM-Magazine (2008-2016). His own online columns for RBC-Style.ru, Vogue.ru, and GQ.ru (2006-2015) have earned him international recognition and an invitation to be an editor for the Russian edition of "The Little Book of Perfumes" by Luca Turin & Tania Sanchez. Sergey Borisov was invited as a speaker at Esxence 2012 (Milano) and Intercharm 2015 (Moscow). In 2013, Sergey joined the Fragrantica team. |