[unable to retrieve full-text content]
These healthy Steak Tacos taste better than your local taco shop but are made with good for you ingredients that most people already have in their pantry. By using a chili and cumin spice rub along with plenty of lime juice, the steak comes out tender and packed with flavor. Consider serving it with these healthy crockpot pinto beans or Mexican corn.
Steak tacos are always the answer. Whenever I am staring at the fridge at 5 PM and don't know what to make for dinner or planning for a last minute get together, tacos are my number one option. They cook quickly, are almost universally loved, and are affordable to cook for big crowds. Plus if you take the time to put together a wide array of toppings, it feels like something you spent lots of time planning. I always put out two to three different kinds of salsa along with chopped cilantro, onions, tomatoes, jalapenos, shredded cheese, sour cream, and plenty of avocado. It makes for an impressive presentation without hardly any work.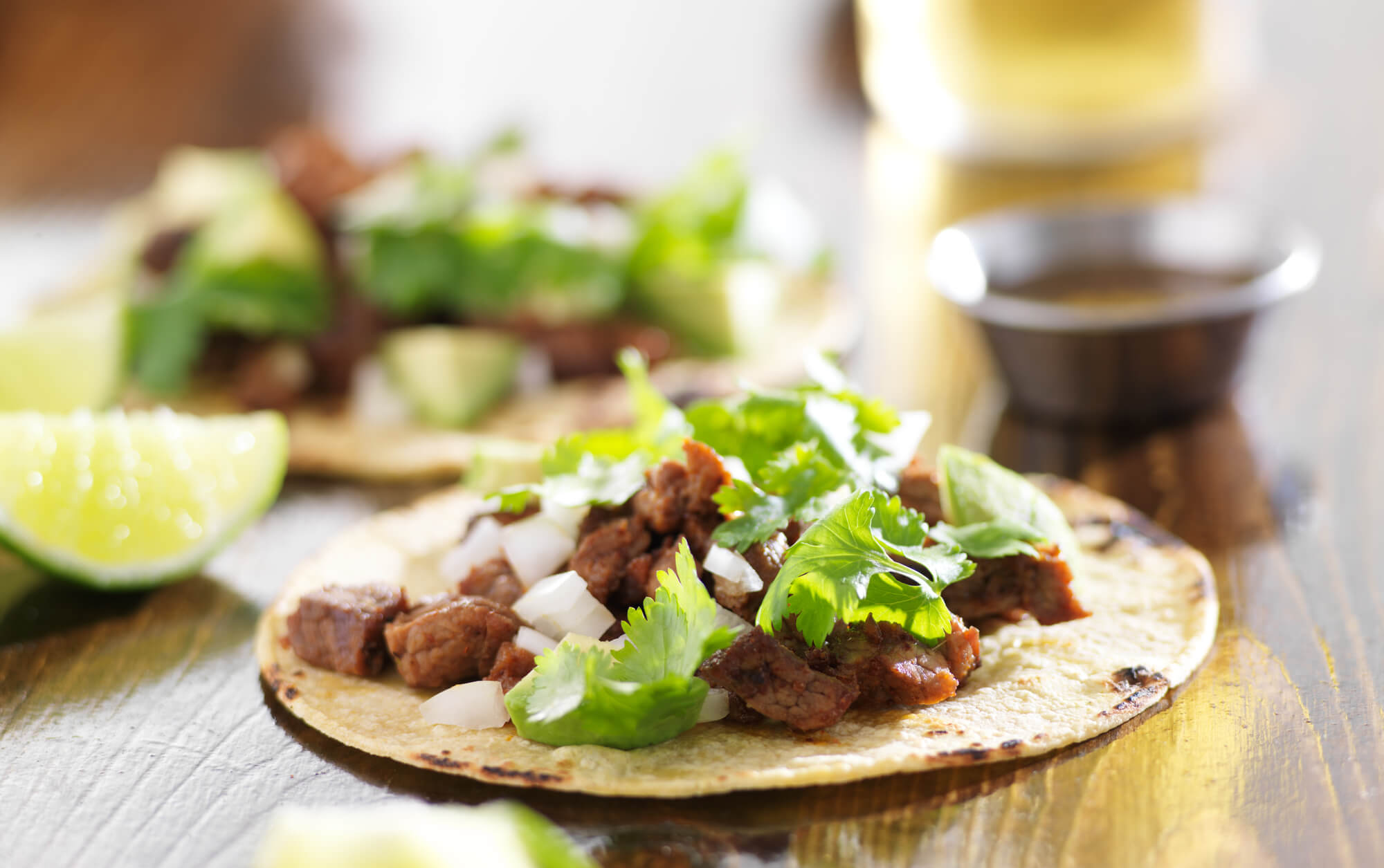 For this steak taco recipe, there are three options when it comes to cooking method. You can grill, broil, or cook them stove-top. 
Grilled Steak Tacos: In warmer months, I am always cooking these on the grill. The grill adds a nice smoky flavor to the beef and to me it feels the most like an authentic since it is comparable to a taco al carbon you would find in Mexico. To maintain an authentic street taco al carbon, you'll want to be minimalist when it comes to toppings. Lime juice, cilantro, onion, and some spicy red or green salsa is it. But no one would blame you for adding avocado. 
Broiled Steak Tacos: During colder months or lazy nights I don't feel like firing up the grill, the broiler is your best friend. Broiling steak is a great way to quickly cook the steak and get it browned on the outside from the high heat. When broiling steak, make sure to keep a close eye on it since it can overcook quickly. And always let it rest before slicing it. 
Carne Asada Style Skillet Steak Tacos: If you are looking for a carne asada steak taco, you have two options. One is to cut the meat before cooking into small pieces. Then quickly cook it in a skillet or griddle until it is just cooked through. If you want to grill or broil the tacos, you can still do that and then chop it into small pieces after. Just make sure to let the meat rest so you don't end up losing all the juices. 
Steak Taco Seasoning Recipe
This recipe uses a quick an easy homemade spice blend to season up the meat. You can use it for these healthy beef tacos and on all kinds of beef, chicken, and pork dishes. It is awesome for anything on the grill, even veggies.  The recipe below will make a large batch you can store with your other spices. It can be used on its own or combined with lime juice like is done in the recipe.
1 tbsp salt
1 tbsp chili powder
1.5 tsp cumin
1.5 tsp paprika 
1.5 tsp garlic powder
1.5 tsp onion powder
1.5 tsp black pepper
1 tsp oregano
Optional: Add some cayenne powder for extra heat. 
What kind of steak to use for tacos?
You can use virtually any kind of steak for tacos but certain cuts are better for certain types of tacos. For carne asada or grilled steak tacos, it is best to use flank steak, skirt steak, or sirloin steak. Flap meat also works and can be very affordable. In Mexican markets, you will usually see steak labeled carne asada or palomilla. The carne adasa may come pre-marinated. For slow cooker style beef tacos, you can use a round roast, brisket, eye round, or a chuck steak. 

Creating the Perfect Taco Toppings Bar
Like I mentioned earlier, when you make tacos for a crowd, the taco bar is what will take it to the next level. It also gives you the allusion of having spent hours planning when you can actually pick up virtually everything from the grocery store and just put it into pretty bowls and dishes. If you want to add some homemade touches, I recommend making the guacamole and a homemade salsa. This creamy avocado salsa is amazing and always gets rave reviews.
Tortillas: Grab a few packs of corn and flour tortillas. If you can take the extra step of heating them up on the grill or over a gas burner on the stove, it adds tons of flavor. Store them wrapped in a towel in a basket or tortilla warmer.  You can also provide lettuce wraps for a lighter option.
Chips: It's not really a taco party without some chips. Provide a fried and baked version so people have a lighter option as well.
Salsa: Salsa is one of the most important parts of any good taco party. I like to provide a mild, medium, and spicy option. Usually, I grab pico de gallo for the mild option, green salsa for the medium, and a spicy red salsa for the hot. If you live near a Mexican supermarket or restaurant, consider buying their homemade salsas since they are almost always better then store bought. You will also defintiely want some guacamole.
Cheese: Usually I provide two cheese options. One traditional shredded cheese, usually a sharp cheddar or jack cheese, alongside a crumbly Mexican cheese like cotija or queso fresco.
Veggies: You will have all the basics – onions, cilantro, jalapenos, tomatoes, and lots of lime. You can also add lettuce or cabbage, radishes, and pickled onions or carrots. 
Sour cream: Use traditional sour cream, light sour cream, or Greek yogurt. You can also buy the thinner Mexican crema.
Sides: Beans and rice are the traditional options but you can switch it up with corn, a big green salad, fresh fruit, or a quinoa salad with mango. 
Calories 325, Total Fat 7g, Total Carbohydrate 29g, Protein 37g, Serving Size 2 tacos