Spicy Shrimp Sushi Bowls
FFOL Editor 1
[unable to retrieve full-text content]
Spicy Shrimp Sushi Bowls that you can make at home in minutes. These easy to assemble sushi bowls are great for lunch, dinner, and meal prep.
As much as I love sushi, it's one of those things I never make at home. Honestly, I think I am just a bit too lazy for all the rolling and precise knife work involved. However these quick and easy spicy shrimp sushi bowls are a whole other story. They are so easy to make and taste seriously delicious. Plus they can easily be customized to include all your favorite sushi flavors.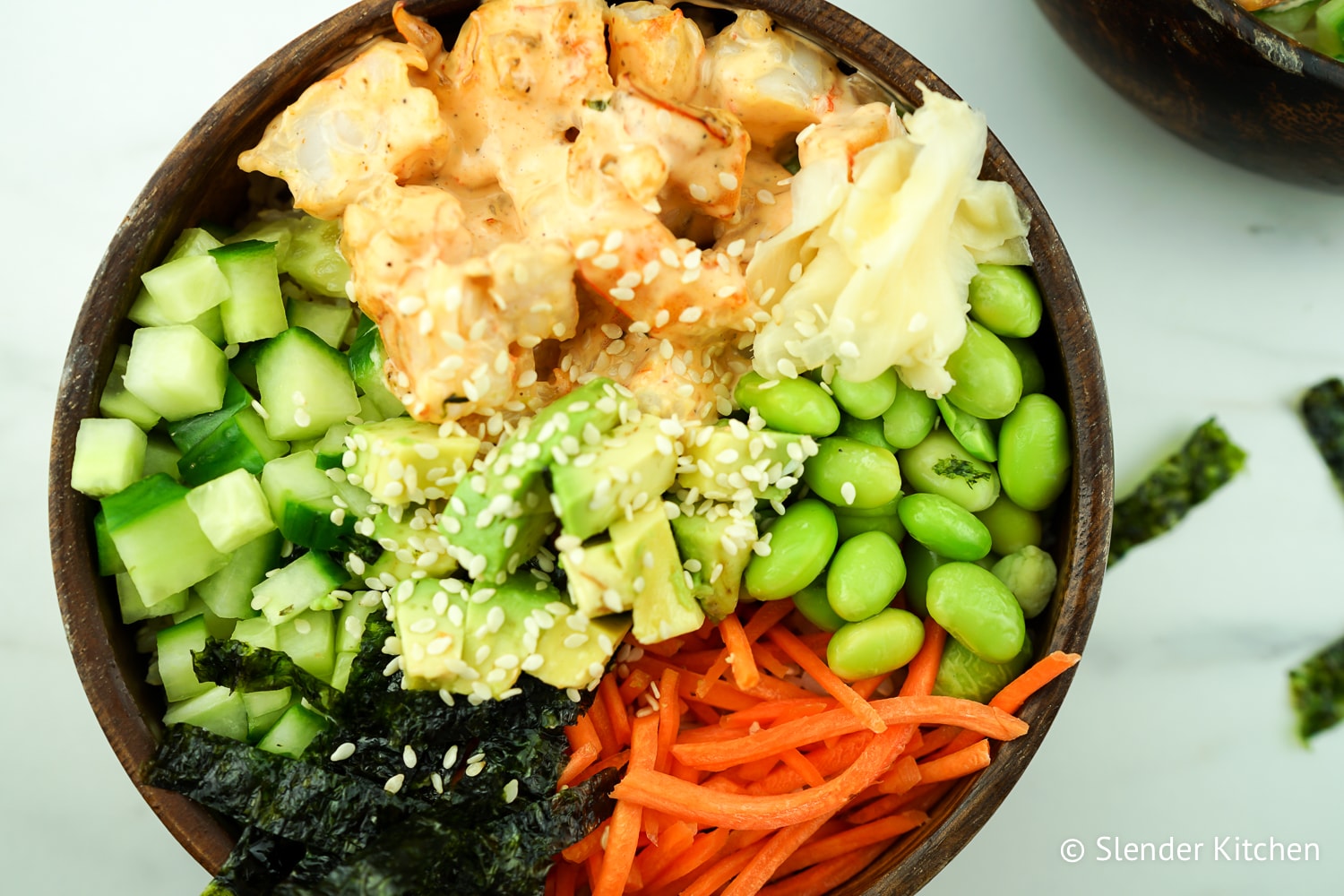 Let's talk about how easy this sushi bowls are to make. You are going to want to start with rice. You can use any kind of rice you like – brown rice, sushi rice, cauliflower rice, or a combination. The important thing is that it is cooked. If you want this to be really easy, use frozen brown rice and cook it slightly less than the package calls for if you want a cold rice bowl.  It works warm as well – totally up to you. Then to make the rice more flavorful, we add in rice vinegar and soy sauce. You could also drizzle in some sesame oil if you like, but that isn't traditionally used.
Next comes the toppings. Anything could work here and you can channel all your favorite sushi rolls or just use what you have at home. I always use cucumbers, carrots, edamame, and avocado. Additionally I grab a snack size container of dried seaweed and chop those up to get the seaweed flavor sushi needs. Usually I will add some pickled ginger as well if I can find it at the grocery store. In my grocery store they sell it near the prepared sushi in a small plastic cup. You could make your own too. Sesame seeds are optional and furikake is so so good.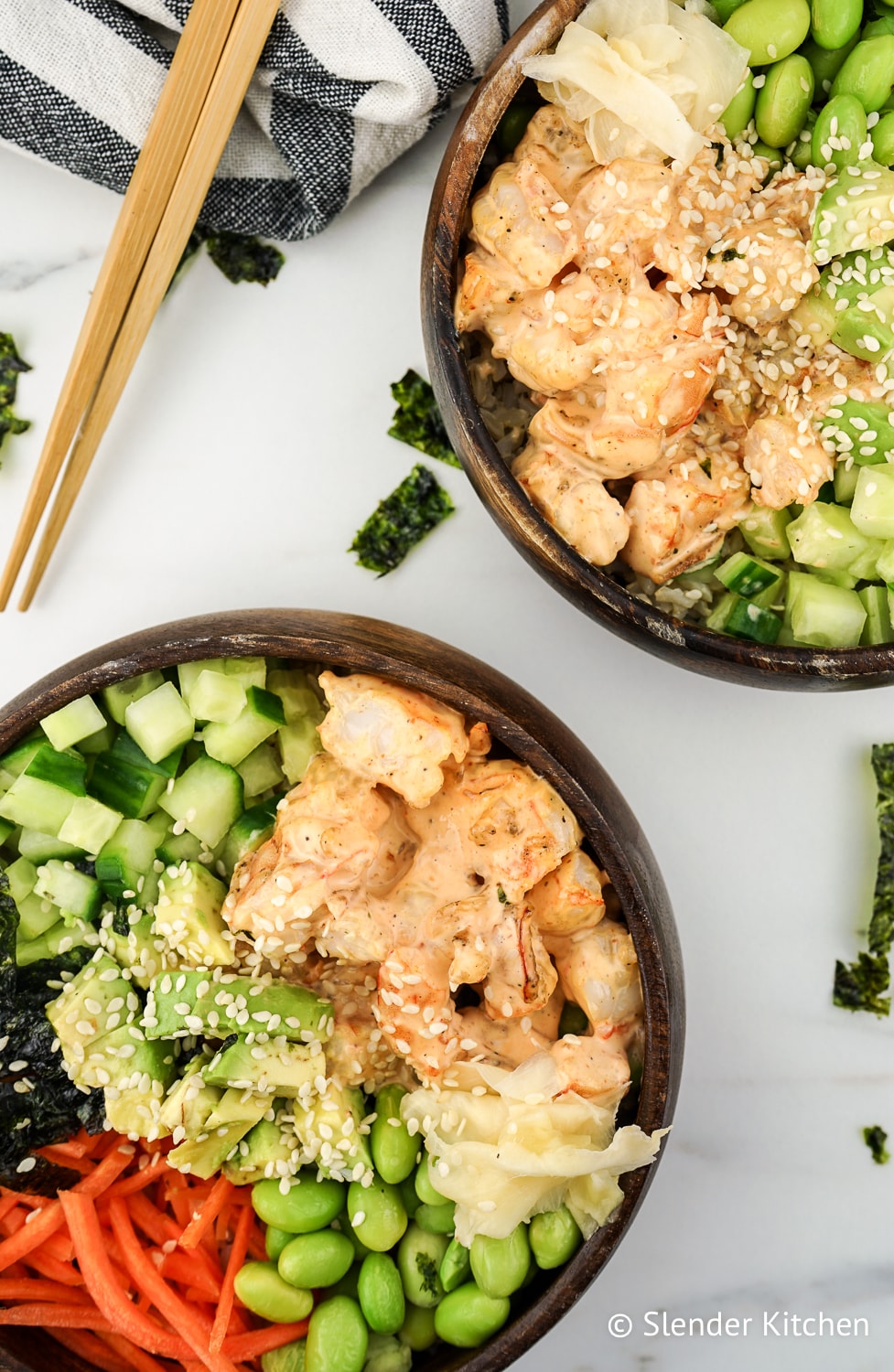 Finally the shrimp! To give the shrimp that spicy sushi flavor, you need a combination of mayonnaise, Sriracha, soy sauce, and rice vinegar. You could also just use mayo and Sriracha, but I like the extra kick of the vinegar and soy sauce. Toss this with the cooked, chopped shrimp and you are ready to eat. One quick side note. For a more authentic flavor, you will want to use Japanese mayo, also called Kewpie. It's richer than traditional mayo and made with rice vinegar. If you opt to use this, leave out the rice vinegar from the sauce.
Make Your Spicy Shrimp Sushi Bowl with a Different Protein
Fresh Tuna: For a spicy tuna sushi bowl, swap in fresh sushi grade raw tuna for the shrimp. You can either cut it into cubes for a more poke style bowl or dice it for a more sushi style bowl.
Canned Tuna: Believe it or not, this is pretty delicious with canned tuna. It's kind of like an Asian spicy tuna salad and it's delicious.
Tofu: For a vegetarian option, you can use cooked tofu or the baked packaged tofu. You could also opt for all veggies and just top it with the spicy mayo.
Imitation or fresh crab: For a California roll sushi bowl, use fresh or imitation crab meat. Most California rolls are made with imitation crab meat.
Salmon: Sushi grade raw salmon or cooked salmon is another great option for these healthy sushi bowls.
Meal Prep Sushi Bowls
I love making these healthy sushi bowls for meal prep. Usually I layer the rice and all the toppings (except the avocado) and then pack the spicy shrimp mixture separately. Then just toss together when you are ready to eat. Since this dish is great cold, you don't have to worry about heating anything up at work. You can also switch out the rice for noodles or even lettuce wraps to mix up the flavors during the week.
Looking for more healthy shrimp recipes?
Calories 438, Total Fat 14g, Total Carbohydrate 40g, Protein 38g, Serving Size 2 cups