Southwest Black Bean Egg Muffins
[unable to retrieve full-text content]
Southwest Black Bean Egg Muffins are a protein and fiber packed, zero Weight Watchers points, breakfast or snack that can be made ahead of time and enjoyed all week long. These healthy egg muffins are packed with veggies, hearty black beans, and the perfect amount of spice.
Breakfast egg muffins are one of my favorite breakfast meals.  You can make endless combinations and they are filling and portable.  To make twelve muffins,  I usually use either 8 whole eggs or a combination of 4 egg whites and 4 whole eggs. Then I add in veggies, lean protein sources, and cheese. For this version I decided on a combination of black beans, peppers, and red onion.  I left out the cheese since I am trying to cut back, but some shredded cheddar or qoat cheese would be delicious mixed in.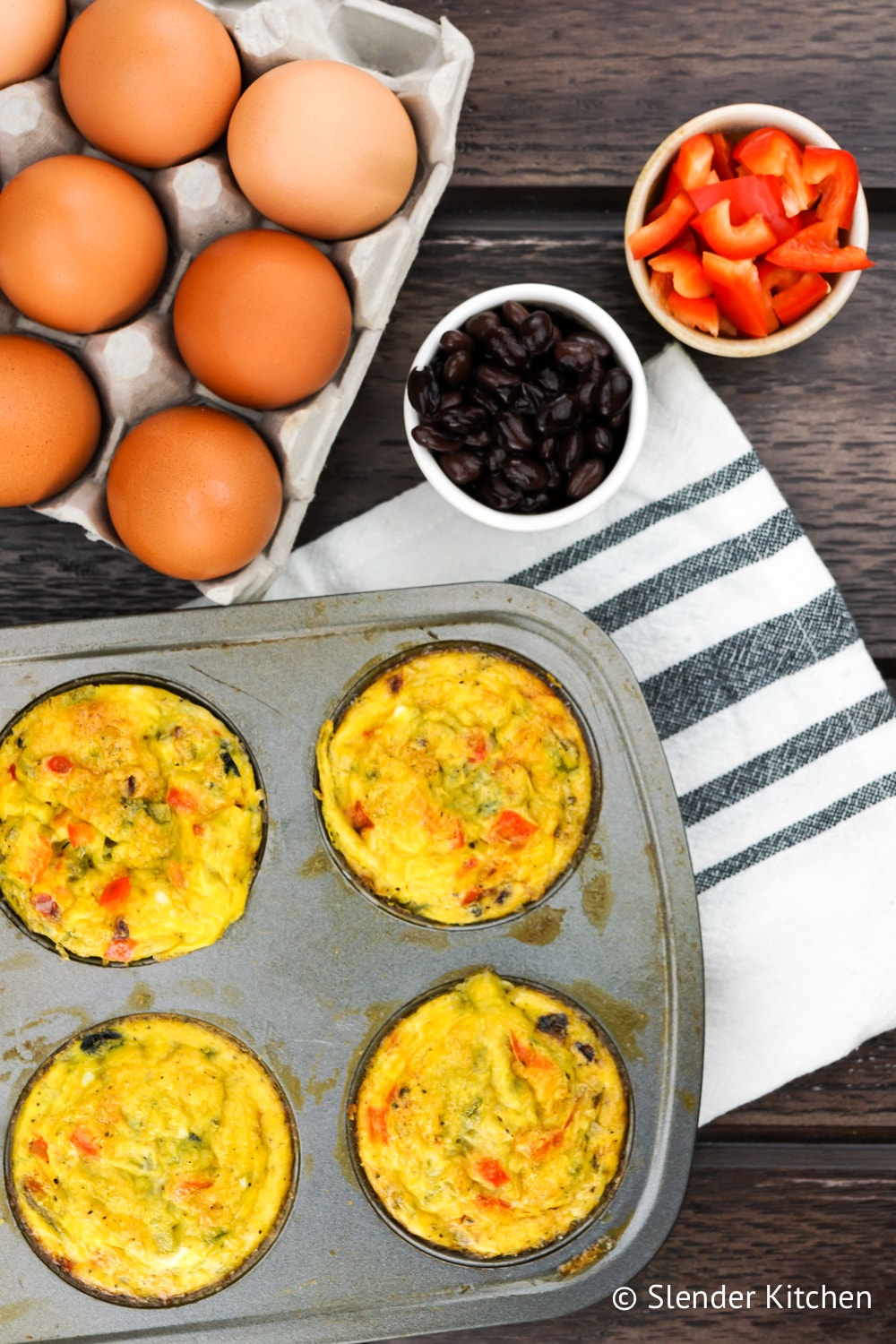 The other thing I love about this particular egg muffin recipe is that the black beans add fiber and filling power. While some egg muffins may leave you hungry a few hours later, these muffins have more staying power. You can use any bean you like, but I am partial to black beans for Southwestern inspired recipes. Sometimes I also throw in some taco seasoning as well to really kick up the flavor combination.
Ideas for Making these Southwestern Black Bean Egg Muffins
Looking for extra protein? Add in some chopped deli ham or turkey.  Cheese is also a great way to add protein. Consider using cheddar, goat cheese, or pepper jack for some extra spice.
Kick up the nutrition! These muffins can handle all kinds of veggies. Add spinach, mushrooms, corn, zucchini, or tomatoes.
More taco flavor? Consider adding some taco seasoning to the eggs to pack in even more flavor.
Too much heat? Leave out the jalapenos or just use a tiny amount.
Have kids? Kids love these muffins and its a great way to sneak in some extra veggies. They taste great warm or cold and make a great lunch item or afternoon snack.

Looking for more healthy egg muffin recipes?
Here are some tools that helped when I was preparing this recipe:
Muffin tin: Although I used a metal muffin tin for the photos, usually I reach for a silicone muffin tin for making egg muffins since they stick the least. It almost guarantees that your muffins will pop right out after cooking. If not, you may want to use paper liners for the muffins.
This recipe originally was posted in 2014 but has been updated with new photos, tips, and ideas for cooking.
Calories 151, Total Fat 7g, Total Carbohydrate 13g, Protein 12g, Serving Size 2 muffins