Push X Pull Finds Equilibrium in New Portland Roastery Cafe
It was just over a year ago that the founders of the up-and-coming Portland, Oregon, roastery Push X Pull voiced their aspirations to open a coffee shop.
While such intentions often never realize among small-batch roasters, especially in fiercely competitive markets such as Portland, Push X Pull has again proven itself a force to be reckoned with. The company last month opened a well-polished store in SE Portland, not far from where they've been spending time roasting at Buckman Coffee Factory.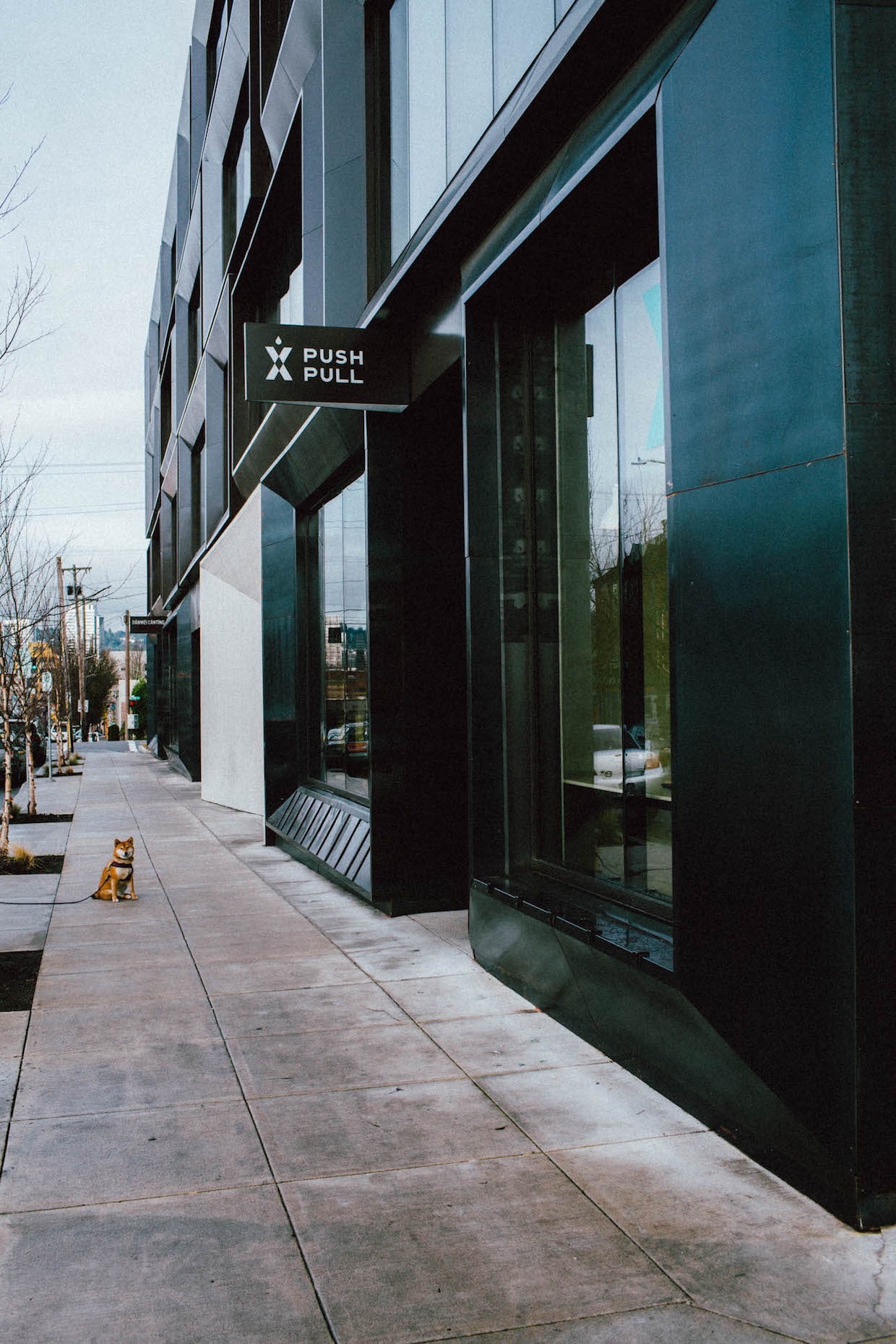 A new Mill City roaster is currently being ventilated in Push X Pull's new home, which came together through a remarkably fast six-week buildout. Owners and founders Christopher Hall and Jacob Cowdin led the build, leaning heavily on the skill and sweat of friends and family, along with help from local contractors such as Stahl Firepits for the shop's countertops, Bkwdco for the woodworking and shelving, Jared Birt and Austin Marple for various fixtures and furniture, and Black Rabbit for filtration services.
The result is a cafe with seating for 35 to 40 guests that visually recalls elements old and new, a further reflection of the Push X Pull name that references a balance of life forces.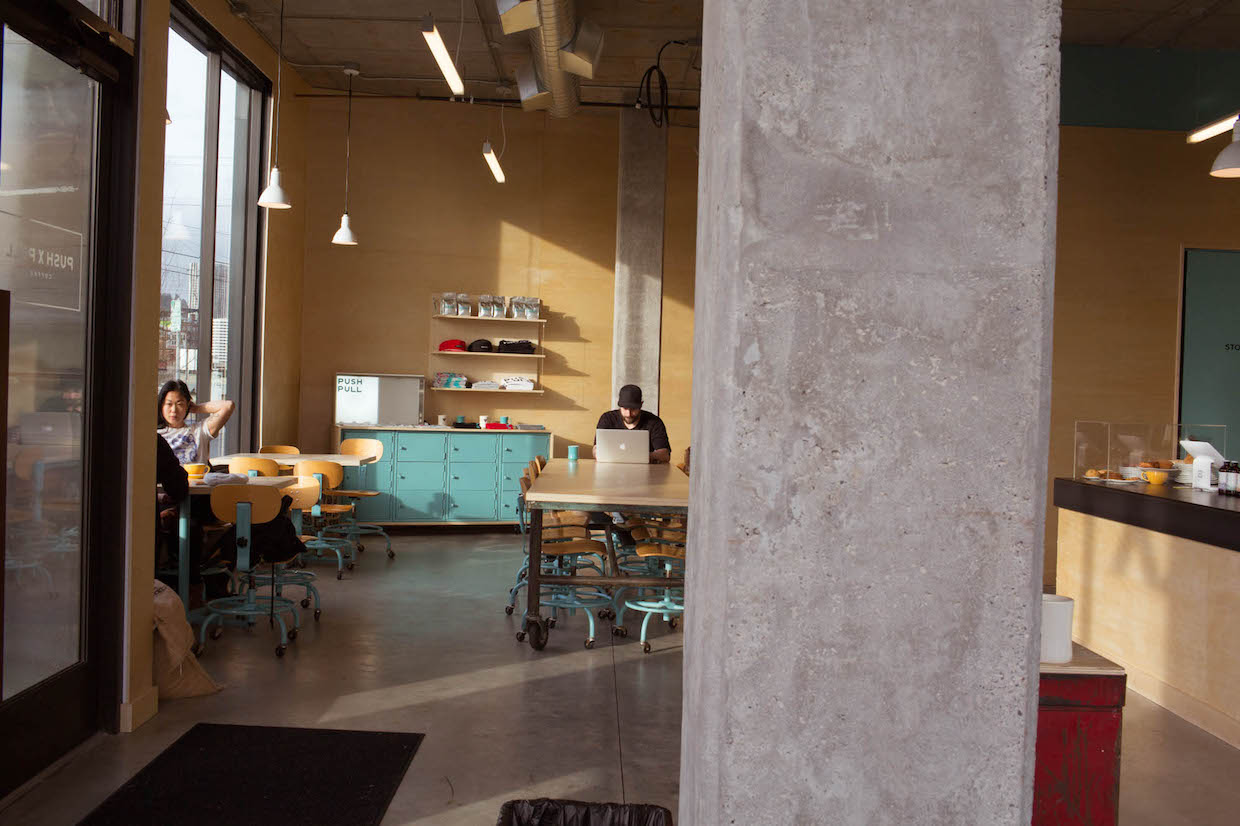 "As a brand we're really inspired by industrial, functional design — inspired by type lockups we see going by on the trains of the inner SE industrial, and classic logos that we've seen barely change over the course of 50 years or so," Cowdin recently told Daily Coffee News. "We have a few vintage elements in the shop, but I wouldn't call us retro… We wanted the space to feel different than any shop we'd been into but without completely reinventing the wheel."
Currently on the Push X Pull bar is a two-barrel Curtis batch brewer along with Kalita Wave pourovers, while a Mavam system is set up for espresso. At any given time, there will be two different single-origin espresson on offer, as well as two other single-origins through batch brew.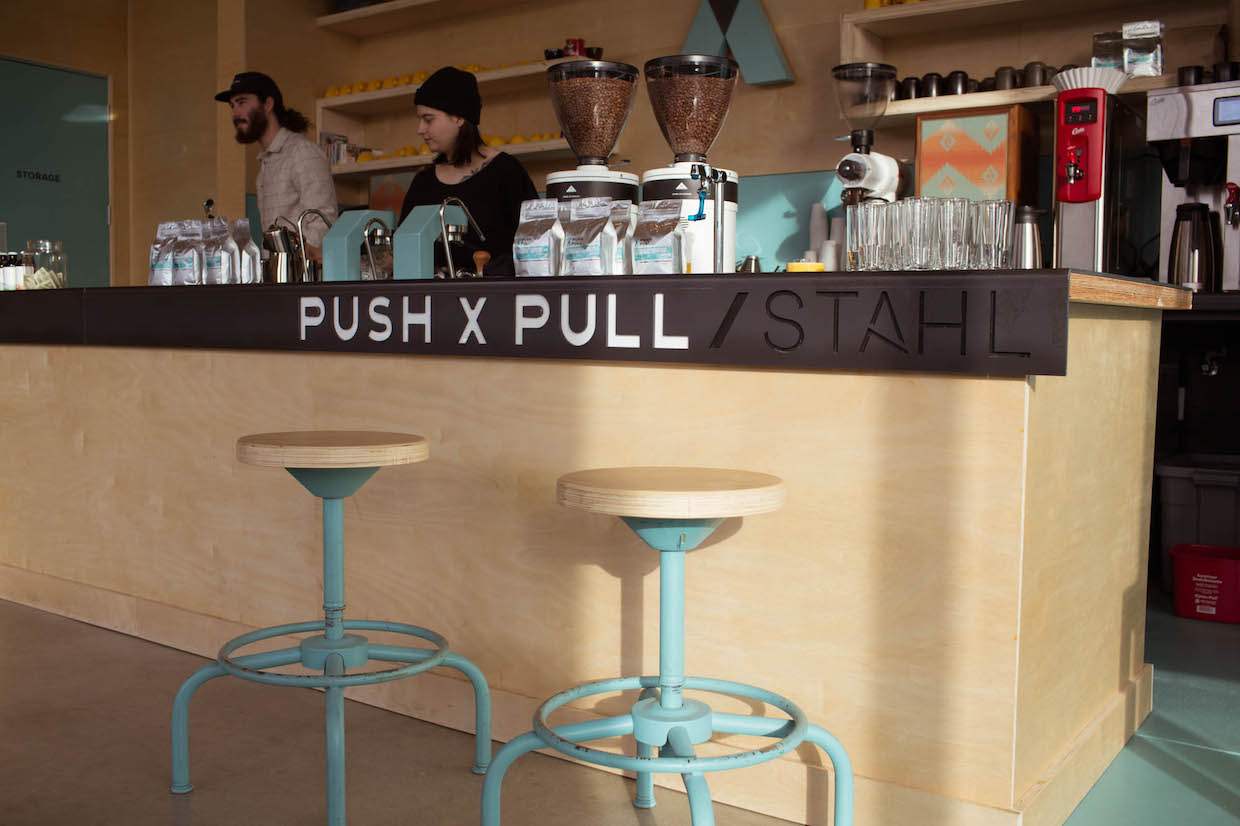 "Its the first time most people have had our coffee on espresso, so its fun to see the responses to some of the naturals we've been running," Cowdin said. "We're getting some really great fruity flavors out of our naturals while keeping a really excellent full-bodied coffee."
Fresh baked goods are primarily coming from the local favorite Roman Candle, with occasional sweets delivered courtesy of Boozehound Baked Goods.
The past year has been a bit of a whirlwind for Push X Pull, with the brand extending its reach through partnerships and popups with local lifestyle brands Wildfang and Burncycle before eventually landing a major account with the Portland office of AirBnB.
"We had talked about getting a space for a while as we were doing pop-ups for the past couple of years, but had basically written off the idea based on just working on the product and building up the brand," Cowdin said. "Not a month after, we received an email from Beam Development asking if we were interested in the space we now call our home. We laughed and said that it wasn't in the cards from a financial standpoint, and as the conversation developed it really started looking like something that might be feasible."
Cowdin said the new location, the new roastery and a new push are keeping the Push X Pull team plenty busy for the time being, and that no new openings are immediately in the works. For now, Cowdin and Hall seem content to have a nice neighborhood place to call home.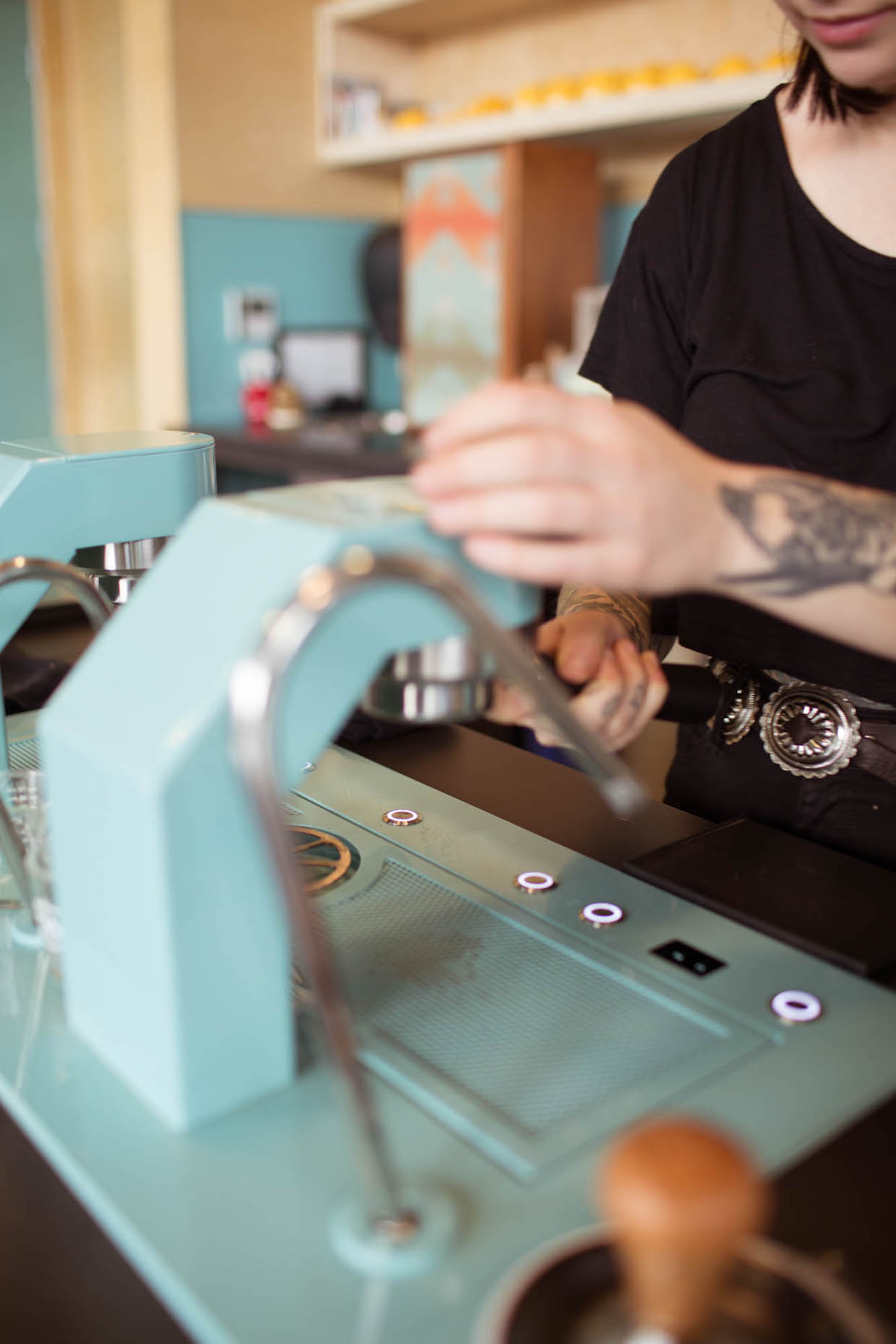 "We've already started seeing repeat customers from within the neighborhood," said Cowdin, "and we're stoked about the people we're meeting, the relationships and brand partners we're making."