Pesto Chicken – Grilled or Baked
[unable to retrieve full-text content]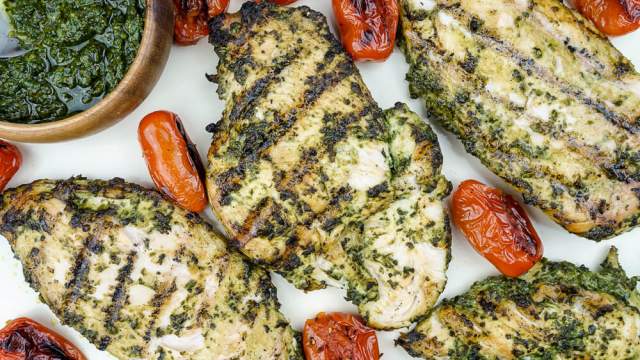 This healthy Pesto Chicken made with fresh basil, Parmesan cheese, garlic, lemon juice, lean chicken breast, and cherry tomatoes is an easy dish that seriously packs in the flavor. For pesto lovers, add this to your list along with this Pesto Shrimp with Zucchini Noodles and Italian Pesto Chicken Bake.
Pesto chicken is one of those meals I could make weekly. We all love it and since it is such an easy dish to prep, it is something I don't mind making again and again. And don't get me started on the all the ways you can serve it. It is a really versatile recipe with so many delicious options – creamy pesto chicken pasta, pesto chicken sandwiches, rice bowls, you get the idea. Believe me, this will be one of those dishes you make again and again.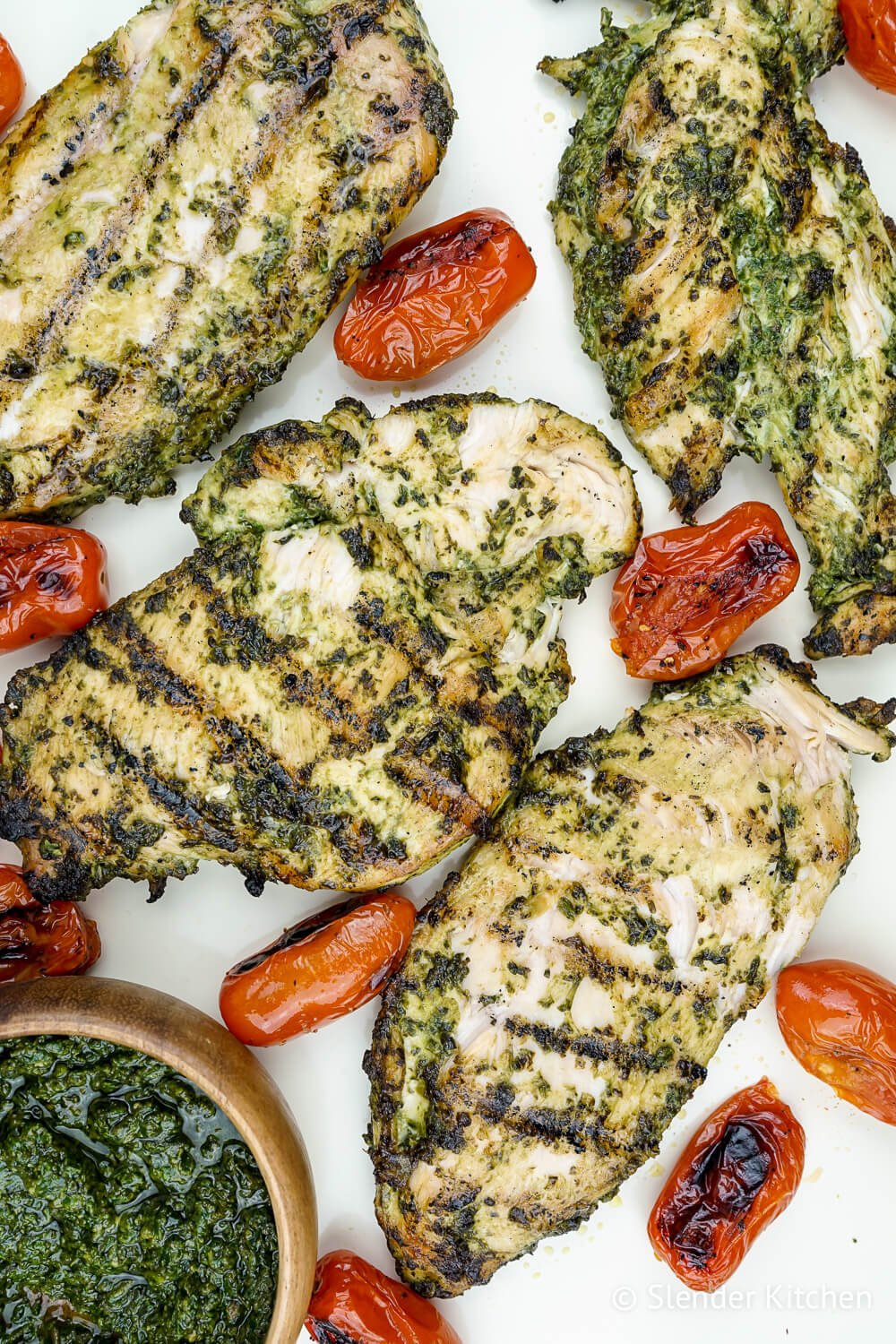 Before we dig into the recipe itself, let's talk about pesto for a minute. Every time I grocery shop, I am tempted to buy the store made pesto sauce. It's easy and doesn't involve pulling out the food processor. It's a good, quick option that works for this recipe if you are short on time.
However, make sure to always take a quick look at the ingredients. Try to find something that only contains ingredients you recognize – basil, fresh herbs, nuts, olive oil, Parmesan cheese, lemon, and spices. It can be shocking when you start looking at labels and realize the pesto is full of things you can hardly pronounce.
Usually, the best option will be in the refrigerated section. And it is important to note, that store-bought options will always contain a lot more oil. The homemade version included in the recipe is a lightened up version to keep things lower calorie and healthy. Both work great, just choose what will work best for your family and lifestyle.

What is in a pesto sauce?
Pesto is a traditional Italian sauce that is traditionally made with fresh Italian basil, garlic, pine nuts, Parmesan cheese, olive oil, salt, and pepper. It also sometimes contains an acid like lemon juice or vinegar. It is traditionally used in pasta dishes, vegetable dishes, and soups. Today many people like to make all kinds of pesto sauces by using different combinations of herbs and greens including parsley, cilantro, spinach, and even kale.
Is basil pesto healthy?
Pesto is a healthy sauce and condiment option that contains fresh herbs, nuts, and heart-healthy olive oil. However, it can be high in fat and calories since it normally contains a large amount of olive oil. The homemade version in this recipe cuts way back on the olive oil to make it lighter without losing any of the flavor.
How long can I store pesto in the fridge?
Normally when I make this recipe, I triple the pesto recipe so I can save the extra for other recipes. Homemade pesto will keep in the fridge for 5-7 days. It can also be frozen and stored for 3-4 months.

Leftover and Serving Ideas for Pesto Chicken
There are so many ways you can use this pesto chicken recipe. I always make a double or triple batch because we love the leftovers so much and I can always get at least 2-3 more meals out of it.
Creamy Pesto Chicken Pasta: Make a double batch of the pesto sauce included in the recipe. Then while the chicken is cooking, cook the pasta. Save 1/4 cup of the pasta cooking liquid. Once the pasta is cooked, add it back to the post with the pasta cooking liquid, extra pesto sauce, and 1/4 cup of cream cheese. Stir until a smooth sauce forms. Top with the chicken and tomatoes. This works with spaghetti squash or zucchini noodles as well. 
Pesto Chicken Salad: We eat a lot of green salads for lunch and this pesto chicken makes a really delicious green salad. Combine it with arugula, chopped fresh tomatoes, chopped cucumbers, roasted red peppers, olives, and feta cheese. 
Pesto Chicken Pizza: Slice up the leftover chicken and use it as a pizza topping with marinara sauce and mozzarella cheese. To keep things light, you can use a low carb flatbread for the crust or a whole grain pizza dough. Cauliflower pizza crusts also work for a lower carb option.
Creamy Pesto Chicken Salad Sandwiches: We love a good chicken salad and this pesto chicken makes one of the best. Combine the chopped pesto chicken with reduced fat mayo and greek yogurt. Then add some chopped red onion and red bell peppers for crunch.
Pesto Chicken Pizza Quesadillas: Lately I have been making pizza quesadillas for the kids. For this version, I use a thin layer of marinara sauce, mozzarella cheese, and fresh spinach with thinly sliced pesto chicken.
Pesto Chicken Minestrone Soup: Sometimes minestrone soup is topped with fresh pesto, so why not top it with pesto chicken. You can use a store-bought or homemade soup. 
Calories 253, Total Fat 8g, Total Carbohydrate 7g, Protein 35g, Serving Size 6 oz.