New Bortnikoff Collection
Bortnikoff, an indie perfume brand founded by Russian architect Dimitry Bortnikov in Thailand, has launched its second perfume collection. Like the first collection, the perfumes are composed from natural oils and co-distillates of their own Feel Oud company production. There are three perfumes in the new collection: L'Heure Exquise, Vetiver Nocturne, and Oud Maximus. The perfumes are made to show the variety of aromatic nuances of oud oils from different countries, and three different-smelling oils were chosen from Thailand.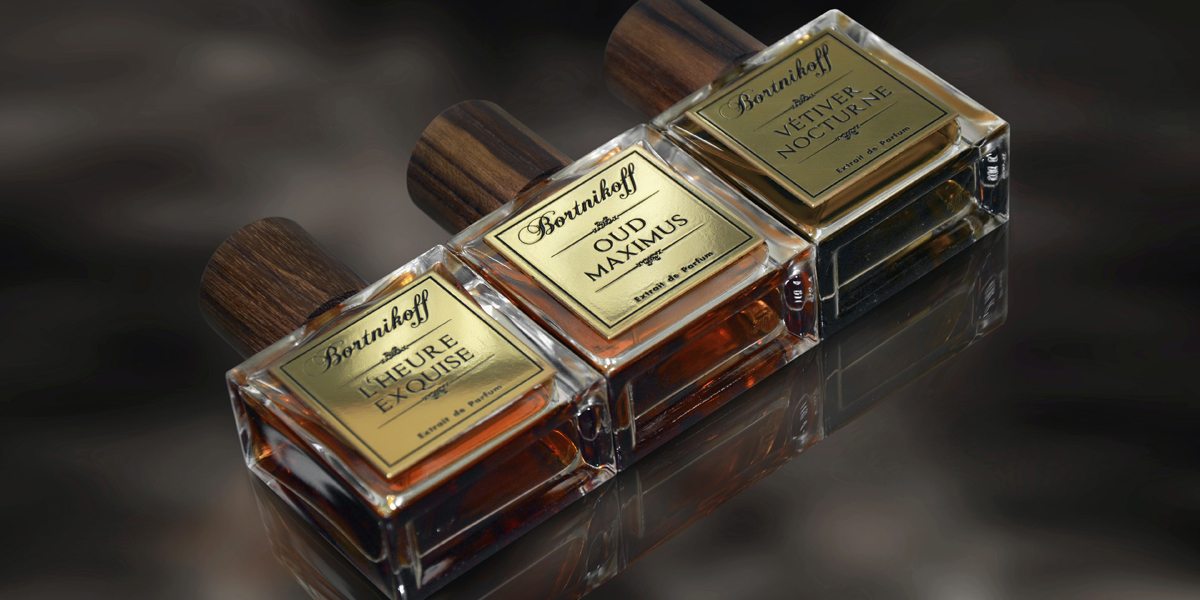 To appreciate the new collection, you need to love dense, almost opaque fragrances — not those that shine transparently, but those that flow as a thick, slow stream, barely changing with time. Not like Dior or Louis Vuitton exclusive collections, not like Carat Cartier or Eclat d'Arpege Lanvin, but something as dense as Bel Ami Hermes, Antaeus Chanel, or Oud 27 Le Labo.
The same thing could be seen in other art forms: One can love sparkling diamonds and appreciate transparent shades of topazes or aquamarines, and another can adore light blue flashes in a mass of dark labradorite or the capricious concentric green curves of the malachite buds. You can appreciate the transparent white lace and delicate tulle, and your friend can appreciate the play of blue shades in the hand-dyed patchwork Japanese fabrics, noting how beautifully the color fades with each wash.
L'Heure Exquise is thick, sweet, and bitter; the contradiction of the sweetness of jasmine and wood smoke of cypress, oud, and vetiver was originally installed in its dark spiciness. Sweet, bright citrus notes and champaca oil help jasmine, and the smoke is beautifully shaded with resinous notes of myrrh and styrax. Citrus and floral notes are trying to fly up and charm everyone, but they cannot carry too much weight. The leathery base pulls the perfume down, the chocolate-like cocoa note knocked the perfume off its flying mode, and all they managed to do is maintain the sweetness in this resinous perfume. A well-worn, cozy oud with hints of vetiver and myrrh, a comfortably bitter, moderately animalic and woodsiness forms the perfume drydown.
I imagine L'Heure Exquise as the dried-up foliage of a pleasant golden-brown color, as a very dark amber with obscure inclusions; it's like the walls of Indian temples, for centuries smoked with jasmine agarbatti, like a sunset in cloudy weather.
Top notes: Bergamot, Neroli, Cardamom;
Heart notes: Champaca, Champaca Leaf, Jasmine Sambac, Attar Motia (Indian Jasmine), Cedarwood, Cacao, Clove, Camphor, Nagarmotha, Myrrh;
Base notes: Vietnamese Oud Roots, Indonesian Oud, Styrax, Tolu Balsam, Ambergris.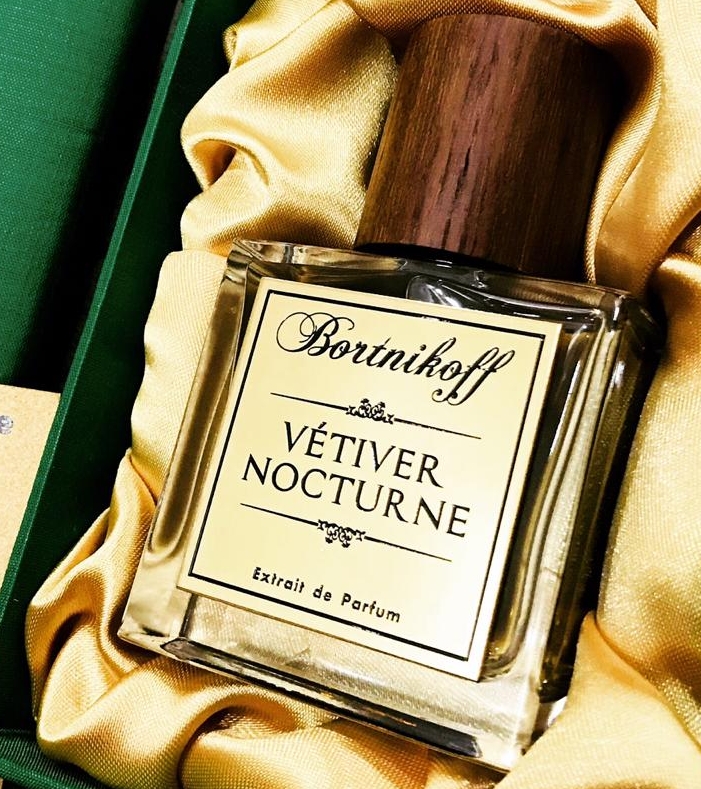 Vetiver Nocturne is even sweeter in its beginning, and there is also a certain fruity-gourmand dessert note in its flower sweetness, supported by a sharp and green vetiver Ruh Khus attar. The initial chord is somewhat similar to poplar buds with moringa, jasmine, and other flowers.
I dislike the Indian Ruh Khus because of its sharp initial green note, and while in some Arab countries it is considered a great addition to oud oil, for me the combo is just a waste of expensive oud oil. Therefore, I tried to rewind this gourmand and spicy green start, trying to sniff less often than usual. Vetiver Nocturne sillage is soft and flowery-woody, rather feminine, in which sandalwood, vetiver, and jasmine play the main roles.
To create some of the ingredients, the technique of distilling Thai jasmine flowers and champaca flowers into sandalwood oil and Thai oud oil was used. Sandalwood champaca oil smells very interesting. It is like a natural perfume itself: a green, flowery beginning and soft, woody finish. In addition, the perfumer used a unique sandal 100k oil, produced by the Feel Oud company from the roots of sandalwood felled more than a century ago in Indonesia.
Top notes: Bergamot, Neroli, Frangipani, Cardamom;
Heart notes: Champaca, Champaca Leaf, Jasmine Sambac, Oakmoss, Vetiver, Ruh Khus (Indian Vetiver), Myrrh;
Base notes: Sandal 100k (Feel Oud), Indian Sandal, Sandal Infusion (Thai Jasmine & White Champaca), Oud Trat, Oud Trat Infusion (Thai Jasmine & White Champaca), Ambergris.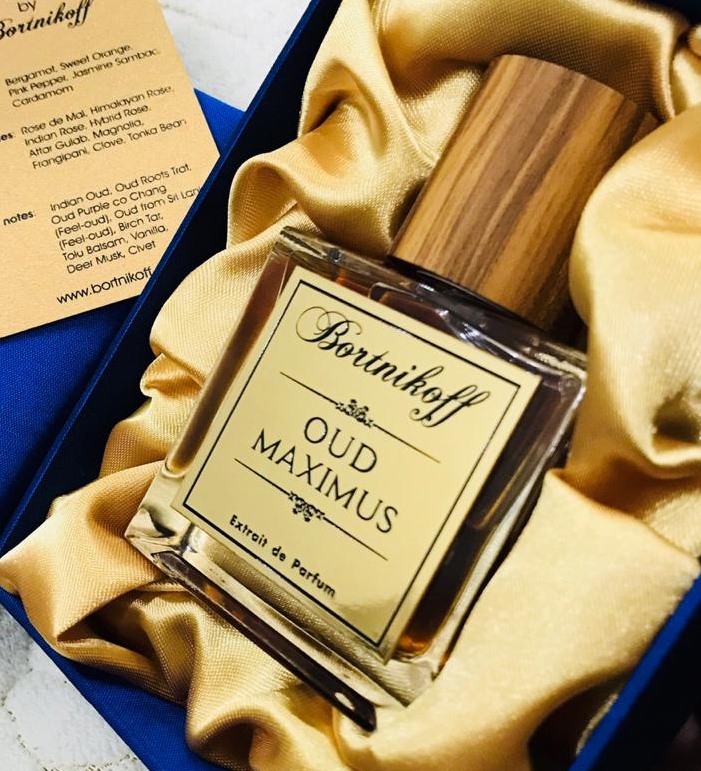 Oud Maximus is the one I loved most from the second collection, and it's the classical oriental combination of rose and oud oils devoted to Maxim, the perfumer's son.
The gorgeous, flowery-powdery cloud of rose, gently and reliably grounded by the grandiose animalic oud anchor, is colored with sweet citrus notes at the beginning. The rose cloud develops from fresh-powdery to soft amber shades, since four different types of roses have been used to create it, from Grasse rose absolute to Indian rose attars. The oud base is also very complex and rich, as it consists of four different types of oud oil, having hard, earthy accents (oil from the roots of oud trees in the Thai province of Trat) and an animalic character with barnyard shades (Indian oud). These shades were competently developed by tars and natural animalic notes so that Oud Maximus reminds one of a rather unknown vintage perfume, not an attar on the theme of roses and oud. Natural musk and civet make a special warm contribution to this great sensation.
Top notes: Bergamot, Sweet Orange, Pink Pepper, Jasmine Sambac, Cardamom;
Heart notes: Rose de Mai, Himalayan Rose, Indian Rose, Hybrid Rose, Attar Gulab, Magnolia, Frangipani, Clove, Tonka Bean;
Base notes: Indian Oud, Oud Roots Trat, Oud Purple Koh Chang (Feel Oud), Oud from Sri Lanka (Feel Oud), Birch Tar, Tolu Balsam, Vanilla, Deer Musk, Civet.
All of the new perfumes by Bortnikoff are made in Extrait de Parfum (25%) concentration and poured into 50 ml crystal-glass rectangular bottles with gold-plated labels and teak wood stoppers, and then laid in Thai silk. Each bottle is numbered and stored in a box of the finest Thai silk. The L'Heure Exquise and Vetiver Nocturne editions will be limited to 100 bottles only, and Oud Maximus will have 200 bottles only. The prices range from USD 300-350, and a sample set of 3 x 1.5 ml is available at USD 45.
---
| | |
| --- | --- |
| | Sergey Borisov has been involved in perfumery since the early 90`s when he had his own perfume-devoted program "Close to Body" on Krasnoyarsk radio (1993). As a perfume enthusiast (known as moon_fish), he became famous in Russia for his translation of Luca Turin's Perfume: Le Guide. He made a career as a fragrance journalist and contributed to distinguished magazines such as GQ, Vogue, Elle, Cosmopolitan, Interview, Forbes, Allure, Robb Report, Flacon, Departure, RBC-Style, TSUM-Magazine (2008-2016). His own online columns for RBC-Style.ru, Vogue.ru, and GQ.ru (2006-2015) have earned him international recognition and an invitation to be an editor for the Russian edition of "The Little Book of Perfumes" by Luca Turin & Tania Sanchez. Sergey Borisov was invited as a speaker at Esxence 2012 (Milano) and Intercharm 2015 (Moscow). In 2013, Sergey joined the Fragrantica team. |