A couple weeks ago I shared my current "mix and match meal prep" system on my Instagram stories and so many people messaged me about it that I decided to make it into a blog post so no one would miss out. This Mix and Match Meal Prep keeps me stocked with plenty of fresh ingredients that I can then use to make several different meals and snacks throughout the week. I'm going to show you what I made this week, plus list other options for each "component" so you can see the potential variety! You ready?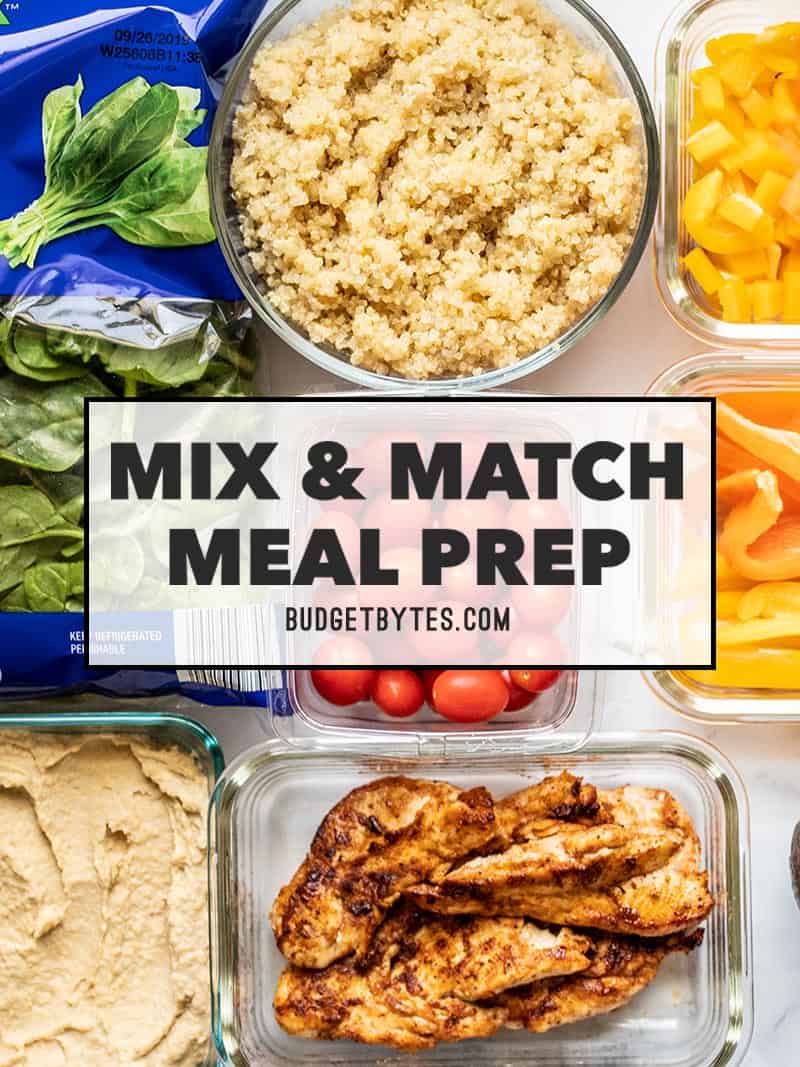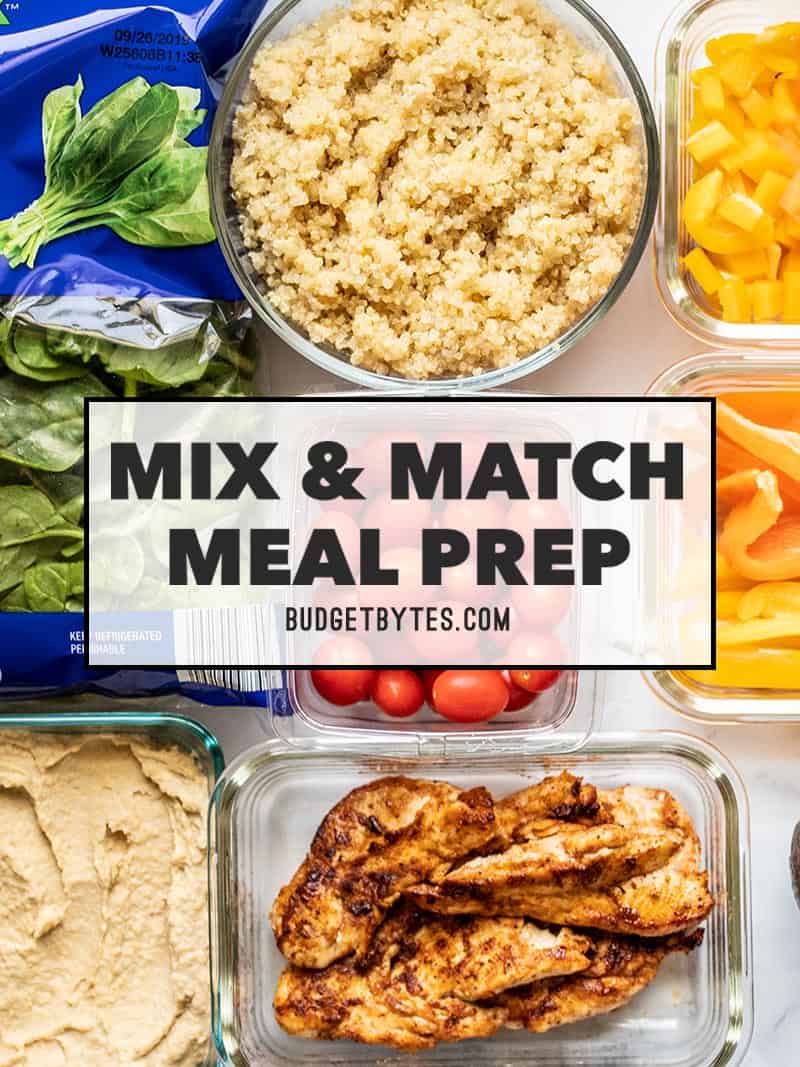 This Mix and Match Meal Prep system has a few different components: bases, proteins, vegetables, sauces, and seasonings. By mixing and matching these components I can make several different meals, like breakfast scrambles, breakfast burritos or quesadillas, omelets, stir fries, huge salads, wrap sandwiches, bowl meals, and snacks.
How Much Does This Make?
I usually prep one set of ingredients like below per week (just for me) and I vary the components from week to week so I don't get bored. The mix and match meal prep items make about 2/3 of my meals during the week and I pair that with one or two cooked meals per week. If you're feeding two or more people, you'll definitely want to increase the amount!
So let's jump right in and take a look at what this meal prep includes!
Jump to: Meal Prep Components, What You Can Make, How to Have Variety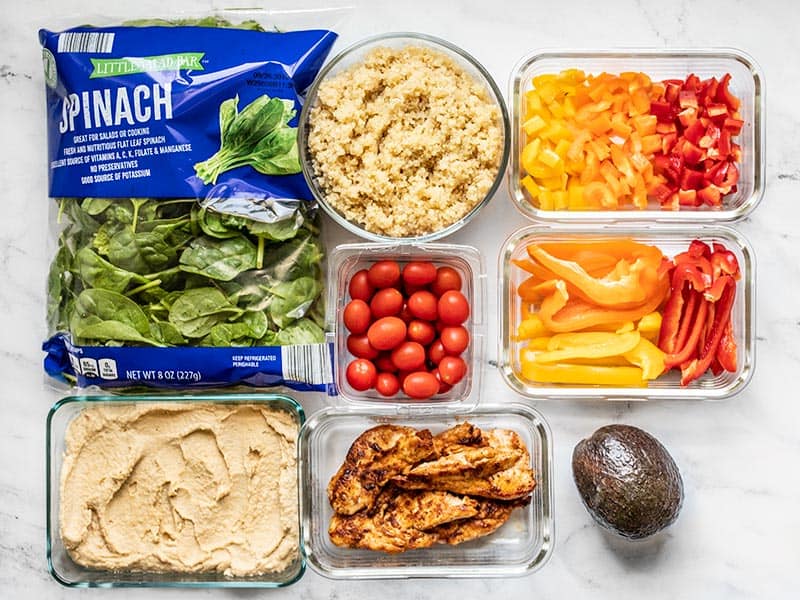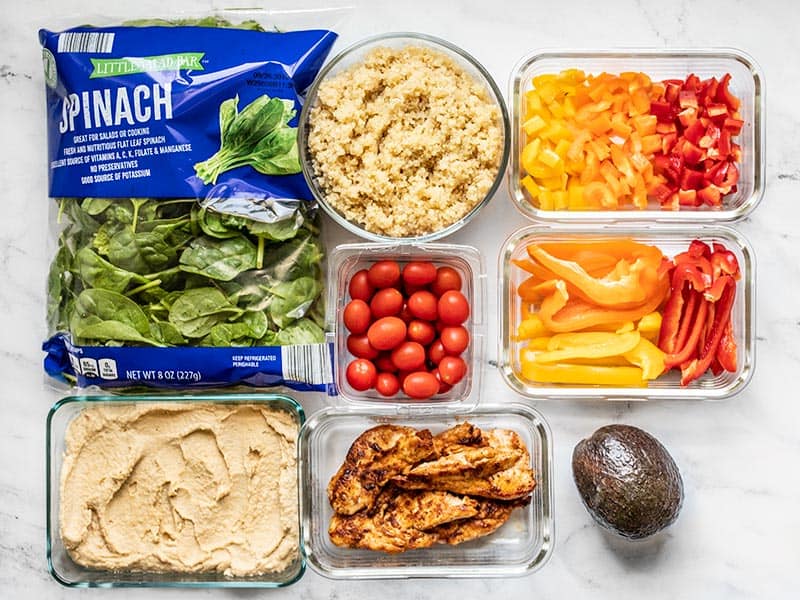 This is most of what I bought or prepped for this mix and match meal prep. Everything else are items that I usually have on hand in my pantry or fridge. In this photo (top left, clockwise): baby spinach, quinoa, bell peppers (trio of three, half diced, half sliced), avocado, chicken tenders (cooked in my favorite all-purpose seasoning), homemade hummus, grape tomatoes.
Mix and Match Meal Prep Components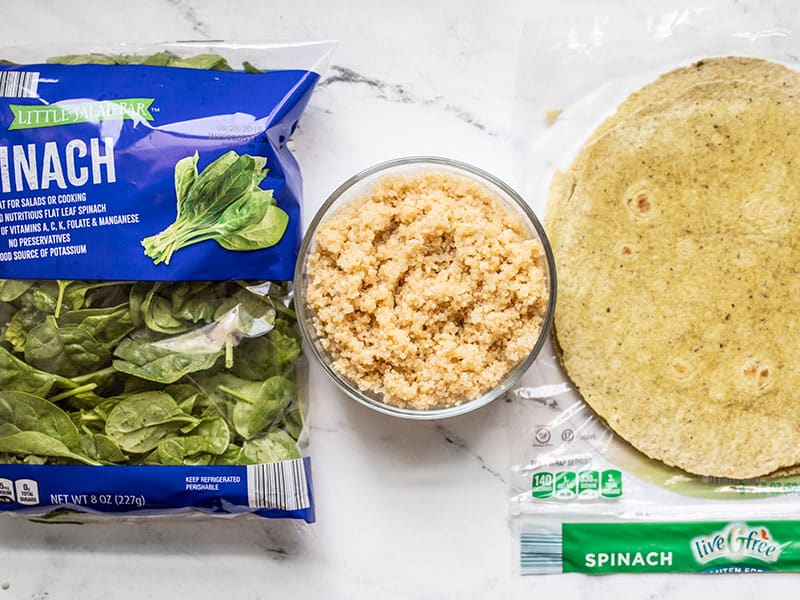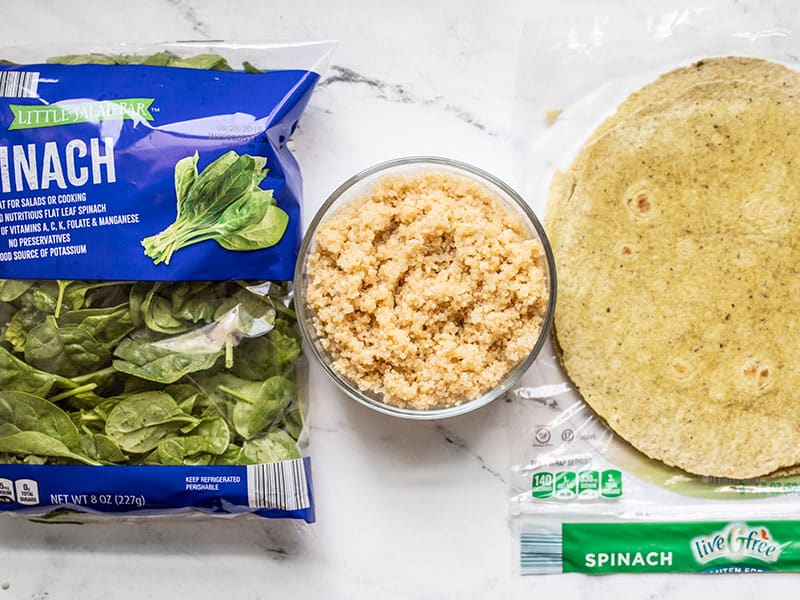 Bases
I have three meal "bases" this week: spinach, quinoa, and spinach wraps. Bases are basically the "bed" of the meals I make. So with these bases I can make salads, bowl meals, wraps, or quesadillas. I cooked one cup quinoa, which ends up making about 3-4 cups once cooked. My goal this week will be to use up that entire bag of spinach, so I'll be adding spinach to just about every thing I eat. 😉
Other Bases: Just about any cooked grain works well as a base (brown rice, bulgur, pasta or couscous, or you can even do a full blown Refrigerator Salad as a base).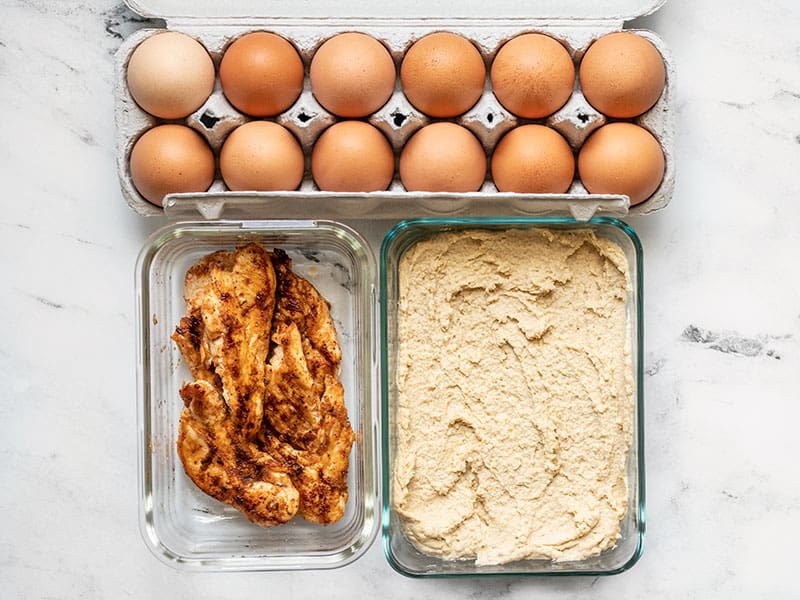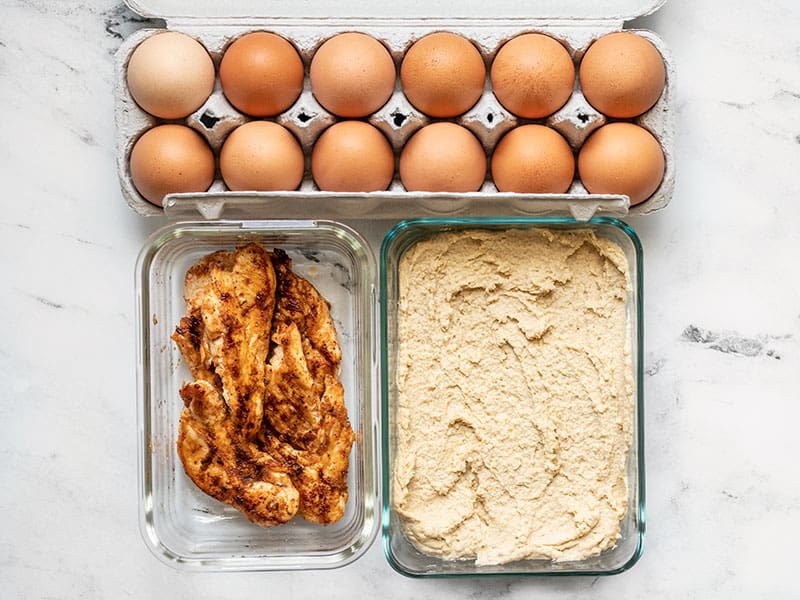 Proteins
This week I have three proteins: eggs, hummus, and chicken tenders (5 tenders, about 2 oz. each). To cook the chicken I just coated the pieces liberally in my favorite spice blend, then cooked in a hot skillet with a little oil until browned on both sides and cooked through (about 10 minuets total). I usually cook the eggs fresh as needed, but you can hard boil them in advance. I did make my own hummus, but you can always use store bought if you're trying to save on time.
Other Proteins: Sometimes I like to do ground meat (beef or turkey) and I like to season it with za'atar, which gives my entire mix and match meal prep a Middle Eastern flare. If I'm super busy I'll do a rotisserie chicken. Tempeh and tofu also works great, especially smoked tofu.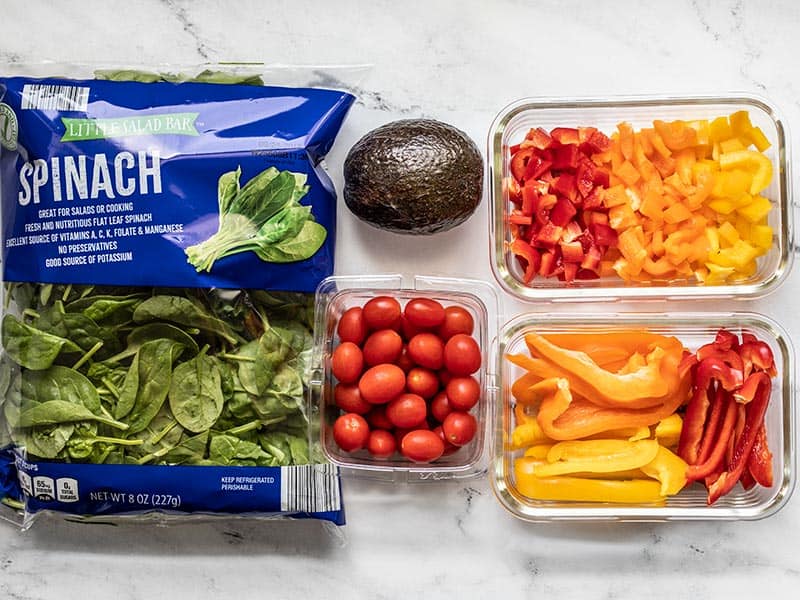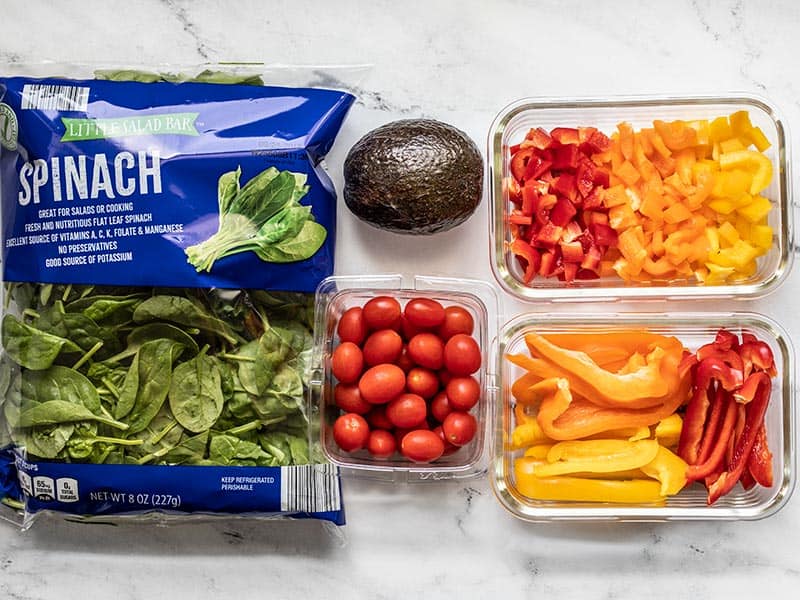 Vegetables
The vegetables I have this week are baby spinach, avocado, bell peppers, and tomatoes. I like to dice half of my bell peppers and cut the other half into strips. The diced bell peppers are great for sautéing and salads, and the sliced bell peppers are great for snacking or adding to wrap sandwiches.
For the avocado, I just use 1/4 of it at a time, leaving the remaining quarters attached to the pit. The exposed cut edges do get a little grey, but they are still perfectly fine to eat, for about four days. If the color really bothers you, you can simply scrape off the surface discoloration.
Other Vegetables: Sliced cucumbers make a frequent appearance in my mix and match meal prep, as does sauerkraut (that counts as a veg, right? Haha). Sometimes I'll do roasted vegetables instead of fresh (they're still great on salads, sandwiches, breakfast scrambles, etc.). When I do roasted vegetables I like to include zucchini and yellow squash, red onion, and eggplant.
If I have leftover carrots and celery from other recipes I usually slice them up and include them in my meal prep as snacks.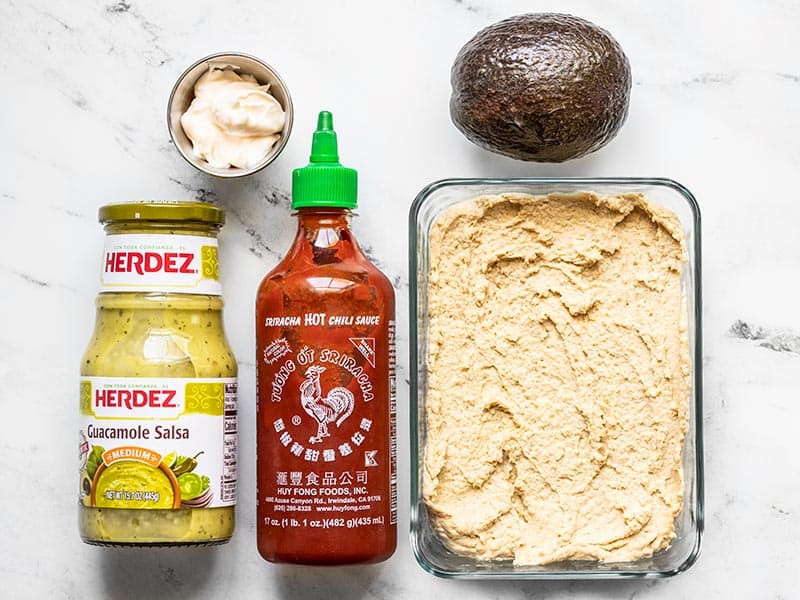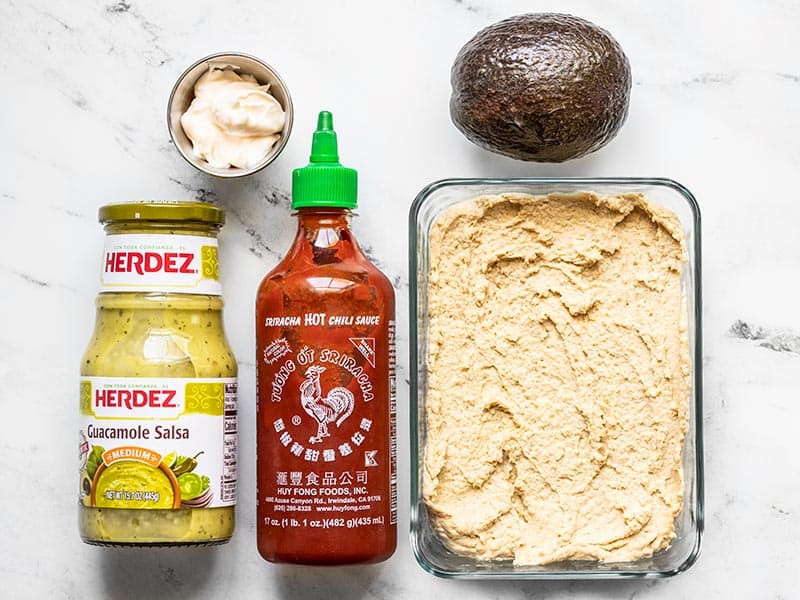 Sauces
Sauces are an important part of the mix and match meal prep because it's what gives your meals variety and makes everything extra tasty. They often give your meal some fat, which helps make it satisfying in the mouth and stomach. I use hummus and smashed avocado as a "sauce" a lot, but sometimes I reach for more traditional sauces as well, like mayonnaise, sriracha, or salsa (any type).
Other Sauces: I have on occasion used ranch dressing, sour cream, pesto, or any homemade dressing I might have on hand (try: lemon dill tahini dressing, lime crema, chimichurri)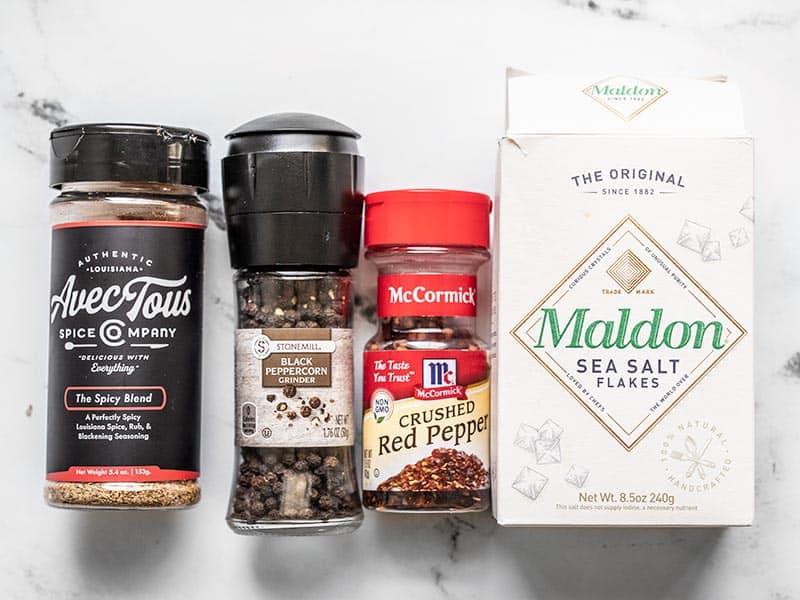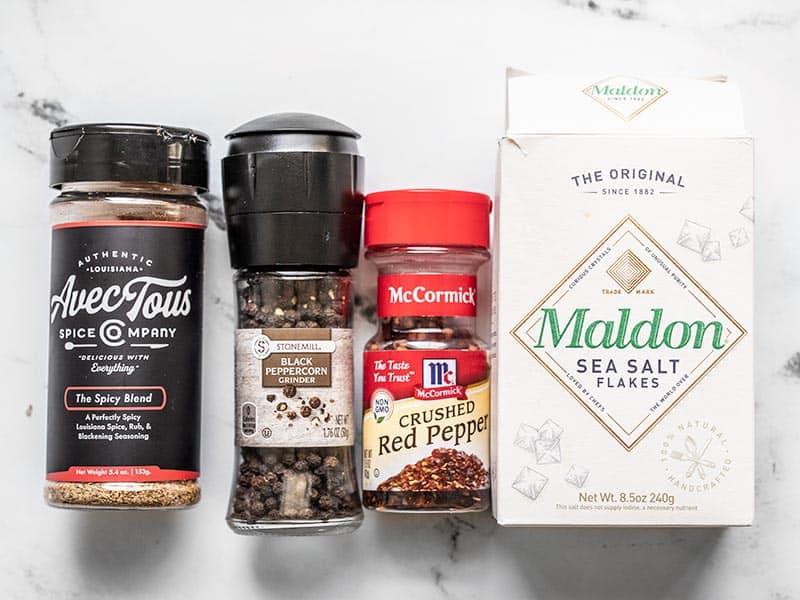 Seasonings
Herbs and spices are another way you can add variety to this mix and match meal prep without eating the exact same thing every day or week. I add flakey sea salt and red pepper flakes to just about everything because they give big POPS of flavor to my food. Freshly cracked pepper has a similar effect. I use that Avec Tous all-purpose seasoning to season my chicken and eggs.
Other Seasonings: Other seasonings I sometimes use include Everything But the Bagel seasoning, Tajin, lemon pepper, Tony Chachere's, or za'atar.
Other Fun Stuff: The best part about this meal prep is reaching into your fridge or pantry and experimenting with random toppings. Sometimes I'll add a little cheese, sauerkraut, nuts or seeds, olives, or whatever else I might have on hand!
What to Make with Mix and Match Meal Prep
Okay, so I showed you all the things I included this week plus other options, but what do I make with all these ingredients?? So. Many. Things!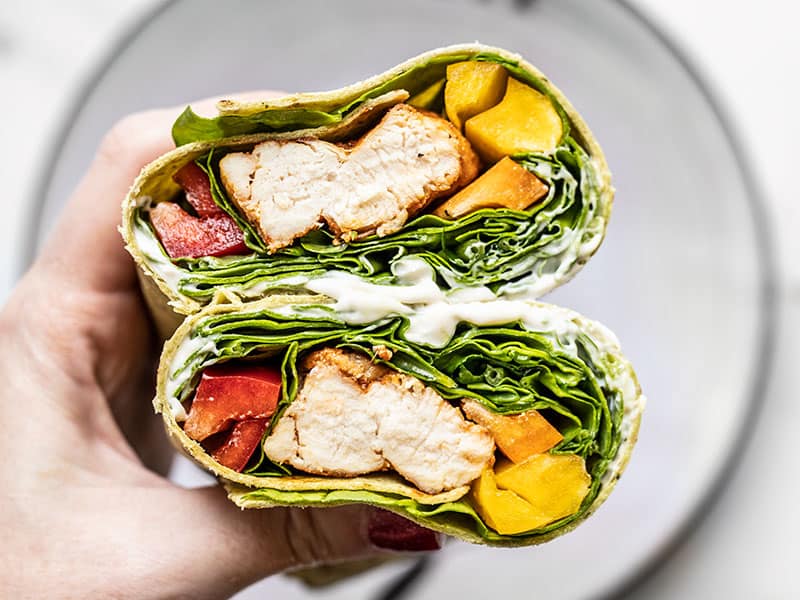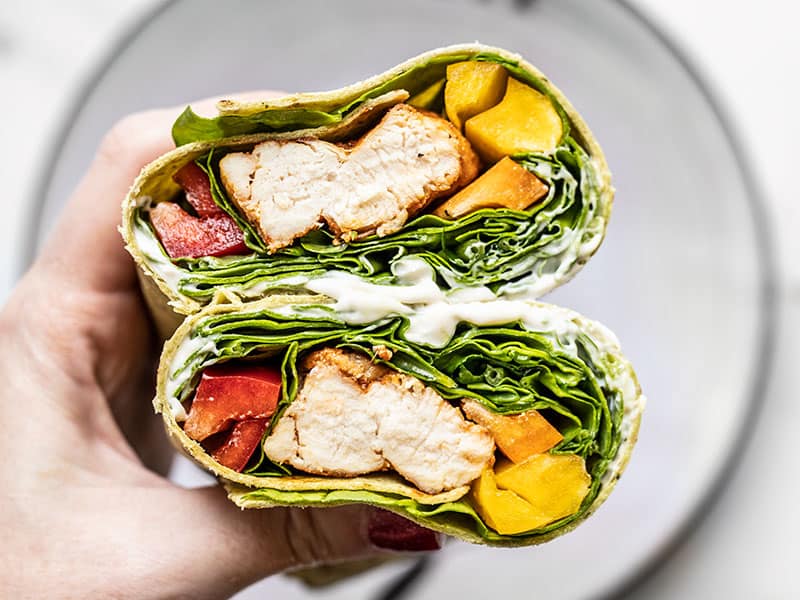 Wrap Sandwiches: So after taking all these photographs I was super hungry and made a really quick wrap sandwich. This one includes a spinach wrap, a little mayo, a big handful of spinach, about 5 strips of bell pepper, and one of the cooked chicken tenders. YUM. A lot of times I'll use hummus or smashed avocado as the spread instead of mayo.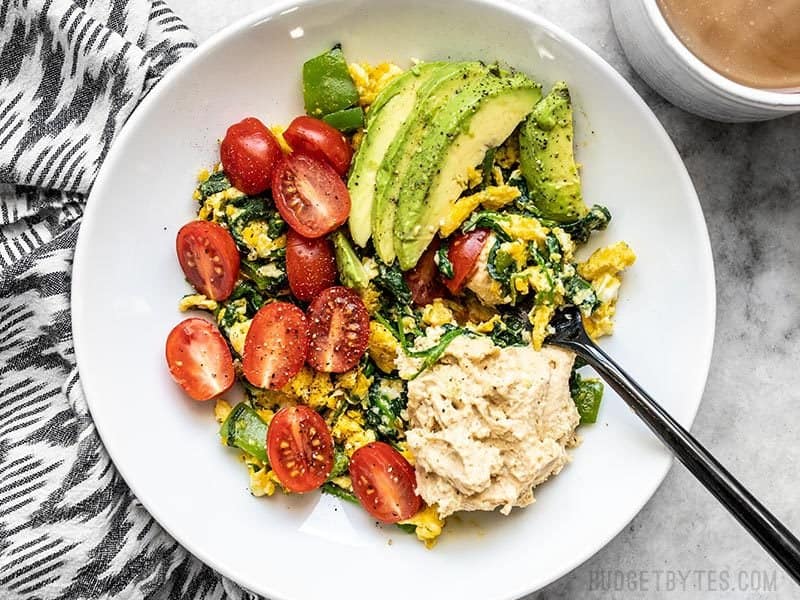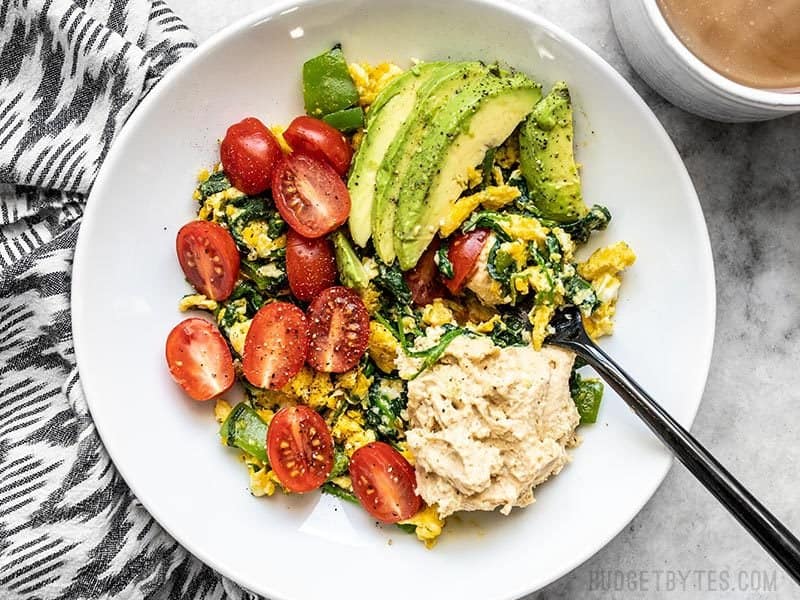 Breakfast Scrambles and Bowls: I'm a total savory breakfast person, so I take handfuls of my prepped vegetables from the mix and match meal prep, sauté them in a skillet, then add a couple of eggs, cook until scrambled, then top everything off with fresh tomatoes, avocado, and a dollop of hummus. Breakfast of champions!! (pictured: Vegetable Breakfast Scrambles)
Omelets: Omelets are pretty similar to the breakfast scrambles, just wrapped and folded into a nice little envelope. 🙂
Breakfast Quesadillas or Burritos: Sometimes I go a slightly different direction from the breakfast scramble and stuff it all into a wrap, then toast it in the skillet. This one is my fav!
Toast: If I also happen to have bread, I'll sometimes to hummus or avocado toast. Some flakey salt, red pepper flakes, and maybe even an egg on top and I'm in heaven.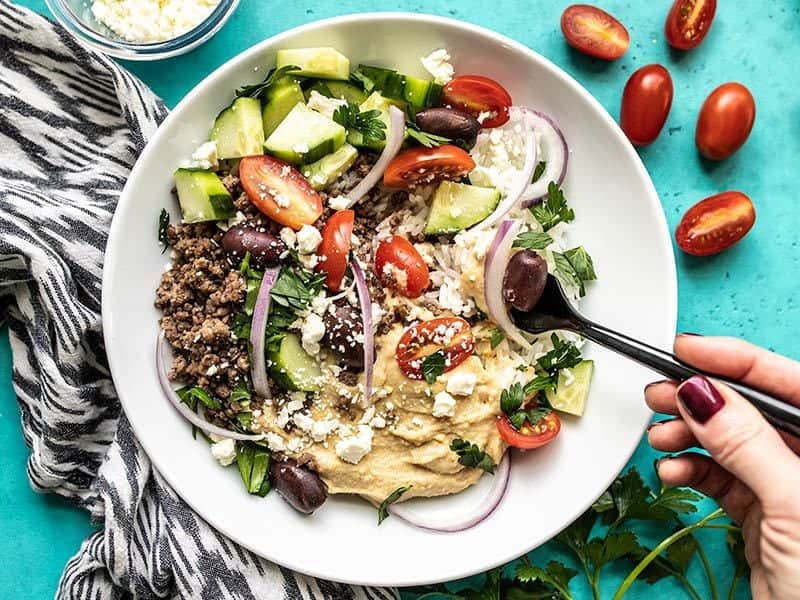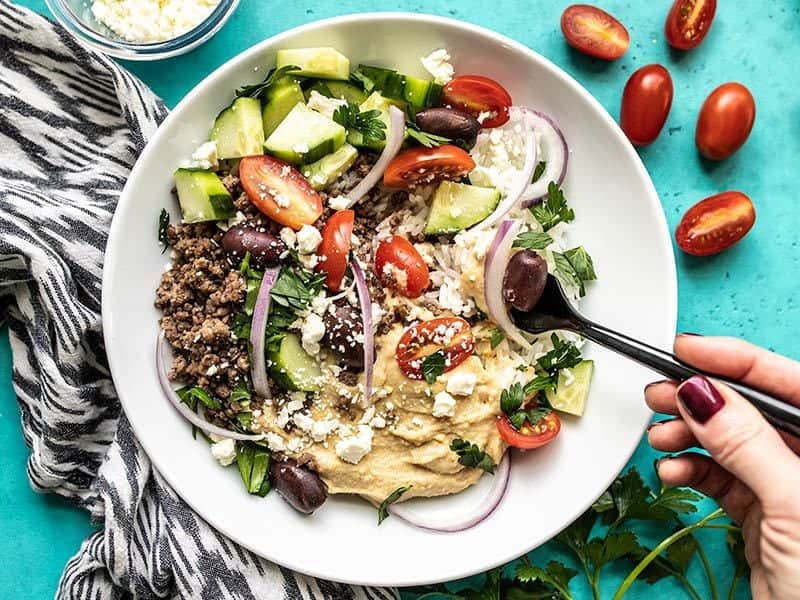 Bowl Meals:Using quinoa as my bowl meal base this week, I just pile on whatever vegetables I have, some of that chicken (cubed), a couple of sauces, and I've got a killer meal. (pictured: Mediterranean Hummus Bowls)
Salads:Salads are essentially a bowl meal but with the ratios flipped. Instead of the grain being the base, you use a vegetable or green. I still like to add a little of my grain (quinoa) to help the salad be more filling, but it's usually a smaller amount.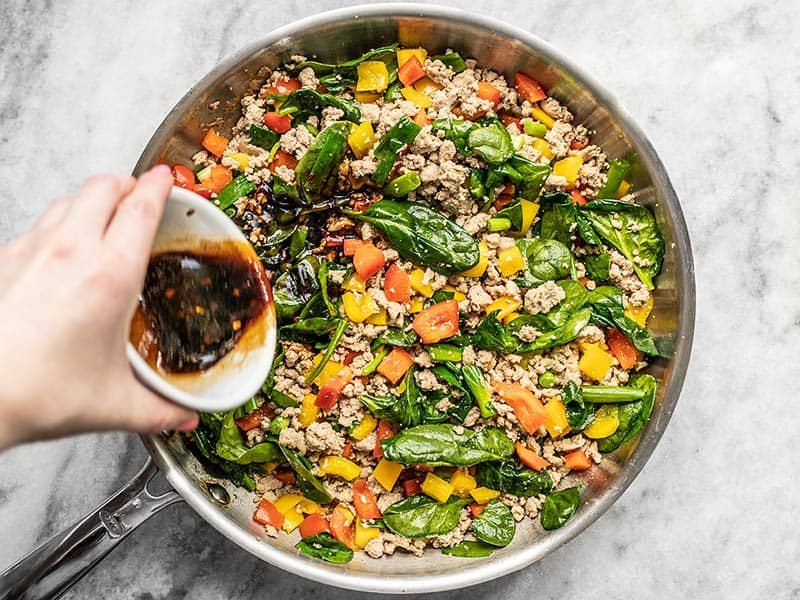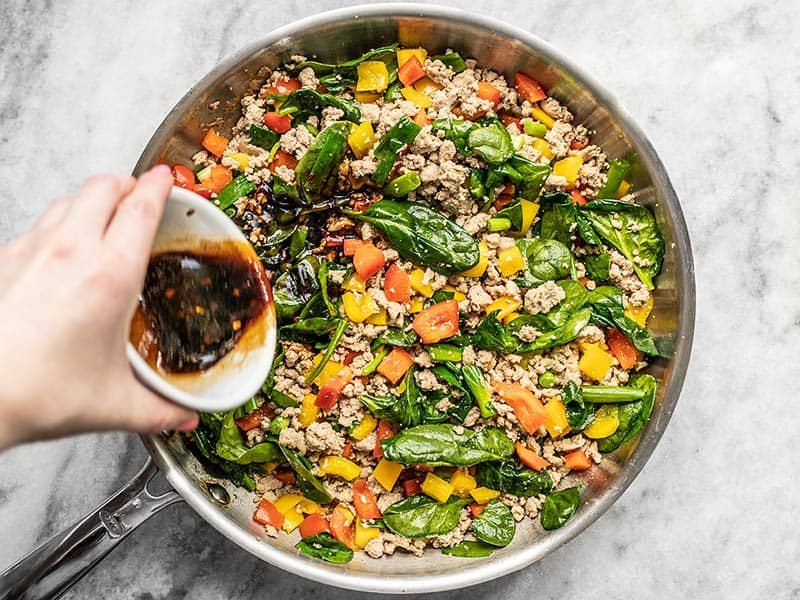 Stir Fry: Since you have a bunch of vegetables already prepped and ready to toss into a skillet, stir fries are the perfect way to use them. You can do an all veggie stir fry, or add the cooked protein you already have prepped. The only thing left to do is add a stir fry sauce, and spoon it over rice or noodles! (pictured: Ground Turkey Stir Fry)
Snacks:To make sure I eat up all those vegetables, I try to eat the vegetables with hummus as a snack as often as possible!
How to Have Variety with Mix and Match Meal Prep
Making sure you don't feel like you're eating the same thing for every meal is easy. Just do these three things:
Don't use EVERY ingredient in every meal. Mix and match.
Get creative with sauces! A good sauce can change the game!
Vary the components from week to week. Choose different proteins and vegetables.
That's it!
So what do you think? Would you try a week of mix and match meal prep? Do you already do your own version of mix and match meal prep? I'd love to hear about it! Leave me a comment below and share your techniques and tips with the rest of us!