Meal Prep Taco Bowls with Cauliflower Rice
[unable to retrieve full-text content]
Meal Prep Taco Bowls with Cilantro Lime Cauliflower Rice packed with lean ground turkey, bell peppers, red onion, and a homemade taco seasoning served on a bed of cauliflower rice with lime and cilantro iare so good you will want to eat them all week long.
Lately I have been struggling a bit when it comes to lunch. Usually I rely on leftovers to fuel my lunchtime meals but lately we haven't been leaving too much in the leftover department. Hungry family, I guess. That's led to more take-out than I would like to admit, some weird mishmash lunches using whatever is in the fridge, and many days oatmeal or eggs. So this weekend I set out to change things up and do some lunch time meal prep.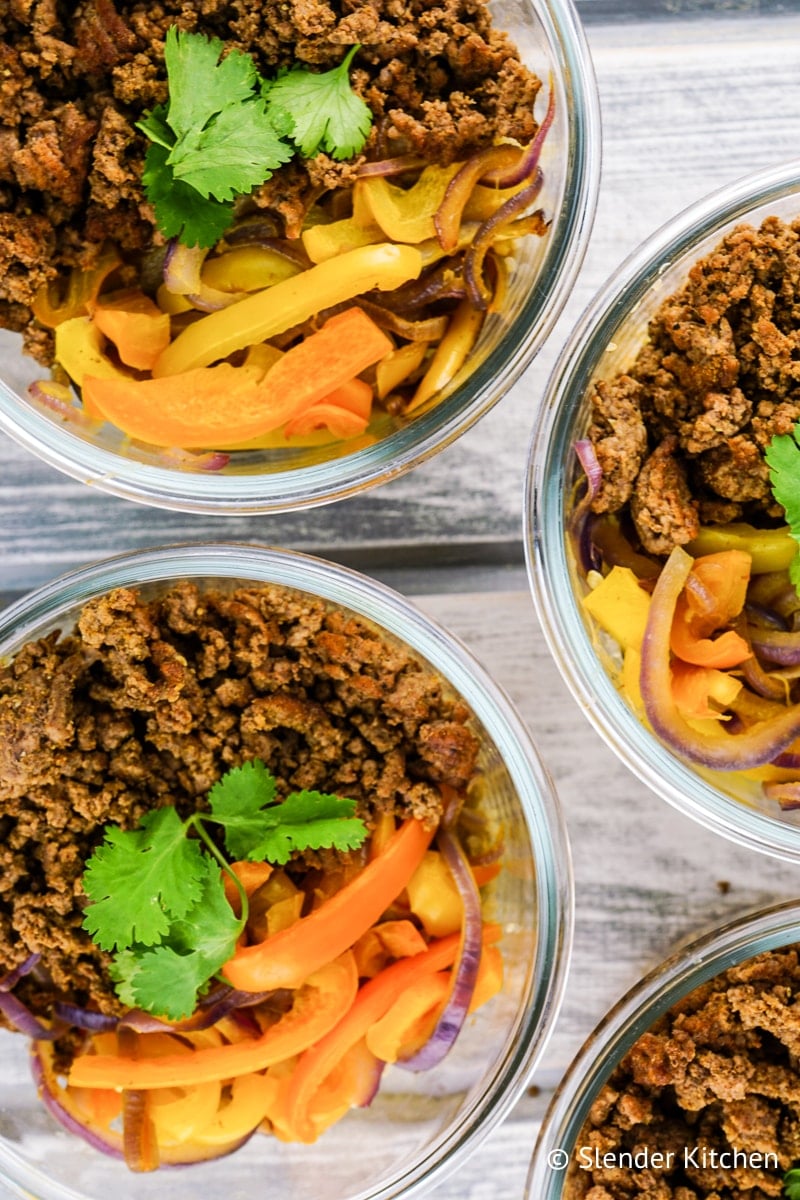 However with a packed schedule, I only had about 30 minutes to make lunches for the week. Enter this super simple Taco Bowls with Cauliflower Rice that come together in no time. First you get the turkey and all the spices cooking away. Basically it's just a homemade version of taco seasoning. Then while that is cooking, I defrosted a bag of cauliflower rice in the microwave and chopped my peppers and onions. Once the turkey was done, I cooked the peppers and onions and added some fresh lime juice, lime zest, and cilantro to the cauliflower rice.
Now since this dish is only about 250 calories, I need to bulk it up or I will be hungry an hour after lunch. Usually I serve it a few different ways during the week to keep things interesting. One day I will add some black beans and avocado. The next day I may melt some cheese on top and scoop it into some corn or low carb tortillas. Sometimes I even drop this into a bowl of canned black bean or tomato soup.
Tips for Making these Meal Prep Taco Bowls with Cauliflower Rice
You can use any ground meat for this recipe and can also use vegetarian crumbles for a meatless version. You can also use chopped chicken breast or chicken thighs. 
To keep things simple, I recommend buying some frozen cauliflower rice instead of making your own. I find it costs about the same and is so much faster than getting out your food processor.
If you want to bulk things up, add some canned beans or corn. You can also mix some brown rice or quinoa in with the cauliflower rice. 
When serving it, add your favorite taco toppings – avocado, cheese, sour cream, cilantro, lime juice, or salsa
Looking for more healthy meal prep recipes?
Here are some products and tools I used for this recipe:
Calories 243, Total Fat 4g, Total Carbohydrate 14g, Protein 39g, Serving Size 2 cups